Pre-Training Camp Player Power Rankings for Miami Heat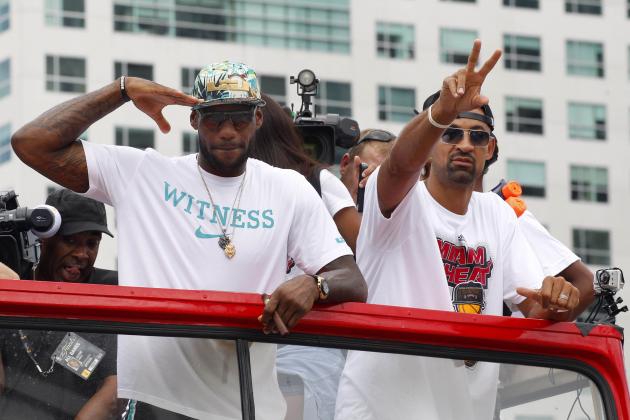 Robert Mayer-USA TODAY Sports

Not to alarm you, but the NBA preseason is less than a month away. The Miami Heat are plenty aware of this as they begin to sew up loose ends and bring in players that could possibly fill out the rest of their roster.
Over the past week, the Heat have signed summer league standout Eric Griffin, former draft pick Justin Hamilton and another draft pick, this one being more notable, in Michael Beasley. Miami is also planning on bringing in the likes of Larry Drew II, Vander Blue and Yakhouba Diawara for workouts, as well.
The Heat are allowed to bring as many as 20 players into training camp, before they have to cut the final roster down to 15. They are allowed to have a minimum of 13 players, and that seemed to be the case until the Beasley signing threw that off. It now appears the Heat would like to add his versatility, although he only signed a non-guaranteed deal that will become guaranteed if the team chooses to bring him on board.
Miami is bringing back essentially the same roster from last year with two exceptions. For one, there's no more Mike Miller following the utilization of the amnesty provision. Secondly, former No. 1 pick Greg Oden is now on the squad after signing for the veteran's minimum.
Juwan Howard is also a free agent, but it wouldn't come as a surprise if he ends up signing with the Heat mid-season to hang out on the bench with the coaches.
More importantly, the Heat still have their three-man core of All-Stars, a Hall of Famer as a sixth man and a slew of role players who have contributed in big spots time and time again. They are the same team that won two consecutive titles and a team that is favored to win it all for a third consecutive time, despite acquisitions by rivals in Indiana and Brooklyn that could pose serious threats.
In time we will see if those acquisitions will knock the Heat off their throne. For now, we take a look at the current Heat roster—with the exception of 2013 draft pick James Ennis, who is playing overseas—and rank each player.
Begin Slideshow

»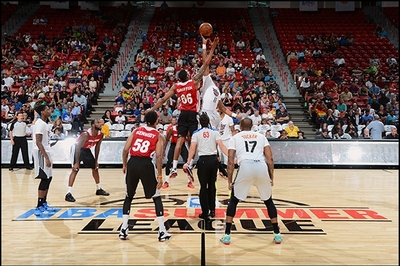 NBA.com
Former Campbell star Eric Griffin was recently signed to the Miami Heat practice squad after a productive Summer League where he averaged 6.8 points, 3.2 rebounds and 1.2 steals while shooting 57 percent from the field.
Griffin's professional playing experience includes a stint in Italy last year.
The 6'8" Griffin is a terrific athlete that can finish at the rim with a 7' wingspan. Although he's listed as under 6'7" without shoes, according to Draftexpress, Griffin is a natural power forward. His wingspan and hops allow him to play among the taller power forwards or centers, and it's also allowed him to become a noted shot-blocker.
He has also shown an ability to score in the post with his back to the basket, but is still a raw player that will need refining if he does in fact make the final 15-man roster. He has also struggled with his jumper from outside of 20 feet, and his free throw percentages leave much to be desired.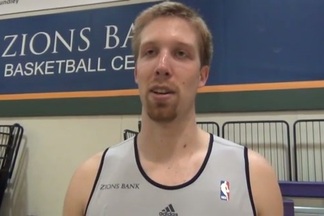 NBA.com
Like Eric Griffin, Justin Hamilton is a long shot to make the final 15-man roster for the Miami Heat.
From what it sounds like, the Heat are going to end up running with only 13 guaranteed contracts, with the likelihood that Greg Oden is the only new player. However, there is still a chance Hamilton can impress, since the Heat are always on the lookout for a shooting big and depth at the 4 and 5 positions, and could usurp Jarvis Varnado for the final spot on the roster.
If not, don't be surprised to see Hamilton playing for the Heat's D-League affiliate in South Dakota.
The former LSU star was drafted two years ago by the Heat in the second round following a trade with the Philadelphia 76ers. He has yet to play in a Heat uniform of any kind because of injuries, but has had experience playing overseas this past year, playing in Latvia and Croatiac where he averaged 10 points and five boards.
Hamilton is a true 7-footer that can shoot the rock from beyond the three-point line, but questions remain about his ability to keep up with the Heat's fast-paced, high-octane style of play on both ends of the court. In order for a center to make the roster and actually earn playing time, athleticism and a solid post-game are necessities.
Otherwise, they're just another lumbering dinosaur like Erick Dampier and Zydrunas Ilgauskas. It's no surprise that the centers with some athleticism, such as Chris Andersen and Ronny Turiaf, have earned consistent minutes with the Heat.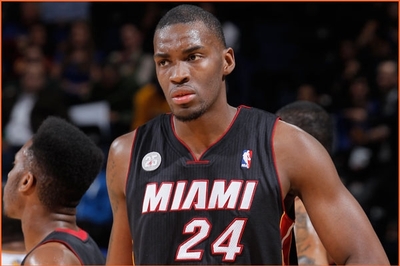 NBA.com
Although his Summer League numbers did not meet the Heat's expectations, Jarvis Varnado did showcase a brand new jumper that he's hoping will aid him in leapfrogging Joel Anthony for a roster spot.
Of course, Varnado will have to wait for the Heat to make a decision on Anthony, who has been at the center of trade rumors due to a lucrative contract that is taking nearly $4 million per year from the Heat.
The franchise has kept Varnado, who is almost a clone of Anthony, around in hopes that he can develop and become the offensive player Joel could never be. If Summer League play was any indication of the future, which it really isn't, Varnado is going to earn the minutes Joel garnered.
The former Mississippi State star, who still holds the SEC records for blocks, played the first games of his NBA career last season in stints with the Heat and Boston Celtics. He played eight games with Miami, tallying two points, six rebounds, two assists, two blocks, five turnovers and nine personal fouls.
Varnado earned a career-high 15 minutes worth of playing time in a late-season contest with the Cleveland Cavaliers last year. He concluded that night with four rebounds, two turnovers and four fouls.
Obviously, there's a lot of work to be done, and that work could be coming in the D-League instead of the final Heat roster.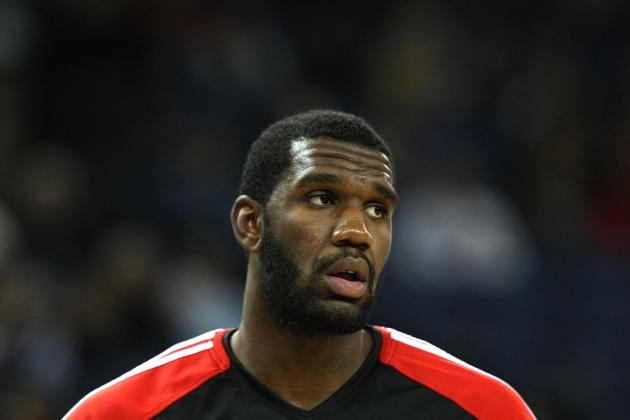 Jed Jacobsohn/Getty Images

First off, let's limit the overzealous predictions of Greg Oden being the Roy Hibbert and Brook Lopez-stopper.
That's the ideal situation. Ideally, the former No. 1 pick is going to be eased back into the pace of the game, will miraculously remain healthy and aid the Heat in a postseason run that will include matchups with the Nets' 7'0" scoring center and the Pacers' 7'2" Redwood.
Even more ideal is Oden becoming healthy enough to start, effectively moving Chris Bosh back to his natural position at power forward.
Also ideal was Oden never getting hurt in the first place, and the Portland Trail Blazers contending for another title with the core of Oden, Brandon Roy and LaMarcus Aldridge, but, hey, things happen.
Oden has been working out at the AmericanAirlines Arena since signing with Miami in early August, but there is no indication on whether or not he will be ready for the Heat's opening night contest with the Chicago Bulls on October 29.
And even if he is ready, it wouldn't come as a surprise if the Heat don't intend on using Oden until the midway point of the season. Using the oft-injured center in meaningless games in November and December doesn't exactly bode well for the 7-footer being healthy and ready to bang with the likes of Lopez and Hibbert.
Miami was dominated by the interiors of teams like Chicago, Indiana and San Antonio throughout their championship run last year. They nearly succumbed to the Pacers and Spurs, while also struggling against a Bulls team that was lacking most of its usual starters. Oden was brought in to be the wide body that will limit the influences of the bigs of these teams on future Heat playoff runs.
Oden hasn't played a game of professional basketball since December 5, 2009, and no team is more aware of that than the Heat. His minutes and progression will be monitored throughout the season, with the coaching staff planning on gearing him up for another title run.
Jesse Johnson-USA TODAY Sports

He's back, he's back, I cannot believe it but Michael Beasley is back.
Has Pat Riley become so bored with winning that he's now taking on challenges like Greg Oden and Michael Beasley? The Heat didn't have much money to spend, and with the $2 million they've used in free agency, these two players are both projects.
However, Beasley can be fixed. While Oden's body is unpredictable, it's only Beasley's mindset that's unpredictable. The physical issues can't be fixed, but the mental issues can in the right environment and with the right tutelage.
It's going to take a solid locker room to salvage Beasley's career. The Heat's former No. 2 pick has played for the Minnesota Timberwolves and Phoenix Suns over the past three years, but did little to prove himself as both teams simply let him walk away.
His PER has dropped significantly, and he hit rock-bottom by being bought out by a Phoenix Suns team that will be lucky to win 35 games this year. He averaged 10 points on 41 percent shooting, shot 31 percent from three and grabbed 3.8 rebounds per game last season.
The Miami Heat have decided to give him a second chance, and it's almost puzzling why. Beasley's versatility and athleticism suits the team, but his history of having a lack of commitment and focus is the exact opposite of what Miami usually looks for in their free-agent acquisitions.
If Beasley can't get on the right path with LeBron James, Dwyane Wade, Ray Allen and Shane Battier in his ear, consider his career over.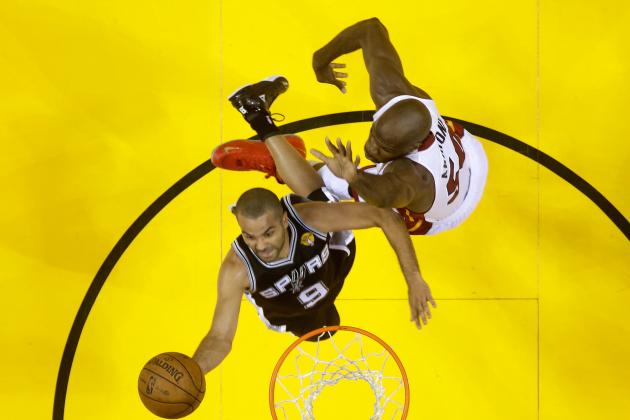 Pool/Getty Images

With Greg Oden not set to earn consistent minutes, the Heat may very well end up utilizing Joel Anthony once again.
Although he has failed to live up to a bloated contract he earned in the summer of 2010, Anthony does attempt to make up for it as one of the league's most gifted and versatile defenders for a player his size at 6'9".
His extraordinary wingspan and quick feet allow him to not only defend the interior and send back shots at the rim, but to also deter ball-handlers in the pick-and-roll, shadowing and using those long arms to shade the handler from getting a clear view of his target. Per 36 minutes, Anthony is averaging nearly three blocks for his career.
However, that's essentially all Joel has going in for him. At times we see him unleash a short-range jumper or a hook, but Miami will always be playing 5-on-4 on the offensive end if No. 50 is in the game. His minutes last year were a career-low as the Heat employed nothing but players who could either shoot or thrive in the pick-and-roll.
Miami may end up giving him another shot this season with teams surely looking to abuse the Heat in the interior as Indiana and San Antonio did in last year's playoff run. They will need all the size they can get if they run into roadblocks like Indiana, Brooklyn or a healthy Chicago team.
Until then, Joel will continue to dangled on the trade block, most likely with few suitors willing to take on a contract that pays Anthony nearly $4 million per year over the next two seasons.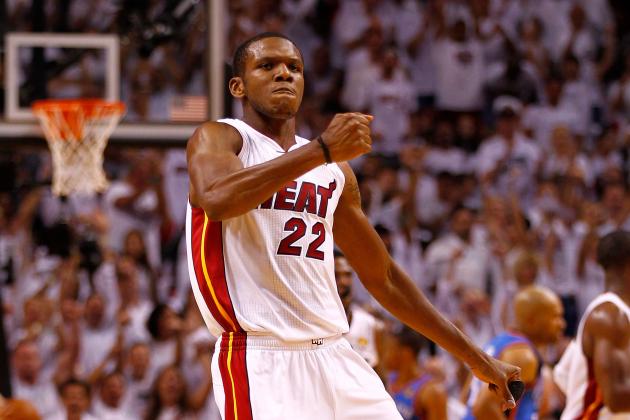 Mike Ehrmann/Getty Images

He's quietly bided his time, and the 2013-14 season may be the year it finally pays off for James Jones.
Minutes have been low for the Heat's reserve sharpshooter, who played in only 38 games and averaged six minutes of playing time last season. With the Heat already employing the services of shooters in Shane Battier, Ray Allen, Mike Miller, Rashard Lewis and Mario Chalmers, Jones simply wasn't needed due to the lack of intangibles he provided in comparison with these players.
However, with Miller out of the picture and Battier and Allen possibly entering the final year of their careers, Jones may begin to earn a role in the rotation that he hasn't possessed since the 2010-11 season when he was a contributor in the rotation and played in 81 games.
Miami's depth has kept Jones on the bench, yet it has not seemed to bother Jones at all. In fact, he's accepted his role with exceptional gratitude and recently picked up his player option to remain on the team for at least one more year.
Because he accepted a role that caused a steep decline in his minutes over the past two years, Jones may end up receiving minutes again. He's one of the league's purest shooters, converting at a 40 percent clip from beyond the arc over his career.
Jones played a key role in certain stretches during that fatal playoff run, including a 25-point scorching of the Boston Celtics in the Game 5 clincher that featured James dropping five three-pointers on seven attempts.
However, he will need to prove himself in order to earn minutes. Even with Miller no longer on the team, there are still several shooters, now possibly including the likes of Norris Cole, LeBron James and Chris Bosh, who will take his minutes.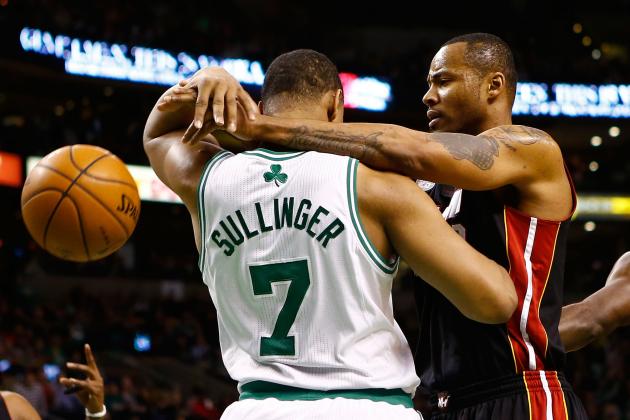 Jared Wickerham/Getty Images

Unlike James Jones, Rashard Lewis can provide more than being a shooter and the occasional nuisance that takes charges under the rim.
With the Heat possessing one less shooter and one less rebounder, there will be more expected out of the 34-year-old Lewis, who competed for minutes with Miller last season. There are certain intangibles Lewis can't provide that Miller could, but Lewis is still a shooter of an elite class that can also use his size to command some respect on the boards.
In 55 games last year, nine of which he started, Rashard shot 39 percent from beyond the arc while averaging five points and two boards. He capped off the regular season with some strong performances, including a 19-point effort in a win over Cleveland and a 16-point, eight-rebound output in the Heat's regular season finale against the Orlando Magic.
In Lewis' final five games of the year, he converted 12-of-29 from beyond the perimeter. The shot is obviously still there and may come in handy for a Heat team looking to replace the influence Miller provided when he actually garnered playing time.
Not only did Lewis show he can still hit from three, he also proved that he is useful as a mid-range threat and is ready to knock down open shots.
His main problems come on the defensive end, and it's why Udonis Haslem should continue earning minutes over him. Lewis lacks the strength to bang with the likes of David West and Carlos Boozer and doesn't have the speed to keep up with small forwards such as Carmelo Anthony and Paul Pierce.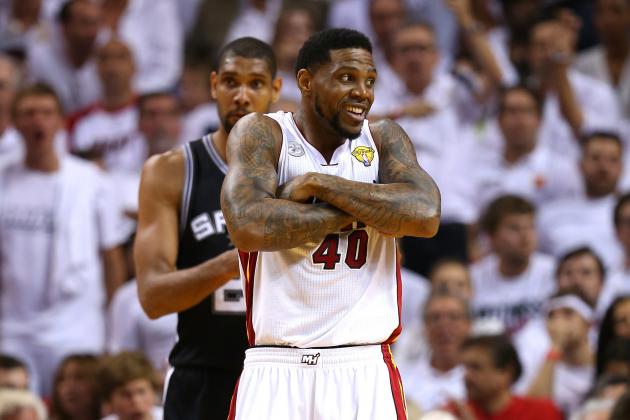 Mike Ehrmann/Getty Images

Even after averaging career-lows across the board last season, there's more hope for Udonis Haslem leading into the 2013-14 season than there was going into the 2012-13 campaign.
The reasoning stems from Haslem's offensive production in Miami's series against the Indiana Pacers, where he proved that he could still hit the mid-range jumper that used to garner him a consistent spot in the rotation. Hope was waning for the return of Haslem's jumper, which hasn't been the same since tearing a ligament in his foot in 2010, but two games against Indiana quelled our apprehension.
On two occasions against the Pacers, Haslem shot 8-of-9 from the field, both games being double-digit victories. The first came in an 18-point drubbing of Indiana in Game 3 where he also grabbed seven rebounds; the second came in front of an enthused AmericanAirlines Arena where he scored 16 points and dominated a crucial third quarter.
Haslem also put together some solid showings in the Heat's series against the Milwaukee Bucks. The longtime Heat power forward scored a combined 25 points on 11-of-15 from the field in Miami's Game 3 and 4 victories.
He shot a career postseason-high 59 percent from the field, while appearing in 22 games and starting 19.
Much like after the Heat's 2012 title victory over Oklahoma City, it'll be interesting to see what the Heat do with the starting lineup. Does Haslem continue to start at power forward? Or do the Heat place Chris Bosh back at his natural position?
Either way, Haslem is going to find a role with the Heat simply because of his commitment to energy and the possibility that his mid-range game is found with consistent results.
Kevin C. Cox/Getty Images

Even if he is a player who spends the majority of his time on offense cutting to the basket, Chris Andersen shooting 81 percent was one of the most mind-boggling, eye-popping stats of the 2013 postseason.
Who would have guessed how well Andersen would thrive in those second-unit lineups that featured LeBron James as the sole representative of the Big Three? James' ability to penetrate was a godsend to the Birdman, who feasted on LeBron taking his man out of the equation and delivering passes near the rim.
Let's not forget that Andersen was a combined 17-of-17 from Game 5 against the Chicago Bulls to Game 4 against the Indiana Pacers. He went a six-game stretch in the postseason, going against some of the league's top frontcourts, without missing a single shot, including a Game 1 win over Indiana where he converted all seven of his field goals.
His role on the team would decline in the NBA Finals due to the Hall-of-Fame level post-work of Tim Duncan, but the time he spent with the Heat was enough to earn him a one-year deal for the upcoming season. That's something for a player who was a free agent until late January that relied on a series of 10-day contracts with the Heat last season.
Andersen quickly became a favorite target on the court as well as a favorite of the Heat fanbase. It became the norm for fans, mostly babies and children, to emulate Andersen's signature mohawk and tattoos, while also receiving the flapping of wings from 20,000 ecstatic fans following a big block or dunk.
Birdman will continue to receive minutes in the rotation as the first big man off the bench, but should see his minutes split with Greg Oden once the former Trail Blazer is healthy enough to earn 15 minutes of playing time per contest.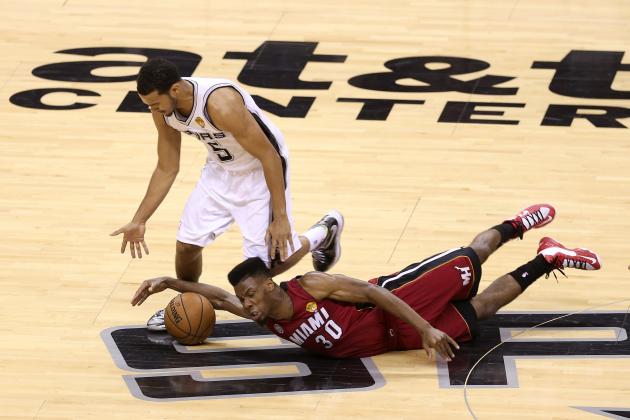 Christian Petersen/Getty Images

We're still not sure how it happened, but Norris Cole became one of the most feared shooters in the NBA postseason for a brief moment.
Unlike Chris Andersen, who was having perfect shooting days scoring around the rim, Cole was having elite-level shooting days taking and making looks from mid-range and beyond the three-point line.
Before he fell out of favor in the NBA Finals, Cole played a significant role in Miami's series wins over the Chicago Bulls and Indiana Pacers. He scored back-to-back 18-point games in the Heat's Game 2 and 3 wins over the Bulls, including shooting a perfect 7-of-7 from beyond the arc.
He would drop seven points and four assists in Miami's Game 4 win, before capping off Game 5 with a five-point outing that was heralded by a driving dunk over Joakim Noah and Carlos Boozer.
The main story, however, is just how Cole became such an elite threat from beyond the arc. He shot 28 percent from three in his rookie season and was on his way to shooting near 30 percent again in the regular season, before suddenly gaining a stroke that earned him a heavy role against Chicago and Indiana.
Cole wound up shooting an absurd 53 percent on 32 attempts from beyond the arc in the postseason. He shot 36 percent from the same area in the regular season. Like LeBron James and his surprisingly high percentage from deep, you wonder if Ray Allen had anything to do with Cole improving his shooting as the season went on.
Norris provides the Heat with a solid backup point guard that can be used as a spark off the bench. He can consistently hit the mid-range jumper, is the best alley-oop passer on the team and has learned to calm himself on fast breaks, learning that he cannot take on three defenders just because he may be the fastest.
Entering his third season this year, Cole should make a jump after averaging six points and two assists off the bench last season.
Also, let's not forget Cole did this to Kyrie Irving last year in a game where he came up a rebound short of a triple-double.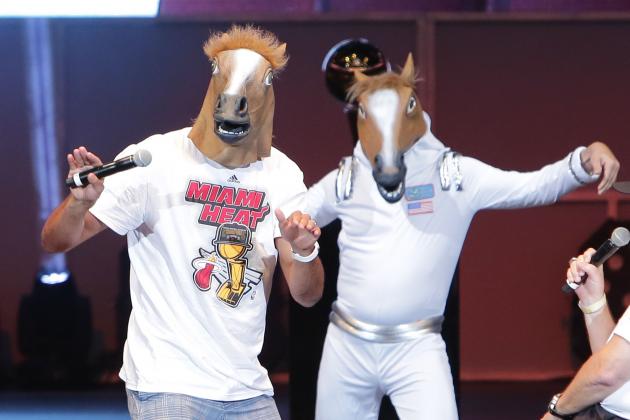 Alexander Tamargo/Getty Images

Miami will need size at the 4 in order to keep Shane Battier away from defending guys like David West and Carlos Boozer again.
The physical toll and abuse Battier took in those two series may have ended up playing role in why he struggled so mightily with his shot throughout the postseason. After shooting a career-high 43 percent from beyond the arc in the regular season, Battier shot below 30 percent from the same area in the postseason.
That number was inflated by Battier's final two games of the NBA Finals when he shot a combined 9-of-12 in Games 6 and 7, including a clutch 6-of-8 in Miami's Game 7 championship clincher. Much like his 2012 postseason run where he came alive in the NBA Finals, Battier stepped up when he was needed most.
Before those two games, however, the Heat may have shot themselves in the foot by assuming Battier was up for the challenge of defending players who had significant size and weight advantages of him. As a result, Battier's role would disappear as his minutes dropped and role was dissipated on account of there being no place to fit him.
Considering how this also may be his last NBA season, Battier would most likely prefer to defend small forwards again.
Indiana and Chicago proved that small-ball isn't effective when the shooters aren't making their shots, and the Heat will need to come up with a different game plan that doesn't involve being overmatched at the 4.
Nevertheless, Battier's role as a shooter will become magnified this season in the wake of Mike Miller's departure. Following two up-and-down shooting seasons with the Heat, Battier will be counted on, once again, to be a top shooting threat.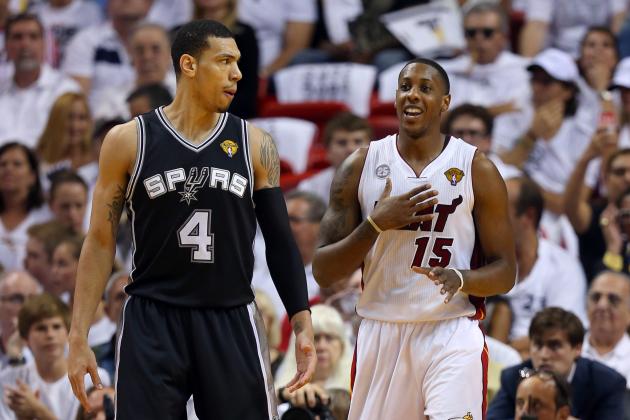 Mike Ehrmann/Getty Images

Consistency from the point guard position has long been a thorn in the Heat's side, with no player being as inconsistent and frustrating as Mario Chalmers.
Chalmers, who has absolutely proven himself to be the starter of this Heat team, managed to keep his mistakes to a minimum last year. The 41 percent he shot from deep in the regular season was a career-high, and the 1.5 turnovers he averaged was significantly lower than the 2.2 he was coughing up the year before.
His percentages, namely his three-point percentage, dropped in the postseason, but he still had his moments, including a forgotten 20 points in Miami's Game 6 win over San Antonio, and a hugely significant banked-in three-pointer at the third-quarter buzzer in Game 7.
Although he missed about five wide open threes that game, the most difficult shot he took was the most crippling to San Antonio as it erased a one-point lead they thought they'd have going into the fourth. Chalmers dropped a combined 34 points on 13-of-26 shooting in Games 6 and 7.
You never know what you're going to get out of Mario. There are times where, like his Heat teammates, you're screaming at him because you can't believe he just missed LeBron for another alley-oop or he dribbled off his foot, yet there are times where you want to christen him MVP because he's making driving layups over 7' centers and draining three-pointers with ease.
Chalmers tied a franchise-record for three-pointers in a game last year when he dropped 10 threes and scored a career-high 34 points against the Sacramento Kings.
Nevertheless, Chalmers is the perfect point guard for Miami. With LeBron James also being used as a ball-handler, Chalmers being a facilitator isn't a necessity, and his three-point shooting gives the Heat an extra boost in the starting lineup to space the floor for the drives of LeBron and Dwyane Wade.
The only attribute we continue to wait on is for Mario to throw the type of alley-oop passes that Norris Cole delivers to LeBron James.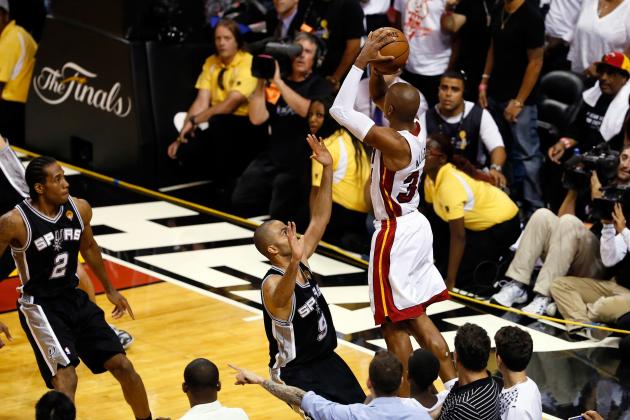 Kevin C. Cox/Getty Images

Ray Allen made 292 shots and 139 three-pointers last season, but none were bigger than the final shot he hit for the 2012-13 season.
Nobody remembers that Ray Allen was scoreless and missed all four of his field-goal attempts in Game 7 because of what transpired the game before. I don't need to get into specifics because we have all seen the play a minimum of 10 times, but we'll get into specifics anyway because it may have been one of the greatest shots in NBA postseason history.
With the seconds ticking away and the Heat down three, LeBron James missed the three that would have tied it. Fortunately for the Heat, Spurs coach Gregg Popovich had taken Tim Duncan out of the game, leaving Miami's Chris Bosh to go up for the offensive board with little resistance.
Bosh then kicked it out to the back-pedaling Allen, who swished a three-pointer in the corner over Tony Parker to tie the game with five seconds remaining. Parker missed on the other end, Allen uttered the motto of the Heat's Finals run, the game went to overtime and Miami somehow pulled out a 103-100 victory.
Admit it, you're still in shock it actually happened.
It's exactly what Allen has brought in to do, however, and it happened on quite a few occasions during the regular season. Ray also had a game-winner against the Spurs in the regular season, as well as against Cleveland and Denver. He was brought in to get open and make crippling shots, and it's what he did all year.
Allen willingly came off the bench to average 11 points and shoot 42 percent from beyond the arc in the regular season and put up similar numbers in the postseason.
Over the summer, Allen opted-in and accepted a deal that paid him less had he opted-out for more money. It's pretty obvious that Ray wants to make another run at a third title with the team that's most likely to do it.
Plus, life is always easier if you're a shooter and LeBron James is facilitating plays.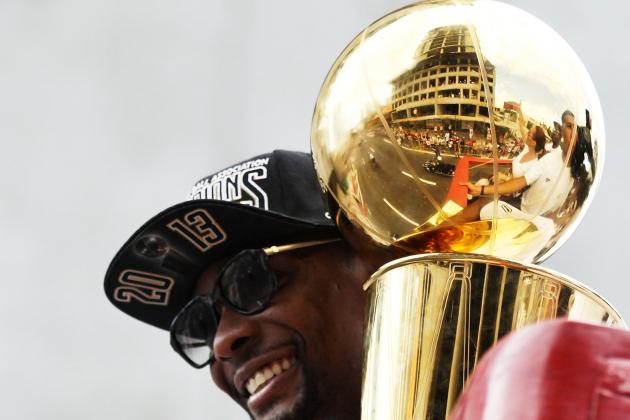 Marc Serota/Getty Images

Like Ray Allen, Chris Bosh's 2012-13 season came down to a series of plays at the most crucial part of the season.
Bosh's offensive rebound and kick-out to Allen were huge, but he didn't stop there as he also blocked Tony Parker and Danny Green's jumpers on San Antonio's final two possessions to conclude Game 6. The 0-of-5 he shot in the ensuing Game 7 turned out to be an afterthought because of the magnitude of what he accomplished the game prior.
For the most part, however, Bosh's season was a tumultuous one. He was absolutely dreadful during Miami's series against Indiana, scoring less than ten points in four consecutive games, and only went for 10 or more rebounds on six occasions throughout Miami's playoff run.
Bosh's average of 6.8 rebounds per in the regular season was a career-low, and the 16.8 points he was dropping was the lowest scoring output he's experienced since his second season in the league. He was taking nearly two fewer field-goal attempts than in 2012, but did convert a career-high 54 percent of his shots.
Also not to be forgotten was how well he shot from mid-range. He was arguably the best shooter from inside the perimeter last season, converting an exceptional 49 percent of his shots from 16 to 22 feet. In total, Bosh converted 43 percent of his jumpers, with that number weighed down by the 111 three-pointers he attempted.
Those three-pointers that many were against, since you want your big man to have something of an influence near the rim, certainly had a positive impact in the postseason as Bosh converted nearly 41 percent of the 37 three-pointers he attempted.
However, Bosh taking three-pointers isn't something the coaching staff should get used to. They have failed to provide their 6'11" power forward/center with a consistent role in the offense and have only brought his game further and further away from the basket, despite his solid back-to-the-basket game.
With one year left on his contract until he possibly opts-out, Miami will need to convince him to stick around. Even with two titles, and the possibility of a third on the way, to his name, Bosh may want to spend the rest of his prime years on a team where his role is far larger than that in Miami.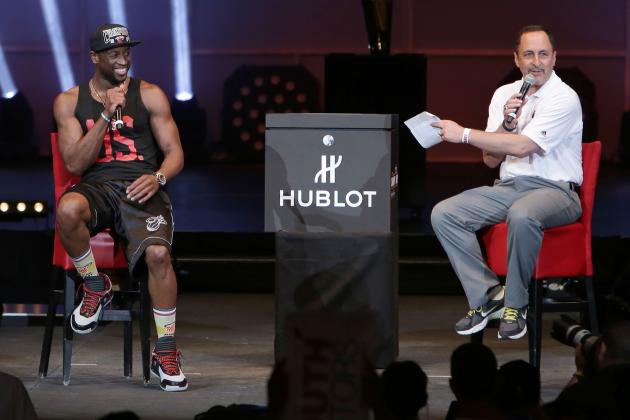 Alexander Tamargo/Getty Images

LeBron James may be at the focus of the 2014 offseason, but the likelihood that he remains a member of the Miami Heat or joins another team could ride primarily on how healthy Dwyane Wade is throughout next season.
There were moments through the postseason where the Heat looked a lot like those Cleveland Cavalier teams LeBron was burdened to carry. With the exceptions of the Heat's closeout games against Chicago and Indiana and prior to the NBA Finals, Wade had the look of a player who was hitting the decline of his career in the middle of a postseason run.
Prior to the Finals, where Wade went berserk and evoked memories of 2009-era Dwyane, he only had two games scoring at least 20 points, one of those coming in a Game 2 victory over a severely outmatched Milwaukee Bucks team. The other came in Game 7 against the Pacers.
Before taking on the Spurs, Wade had as many games scoring less than 10 points than he did scoring at least 20.
Wade woke up in the Finals, however, scoring a tremendous 32 points in Miami's Game 4 win, pouring in 25 points and 10 assists in a Game 5 loss, and capping off the series with a 23-point, 10-rebound outing in Game 7. It was more evidence that showcased how Wade can wake up when needed, as seen before in Miami's Game 5 win over Chicago and Game 7 win over the Pacers.
The inconsistency, however, was troubling. Wade's playoff numbers were the lowest of his career, and the 33 percent he shot on 85 attempts from 16-25 feet was downright upsetting to watch. He did take 104 shots at the rim in the postseason, but his numbers outside of 16 feet were the exact reason why Miami inserted Mike Miller into the starting lineup halfway through their series with San Antonio.
Wade's health, even after the championship, is still the topic of concern as it was revealed that he only recently returned to basketball action. Even with the rest coming from the offseason, one has to wonder how durable Wade's knees are for the course of the 82-game regular season and the lengthy postseason.
The coaching staff will have to monitor Wade's minutes this season in hopes they can preserve him for the long haul of what should be Miami's most difficult postseason run yet. Perhaps we can look forward to the coaching staff increasing Bosh's role and placing him as the No. 2 scorer, while giving Dwyane's knees the rest they need for the playoffs.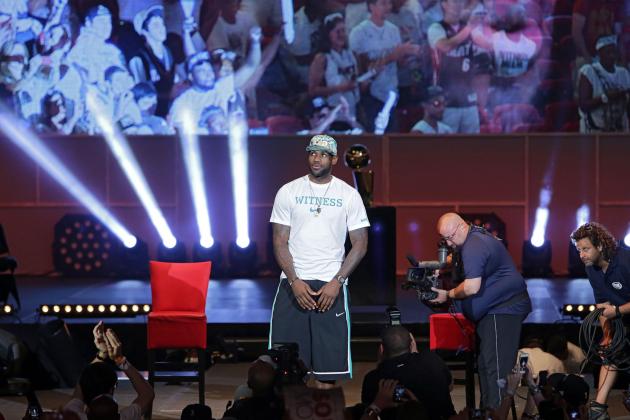 Alexander Tamargo/Getty Images

When you're the best basketball player in the world, the chances are likely that you're also the best player on your team.
LeBron James enters his 11th season in the NBA with sky-high expectations and the history to back it up. He's fresh off winning his second consecutive league MVP, Finals MVP and championship, capped off by a legendary 37-point, 12-rebound Game 7 against the Spurs where he hit the dagger jumper in the final minute.
Not to be forgotten in that game was LeBron finally regaining the confidence he had in his jumper that he had all season long. James was 5-of-10 from beyond the arc in Game 7, coming to the realization that he was one of the league's most efficient shooters last season and taking the wide-open looks the Spurs handed to him.
Also not to be forgotten was the triple-double he dropped in a crucial Game 6 where he helped the Heat erase a significant deficit in the fourth quarter with a 16-point output in the final frame of regulation. Following the first three games of the series where he dropped less than 20 points, LeBron ended up scoring at least 25 points, including going for at least 32 points three times, in the final four games of the series.
So about this LeBron choking idea...can we officially put a stake in it, or are we going to keep fooling ourselves with inane and nonsensical logic like certain talking heads on certain mainstream media outlets?
Let people think what they want; LeBron is still the best player in the league by miles. However, it's going to be interesting to see how teams defend LeBron following San Antonio's borderline successful strategy of giving James a five-foot cushion to shoot mid-range jumpers and three-pointers.
In the first three games of the series with the Spurs, James looked rattled as he constantly second-guessed himself and lost confidence in his jumper. Following a season where he shot a career-high from the mid-range, opponents may just employ San Antonio's defensive look and allow LeBron to take as many shots as he pleases.
My advice? Don't do it. LeBron's confidence is in the stars right now, and allowing him to take and make open jumpers spells disaster for an opponent.
Still, it is a more useful tactic than playing him close and allowing him to kill you at the rim. Either way, it's all bad for the opposition.