San Francisco 49ers: What You Need to Know Heading into Week 2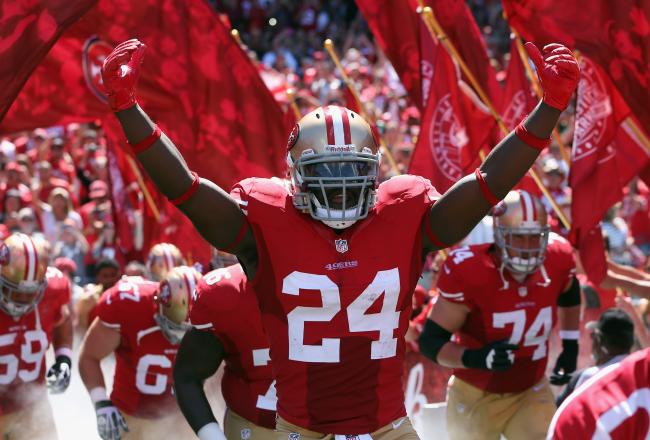 Jeff Gross/Getty Images
The San Francisco 49ers started this 2013 NFL campaign off with a bang, taking it to the Green Bay Packers in a close one at Candlestick Park. The club has a big fat zero in the loss column, which is how they'd like to keep it. Moreover, it was a statement game by the team as a whole, particularly its quarterback, Colin Kaepernick.
San Francisco was not perfect, though, and there are other variables to consider as it heads further into the season.
Here is a complete recap of the weekend as it relates to the 49ers.
Division Standings
NFC West Division Standings

| | | | | |
| --- | --- | --- | --- | --- |
| Team | W | L | T | Percentage |
| San Francisco 49ers | 1 | 0 | 0 | 1.000 |
| St. Louis Rams | 1 | 0 | 0 | 1.000 |
| Seattle Seahawks | 1 | 0 | 0 | 1.000 |
| Arizona Cardinals | 0 | 1 | 0 | 0.000 |
NFL.com
Seahawks vs. Panthers (Recap):
While the 49ers came storming out of the gate offensively, the same cannot be said for quarterback Russell Wilson and Seattle. Starting with the O-line, this team struggled mightily against a Carolina squad that finished below .500 a year ago. More than that, had it not been for a late-game fumble, the Panthers might've put this one away and sent Wilson home at 0-1.
Running back Marshawn Lynch only averaged 2.5 yards per carry on 17 attempts, too, which is shocking for "Beast Mode." On Sunday, he almost always channels his range of emotions into hard running, but that was not the case in Week 1. Lynch was stonewalled versus the Panthers, who were 14th against the run in 2012.
It was decent defensive performance from Seattle, but there is no denying that this team, which was heavily favored heading into 2013, limped by a below-par club to start the season.
Even though they did not come away with the win, this game said more about Arizona than it did St. Louis. The improvement by the Cards was noticeable, especially since a lot of pundits had written the team off prior to the start of the regular season. Encouraging for fans is that Larry Fitzgerald's value appears to have been restored with Carson Palmer, while the defense looked reinvigorated.
Meanwhile, we got a first look at this St. Louis team, which looks much different on the offensive side of the ball. TE Jared Cook looks to be the focal point of the passing offense, having finished with seven grabs for a whopping 141 yards and a pair of touchdowns.
Both of teams will be highly competitive this season, despite their final record.
Analysis: Though three of four teams in the NFC West are undefeated to start the season, our preseason suspicions were confirmed; the 49ers look like the pack leader.
Injury Report
Injury Report

| | | | |
| --- | --- | --- | --- |
| Player | Position | Injury | Timetable |
| LaMichael James | RB | Knee | 1-2 Weeks |
| Patrick Willis | ILB | Hand | Cleared |
| Nnamdi Asomugha | CB | Collarbone | Cleared |
Nancy Gay and Matt Maiocco
Outside the notables on the non-football injury and physically-unable-to-perform list, the 49ers are relatively unscathed.
Story to Watch
What Must Improve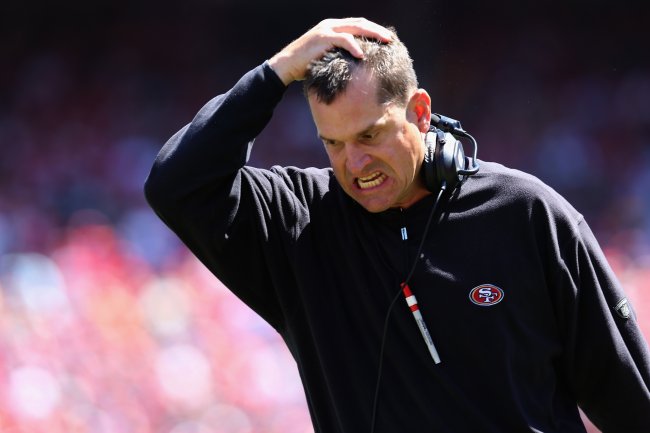 Jeff Gross/Getty Images
Its been a long time since we've said the 49ers need to improve on the defensive side of the ball, but seeing as how Colin Kaepernick and Co. can outscore virtually any team in the league (because they've had to), it puts the onus on the defense to improve.
If this unit can kick back into gear, the team as a whole can be unstoppable...
No. 1: Tackling
One of the best tackling teams in the NFL was slipping and sliding on the gridiron on Sunday, whiffing on the ball-carrier, which led to a lot of yards after the catch and nice runs by the Green Bay tailbacks.
For a team like the 49ers, which prides itself on fundamental play, this was totally out of character for the defense. Heading into an ultra-physical game against Seattle in Week 2, it is imperative that San Francisco returns to form:
49ers D missed just 66 tackles all last season. Feels like they're approaching that already against GB! :)

— Pro Football Focus (@PFF) September 8, 2013
No. 2: Pass Coverage
Not to knock the individual play of each and every player on the back end, but the 49ers have gotten away with hiding their secondary for the past two seasons under coach Jim Harbaugh, having refrained from making any serious investments in the back end of the defense.
Having five All-Pros in the front seven has afforded them just such a luxury.
However, with the depth teams have at wide receiver, combined with the "early and often" approach that passing attacks have been leaning on, the 49ers may realize they need to acquire extra talent in the secondary next offseason. But for now, they'll have to make do.
In 2013, San Francisco will need more stingy performances from its top three featured cornerbacks, Tarell Brown, Carlos Rogers and Nnamdi Asomugha:
Nnamdi Asomugha was targeted 9 times yesterday. Since PFF has been doing stats (2008) that is the most he's been targeted in one game #49ers

— Jeff Deeney (@PFF_Jeff) September 9, 2013
No. 3: Pass Rush
Even though the defense pressured the quarterback a fair amount in Week 1, the 49ers only sacked Aaron Rodgers twice, with who else but outside linebacker Aldon Smith getting in on the action both times.
Coordinator Vic Fangio relied on the pressure from that side of the defensive front stemming from Nos. 99 and 94. This is a continuation from last year, but disappointing in the sense that S.F. can be doing more to help those two. In the draft, the team traded up for pass-rush specialist Corey Lemonier of Auburn.
Despite the snowballing hype he picked up prior to the season, Lemonier was a total nonfactor as the 'Niners constrained him to the sideline for the majority of the game.
Now, given what the team was up against this past week, it was a bit of a surprise to see the coaches not take full advantage of their resources. And even though Ahmad Brooks is a top-tier outside 'backer, Lemonier's presence in nickel situations might've provided the 49ers with a more healthy pass rush up front.
This wrinkle should evolve over the course of the season, but why lock up Corey Lemonier at all?
Aaron Rodgers made a cheese sandwich in the pocket before throwing for that first down.

— Alessandro Miglio (@AlexMiglio) September 8, 2013
...Offensively, the 49ers could've done more as well…
No. 4: Ball Distribution
200-plus yards for any one receiver indicates a serious lack of balance in the passing game. Even if it is working, it is not ideal to lean on a single player like that. As far as San Francisco's aerial attack went on Sunday, it was limited to Anquan Boldin and Vernon Davis, who accounted for 19 completions, 306 yards and three touchdowns.
This was a high, high percentage of Colin Kaepernick's stellar day through the air.
The way the 49ers can become more dangerous is by keeping the defense honest with ball distribution. Kyle Williams, Quinton Patton and Marlon Moore were the other three active wideouts, and saw virtually no action. The 'Niners also failed to utilize the totality of the tight end position, only getting one ball to second-round pick Vance McDonald.
The 49ers also neglected the running backs as viable receiving outlets, which hardly makes sense, given the valuable combination of hands, athleticism and vision that Frank Gore and Kendall Hunter both bring to an offense that was under fire.
Spreading the ball around to this gaggle of playmakers can take this passing offense to another level:
Anquan Boldin had 17 targets yesterday. In 2012 he 4 weeks with double digit targets (back-to-back just once)

— Steve Gallo (@SteveGalloNFL) September 10, 2013
No. 5: Run, Run, Run
Colin Kaepernick is a heck of a player, but the 49ers have a stable of runners, including one of the league's few true feature backs.
However, tailbacks Frank Gore and Kendall Hunter did not appear to be a significant part of the game plan to start the season, which seems to be indicative of the direction this team is headed. The quarterback is too electric—he is the lightning rod for the offense that has continued to generate huge offensive numbers.
But besides Gore being a top back, the reason the 49ers have to run the ball is for the sake of balance. This will open things up for Kaepernick, making him even more deadly from the pocket and as a runner. If Gore is having the kind of day where the defense can't ignore him, it'll create opportunities for all the surrounding players on offense.
This way, the 49ers will have a more fluid attack:
49ers RB Frank Gore played 86% of snaps. He had only 44 yards rushing on 21 carries, but scored go-ahead TD and was incredible as a blocker.

— Matt Maiocco (@MaioccoCSN) September 9, 2013
No. 6: Game Management
Burning timeouts at no discernible moment during the game is a sign of poor clock management. Whether it was the game clock or the play clock, the 49ers offense struggled to call a clean game and conserve their timeouts. This appeared to be a sign—one of the only ones—of Kaepernick's inexperience.
In practice this week, the 49ers need to put their new scoreboard to use, challenging Kap to read, react and confidently make adjustments when necessary. This is one of the prevailing elements separating him from players like Tom Brady and Peyton Manning, who intuitively control the game:
Also, a scoreboard was installed yesterday for the #49ers practice field. Should be handy for two-minute drills. pic.twitter.com/Frl9kySRXR

— Christian Gin (@Christian_Gin) August 7, 2013
This article is
What is the duplicate article?
Why is this article offensive?
Where is this article plagiarized from?
Why is this article poorly edited?

San Francisco 49ers: Like this team?