2015 No. 1 DE Jashon Cornell and Top Recruits to Watch on ESPN Friday Night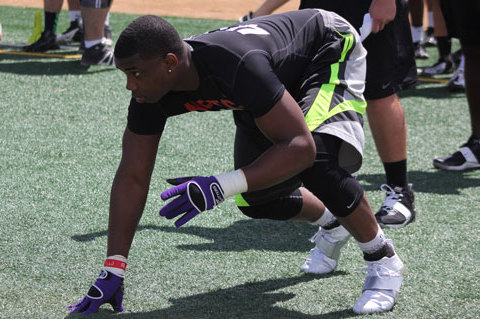 247Sports
Jashon Cornell is the No. 1 DE in the 2015 247Sports composite rankings. Fortunately for recruiting fans, Cornell can be seen on ESPN2 Friday night, as his Cretin-Derham Hall (Minn.) team takes on Stillwater (Minn.) at 8 p.m. EST.
The Raiders have featured great players throughout their history, as Arizona Cardinals receiver Michael Floyd, Miami (Fla.) offensive tackle Seantrel Henderson are Cretin-Derham Hall alums, while Minnesota Twins catcher Joe Mauer once starred as an elite quarterback prospect for the school.
When Cretin-Derham Hall takes the field on Friday night, Cornell will not be the only notable recruit.
Player evaluations are based on review of tape at Scout.com, Rivals, 247Sports and ESPNU.
Begin Slideshow

»
Blake Banham will be Cretin-Derham Hall's top running back on Friday night. However, do not be put off by his size at 5'7" and 170 pounds.
Banham, who has experience returning punts, has good lateral agility and flashes the vision to see cutback lanes. He lacks great speed, but does possess good instincts and elusiveness.
Banham does not have any offers, but schools such as Minnesota, Michigan State and North Dakota have shown interest, says 247Sports.
The player who the Raiders will look to to stop Stillwater's passing attack the most will be Tim Gordon, a 5'11", 170-pound cornerback.
Gordon has the traits of a solid cover-2 college corner due to his physicality and willingness to tackle. He also shows adequate foot-quickness and solid agility, and can turn-and-run well when he gives cushion.
He has good closing quickness on underneath routes and always finds a way to get his hands on the ball.
North Dakota, Colgate, Coastal Carolina and South Dakota State have offered, according to 247Sports.
Cretin-Derham Hall's field general will be Ricardo Johnson III. He is a senior dual-threat quarterback who is 6'1" and 178 pounds.
Johnson, a 2-star recruit, is going to put a ton of pressure on Stillwater's defense due to his mobility. The Ponies likely will have to deploy a spy on him on crucial downs, as he does not like to stay in the pocket for an extended amount of time.
Johnson's athleticism, quickness and solid speed will likely lead to him being moved to receiver in college. He has an offer from Hawaii, says 247Sports.
The top draw on Friday night will be Jashon Cornell, a 5-star defensive end who is the top player at his position for 2015, says 247Sports.
Cornell, who is 6'4" and 245 pounds, has great quickness at the snap, long arms to stay clean during a rush and the burst to finish plays. He can anchor down versus blocks, engage powerfully to set the edge and use his hands to shed versus running plays.
Cornell may be moved up and down the line all night to exploit mismatches against Stillwater's offensive line. Florida and Michigan have already offered, according 247Sports.
Do not forget about the 2014 Bleacher Report College Football Recruiting Heat Map! This interactive tool allows recruiting fans to locate their favorite top recruits from around the country.
It has a great deal of information and should serve as a valuable resource for the 2014 recruiting cycle.
Edwin Weathersby is the College Football Recruiting Analyst for Bleacher Report. He has worked in scouting/player personnel departments for three professional football teams, including the New York Giants and Cleveland Browns.