NFL Week 2: Breaking Down the Weekend's Biggest Matchups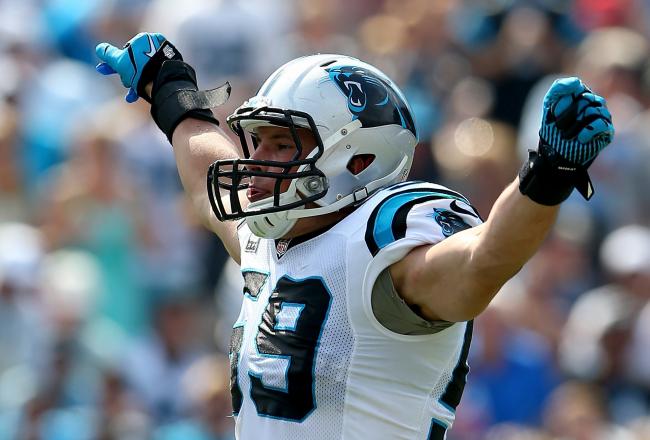 Streeter Lecka/Getty Images
Week 2 of the NFL regular season is the morning after the night before in many ways. At this point, answers to the various questions that emerged during the offseason appear to be clear.
However, with such small sample sizes and so many variables, those answers can't be considered reliable.
For example, last season the Indianapolis Colts made the playoffs after being blown out by the Chicago Bears in Week 1, the New York Jets didn't make the playoffs after blowing out the Buffalo Bills, and the Seattle Seahawks fell to the Arizona Cardinals, who finished the year with a 5-11 record.
Like any sports league reliant on the abilities of human beings, there is no such thing as complete consistency. Better players and teams will perform better more often, but there will always be some fluctuation from week to week and season to season.
Much like the need for patience after the first week of the regular season, patience is needed with players who are coming off their rookie seasons. Regardless of whether those players were impressive during their first years in the league or not, how much longevity they can show will determine how their future pans out.
It will only be one step on their career paths, but every step is important at this stage.
The Cleveland Browns' Mitchell Schwartz struggled in Week 1, but he still has the equity that he built up from his rookie season to support him. Schwartz faced Cameron Wake in Week 1, one of the best pass-rushers in the NFL, so it will be interesting to see if he can rebound against the Baltimore Ravens' Elvis Dumervil.
Luke Kuechly, middle linebacker of the Carolina Panthers, earned rave reviews as a rookie and stole the spotlight from the Ravens during a preseason game this year. Kuechly had nine tackles against the Seattle Seahawks in Week 1, but this week he needs to extend his talents to contain C.J. Spiller of the Buffalo Bills.
After earning a reputation for fumbling in his rookie season, even though he only had one fumble that was overly referenced, David Wilson's worst nightmare became reality in Week 1. Wilson was benched after fumbling twice against the Dallas Cowboys, but he will be pivotal for the Giants to overcome the Denver Broncos in Week 2.
Mitchell Schwartz vs. Elvis Dumervil
Schwartz was one of the most impressive non-quarterback rookies in the NFL last season. He showed outstanding ability as both a run-blocker and pass protector playing across from Joe Thomas at right tackle. That player didn't show up in Week 1 of this season.
Even though his assignment, Wake, is one of the best defensive ends and pass-rushers in the NFL, Schwartz will have expected more of himself in his 2013 debut.
Furthermore, Wake didn't do anything that would have taken the young right tackle by surprise. He had 15 official sacks in 2012, with eight of those sacks coming on speed rushes. Of his 2.5 sacks in Week 1, 1.5 came when he used his speed to get outside of Schwartz.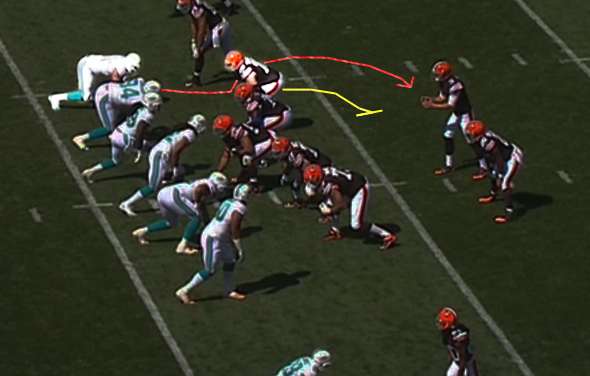 The Dolphins came out in an aggressive formation with their linebackers pressing the line of scrimmage. Trent Richardson was on the far side of the formation, while Wake started the play in a very wide position outside of Schwartz.
All of this led to Schwartz being left alone against Wake.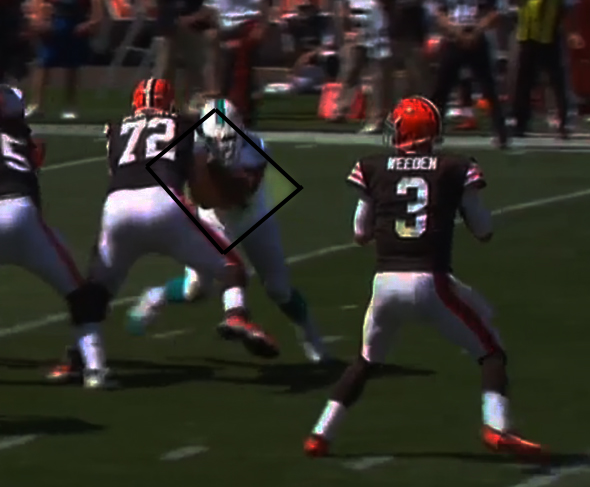 Unlike many tackles, Schwartz didn't allow Wake to beat him at the snap. He dropped back quickly enough to cut off the defensive end from his intended route to the quarterback. However, once he got there, Wake made good use of his hands to knock Schwartz's arms away from him before escaping past his outside shoulder.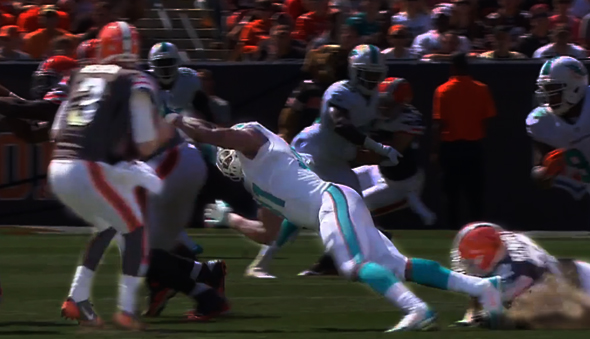 This put Schwartz on the ground as Wake extended to try and force the ball from Brandon Weeden's grasp. Wake didn't force the fumble, but he did enough to take Weeden down for a sack.
Schwartz gave up three sacks on the day, two to Wake and one to Derrick Shelby. Each of those sacks came on plays when he failed to prevent a defender from working past his outside shoulder.
Young players will have days like that—days when nothing goes right for them and their lack of consistency turns into complete disaster. Schwartz didn't really have those issues as a rookie though, so it's possible that something changed this offseason. One performance won't determine that.
A series of poor performances will make the Browns worry, however.
For that reason, it's both a blessing and a curse that Schwartz gets to face another outstanding pass-rusher in Week 2.
Dumervil got the better of Orlando Franklin of the Denver Broncos in Week 1. He was too reliant on his speed rush at times, which made him predictable, but he was still able to pressure Peyton Manning on many occasions. The only reason Dumervil didn't have more than one sack was Manning's quickness of thought and action in the pocket.
Schwartz has an opportunity to re-establish his reputation against a high-quality pass-rusher. Of course, that opportunity also could lower his stock further if he is unable to contain the veteran defensive end.
Luke Kuechly vs. C.J. Spiller
Kuechly and the Panthers' front seven contained Marshawn Lynch in Week 1. Lynch finished the game with 17 carries for just 43 yards. Most of his struggles were a result of the Panthers' defensive line getting the better of the Seahawks' offensive line.
In Week 2, the Panthers face a completely different challenge with Spiller and the Bills.
Much like they did against the Seahawks, the Panthers' defensive line should be able to overwhelm the Bills' offensive line, but that isn't enough against Spiller. Spiller's ability to turn two or three touches into 80-plus yards from any position on the field makes him one of the most dangerous players in the league.
For Kuechly in particular this is a fascinating matchup. He is an exceptionally gifted athlete at the middle linebacker position. The 22-year-old is 6'3" and at least 230 pounds, but he can move in space and is very good at shooting through gaps in the offensive line. However, for any linebacker, the prospect of seeing Spiller in space is terrifying.
Kuechly definitely has the speed to track the running back down in space. He showed that last week.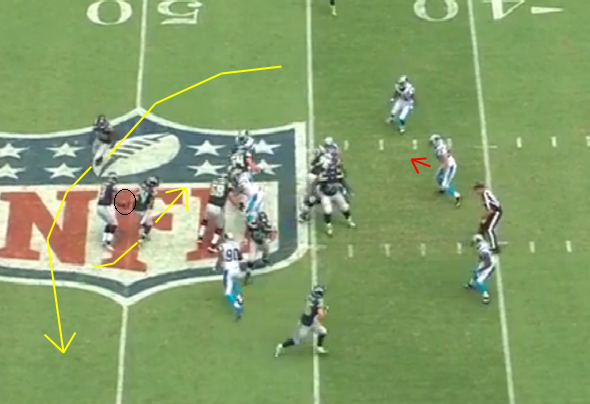 On this play, the Seahawks run an end-around with wide receiver Doug Baldwin from the slot. However, before Wilson gives the ball to Baldwin, he carries out a fake with Marshawn Lynch that Kuechly must respect. At this point in the play, Wilson has already brought the ball back from Lynch and Kuechly is drifting to where Lynch is heading.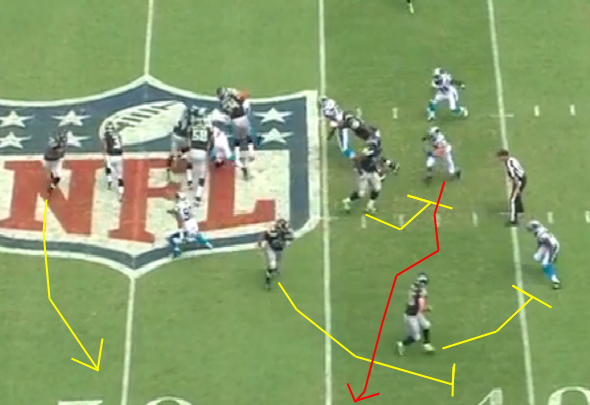 The initial fake puts Kuechly in a position where the closest offensive lineman to him should be able to close him off with ease. Even if Kuechly beats that potential blocker, he still has a distance to go if he is to get to Baldwin before he gets a big gain.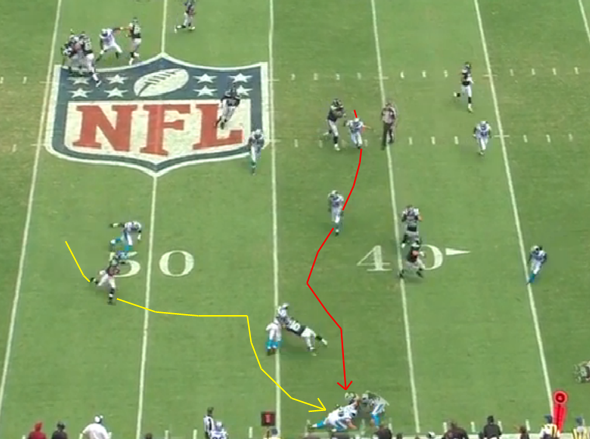 The lineman makes a poor attempt to knock Kuechly to the ground, which allows him to evade him with relative ease before attacking the flat. From there, he has the speed to close in on Baldwin before he can escape down the field.
That play showed off Kuechly's speed, but it also only put Kuechly in a position where he had one direction to go. It didn't test his agility and ability to react to a shifty player in space.
Putting Spiller in that situation with a linebacker is what the Bills will want to do. Spiller couldn't break free against the Patriots in Week 1, but he is too talented to consistently be contained in such a way.
If the Bills can spread the Panthers out and put them in more nickel formations, it will be Kuechly's responsibility to keep Spiller from making game-changing plays.
David Wilson vs. Danny Trevathan and Wesley Woodyard
After fumbling twice against the Dallas Cowboys on Sunday night, things haven't gotten much better for Wilson as the week has developed. Initially, his head coach Tom Coughlin wouldn't commit to him as a starter and became tired of talking about him. That, combined with the arrival of Brandon Jacobs, will make Wilson anxious to get on the field against the Denver Broncos this weekend.
Wilson is very valuable to the Giants' offense. That was exemplified against the Cowboys last Sunday. He is a very dangerous runner and has the ability to score from anywhere on the field as a receiver.
In Week 1, the Broncos were able to hold Ray Rice and Bernard Pierce to 58 yards on 21 attempts. That 2.76 yards per carry limited what the Ravens could do on offense and allowed the Broncos to flood their secondary on passing attempts.
For the Giants to win against the Broncos, they will need to establish Wilson in the running game.
Regardless of the arrival of Jacobs, the Giants will still need to rely on Wilson. Jacobs is long past his prime and was always an inconsistent player at best. His inability as a receiver out of the backfield also limits how the Giants can use him.
The Giants don't need to establish the running game to neutralize a strong pass rush from the Broncos, because without Von Miller and the departed Dumervil, the Broncos don't have a strong pass rush. Instead, the Giants need to establish the running game to draw the coverage away from their receiving threats on the outside.
Victor Cruz, Hakeem Nicks, Brandon Myers and Rueben Randle all have big-play ability if Eli Manning can get them the ball. They will be primary focus of the Broncos' game plan on defense.
Normally, a strong coverage unit relies on a very talented secondary or strong pass rush. Without Miller, Dumervil and Champ Bailey, the Broncos don't have either.
What the Broncos do have is a good secondary that is complemented by two exceptionally gifted coverage linebackers. Danny Trevathan and Wesley Woodyard announced themselves to the general public in Week 1. Both were able to fly around the field as the Ravens provided no real run threat after the Broncos took the lead in the second half.
Much like the Washington Redskins did to everyone they faced all of last year, the Giants will need to create hesitation in the Broncos' linebacking corps to force one-on-one matchups on the outside. In order to make those linebackers hesitate, they need Wilson to be enough of a threat early in the game.
Even though Tom Coughlin would likely love to sit Wilson for the full game in order to punish him for his fumbles in Week 1, they simply don't have the options to ignore him in this matchup. If the offensive line were better, they could take advantage of the Broncos' inability to rush the passer, but the unit isn't better than the one that finished for the Ravens in Week 1.
You can follow Cian Fahey on Twitter @Cianaf
This article is
What is the duplicate article?
Why is this article offensive?
Where is this article plagiarized from?
Why is this article poorly edited?