Notre Dame Fighting Irish vs. Purdue Boilermakers Complete Game Preview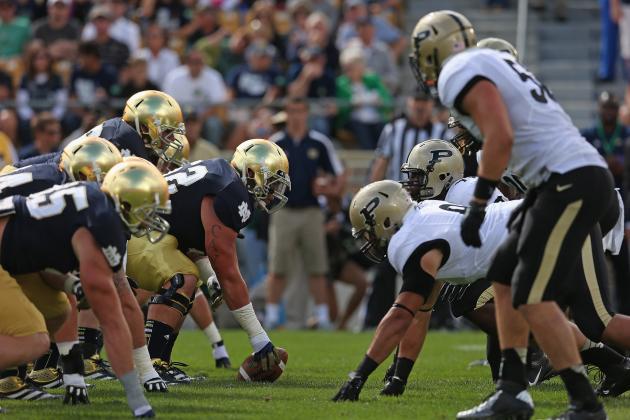 Jonathan Daniel/Getty Images

SOUTH BEND, Ind. — One of the top storylines to come out of Notre Dame's escape of Purdue last season in South Bend was that in the Week 2 victory, Irish quarterback Tommy Rees came off the bench to replace an ineffective Everett Golson and bail out the Irish against the underdog Boilermakers.
Golson is suspended for the semester, and Rees has started ND's first two games, a win over Temple and a loss at Michigan. Rees threw a critical interception in Ann Arbor last Saturday, but it's been the Irish defense, the catalyst for last year's run to the BCS National Championship Game, that received the majority of the criticism for the loss.
While Rees is the old new at Notre Dame, there's brand-new at Purdue in first-year coach Darrell Hazell. The former Ohio State assistant and Kent State head coach took over for Danny Hope. The Boilermakers enter Saturday night's contest with an identical 1-1 record as the Irish, but it's been a rocky start. Purdue was blasted by Cincinnati in its opener and struggled to beat Indiana State, 20-14, at home last weekend.
Time: 8 p.m. ET
Place: Ross-Ade Stadium, West Lafayette, Ind.
TV: ABC
Spread: Notre Dame by 21, per Bovada
Begin Slideshow

»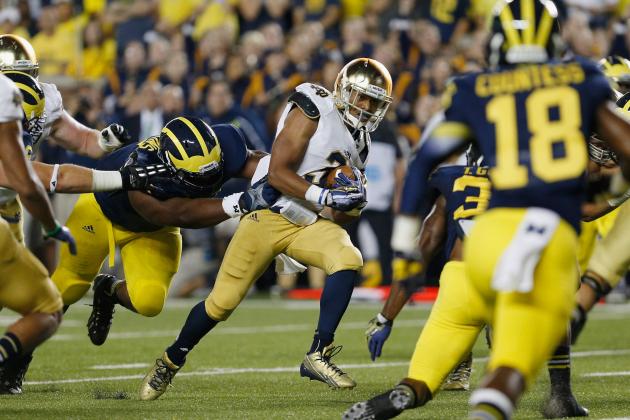 Gregory Shamus/Getty Images
Notre Dame's Amir Carlisle averaged 5.3 yards per carry against Michigan.
Two different Purdue run defenses have shown up this season. Against Indiana State, the Boilermakers allowed just 39 yards on the ground, but against Cincinnati, it was 221. With a big and experienced offensive line, the Irish would figure to look to duplicate what the Bearcats did, pounding the ball at Purdue and controlling the clock.
Notre Dame lost the time-of-possession battle against Michigan by about nine minutes, and the Irish would love to flip that number this weekend. Notre Dame running backs averaged 5.8 yards per carry against Michigan, but the ND backs only carried 18 times in the game.
Notre Dame's defense was the culprit in the loss at Michigan. The secondary couldn't cover Jeremy Gallon, and quarterback Devin Gardner was effective scrambling. The problem for Purdue is that there doesn't appear to be a Gallon or a Gardner on its roster.
The Irish didn't use a lot of pressure against Temple but did against Michigan. Expect coordinator Bob Diaco to get a feel for the game, meaning whether the Boilers are throwing a lot, and go from there in terms of how much heat he brings.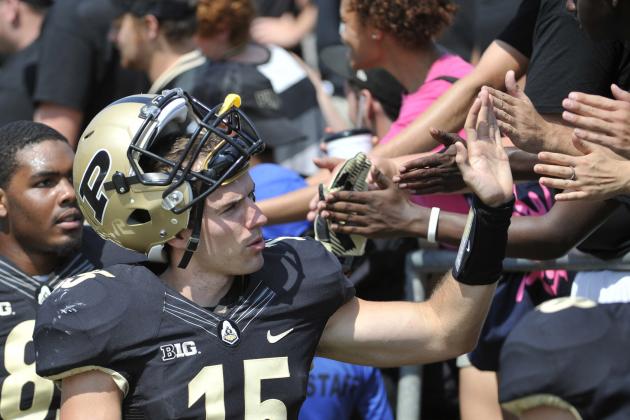 Sandra Dukes-USA TODAY Sports
Purdue could benefit from getting the crowd into the game Saturday night at Ross-Ade Stadium.
This will, in all likelihood, be Purdue's biggest and loudest crowd of the year, so the Boilers could get a boost from the atmosphere. That said, Notre Dame played in front of an NCAA-record crowd at Michigan, so this shouldn't be an overwhelming factor. If, however, the Boilers build an early lead, the crowd could make an impact.
A fast start is important for Purdue.
The Boilers enter the game as the nation's No. 115 offense. That's not good. Purdue somehow has to generate offense against Notre Dame. It's been equal-opportunity bad. The Boilers are 103rd running, 98th passing.
A change at quarterback at some point isn't inconceivable, although it would be surprising if Hazell turned to one of his young backups against Notre Dame. Still, Purdue needs a spark, and that would provide it.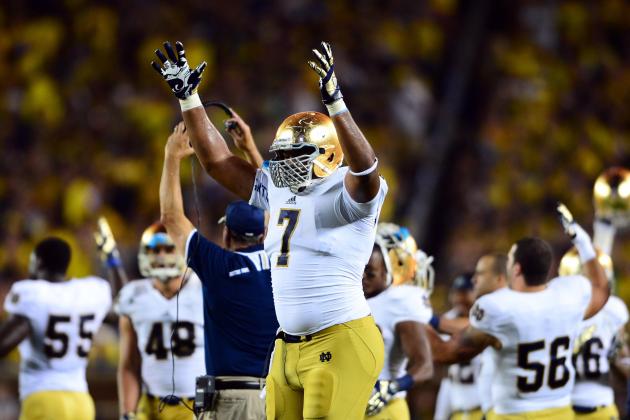 Andrew Weber-USA TODAY Sports
Stephon Tuitt did not register a tackle in last week's loss at Michigan.
Notre Dame defensive end Stephon Tuitt earned all sorts of preseason recognition, but he's been quiet so far this year. He registered zero tackles against Michigan, a stunning figure for a guy considered a potential first-round pick. Tuitt showed his amazing talent on a diving interception in the end zone that looked like it could be a game-turning play, but he has to be more than that.
Irish junior running back Amir Carlisle transferred from USC and is starting to show why he was so coveted coming out of high school. It would be no surprise if Carlisle is starting this weekend, particularly after George Atkinson III's struggles catching the ball. Carlisle will be playing a home game of sorts. His father, Duane, is on the staff of the Purdue football program.
Notre Dame junior center Nick Martin performed well at Michigan, his first career road start. The redshirt sophomore and younger brother of ND starting left tackle Zack Martin looks like he'll be a fixture at the spot. His matchup with Purdue standout Bruce Gaston should be an interesting battle in the trenches.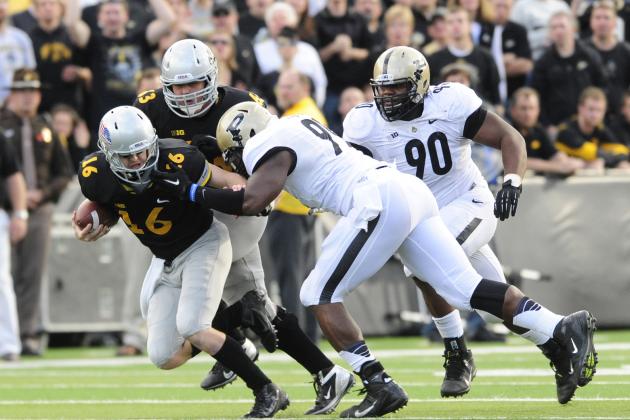 Byron Hetzler-USA TODAY Sports
Ryan Russell enters the ND game with two sacks this season.
Purdue has had a long history of defensive ends, many of whom have moved on to the NFL. Could Ryan Russell be the next? The junior has two sacks this year. His career numbers compare favorably with those of current Washington Redskin Ryan Kerrigan, one of the more recent Boilers to excel at the position.
QB Rob Henry was named the starter, but there are youngsters lurking. Austin Appleby is a redshirt freshman, and Danny Etling is a true freshman who enrolled early. If things happen to get rough early, would Hazell pull the plug?
Purdue ranks second nationally in net punting with a 50.4 average. The guy largely responsible for that has been Cody Webster. Probably not a great sign, though, when the punter is a guy to watch.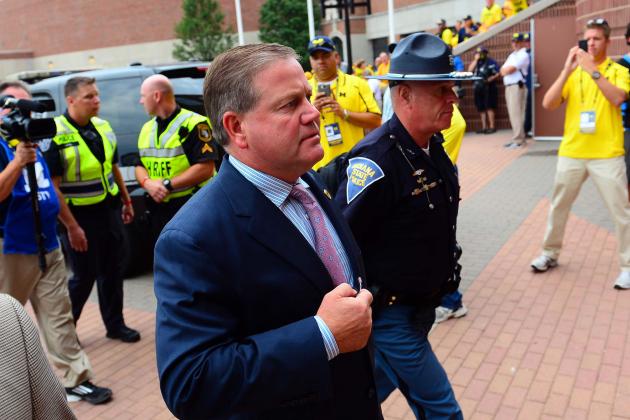 Andrew Weber-USA TODAY Sports
Brian Kelly's message this week is no doubt playing smarter and with discipline.
Kelly on if the Irish could be facing a letdown considering the Boilermakers' struggles:
"Letdown? They just lost. They lost a football game."
Purdue coach Darrell Hazell on ND quarterback Tommy Rees:
"I like him. I watched an hour-and-a-half of him throwing the ball. He missed a couple guys, but when he throws it, he throws it pretty accurately."
Kelly on if he regards Purdue as a rivalry game:
"I think any time that you're playing a team in-state, there's certainly a recognition of that as a rivalry game."
Hazell on the ND series:
"I tell you what, it's really fun just to think how long this series has been going on uninterrupted. I'm excited about this game Saturday night. There is a lot of hype going on right now. We've got to make sure as a staff and as a football team that we put in the preparations that we need to do to help our chances to be successful, and that is the bottom line."
Quotes were obtained firsthand from Kelly press conference. Hazell quotes were from his weekly press conference, which was posted on university's website.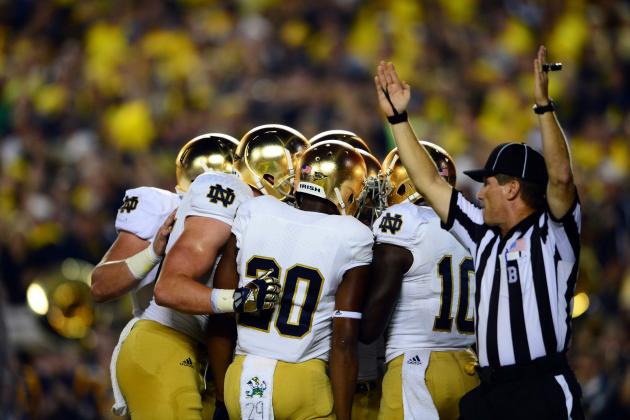 Andrew Weber-USA TODAY Sports
Expect to see this at least a few times out of Notre Dame Saturday night against Purdue.
Notre Dame 35, Purdue 10
The Irish are three-touchdown favorites. Expect the outcome to be bigger than that.
Notre Dame doesn't have the same look it did last year, but a blitzing at the hands of Cincinnati and a close win—at home—over Indiana State send up serious warning flags about where Purdue is with its rebuild.
Expect the Irish to play angry, and with a more talented roster, the formula is there for a lopsided victory.
A loss could send the Irish into a spiral. It won't happen Saturday night in West Lafayette.