Night of Champions 2013: Latest News and Rumors Surrounding WWE's Big PPV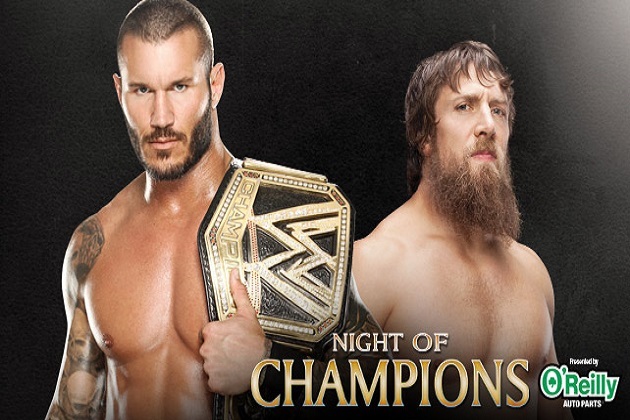 Photo via WWE.com
The 2013 edition of Night of Champions is setting up to be an exciting event despite being considered a secondary pay-per-view by most fans. With huge matches already on the card and more to be made throughout the final week, this should be a memorable show.
Where: Joe Louis Arena, Detroit, Mich.
When: Sunday, Sept. 15 at 7:30 p.m. ET
Watch: Pay-per-view (local cable providers)
Live Stream: WWE.com
The point of this PPV is to put every championship on the line, and this show will feature both the WWE and World Heavyweight Championships contested in fierce battles.
While John Cena may be out injured, the buzz around the main event between Daniel Bryan and Randy Orton has the WWE Universe everywhere ready to see what happens next.
The WWE has done a great job keeping wrestling fans interested, and the possible swerves on Sunday make this a can't miss PPV.
Add in the feud between CM Punk, Curtis Axel and Paul Heyman culminating in an elimination match, and there is little doubt that this show will be exciting.
Before the PPV, though, we will keep tabs on all the news and rumors surrounding Night of Champions.
Begin Slideshow

»
Photo via WWE.com
Night of Champions is less than a week away, but the hype surrounding the pay-per-view is through the roof. After Monday's go-home edition of Raw, this is how the card looks thus far:
Night of Champions Kickoff: The Prime Time Players vs. Tons of Funk vs. The Usos vs. 3MB vs. The Real Americans (Tag Team Turmoil Match for a WWE Tag Team Title shot later in the night)

WWE Champion Randy Orton vs. Daniel Bryan

CM Punk vs. Intercontinental Champion Curtis Axel and Paul Heyman (Handicap Elimination Match)

World Heavyweight Champion Alberto Del Rio vs. Rob Van Dam

United States Champion Dean Ambrose vs. Dolph Ziggler

Divas Champion AJ Lee vs. Natalya vs. Brie Bella vs. Naomi (Fatal 4-Way Match)

Tag Team Champions Seth Rollins and Roman Reigns vs. Tag Team Turmoil winners
It's clear from the booking to this event that the WWE is focusing on several key storylines heading into the fall and letting the undercard figure itself out as the company progresses.
While some fans won't like seeing their favorites getting passed over, it is imperative that the main angles are as strong as possible as Monday Night Football begins.
Total Divas has been a success and that has been reflected with the focus on a storyline in the women's division.
While the world title match's build has been lackluster, the hype around Punk getting his hands on Heyman has fans genuinely excited.
Add in the excitement surrounding Daniel Bryan and the corporation angle right now, and there is little doubt that this main event will feature a wild swerve that helps move this storyline forward.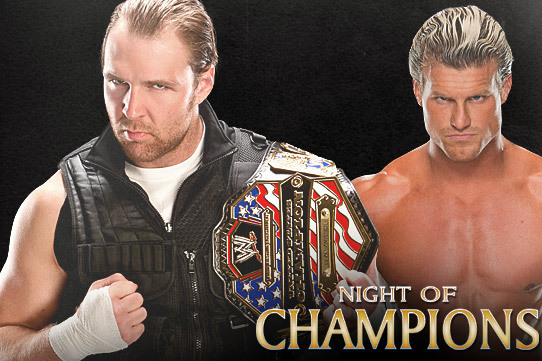 Photo courtesy of WWE.com
It had long been rumored to be part of the Night of Champions card, but it finally became official on SmackDown as it was announced that Dean Ambrose will defend the United States Championship against Dolph Ziggler, according to WWE.com.
The addition of Ambrose vs. Ziggler was much needed as the card seemed to lack a certain amount of flair. There is plenty to like about the main event between WWE Champion Randy Orton and Daniel Bryan, but the rest of the lineup is hit and miss.
It seems fairly obvious that Ambrose is going to beat Ziggler and retain since there is no reason for Ziggler to win the United States Championship at this point. Although the bout is a bit predictable in that regard, the in-ring action should be fantastic.
Despite the fact that Ziggler has been booked awfully as of late, the fact remains that he among the best pure wrestlers in the company. Ambrose has had some great matches since joining WWE in his own right, so there is reason to believe they could potentially steal the show on Sunday night.
Compared to SummerSlam, the Night of Champions card is somewhat slim. The Bryan vs. Orton match should be great, but aside from that you have CM Punk vs. Curtis Axel and Paul Heyman, Alberto Del Rio vs. Rob Van Dam, Seth Rollins and Roman Reigns vs. the winners of a pre-show Tag Team Turmoil match and a Fatal Four Way for the Divas Championship.
A couple of those matches have the potential to be solid, but Ziggler vs. Ambrose really rounds out the card as there is pretty much no chance that those two are going to disappoint. Ziggler certainly deserves to be higher up on the card, but he'll most definitely make the most of the opportunity he is given on Sunday.
Follow @MikeChiari on Twitter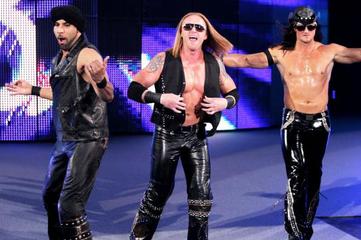 Photo courtesy of WWE.com
Before Night of Champions hits the airwaves on pay-per-view, the special Kickoff show will feature a Tag Team Turmoil match with the winning duo earning a shot at Seth Rollins and Roman Reigns' Tag Team Championships later in the night.
One of the teams that will be involved is 3MB, and according to WrestlingInc.com (via PWInsider), Heath Slater and Jinder Mahal will be wrestling, which means that Drew McIntyre will be left to lend moral support from outside the ring.
In addition to 3MB, The Usos, Prime Time Players, Tons of Funk and The Real Americans will vie for a chance to win tag-team gold. None of the teams competing in the Tag Team Turmoil match have ever won the Tag Team Championships, so it will be interesting to see who gets the opportunity.
In all likelihood, 3MB is the least likely to win due to the fact they are heels, and they are utilized largely as enhancement talent. The Real Americans are also poor bets due to their heel stats, and there is nothing to suggest that Tons of Funk is in line for a title match.
That leaves The Usos and Prime Time Players as possible winners. Since The Usos faced Rollins and Reigns of The Shield at Money in the Bank, conventional wisdom suggests that the Prime Time Players are likely to come out on top on Sunday.
Since Darren Young announced that he is gay, the Prime Time Players have very much been on a roll. The fans have been extremely receptive to Young ever since the announcement, so the Prime Time Players are now de facto faces despite the fact that nothing really facilitated the change from a storyline standpoint.
The WWE has handled the Young situation extremely well as the company has been publicly supportive, but it hasn't exploited him on television by making mention of it.
Whatever the case, the Prime Time Players have some new-found popularity, so look for the creative team to capitalize on it by giving them a Tag Team Championship match against Rollins and Reigns on Sunday.
Follow @MikeChiari on Twitter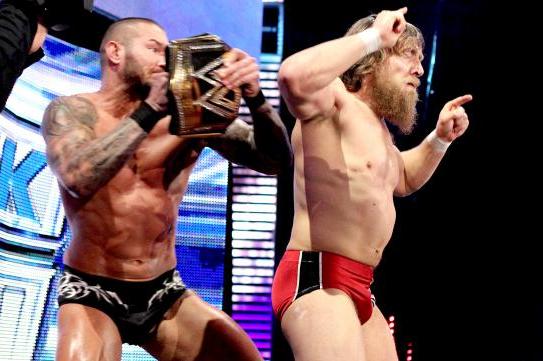 Photo via WWE.com
Reports have already surfaced that the main event of Sunday's Night of Champions PPV has been determined, and it will be Randy Orton retaining the championship in some way over Daniel Bryan, according to the Wrestling Observer Newsletter via Wrestling Inc.:
As of this past week, the idea internally was that Daniel Bryan won't be winning the WWE Title from Randy Orton at Night of Champions. Obviously that could change between the recent TV tapings and Sunday's pay-per-view.
This should come as a shock to no one that knows the sport. The business is better with the red-hot face chasing the title, and there is no hotter wrestler right now than Bryan. Instead of giving Bryan the WWE Championship now, Triple H will ensure he is the ultimate bad guy by helping Orton successfully retain.
Whether Big Show turns heel at the behest of Triple H and costs Bryan the match or if the COO infuses himself in the match once again to depict the outcome, it is clear that Bryan isn't walking out of this PPV with the gold.
Let's hope that this results in a Triple H vs. Bryan feud and not a program with the Big Show.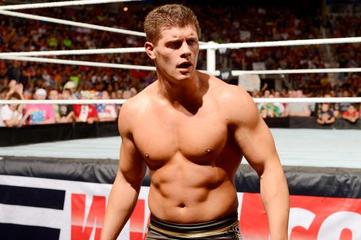 Photo courtesy of WWE.com
After losing a match to WWE Champion Randy Orton on Raw recently, Cody Rhodes was kayfabe fired by Triple H. While it's well established that Rhodes will be back eventually, it is unclear when that will be. If rumors regarding his wedding are any indication, though, it could be a solid few weeks before he returns to a WWE ring.
According to Raj Giri of WrestlingInc.com, Rhodes is getting married on Sept. 26, so it's unlikely that he will be seen on WWE programming beforehand. This is significant because may fans pointed to him as someone who could potential interfere in the WWE Championship match between Orton and Daniel Bryan on Sunday at Night of Champions.
The prevailing thought was that Rhodes would either try to help Bryan as revenge for the way Orton and Triple H treated him or his family, or perhaps turn heel by helping Orton. Rhodes discussed needing to provide for his family after being "fired," so the storyline could have been that he was doing it for his wife.
Based on the new information regarding his wedding, however, it's hard to imagine Rhodes appearing in the near future. When he does return, though, it is probable that he'll either take aim at "The Corporation" immediately, or he could possibly shock everyone by aligning himself with the group.
Don't expect Rhodes' absence from television to last for too long, but it will almost certainly last through Sept. 26 at the very least.
Follow @MikeChiari on Twitter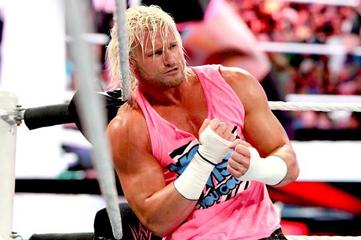 Photo via WWE.com
There was a point in early 2013 where Dolph Ziggler was on the right track toward becoming one of the top faces in the WWE, but a failed storyline with AJ and Big E Langston, and the former world champion has been relegated back to the midcard.
According to F4WOnline via Wrestling Inc., the lack of a real push is the result of backstage heat on the talented superstar:
It's said within WWE that Dolph Ziggler is being punished for something he said in an interview during SummerSlam week. No word yet on what Ziggler said that has WWE officials upset but it's said he's paying the price for saying the wrong thing.
While it's hard to tell if this is a substantial report, or if this is someone just observing what is currently happening in the booking, there is no denying the recent down-turn in Ziggler's winning ways.
Despite losing often, the fact that Ziggler is involved in the corporation angle at all should be a great sign that he is on the road back to relevancy. As one of the main wrestlers being punished by Triple H, his eventual revenge will make him a star.
When the locker room begins to retaliate, Ziggler will be at the forefront.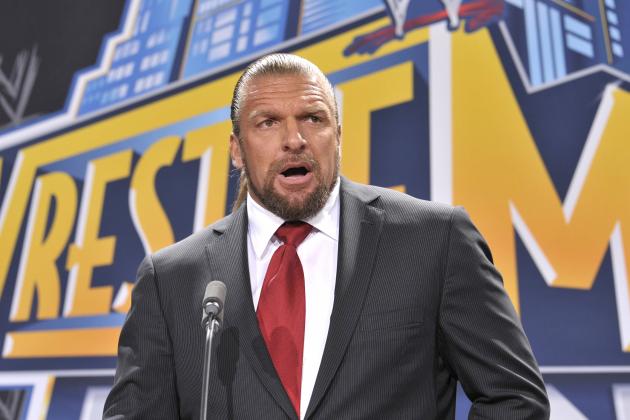 Michael N. Todaro/Getty Images

Triple H made sure his presence was felt last month at SummerSlam, and there are rumors circulating that he could play a role in this event too, setting the groundwork for his next potential match.
According to PWInsider via Wrestling Inc., "Triple H is expected to wrestle twice between now and WrestleMania XXX. A match against Big Show has been rumored."
The relationship with Big Show has been strained leading into Night of Champions, and the final straw leading to Triple H being attacked could come at the PPV. There are dozens of ways the WWE could take this storyline, but adding Triple H to the secondary shows this fall would legitimately be good for business.
With John Cena, Sheamus and other missing substantial time, Triple H returning for a match would add a marquee name to WWE's programming. The COO is already on TV constantly, so working a bout to boost sales should be an easy decision for the company.
For more wrestling talk, listen to Ring Rust Radio for all of the hot topics or catch the latest episode in the player below (some language NSFW.)