Serie A: The Best (And Worst) Kits in Italian Football from the Past Decade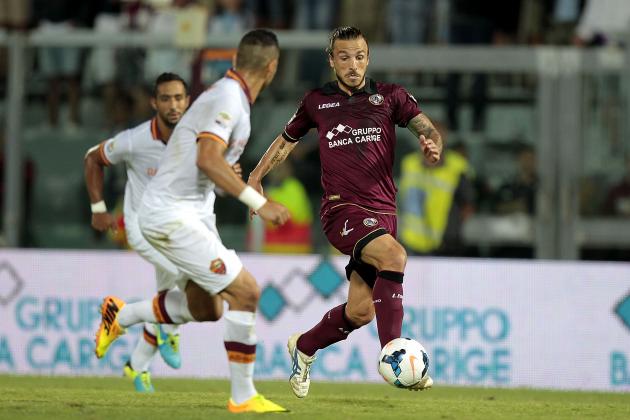 Gabriele Maltinti/Getty Images

In a country known for its fashion like Italy, you would think that the Italian Serie A would have some of the snazziest kits in Europe.
If you do, you have given in to a horrible stereotype. Shame on you.
All kidding aside though, Italy's teams are often steeped in tradition, and the kits tend to be very classic in design. Solids, vertical stripes, halves, and the occasional quartering are seen frequently and many of them look pretty darn sharp.
There have, of course, been some flops along the way, particularly in the last 10 years as kit makers and clubs strive to be a bit more modern-looking.
From the last decade, here are some of the best-looking kits that have graced the Serie A—and some that left fans scratching their heads.
Begin Slideshow

»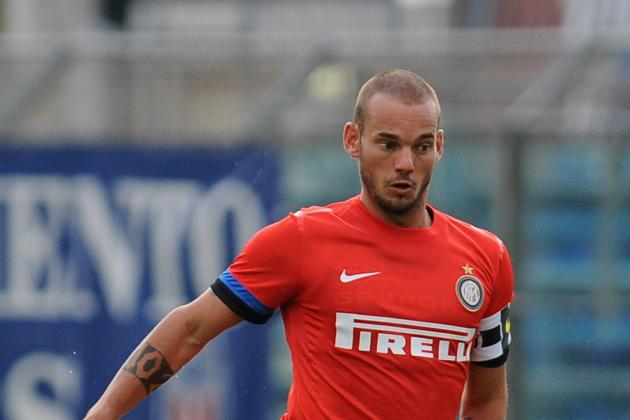 Valerio Pennicino/Getty Images
Wesley Snejider was gone from Inter nearly as fast as these ill-considered red kits.
This kit didn't necessarily look bad, but boy, was it a miscalculation on the part of Inter and Nike.
Inter are, of course, bitter rivals with AC Milan—known, if you will recall, as the rossoneri. So when the club unveiled an all-red away strip before the start of last season, the reaction was, shall we say, unenthusiastic.
Inter's Curva Nord ultras issued a strong statement after the shirt's release.
Among other things, they claimed (in translation, from Yahoo! Sports), "It is an insult to our history and traditions, that color belongs to another team. It's a real punch in the eye and another in the stomach that leaves us breathless."
They went on to exhort fans "not to buy this clothing, and they certainly shouldn't come to the stadium wearing it."
A flop before it ever hit the field, the shirt was hardly ever used, as Inter used their white third kits much of the time in response to the fan reaction.
Not bad looking, but definitely a failure of concept.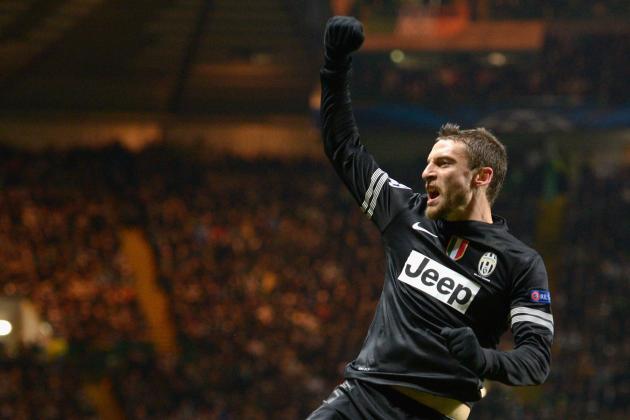 Jeff J Mitchell/Getty Images

This is about as classy as it gets.
A year after using a pink away strip to inaugurate the Juventus Stadium, Juve went with a flat black as their second kit for their title defense.
They weren't used as often as Juve wore the pinks from the year before.Those jerseys, which served as the team's third kit last year, even replaced the blacks for early season trips to Siena and Udinese, whose black-and-white schemes would have clashed with either of Juve's other two.
But there was something elegant in the simplicity of these kits. They were streamlined to fit the players extremely well, and were a perfect compliment to the club's traditional black and white stripes.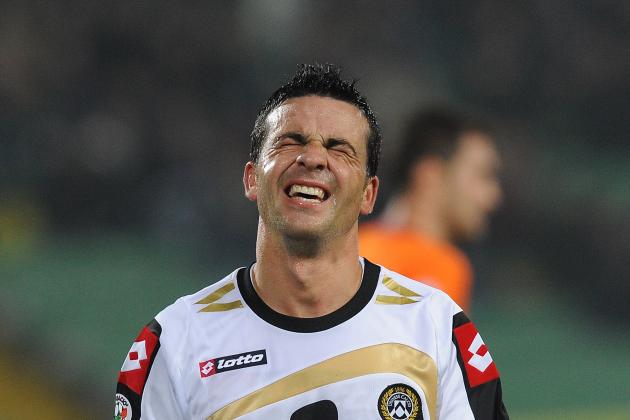 Dino Panato/Getty Images
I'd be wincing if I was wearing it too, Toto.
At first glance this doesn't seem to be the worst kit in the world. But if you take a second, harder look at it, you start to wonder just what the heck someone was thinking.
The gold accent—which I can only really describe as an upside-down swoosh—just looks strange, and if you look at the reverse of the shirt the black stripes only go up about a quarter of the way before giving way to a broad white field for the player's name and number.
What really doesn't work is that the kit almost tries to hide the black-and-white stripes that are the staple of Udinese's look. Instead, it gives way to mostly white and those poorly executed gold highlights at the chest and shoulders.
To their credit, Udinese kept the gold highlights the next year and did them much better, placing them right at the underarm and making a really nice-looking kit.
This one, though, missed the mark.
Massimo Cebrelli/Getty Images

I don't know if I'm in the minority or not, but I really loved this kit when it was around.
The crisp white shirt and shorts was a great contrast to the the dark blue and black shirts as well as the black shorts of the team's primary strip.
Of course, then there's the dragon.
Maybe I'm dumb. Maybe I have no sense of fashion. Maybe I'm a nerd. But how can you not love a freakin' fire-breathing dragon running down the left side of your shirt?
The all-white away kit with blue accents is a look that suits Inter well. The nerazzurri had another good one as well the next season with a white kit possessing a blue-and-black "pageant sash" running across.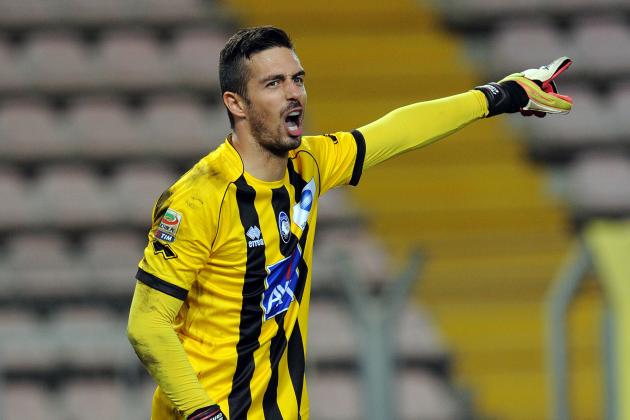 Giuseppe Bellini/Getty Images

Keeper Andrea Consigli is wearing this odd yellow-and-black piece in this photo, but it's listed on Atalanta's official site as their actual away kit rather than as a keeper's kit. So, it's fair to think we'll be seeing German Denis and Co. wearing these shirts at some point this season.
I'm not entirely sure what inspired this one. Bees, maybe, but Bergamo was known as a manufacturing town, not an agricultural center, so it's not like they'd be reflecting the city's excellent honey exports.
We'll just have to wonder while we watch La dea buzz around the field in these loud shirts. Maybe if they wear them at home, fans can buzz to distract any would-be penalty takers.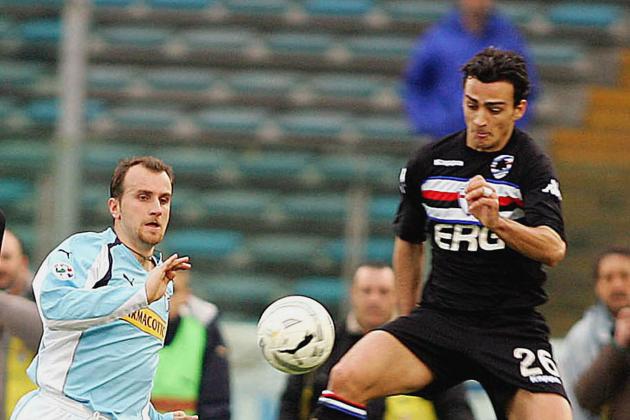 New Press/Getty Images

Sampdoria has a history of great-looking black kits. These are an homage to the red and black of Sampierdarenese, one of the two teams that merged in 1946 to create the club we know today as the blucherchiati.
The first one I could find was in use in the mid '90s, and they all follow the same general pattern—flat black shirts and shorts with the white, red and black center striping and Genovese crest that distinguishes Samp's usual blue home strip.
You also find the same striping on the team's socks in this kit, which is a nice added touch.
What makes these kits so good is how seldom it is you see them. Samp almost always uses white for its primary away kit, making the appearance of these snappy blacks a rarity.
Samp is using a similar third kit this season, with the only real change from this one being the Kappa logo in white running down either side.
Granted, it's not quite as sleek as the one seen here in a match with Lazio in January of 2005.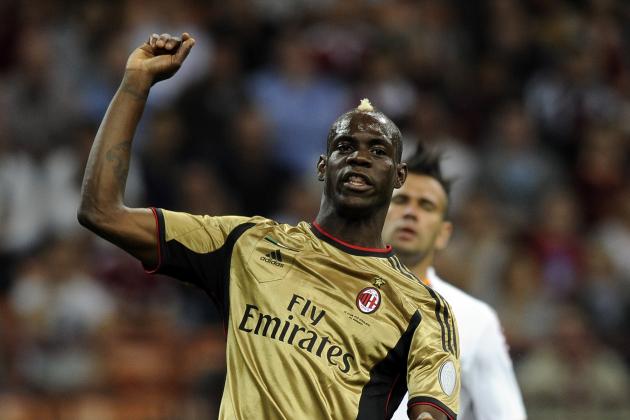 Claudio Villa/Getty Images
Bit of a clash, with the hair, don't you think, Mario?
Perhaps I'm being impertinent, but gold usually is incorporated into a kit when a team has either won the title or made the Champions League.
Milan, who traditionally release their next years' kit with a game or two left in the previous season, were far out of last year's title race and weren't even guaranteed entry to the Champions League until there were about 10 minutes left in the season.
A bit premature on both fronts, maybe?
That said, there are a few things wrong with this shirt. The metallic gold just doesn't look particularly good and doesn't combine well with the black panels at the side. The worst aspect is probably one that you wouldn't see unless you look really hard—the black names and numbers on the back are ringed in red, and the resulting contrast doesn't look right.
Milan is usually very good with their third kits. Since the 2007-08 season they've been a crisp flat black with either an Italian flag motif or subtle red highlights, either in the form of pinstripes or shoulder piping.
This one is obviously an attempt to inverse the team's primary kit this year, which includes gold piping at the shoulders, but it's ostentatious and it doesn't really come off well.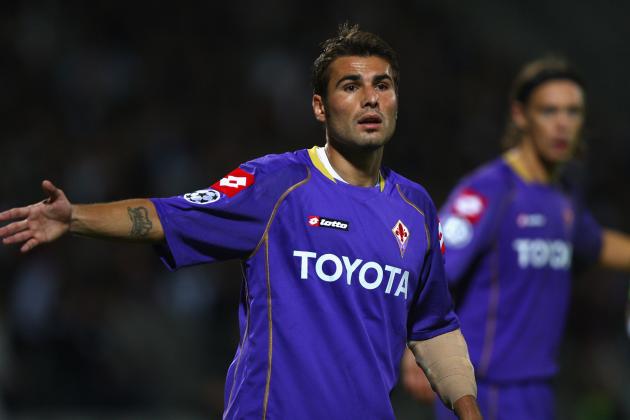 Michael Steele/Getty Images

Fiorentina is sometimes hit-or-miss with their away kit. If you want proof, check out this monstrosity from the mid '90s.
Their primary strip, however, is almost always a good one. Usually solid purple with the occasional highlight mixed in, la viola usually take to the field in style.
Undoubtedly, my favorite Florentine product is this one, from the 2008-09 season. Cesare Prandelli had led the club to its first Champions League place in eight years, and the gold collars and piping on the jersey was a classy way to celebrate the achievement.
The beauty was in the simplicity. A shirt any Fiorentina fan would've been proud to own.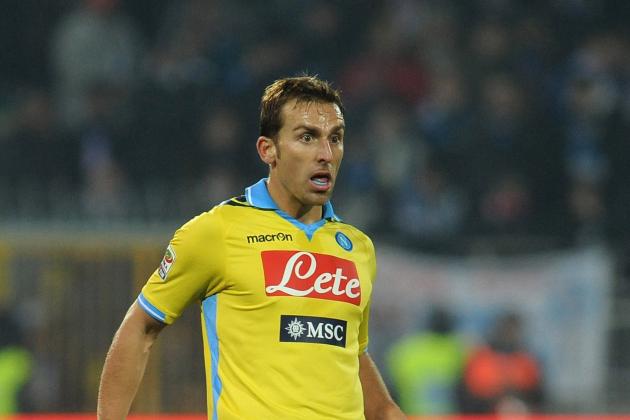 Valerio Pennicino/Getty Images
The heck with who I'm passing it to, WHAT AM I WEARING?
Yeah....these happened.
Napoli has toyed with yellow for the last several years. It's not a bad shade of yellow by itself, but in no way, shape or form does it belong next to that shade of blue.
It's a kit that's still not very easy to look at.
In at least one game that year they combined the yellow with the smoke-grey shorts that they wore in the away kit they used in the Champions League, and that was worlds better than the blue ones.
Unfortunately, the yellow-on-blue was the preferred choice when this kit was used, leading to a lot of burned-out eyes by the time the ref blew for full time.
The yellow is returning in this year's third kit, albeit with yellow shorts and a blue "pageant sash" that is already a little easier on the eyes.
Of course, Napoli may blow the lid off this one with the camouflage pattern that is billed as their away kit this year.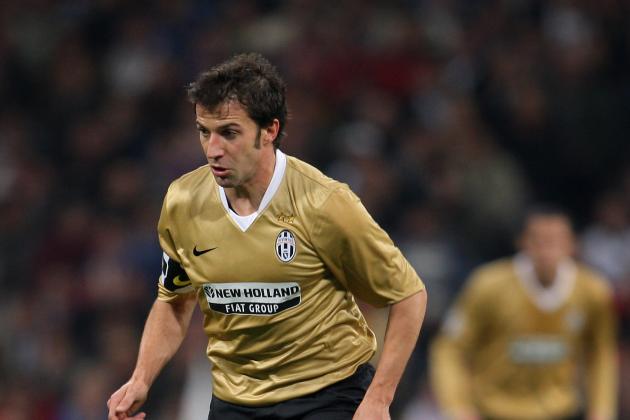 Jasper Juinen/Getty Images

These gold-and-black second kits marked Juventus' return to the Champions League following their forced relegation in the wake of the calciopoli match-fixing scandal.
Like the Fiorentina kit earlier on, it's the shirt's simplicity that makes it great. The gold is uninterrupted apart from sponsor logos, badge, and a small white collar.
It was in this kit that Juventus won their first game against Real Madrid at the Stadio Santiago Bernabeu since 1962, doing the double over the Galacticos to win their Champions League group.
It's elegant. It grabs the eye. Years later, Juve fans proudly wear it as a sign of their club's reemergence from the fog of the scandal—even though real rebirth wouldn't be achieved until several years later.
In the last decade, I can't think of a better shirt in the Serie A.