Boise State Football: 7 Biggest Early Season Storylines for the Broncos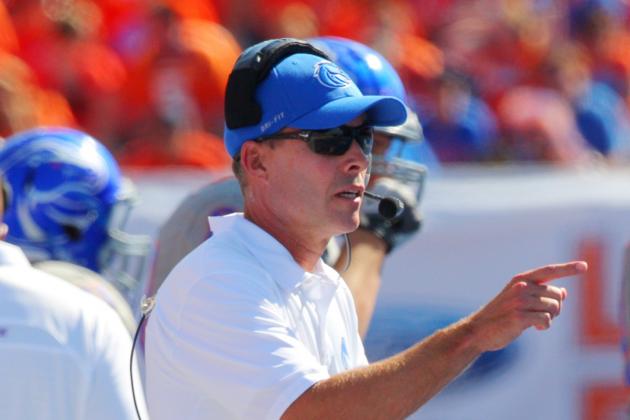 Brian Losness-USA TODAY Sports

Boise State entered the 2013 college football season with a lot of energy, anticipation and optimism. However, that quickly faded when the team showed up in Seattle and suffered its worst loss under head coach Chris Petersen.
All is not lost however, Boise State still has a long season ahead of it, and the team and coaches have no time to dwell on the opening game loss.
So far this season there have been several storylines swirling around Bronco Nation. Let's take a look at seven of them in an effort to better understand what Boise State is facing, and how the rest of the season might transpire.
Begin Slideshow

»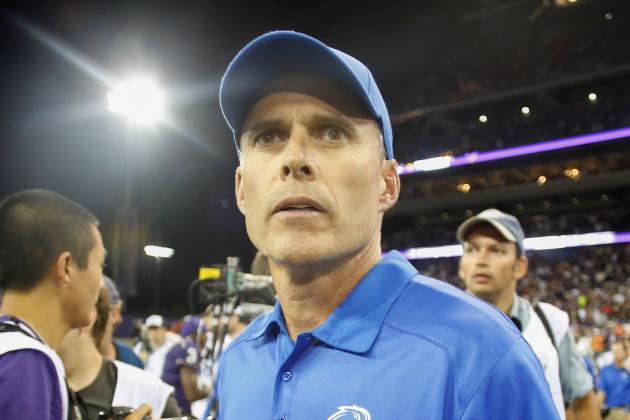 Otto Greule Jr/Getty Images

As mentioned in the introduction, Boise State suffered its worst loss under head coach Chris Petersen in Week 1 of the college football season.
This defeat embarrassed many in Bronco Nation, and the Twitter world went crazy with words of insanity that night.
However, if there is anything Chris Petersen has proven it is that he knows how to win, and he knows how to keep his team focused.
In Week 2 the Broncos rebounded nicely to take a 63-14 win over UT Martin. Granted, the Skyhawks are an FCS team, but eight FBS schools did lose to FCS schools in Week 1.
Petersen had his team ready to play, and that should only continue as the season progresses.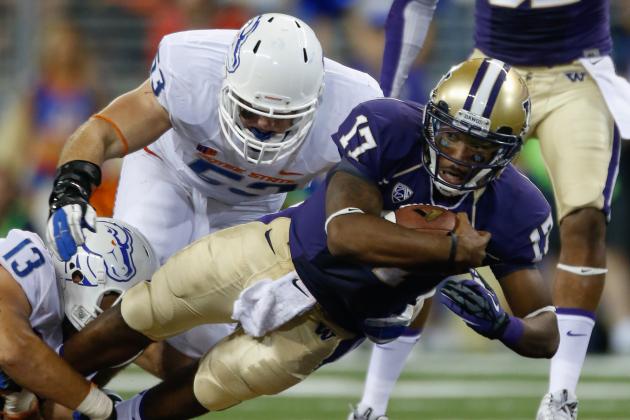 Otto Greule Jr/Getty Images

It is an unusual sight to not see Boise State among the Top 25 in at least one major poll.
However, the ugly opening night loss sent them plummeting. In fact, the Broncos currently have only three votes in the AP Top 25 and two votes in the USA Today Coaches Poll. That is about 38th and 42nd place on those polls, respectively.
If Boise State continues to win, they may find a way back in. However, a shot at a BCS game is probably not possible. Unless of course something crazy happens like Washington winning the Pac-12 and Boise State dominating every opponent from here on out.
Not only that, but several other teams would have to lose along the way.
Anything can happen, but it just doesn't seem possible.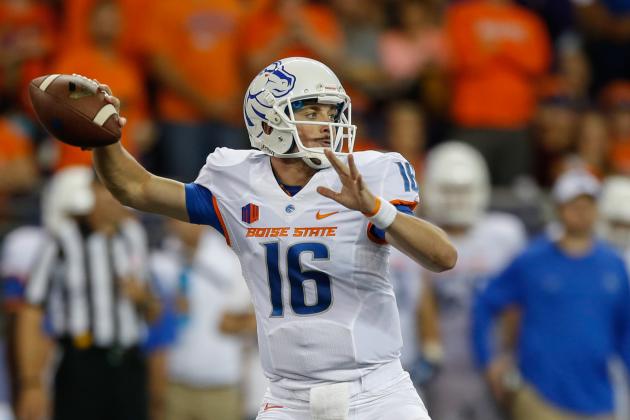 Otto Greule Jr/Getty Images

Boise State switched up its offense in the offseason. However, the opening night disaster made more than a few fans scratch their heads.
The once multiple motions and shifts offense was replaced by Chris Petersen's own version of the Pistol. Of course, Boise State fans know the Pistol is an offense made famous by former head coach Chris Ault of the Nevada Wolf Pack.
Despite the first game shortcomings, Coach Petersen and the other coaches are still confident in the new system, and they will continue to progress with it this season.
It did seem to work nicely against UT Martin, but with Air Force and Fresno State next on the schedule, the true test of how good it is will come.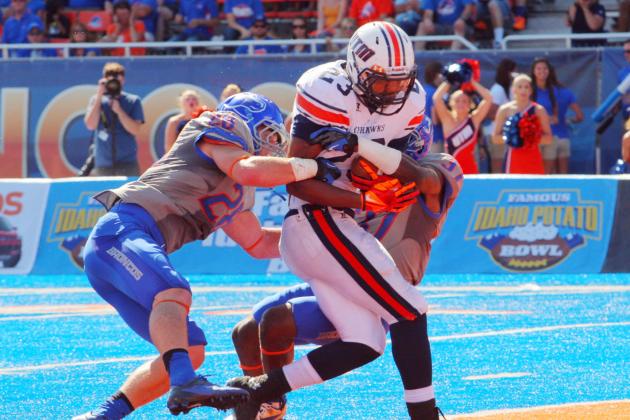 Brian Losness-USA TODAY Sports

In Week 1 the young defense of Boise State missed at least 30 tackles against Washington.
In Week 2 the defense looked better, but they were still missing tackles occasionally. That will have to get much better this week.
Boise State hosts Air Force Friday night. The Falcons use a run heavy option-based offense that requires great tackling to slow it down.
It will be a huge test for this defense that has seven new starters. It will also help if starting defensive end Demarcus Lawrence will be on the field. He was suspended, again, last week against UT Martin.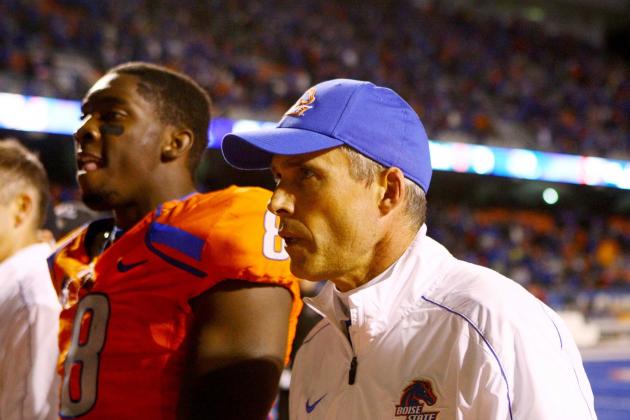 Brian Losness-USA TODAY Sports

Speaking of Demarcus Lawrence, what is going on with him?
This is the third time the defensive end has been suspended. Boise State is already thin on the defensive line, and missing anymore games could hurt his team tremendously.
You have to wonder how much of this Coach Petersen will put up with before Lawrence finds himself off the team?
Watch this storyline develop, as it will be a big one.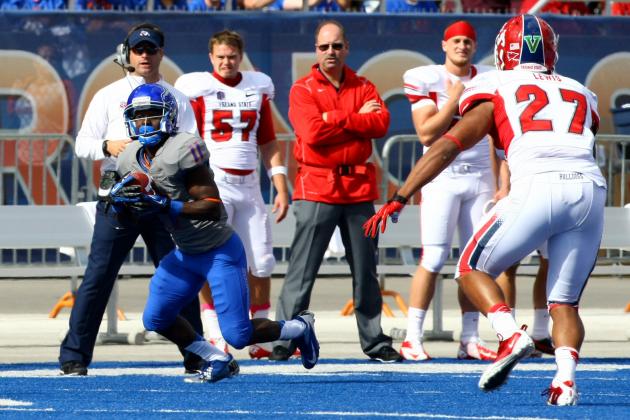 Brian Losness-USA TODAY Sports

Boise State missed what Shane Williams-Rhodes could do on opening night. He was dealing with a hand injury that seemed to be much better last week.
Against UT Martin, Williams-Rhodes lit it up on returns and scored two touchdowns as a wide receiver. He is only 5'6" and 158 pounds, but plays much bigger than that.
Keep an eye on him, if you can, this season.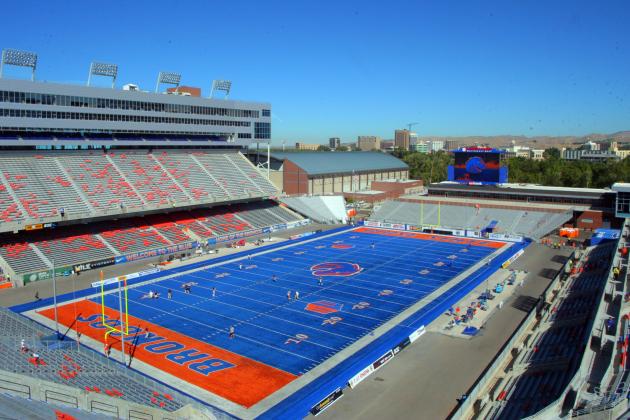 Brian Losness-USA TODAY Sports

Boise State continues to improve its facilities. With the addition of the Gene Bleymaier football complex, new sound system and new much larger video board, Bronco Stadium is quite the place to watch a game.
Boise State also updated the logo in the center of the field and painted the Mountain West logos on the field to give it a much better look from the stands.
Every season the administration continues to improve the facilities, and Boise State fans should enjoy the latest additions all season long.