Early Predictions for 2013 MLB Playoff Teams, 25-Man Postseason Rosters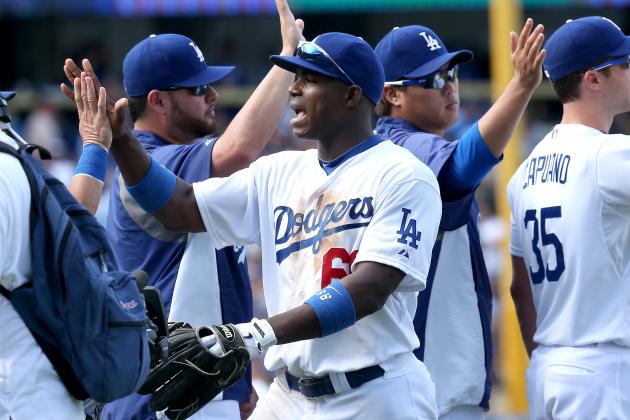 Stephen Dunn/Getty Images
Can Yasiel Puig and Dodgers continue their winning ways throughout the playoffs?
We're less than three weeks away from the start of the playoffs—the NL Wild Card Game will take place on Tuesday, October 1 and the AL Wild Card Game will be played the following day—and things are still far from settled.
While the Los Angeles Dodgers and Atlanta Braves have been well ahead in their divisions for some time, and the Boston Red Sox are beginning to pull away in the AL East, the other divisions are still up for grabs. Three NL Central teams figure to win playoff berths, although they're only separated by three games in the standings.
In the AL Central, the Detroit Tigers are still in good shape but losing ground as the Cleveland Indians still have a chance to close the gap. The AL West is a two-team race between Oakland and Texas with the odd team out still in good position for a wild-card berth. Along with the Indians, the Tampa Bay Rays, Baltimore Orioles, New York Yankees and Kansas City Royals are still within three games of a playoff spot.
That's a total of 15 teams still vying for a postseason berth. So who will be the last 10 teams standing? I have made my predictions to go along with projected 25-man playoff rosters and analysis of each team.
Begin Slideshow

»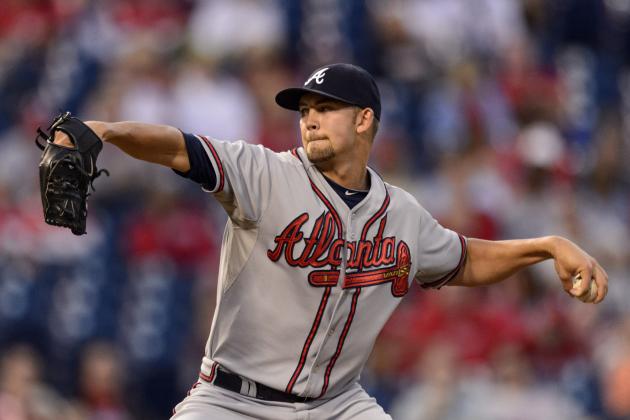 Howard Smith-USA TODAY Sports

Current Status: 87-57; 12-game division lead; best record in NL
Predicted Regular-Season Result: NL East division winner; second-best record in NL
Predicted NLDS Matchup: Pirates vs. Braves
Projected Lineup
1 Jason Heyward, RF
2 Justin Upton, LF
3 Freddie Freeman, 1B
4 Chris Johnson, 3B
5 Brian McCann, C
6 Dan Uggla, 2B
7 Jordan Schafer, CF (vs. RHP)
8 Andrelton Simmons, SS
Projected Bench
Evan Gattis, C/1B/OF
Gerald Laird, C
Elliot Johnson, IF
Reed Johnson, OF
B.J. Upton, OF (vs. LHP)
Projected Starting Rotation
1 Julio Teheran, RHP
2 Mike Minor, LHP
3 Kris Medlen, RHP
4 Paul Maholm, LHP
Projected Bullpen
CL Craig Kimbrel, RHP
SU Jordan Walden, RHP
SU Scott Downs, LHP
MID David Carpenter, RHP
MID Luis Avilan, LHP
MID Anthony Varvaro, RHP
MID Alex Wood, LHP
LR Luis Ayala, RHP

Starting Lineup
Center fielder B.J. Upton, the team's lone postseason veteran, has a history of success with an .879 OPS and seven homers in 25 playoff games while with Tampa Bay. Unfortunately, the 29-year-old has had an awful season in his Atlanta debut and might be relegated to his current platoon role, where he'd play on a very limited basis with only one projected lefty starter—Francisco Liriano of the Pittsburgh Pirates—on either of their three likely potential NLDS opponents.
Upton would appear to have a better chance of making an impact if the Braves met up with the Dodgers, who feature a pair of lefty starters—Clayton Kershaw and Hyun-Jin Ryu—in the NLCS. He's also struggled against lefties this season (.461 OPS), though, so it's hard to count on any production even if he is in the lineup.
As is the case with brother Justin, who has run very hot and very cold all season long, Upton has the potential to carry the team over the course of a series or two. He'd certainly make up for his regular-season struggles if he came up big in the playoffs.
The heavy dose of likely right-handed pitching opponents fares well overall for Atlanta with left-handed hitters Freddie Freeman, Jason Heyward and Brian McCann leading the way. Third baseman Chris Johnson is having his best season as a pro, and shortstop Andrelton Simmons has come up big in the second half (.783 OPS) after a mediocre start to the season.
The Braves are hoping to have Heyward, who is recovering from a fractured jaw, back for the postseason. If they get the guy who had a .959 OPS and six homers in the second half as opposed to the first-half version (.695 OPS), the lineup could be tough to stop.
Bench
Rookie Evan Gattis is a potential X-factor with his ability to provide power coming off the bench late in the game. After bursting onto the scene with an .893 OPS and 14 homers through mid-June, the 27-year-old landed on the disabled list with a strained oblique and then struggled to get back on track upon his return.
He's heating up again, though, with seven hits in his past 21 at-bats, including three homers and two doubles.
Starting Rotation
The Game 1 pitching nod will likely go to 25-year-old lefty Mike Minor (pictured; 3.06 ERA in 28 starts) or 22-year-old rookie Julio Teheran (3.05 ERA in 27 starts), neither of whom has a postseason appearance to his credit. Both will also have compiled career highs in innings pitched by the time they take the mound in October.
Nevertheless, they are both having excellent seasons and should keep the games close enough where a very strong bullpen could make an impact. Kris Medlen, who has a 2.77 ERA over his past 55.1 innings, figures to make the Game 3 start while Paul Maholm would be the leading candidate should they need a fourth starter.
Bullpen
Of the eight projected relievers, none has an ERA over 3.00. Craig Kimbrel (0.91 ERA, 46 saves, 87 K in 59.2 IP) is one of the most dominating closers in the game and former Los Angeles Angels closer Jordan Walden has done a solid job as one of his primary setup men. Having three reliable lefties in the group should also come in handy with potential matchups against the likes of lefty sluggers Pedro Alvarez, Jay Bruce, Shin-Soo Choo, Adrian Gonzalez and Joey Votto.
Overview
While it's tough to see the Braves making a run deep into the playoffs without a clear-cut ace starter to lean on, the ability of the bullpen to shut down opponents after the sixth inning gives them a fighting chance. The offense has to show up, though, or this team probably won't advance past the NLDS.
If things click on all cylinders, they are talented enough to roll through the playoffs despite the lack of playoff experience throughout the roster. It also wouldn't be much of a surprise to see their inconsistent offense get completely shut down and rolled out of the playoffs in three or four games.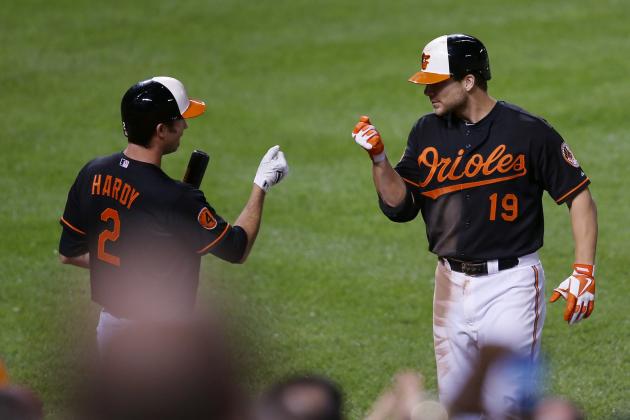 Rob Carr/Getty Images

Current Status: 77-67; 1.5-game deficit in wild-card race
Predicted Regular-Season Result: AL Wild Card
Projected Lineup
1 Nate McLouth, LF (vs. RHP)
2 Manny Machado, 3B
3 Chris Davis, 1B
4 Adam Jones, CF
5 Matt Wieters, C
6 Nick Markakis, RF
7 J.J. Hardy, SS
8 Michael Morse, DH
9 Brian Roberts, 2B
Projected Bench
Chris Snyder, C
Alexi Casilla, IF
Ryan Flaherty, IF
Danny Valencia, IF (vs. LHP)
Chris Dickerson, OF
Projected Starting Rotation
1 Chris Tillman, RHP
2 Scott Feldman, RHP
3 Wei-Yin Chen, LHP
4 Bud Norris, RHP
Projected Bullpen
CL Jim Johnson, RHP
SU Darren O'Day, RHP
SU Francisco Rodriguez, RHP
MID Tommy Hunter, RHP
MID Brian Matusz, LHP
MID Jason Hammel, RHP
MID Troy Patton, LHP
LR Miguel Gonzalez, RHP
Starting Lineup
Adam Jones (.832 OPS, 31 HR) and Chris Davis (1.034 OPS, 49 HR) have carried the offense all season long, although they'll likely need some help from their lineup mates if they're to advance into the ALDS and beyond. Nick Markakis (.681 OPS) has had a disappointing season, but J.J. Hardy, Manny Machado, Nate McLouth and Matt Wieters have each contributed positively to the success of the offense.
If another hitter can step up, such as newly acquired Michael Morse or oft-injured second baseman Brian Roberts, the offense could be dangerous from top to bottom. Morse has struggled since blasting eight homers with the Seattle Mariners in April. Roberts appears to be healthy but is just a shell of the player who hit 56 doubles and stole 30 bases back in 2009.
Bench
The way Danny Valencia is hitting, it would almost make more sense to place him in the "starting lineup" section. The 28-year-old utility man is 18 for his past 35 with six doubles and three homers. He starts primarily against lefties and could play a major factor in the Wild Card Game if the O's earn a spot and face a lefty starter, such as Derek Holland of the Texas Rangers.
Starting Rotation
Injuries and inconsistency could have decimated the O's, but the acquisitions of Scott Feldman (3.63 ERA in 69.1 IP since trade) and Bud Norris (4.67 ERA in 44.1 IP since trade) have helped to keep them afloat.
Chris Tillman (16-5, 3.66 ERA in 29 starts) has emerged as the staff ace with Wei-Yin Chen, Feldman and Norris as solid options behind him in the rotation. Miguel Gonzalez has also been good for the most part, although he'd likely move to the pen for the playoffs.
Bullpen
Closer Jim Johnson, who has 43 saves in 52 chances, has not been as reliable as he was in 2012, but the overall bullpen depth is very good. If Johnson struggles, the team can turn to Francisco Rodriguez, Darren O'Day or Tommy Hunter, a trio that has combined for 16 saves on the season (Rodriguez's 10 saves came with Milwaukee).
Brian Matusz and Troy Patton give the team a pair of reliable lefty relievers while sinker baller Jason Hammel, who recently returned from a forearm injury, gives the team another veteran with experience coming out of the bullpen.
Overview
In what's becoming a very interesting race in the American League, I see the O's emerging with the wild-card berth for the second consecutive season. Adding four veteran players in midseason deals has supplied the O's with enough depth, to go along with their superstar core of hitters, to outlast a scuffling Rays team that's lost 12 of 16.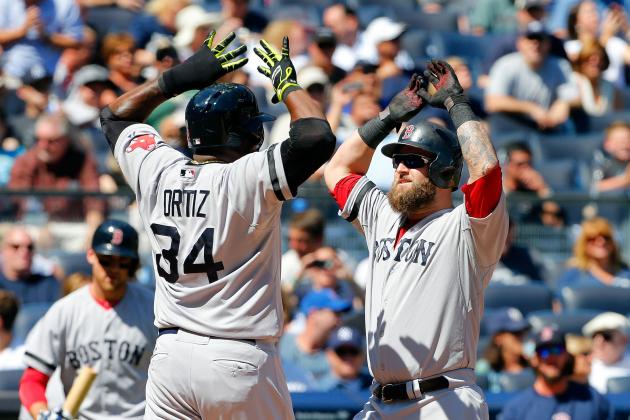 Jim McIsaac/Getty Images

Current Status: 88-58; 8.5-game division lead; best record in AL
Predicted Regular-Season Result: AL East division winner; best record in AL
Predicted ALDS Matchup: Rangers vs. Red Sox
Projected Lineup
1 Jacoby Ellsbury, CF
2 Shane Victorino, RF
3 Dustin Pedroia, 2B
4 David Ortiz, DH
5 Mike Napoli, C
6 Mike Carp, LF (vs RHP)
7 Jarrod Saltalamacchia, C
8 Stephen Drew, SS
9 Will Middlebrooks, 3B
Projected Bench
David Ross, C
Xander Bogaerts, IF
Jackie Bradley Jr., OF
Jonny Gomes, OF (vs LHP)
Daniel Nava, OF/1B
Projected Starting Rotation
1 Jake Peavy, RHP
2 Jon Lester, LHP
3 John Lackey, RHP
4 Clay Buchholz, RHP
Projected Bullpen
CL Koji Uehara, RHP
SU Matt Thornton, LHP
SU Junichi Tazawa, RHP
MID Craig Breslow, LHP
MID Ryan Dempster, RHP
MID Franklin Morales, LHP
LR Brandon Workman, RHP
Starting Lineup
Of all the Red Sox hitters to receive significant playing time this season, it's hard to find one who hasn't been very good. From the familiar names (Jacoby Ellsbury, David Ortiz, Dustin Pedroia) to the newcomers (Stephen Drew, Jonny Gomes, Mike Napoli, Shane Victorino) to the part-time role players (Mike Carp and Daniel Nava), the Sox have one of, if not the most balanced offensive attacks in baseball.
Even Will Middlebrooks, who was sent to the minors after struggling early in the season, has put up huge numbers since his return (1.055 OPS, 6 HR in 26 games).
Bench
In addition to what Carp, Gomes and Nava bring off the bench, 20-year-old Xander Bogaerts, one of the top prospects in all of baseball, has also chipped in with eight hits in 24 at-bats since his call-up and figures to land on the playoff roster. Expect fellow rookie Jackie Bradley Jr. to make the team as insurance in case Ellsbury (compression fracture in right foot) isn't at full health by the start of the ALDS.
Starting Rotation
Finally back at full strength with Tuesday's return of Clay Buchholz (5 IP, 0 R, 3 H, BB, 6 K), the Sox's rotation should be in excellent shape heading into the playoffs. Jake Peavy (3.55 ERA in seven starts) has been terrific since being acquired in late July, Jon Lester (1.98 ERA in last seven starts) is finally looking like a No. 1 starter again and John Lackey continues his strong bid for "Comeback Player of the Year" with a 3.48 ERA in 26 starts.
Bullpen
Down two closers—Joel Hanrahan underwent season-ending Tommy John surgery in May; Andrew Bailey recently underwent season-ending shoulder surgery—the Sox haven't missed a beat in the ninth inning because Koji Uehara has been nearly unhittable. The 38-year-old has saved 13 games in a row and hasn't allowed an earned run since June 30, a span of 30.1 innings.
Setup man Junichi Tazawa has been inconsistent, although Ryan Dempster could figure prominently in a relief role now that Buchholz has returned. Lefties Matt Thornton and Craig Breslow have also pitched well, making up for the loss of Andrew Miller to a foot injury.
Overview
The Sox are very good throughout their 25-man roster and beyond so it's no surprise that they're pulling away in a very strong division here in early September. The additions of Peavy and Thornton in midseason trades, as well as the call-up of Bogaerts, have given the team all the reinforcements necessary to succeed down the stretch.
After a rough debut as Boston's general manager in 2012, Ben Cherington has done just about everything right here in 2013. His team will go into the playoffs with a very good chance to win it all. You can't ask for much more than that in the second year on the job.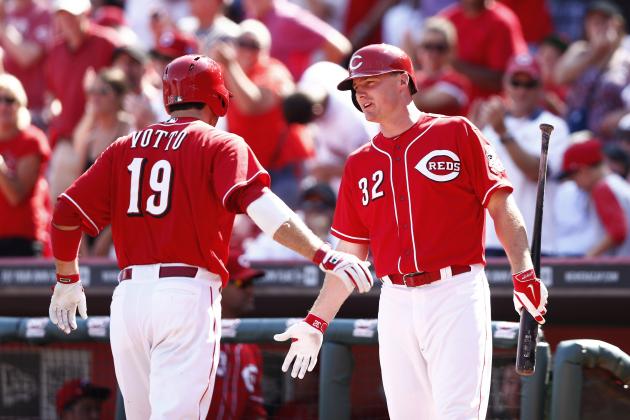 Joe Robbins/Getty Images

Current Status: 82-64; three-game deficit in division; six-game lead in wild-card race
Predicted Regular-Season Result: NL Wild Card
Predicted NLDS Matchup: Reds vs. Dodgers
Projected Lineup
1 Shin-Soo Choo, CF
2 Brandon Phillips, 2B
3 Joey Votto, 1B
4 Jay Bruce, RF
5 Ryan Ludwick, LF
6 Todd Frazier, 3B
7 Zack Cozart, SS
8 Ryan Hanigan, C
Projected Bench
Devin Mesoraco, C
Jack Hannahan, 1B/3B
Cesar Izturis, IF
Billy Hamilton, OF
Chris Heisey, OF
Xavier Paul, OF
Projected Starting Rotation
1 Mat Latos, RHP
2 Homer Bailey, RHP
3 Bronson Arroyo, RHP
4 Johnny Cueto, RHP
Projected Bullpen
CL Aroldis Chapman, LHP
SU J.J. Hoover, RHP
SU Tony Cingrani, LHP
MID Sam LeCure, RHP
MID Manny Parra, LHP
MID Sean Marshall, LHP
LR Alfredo Simon, RHP
Starting Lineup
An already powerful lineup appeared to get even stronger in 2013 with the offseason addition of Shin-Soo Choo, who has an .896 OPS, 20 homers, 97 walks and 17 stolen bases from the leadoff spot. That hasn't been the case, however, only because Choo's production has had to make up for several other players not meeting expectations, including Ryan Ludwick (.697 OPS in 26 games; missed most of season recovering from shoulder injury suffered on Opening Day), Brandon Phillips (.725 OPS) and Todd Frazier (.710 OPS).
Jay Bruce (.816 OPS, 29 HR) and Joey Votto (.928 OPS, 22 HR) have also helped to pick up the slack, although they'll need more help throughout the lineup if they want to get far in the playoffs.
A potential wild-card matchup against the Pirates could be tough if they were to face lefty Francisco Liriano, as would an NLDS matchup with the Dodgers, who would have two tough lefties to try to contain Bruce, Choo and Votto, all left-handed batters.
Bench
A secret weapon has been revealed here in September as call-up and pinch runner extraordinaire Billy Hamilton has been running wild. The 23-year-old, who set a minor league record with 155 stolen bases in 2012, isn't quite ready to contribute at the plate or in the outfield, but he could be a disruptive force on the basepaths when used as a pinch runner late in a close game. He's stolen a base in each of his first four big league appearances.
The Cincinnati Reds also have one of the best pinch hitters in the game in left-handed hitting Xavier Paul, who is 8-for-30 with three homers coming off the bench.
Starting Rotation
No. 1 starter Johnny Cueto, who has been out since late June with a strained lat muscle, is on the road back, although his role is undetermined at this point. Even if he doesn't return in a starting capacity, the Reds are in pretty good shape with Mat Latos (3.02 ERA in 29 starts), Homer Bailey (3.39 ERA in 29 starts) and Bronson Arroyo (3.58 ERA in 29 starts) leading the way and either Tony Cingrani or Mike Leake solid options should the team need a fourth starter.
Bullpen
The Reds' bullpen situation almost mirrors the Braves with their two primary setup man—Jonathan Broxton (season-ending elbow injury) and Sean Marshall (out since May 20 with a shoulder injury)—missing most of the season and a host of no-name relievers chipping in to get the ball to dominant closer Aroldis Chapman.
Marshall might return in time for the playoffs, but he might not have a significant role. J.J. Hoover (2.85 ERA, 12 holds), Manny Parra (3.32 ERA, 16 holds) and Sam LeCure (2.78 ERA, 16 holds) have done an excellent job filling in while Cingrani, if not used as a starter, gives the team another good lefty option.
Overview
Despite spending most of the season in third place behind the Pirates and St. Louis Cardinals, the Reds have never fallen beyond striking range of a playoff spot and have the potential to sneak up on teams in the playoffs, especially if a few of their hitters who have been quiet during the regular season can get it going.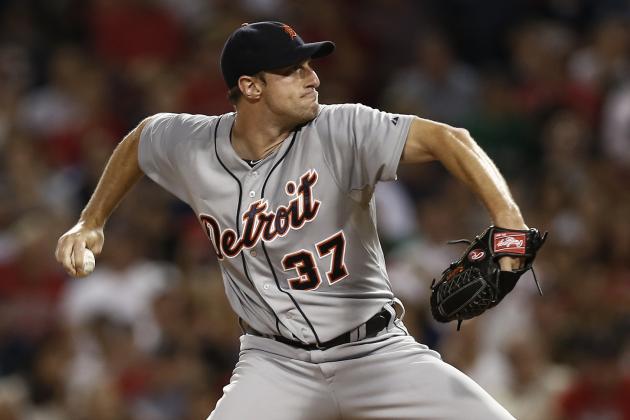 Winslow Townson/Getty Images

Current Status: 83-62; 5.5-game division lead; third-best record in AL
Predicted Regular-Season Result: AL Central division winner; third-best record in AL
Predicted ALDS Matchup: Tigers vs. A's
Projected Lineup
1 Austin Jackson, CF
2 Torii Hunter, RF
3 Miguel Cabrera, 3B
4 Prince Fielder, 1B
5 Victor Martinez, DH
6 Andy Dirks, LF (vs. RHP)
7 Alex Avila, C
8 Omar Infante, 2B
9 Jose Iglesias, SS
Projected Bench
Brayan Pena, C
Jhonny Peralta, IF
Ramon Santiago, IF
Don Kelly, IF/OF
Nick Castellanos, OF (vs. LHP)
Projected Starting Rotation
1 Justin Verlander, RHP
2 Max Scherzer, RHP
3 Anibal Sanchez, RHP
4 Doug Fister, RHP
Projected Bullpen
CL Joaquin Benoit, RHP
SU Drew Smyly, LHP
SU Jose Veras, RHP
MID Bruce Rondon, RHP
MID Phil Coke, LHP
MID Luke Putkonen, RHP
LR Rick Porcello, RHP
Starting Lineup
The Tigers have plenty of talent in their lineup, including Prince Fielder (.814 OPS, 23 HR), Torii Hunter (.789 OPS, 16 HR), Omar Infante (.793 OPS, 9 HR), Austin Jackson (.768 OPS, 11 HR) and Victor Martinez (.768 OPS, 12 HR). But if they go into the playoffs with an ailing Miguel Cabrera either unavailable or just struggling because of an abdomen injury, the Tigers' chances of advancing will decrease significantly.
The 2012 AL MVP has been in and out of the lineup over the past two weeks with only two hits in his past 14 at-bats. While it might be a good idea to rest Cabrera down the stretch, the team has lost six of nine games while the second-place Indians are still a threat at just 5.5 games out.
Bench
With Jhonny Peralta eligible to return from his 50-game suspension late in the regular season, the Tigers could have themselves some power coming off the bench. It's not been determined, however, if Peralta will be added to the playoff roster. The 31-year-old had an .822 OPS and 11 homers in 104 games, although it's unclear how the long layoff will affect him.
Top prospect Nick Castellanos could also factor into the mix as a right-handed hitting platoon partner to left fielder Andy Dirks. A September call-up, the 21-year-old can be added to the playoff roster in place of one of the team's two current players on the 60-day DL. In two big league starts, the rookie is 2-for-5. Expect the audition to continue late into the regular season before the team makes a decision.
Starting Rotation
Whether Cabrera is healthy or not, the Tigers have a chance to succeed in the playoffs because their starting pitching is so good. The quartet of Justin Verlander (12-11, 3.64 ERA in 30 starts), Max Scherzer (pictured; 19-3, 3.01 ERA in 29 starts), Anibal Sanchez (13-7, 2.61 ERA in 25 starts) and Doug Fister (12-8, 3.77 ERA in 29 starts) might be the best in baseball.
All have postseason experience, as well.
Bullpen
On another positive note to help ease the possibility that Cabrera won't be at full strength, the late-inning bullpen situation appears much more under control than at this time last season when Jose Valverde had a rough September and then carried over those struggles into the playoffs.
Joaquin Benoit has been solid in the closer's role (17-for-17 in save opportunities) while Jose Veras has helped to stabilize the seventh and eighth innings along with lefty Drew Smyly. Hard-throwing rookie Bruce Rondon has been very good in the second half (2.41 ERA in 19 appearances) and veteran lefty Phil Coke appears to have turned things around after a terrible start.
Overview
The American League champs of a season ago picked up steam down the stretch in 2012 (15 wins in last 22 games) and rode the momentum all the way to the World Series. That is not the case in 2013 with Cabrera banged up, although they are certainly capable of turning it on at any time.
If they do and Cabrera is a factor, they'll be tough to beat in a playoff series.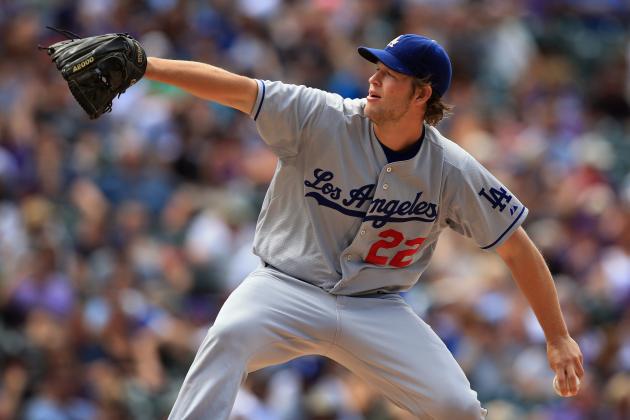 Doug Pensinger/Getty Images

Current Status: 85-59; 13-game division lead; second-best record in NL
Predicted Regular-Season Result: NL West division winner; best record in NL
Predicted NLDS Matchup: Reds vs. Dodgers
Projected Lineup
1 Carl Crawford, LF
2 Yasiel Puig, RF
3 Adrian Gonzalez, 1B
4 Hanley Ramirez, SS
5 Matt Kemp, CF
6 Juan Uribe, 3B
7 A.J. Ellis, C
8 Mark Ellis, 2B
Projected Bench
Tim Federowicz, C
Skip Schumaker, 2B/OF
Nick Punto, IF
Michael Young, IF
Jerry Hairston Jr., IF/OF
Andre Ethier, OF
Projected Starting Rotation
1 Clayton Kershaw, LHP
2 Zack Greinke, RHP
3 Hyun-Jin Ryu, LHP
4 Ricky Nolasco, RHP
Projected Bullpen
CL Kenley Jansen, RHP
SU Ronald Belisario, RHP
SU Paco Rodriguez, LHP
MID Brian Wilson, RHP
MID J.P. Howell, LHP
MID Chris Withrow, RHP
LR Chris Capuano, LHP
Starting Lineup
Andre Ethier's remarkable turnaround (.894 OPS in second half) after a poor start makes Matt Kemp's slow recovery from a hamstring injury less of a concern, although a healthy Kemp can make an already very good lineup unstoppable in the playoffs.
Hanley Ramirez (1.025 OPS, 18 HR) and Yasiel Puig (.950 OPS, 15 HR) continue to have huge seasons while steady performances from Adrian Gonzalez (.805 OPS, 20 HR), Carl Crawford (.732 OPS, 13 SB) and Juan Uribe (.754 OPS, 10 HR) have also helped.
Bench
Several gritty and versatile veterans make the Dodgers bench a factor on a team that has been affected by injuries throughout the season. Skip Schumaker, Nick Punto and Jerry Hairston Jr. are included in this group, while recent acquisition Michael Young gives the team a former batting champ to come off the bench in key situations.
If Kemp returns, it will ensure that one really good player—Crawford, Ethier, Kemp or Puig—will be available off the bench to utilize late in the game.
Starting Rotation
A rotation that includes two ace-caliber starters, Clayton Kershaw (14-8, 1.92 ERA in 30 starts) and Zack Greinke (14-3, 2.79 ERA in 24 starts), and two others—Hyun-Jin Ryu (13-5, 3.02 ERA in 26 starts) and Ricky Nolasco (8-1, 2.07 ERA in 12 starts since trade)—who are pitching like they belong at the front of a rotation will be tough to defeat in a playoff series.
Pressure will be on opposing teams to keep the Dodgers offense off the board at all costs with the way this group of starting pitchers has been shutting down opponents.
Bullpen
The Dodgers appear to be a team without weaknesses, and the bullpen is no exception. Kenley Jansen (1.91 ERA, 25 saves, 102 K in 70.2 IP) is one of the best in the business at closing out games while setup man Paco Rodriguez (2.12 ERA, 19 holds) has emerged as one of the better lefties around.
Former San Francisco Giants closer Brian Wilson, who has looked good in his six appearances (6 IP, ER, 6 H, 2 BB, 6 K) since joining the team, and rookie Chris Withrow (2.83 ERA, 37 K in 28.2 IP) give the Dodgers alternatives in case Ronald Belisario continues to struggle (5 ER in last 7.2 IP).
Overview
The team's 55-17 record since June 22 won't mean a thing once the playoffs start. It probably won't result in a loss of momentum for this talented team, though.
Behind a dominant starting rotation and plenty of firepower on offense, the Dodgers are good enough to win 11 more games in the playoffs to give the team its first world title since 1988.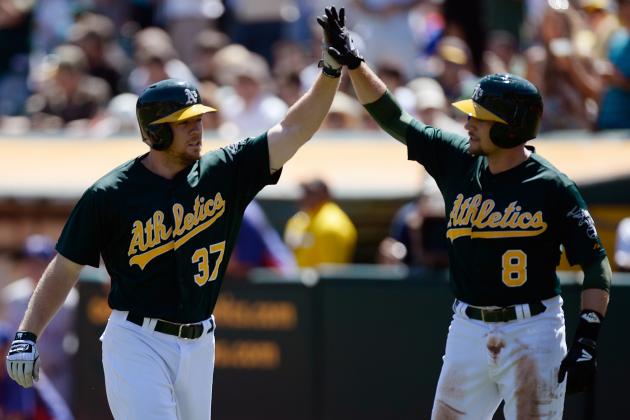 Thearon W. Henderson/Getty Images

Current Status: 83-61; two-game division lead; second-best record in AL
Predicted Regular-Season Result: AL West division winner; second-best record in AL
Predicted ALDS Matchup: Tigers vs. A's
Projected Lineup
1 Coco Crisp, CF
2 Josh Donaldson, 3B
3 Jed Lowrie, SS
4 Brandon Moss, 1B
5 Yoenis Cespedes, LF
6 Alberto Callaspo, 2B
7 Josh Reddick, RF
8 Seth Smith, DH
9 Derek Norris, C
Projected Bench
Kurt Suzuki, C
Stephen Vogt, C/OF
Nate Freiman, 1B (vs. LHP)
Eric Sogard, IF
Chris Young, OF (vs. LHP)
Projected Starting Rotation
1 Bartolo Colon, RHP
2 Jarrod Parker, RHP
3 Dan Straily, RHP
4 Sonny Gray, RHP
Projected Bullpen
CL Grant Balfour, RHP
SU Ryan Cook, RHP
SU Sean Doolittle, LHP
MID Dan Otero, RHP
MID Brett Anderson, LHP
MID Jerry Blevins, LHP
LR A.J. Griffin, RHP
Starting Lineup
Josh Donaldson (.865 OPS, 21 HR) and Brandon Moss (.830 OPS, 26 HR) have been surprise stars for the first-place Oakland A's, while several others have chipped in with solid contributions, including Jed Lowrie (.775 OPS, 11 HR), Coco Crisp (.765 OPS, 18 HR, 18 SB) and Yoenis Cespedes (.726 OPS, 22 HR).
Alberto Callaspo has also made a tremendous impact since being acquired from the Angels in late July, posting a .753 OPS with two homers and 12 runs batted in in 35 games. Outfielders Josh Reddick (.658 OPS), Seth Smith (.692 OPS) and Chris Young have all disappointed (.660 OPS) but have a track record of success and will have a much-needed fresh start once the playoffs start.
Bench
Manager Bob Melvin has kept his bench busy, utilizing several platoons to spread out at-bats and keep all hitters on his roster sharp throughout the season. Rookie Nate Freiman, a Rule 5 draftee, has taken full advantage with an .837 OPS in 139 at-bats against left-handed pitchers.
Melvin also has three solid options behind the plate in veteran Kurt Suzuki and youngsters Derek Norris and Stephen Vogt, all of whom could end up on the playoff roster.
Starting Rotation
Rookie prospect Sonny Gray (2.77 ERA in six starts) has been very good since joining the rotation, giving the team another option behind veteran Bartolo Colon (15-6, 2.85 ERA in 27 starts) and Jarrod Parker (11-6, 3.55 ERA in 29 starts). Dan Straily and A.J. Griffin are also in the mix with Tommy Milone and Brett Anderson possibilities if the team faces a left-handed-heavy lineup.
Bullpen
The late-inning trio of Grant Balfour (2.59 ERA, 37 saves), Ryan Cook (2.18 ERA, 21 holds) and Sean Doolittle (3.48 ERA, 24 holds) is very good, while rookie Dan Otero (1.41 ERA, 6 holds) has surfaced as another strong option with the game on the line. If Gray isn't in the playoff rotation, which is a possibility if the A's feel his innings total is getting too high, he'll give the team another power pitcher to utilize in the sixth and seventh innings.
Overview
While they're unlikely to head into the playoffs with as much momentum as last season when they completed a three-game sweep over Texas on the final day of the season to win the AL West—they won 68 of their final 101 regular-season games—they are a more experienced group and likely much more focused and motivated after nearly knocking off the Tigers in the ALDS.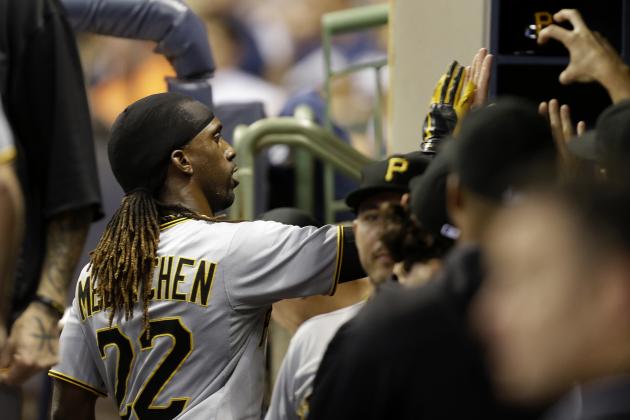 Mike McGinnis/Getty Images

Current Status: 83-61; one-game deficit in division; six-game lead in wild-card race
Predicted Regular-Season Result: NL Central division winner; third-best record in the NL
Predicted NLDS Matchup: Pirates vs. Braves
Projected Lineup
1 Starling Marte, LF
2 Neil Walker, 2B
3 Andrew McCutchen, CF
4 Justin Morneau, 1B (vs RHP)
5 Marlon Byrd, RF
6 Pedro Alvarez, 3B
7 Russell Martin, C
8 Jordy Mercer, SS
Projected Bench
John Buck, C
Garrett Jones, 1B/OF
Gaby Sanchez, 1B (vs LHP)
Clint Barmes, IF
Josh Harrison, IF/OF
Jose Tabata, OF
Projected Starting Rotation
1 A.J. Burnett, RHP
2 Francisco Liriano, LHP
3 Gerrit Cole, RHP
4 Charlie Morton, RHP
Projected Bullpen
CL Jason Grilli, RHP
SU Mark Melancon, RHP
SU Tony Watson, LHP
MID Bryan Morris, RHP
MID Justin Wilson, LHP
MID Jeanmar Gomez, RHP
LR Jeff Locke, LHP
Starting Lineup
While 26-year-old center fielder Andrew McCutchen (pictured; .924 OPS, 19 HR, 27 SB) is the hands-down star of this Pirates team, there's no question that veterans like Russell Martin, Justin Morneau, Marlon Byrd and John Buck make this team less likely to fall apart down the stretch and/or in the playoffs.
McCutchen isn't the only young player having an impact on the team's success. Pedro Alvarez (.768 OPS, 32 HR), Neil Walker (.743 OPS, 10 HR) and Starling Marte (.786 OPS, 11 HR, 36 SB) have been key contributors on the first winning Pirates squad in 21 years.
Bench
The midseason acquisitions of Byrd and Morneau give the team depth and flexibility to utilize lefty slugger Garrett Jones or outfielder Jose Tabata off the bench, while Buck gives the team additional right-handed pop to go with Gaby Sanchez.
Starting Rotation
Francisco Liriano has had a few really bad starts in the second half, making the rotation a bit less stable down the stretch, but the 29-year-old lefty has been one of the biggest reasons for the Pirates' success. If Liriano goes into the playoffs locked in as he was during the first half of the season (9-3, 2.00 ERA in 12 starts), the Bucs could be tough to beat when he's on the mound.
Bullpen
The Pirates bullpen doesn't get a lot of attention, but it's been one of the best in baseball.
Despite losing closer Jason Grilli for an extended period because of a forearm injury, the Bucs bullpen didn't miss a beat as Mark Melancon (1.12 ERA, 13 saves, 26 holds) has been nearly flawless in his place while lefty setup duo Tony Watson (2.55 ERA, 19 holds) and Justin Wilson (2.19 ERA, 19 holds) have also stepped up in high-leverage roles.
Grilli (2.62 ERA, 30 saves, 69 strikeouts in 44.2 IP), who is being eased back into his closer's role, has given up runs in back-to-back outings, but the bullpen will be in great shape if he can return to form by the start of the playoffs.
Overview
Will the hangover from locking up the team's first winning season and playoff berth since 1992 affect the Pirates negatively in the playoffs? Probably not.
While the team's core of talent is full of young players lacking playoff experience, general manager Neal Huntington did an excellent job of bringing in several battle-tested veterans who should help the team remain focused on the ultimate goal of winning a World Series title.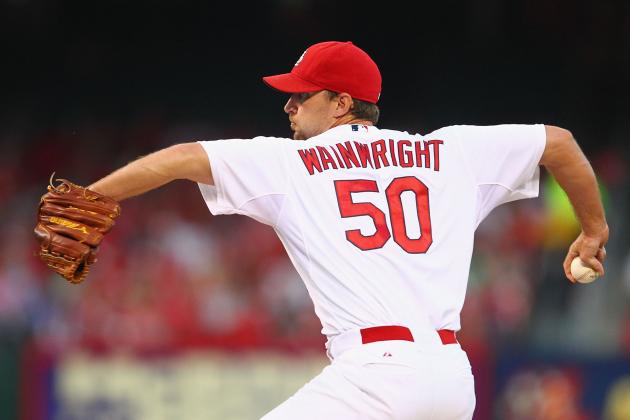 Dilip Vishwanat/Getty Images

Current Status: 84-60; one-game division lead; third-best record in NL
Predicted Regular-Season Result: NL Wild Card
Projected Lineup
1 Matt Carpenter, 2B
2 Carlos Beltran, RF
3 Matt Holliday, LF
4 Allen Craig, 1B
5 Yadier Molina, C
6 David Freese, 3B
7 Jon Jay, CF
8 Daniel Descalso, SS (vs RHP)
Projected Bench
Tony Cruz, C
Matt Adams, 1B
Kolten Wong, 2B
Pete Kozma, IF (vs LHP)
Shane Robinson, OF
Projected Starting Rotation
1 Adam Wainwright, RHP
2 Shelby Miller, RHP
3 Lance Lynn, RHP
4 Joe Kelly, RHP
Projected Bullpen
CL Edward Mujica, RHP
SU Trevor Rosenthal, RHP
SU Seth Maness, RHP
MID Kevin Siegrist, LHP
MID Michael Wacha, RHP
MID Randy Choate, LHP
MID Carlos Martinez, RHP
LR Jake Westbrook, RHP
Starting Lineup
The Cardinals' pitching staff might be young and inexperienced, but the lineup is full of veteran stars with World Series rings. The addition of Matt Carpenter (.868 OPS, 10 HR) as the table-setter for Carlos Beltran (.859 OPS, 23 HR), Matt Holliday (.837 OPS, 19 HR), Allen Craig (.830 OPS, 13 HR) and Yadier Molina (.836 OPS, 11 HR) makes this one of the toughest lineups around.
Former World Series hero David Freese and Jon Jay are also tough outs, although the shortstop platoon of Daniel Descalso and Pete Kozma offer very little at the plate.
Bench
Craig's sprained foot has put his postseason status in question, but rookie Matt Adams (.781 OPS, 11 HR) gives the team a strong backup plan in case he's not ready. Should Craig be left off the roster due to the injury, journeyman first baseman Brock Peterson (.895 OPS, 25 HR in Triple-A) would likely take his spot.
Fellow rookie Kolten Wong has struggled at the plate (7-for-44), although he could still make the playoff roster without too many other strong pinch-hit alternatives other than Adams. Wong would also give the team a pretty good pinch-running option late in games. The 22-year-old second baseman had 20 stolen bases in Triple-A and has three during his short big league stint.
Starting Rotation
Who would follow staff ace Adam Wainwright (pictured; 16-9, 3.03 ERA in 30 starts) in a playoff series is uncertain, although rookie Shelby Miller is a near lock and 25-year-old Joe Kelly (7-0, 1.70 ERA in nine second-half starts) is doing everything he can to join them. Another rookie, 22-year-old Michael Wacha, has tossed 13 scoreless innings in his past two starts and could make the decision to move Lance Lynn to the bullpen an easy one.
Bullpen
Closer Edward Mujica has been the rock of the bullpen, saving 36 games in 39 chances and veteran lefty specialist Randy Choate has also been effective (2.59 ERA, 12 holds). But a trio of rookie relievers—Trevor Rosenthal (2.27 ERA, 28 holds, 96 K in 67.1 IP), Seth Maness (2.26 ERA, 14 holds) and Kevin Siegrist (0.56 ERA, 9 holds)—has done a tremendous job of handing Mujica a lead.
Lynn, who pitched primarily out of the bullpen as a rookie in 2011, and either Wacha or another live-armed prospect, Carlos Martinez, could also factor into the mix.
Overview
All the well-deserved attention the Pirates are getting has overshadowed the fact that the Cardinals will return to the postseason with a pitching staff filled with rookies. If the youngsters can keep their composure, the Cards will have a chance. If not, an early exit is likely.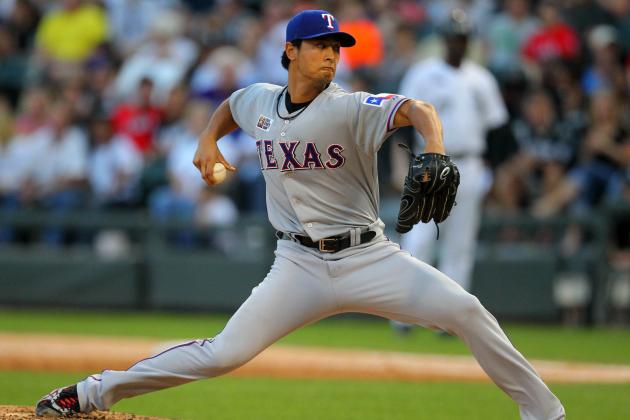 Dennis Wierzbicki-USA TODAY Spor

Current Status: 81-63; two-game division deficit; 1.5-game wild-card lead
Predicted Regular-Season Result: AL Wild Card
Predicted ALDS Matchup: Rangers vs. Red Sox
Projected Lineup
1 Ian Kinsler, 2B
2 Elvis Andrus, SS
3 Alex Rios, RF
4 Adrian Beltre, 3B
5 A.J. Pierzynski, C
6 Nelson Cruz, DH
7 Mitch Moreland, 1B (vs. RHP)
8 David Murphy, LF (vs. RHP)
9 Leonys Martin, CF
Projected Bench
Geovany Soto, C
Lance Berkman, 1B
Jeff Baker, IF/OF (vs LHP)
Jurickson Profar, IF
Craig Gentry, OF (vs LHP)
Projected Starting Rotation
1 Yu Darvish, RHP
2 Derek Holland, LHP
3 Matt Garza, RHP
4 Martin Perez, LHP
Projected Bullpen
CL Joe Nathan, RHP
SU Tanner Scheppers, RHP
SU Joakim Soria, RHP
MID Neftali Feliz, RHP
MID Neal Cotts, LHP
MID Alexi Ogando, RHP
MID Robbie Ross, LHP
LR Jason Frasor, RHP
Starting Lineup
If Nelson Cruz returns as the same hitter as he was prior to a 50-game suspension—manager Ron Washington indicated that Cruz would be on the postseason roster, according to Gerry Fraley of the Dallas Morning News—the Rangers could be a force to be reckoned with.
With an .841 OPS and 27 homers, the 33-year-old Cruz was on pace for a career season before the suspension. Since, the team acquired Alex Rios (.864 OPS, 4 HR, 10 SB in 28 games) to give it some more firepower to go along with Adrian Beltre (.894 OPS, 28 HR) and a solid supporting cast that includes A.J. Pierzynski (.750 OPS, 17 HR), Mitch Moreland (.762 OPS, 22 HR), Ian Kinsler (.740 OPS, 11 HR, 13 SB) and Leonys Martin (.705 OPS, 7 HR, 32 SB).
Bench
Utility man Jeff Baker, who has played every position on the diamond but shortstop, center field, catcher and pitcher, has put up huge numbers against left-handed pitching (1.146 OPS, 10 HR in 91 at-bats). Outfielder Craig Gentry (21 for his past 65 with six stolen bases) is also having a terrific season, while backup catcher Geovany Soto has been productive when given the chance to play (.737 OPS, 7 HR in 49 games).
Starting Rotation
If the Rangers have the opportunity, don't be surprised if ace Yu Darvish (12-8, 2.84 ERA in 28 starts) pitches in the Wild Card Game in order to give the team the best chance to avoid a second consecutive one-and-done playoff appearance. They'd be relying heavily on Derek Holland (9-8, 3.17 ERA in 29 starts) and Matt Garza (3-3, 4.31 ERA in 9 starts since trade) in the ALDS, however, if Darvish (pictured) isn't available until Game 3.
Rookie Martin Perez (9-4, 3.60 ERA in 16 starts) is the likely fourth option unless they decide to move Alexi Ogando (3.47 ERA in 15 starts) back from the bullpen before the end of the regular season.
Bullpen
As is the case with several playoff-bound teams, the Rangers have a strong bullpen with a couple of young pitchers playing integral roles, including setup man Tanner Scheppers (1.98 ERA, 23 holds) and lefty Robbie Ross (3.38 ERA, 14 holds)
Joe Nathan (1.46 ERA, 39 saves), Joakim Soria (2.60 ERA, 6 holds) and Jason Frasor (2.49 ERA, 9 holds) are the veterans of the group, while journeyman lefty Neal Cotts, who hadn't pitched in the majors since 2009, has come up big with a 1.15 ERA in 47 appearances. The return of former Rookie of the Year and All-Star closer Neftali Feliz, who has pitched 3.1 scoreless innings since returning from Tommy John surgery, gives the team another weapon to use late in the games.
Overview
This Rangers team might have less talent than the AL champs of 2010 and 2011, but the underdog status might be a good thing after entering the playoffs as heavy favorites during its previous runs. The pitching staff is very good, and the return of Cruz to the middle of the lineup could give the offense a jolt.