Eddie Lacy made his anticipated NFL debut for the Green Bay Packers this past weekend. He finished Sunday's game against the San Francisco 49ers with 14 carries for 41 yards and a touchdown. That single touchdown would have tied him for the most rushing touchdowns by a running back on the Packers' roster last year.
And Eddie Lacy just matches the number of rushing TD's scored last year by James Starks, Cedric Benson, and John Kuhn.

— Packerpedia (@Packerpedia) September 8, 2013
He also added one reception for 31 yards and lost a fumble early in the second quarter.
It obviously wasn't the most productive day for Lacy, but we also must remember that the 49ers boast one of the best run defenses in the NFL. With that said, there is definitely plenty of area to improve for Lacy as he heads into Week 2.
Let's break down Lacy's NFL debut by looking at some advanced statistics via Pro Football Focus (subscription required) and then take a look at the good and the bad from the film.
What Do Advanced Statistics Say?
To be honest, the advanced statistics don't look very good for Lacy. For starters, Lacy's longest run on the day was only seven yards. This put his breakaway percentage, which is the percentage of yards gained on runs more than 15 yards, at zero percent.
Furthermore, Lacy's elusive rating, which is a rating to determine how hard a running back was to tackle, was only the 23rd-best percentage for a running back in Week 1. As you can see in the chart below, Lacy was quite pedestrian in his ability to break tackles and make defenders miss:
NFL Leaders in Elusive Rating

| | | | | | |
| --- | --- | --- | --- | --- | --- |
| Player | Team | Missed Tackles | Elusive Rating | | |
| Trent Richardson | Cleveland Browns | 8 | 135.4 | | |
| Stevan Ridley | New England Patriots | 3 | 85.2 | | |
| LeSean McCoy | Philadelphia Eagles | 9 | 82.6 | | |
| Eddie Lacy | Green Bay Packers | 1 | 19.0 | | |
All numbers via ProFootballFocus.com
However, it wasn't all bad for Lacy according to advanced statistics. Lacy was very good in pass protection, as he didn't give up a single quarterback hurry when asked to block for quarterback Aaron Rodgers.
Lacy's overall grade on the day from Pro Football Focus was a 0.5, which was good enough for the 14th-best in Week 1.
The Good
While Lacy wasn't really known as a big-play threat at Alabama, he showed the ability to pick up big chunks of yards in Week 1.
In the picture below, the Packers are lined up in shotgun formation with Lacy as the lone back. The play is a delayed screen pass to Lacy to the left side of the field.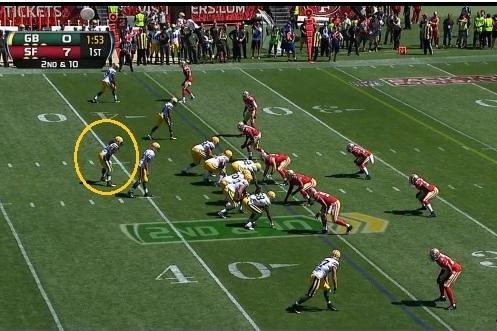 What Lacy does such a great job at on this play is getting his head turned around right after he makes the catch. He's instantly looking up the field at his blockers and where the defenders are.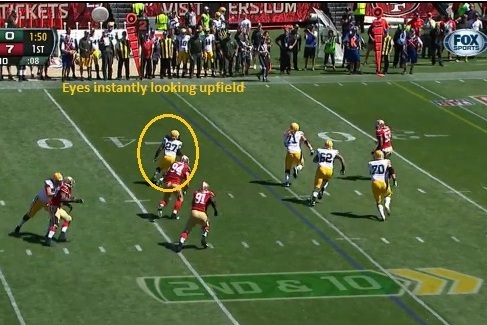 After getting near the first down, Lacy sees the safety in front of him. Instead of taking on the defender, Lacy decides to cut back behind his offensive lineman toward the sideline.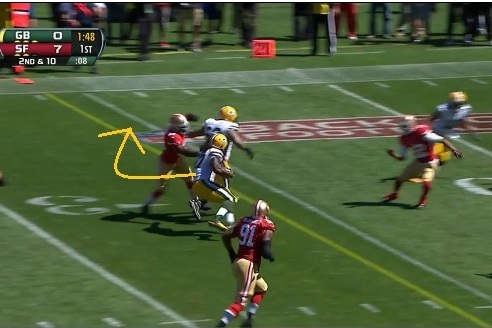 Despite being met by two defenders, Lacy displays the power that made him such a coveted prospect coming out of college. He easily breaks both tackles to continue his big gain.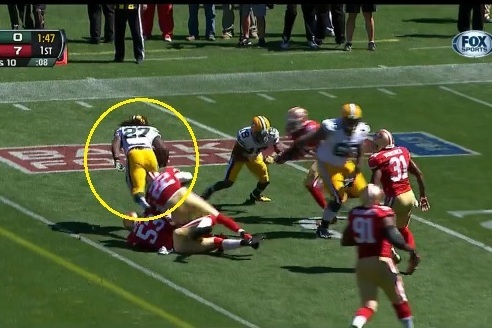 The end result of this catch-and-run was a 31-yard gain to set the Packers up for a game-tying touchdown. This was easily Lacy's best play on the day.
The Bad
The big problem that was seen from Lacy against the 49ers was his vision. He played behind such a dominant offensive line in college that the hole would be wherever the run play was designed, and all he had to do was run through it.
That simply won't work in the NFL, where a running back needs elite vision in order to succeed. As you can see in the picture below, Lacy is going to take the handoff and run toward the strong side of the offensive line. The offensive line is pushing the defensive line left while Jermichael Finley moves the outside linebacker toward the right sideline. There is a hole opening up for Lacy to the outside of the right tackle.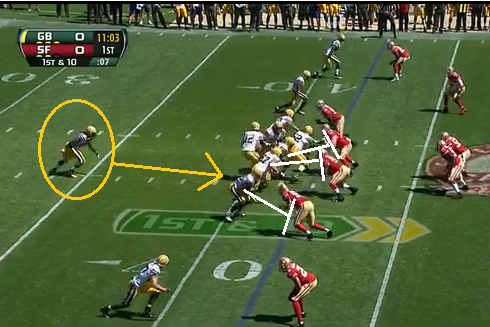 The only thing that could have closed that hole quickly would have been the middle linebackers. However, as you can see in the picture below, both middle linebackers followed the offensive line straight up the middle of the field. All Lacy had to do was bounce outside and he would have only had the safety to beat for a big gain. Even if he didn't beat the safety, Lacy still would have picked up a good chunk of yards before contact had he hit this hole.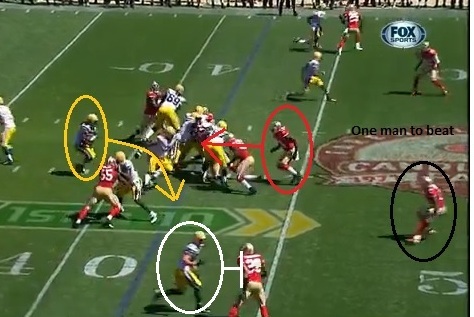 Unfortunately, Lacy didn't see the hole and ran straight up the middle into the waiting arms of the entire San Francisco defense. The end result of this play was no gain.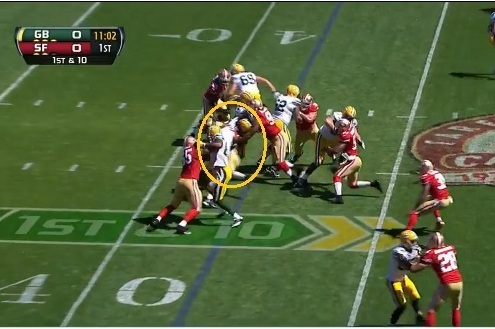 This was the bad side of Lacy, who proved that he needs to display better vision when attacking defenses.
How would you rate Eddie Lacy's debut for the Green Bay Packers?
Overall, there is definitely room for Lacy to improve. He needs to learn to trust his instincts instead of just expecting his offensive line to always open up holes. Lacy putting the ball on the ground isn't necessarily an issue right now, but it'll be something to watch with each passing week.
Of course, there are plenty of good traits that Lacy brings to the field. His overall power and potential to break tackles to pick up extra yards is something the Packers haven't had in a running back in years.
One thing that was clear throughout Week 1 was how much Green Bay wants Lacy to be involved in its offense. Don't be surprised if his role continues to increase with each passing week.