Dissecting Each Shoo-in Playoff Team's Nightmare Matchup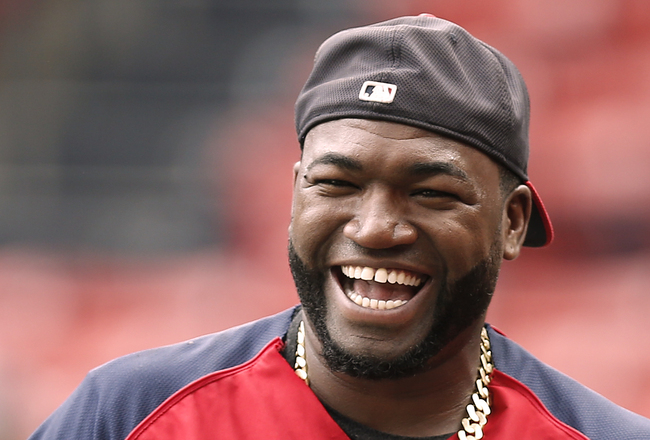 Winslow Townson/Getty Images
Every team has that one opponent they just can't seem to get the better of, especially in a postseason series where they are facing the best starting pitching the other side has to offer every single night.
To use a term from Herman Melville, author of Moby Dick, that kind of opponent becomes their white whale. The team and fans of the losing squad become so obsessed with trying to defeat a team that it consumes their life.
Putting it in context, think of the Boston Red Sox with the New York Yankees until the 2004 American League Championship Series. The team builds everything for that one series, believing once they get over that hump, the rest is simple.
Looking at the teams all but assured of a postseason berth in 2013—these teams include Boston, Detroit, Oakland, Texas, Atlanta, St. Louis, Pittsburgh, Cincinnati and Los Angeles—we wanted to find the one club they could potentially play that would give them all sorts of problems for one reason or another.
The problems will vary from a deep starting rotation with strikeout pitchers facing a lineup that strikes out a lot, or teams who hit home runs going on the road to play in big ball parks or any number of issues you can think of.
Note: All stats courtesy of Fangraphs and Baseball Reference unless otherwise noted.
Boston Red Sox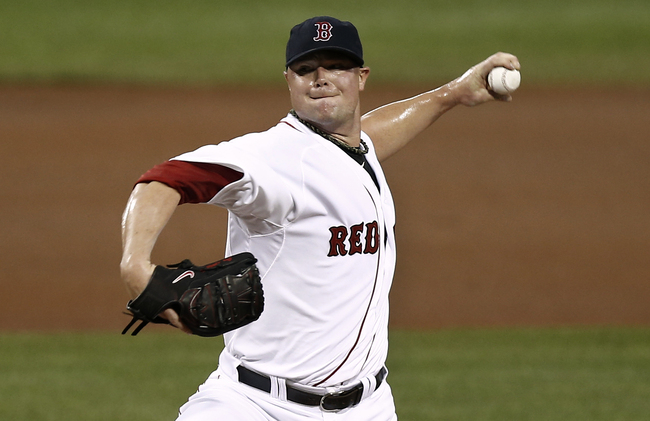 Winslow Townson/Getty Images
Opponent: Detroit Tigers
Given the depth of their starting pitching and power in the lineup, the Tigers will factor into this list a lot. But I wanted to highlight them against Boston for a few specific reasons that immediately jumped out to me.
First, despite ranking second in the AL in average and leading the league in on-base and slugging percentage, the Red Sox are prone to striking out. They have 1,166 punchouts so far this season, fourth most in the league. They have 39 games this season with at least 10 strikeouts.
The entire Tiger staff has also allowed the fewest home runs of any AL group with 119. For comparison, Kansas City is second in that category with 133 allowed. The gap between No. 1 and No. 2 is greater than the gap between No. 2 and No. 6 (Texas, 141).
The Tigers boast the most potent strikeout staff in baseball, leading the world with 1,219 on the season. On an individual level, the rotation has three pitchers (Max Scherzer, Anibal Sanchez, Justin Verlander) who average more than 8.5 strikeouts per nine innings.
Scherzer and Verlander are horses who can work deep into games and will have more than 200 innings this season. Sanchez will fall short of that number because of an injury earlier in the season but has averaged a respectable 6.1 innings per start.
As long as the Tigers don't have to rely on their bullpen for more than two innings per game, that staff can power down Boston's lineup. The Red Sox do have a few hitters who are very difficult to strike out, most notably Dustin Pedroia, but they are an all-or-nothing type of lineup that Detroit can exploit.
The second thing that jumped out at me was Detroit's 162 home runs hit. We know about Miguel Cabrera and Prince Fielder in the middle of the lineup, but there are currently four other players with at least 11 home runs. (Jhonny Peralta is on that list, though it remains to be seen if the Tigers will bring him back when his Biogenesis suspension ends.)
John Lackey and Ryan Dempster, who might not even make the postseason rotation, have been homer prone at times this season with rates well over 1.00 per nine innings.
Detroit's pop could pose a lot of problems for Boston's rotation, especially if Clay Buchholz returns at a level lower than prior to his injury.
Detroit Tigers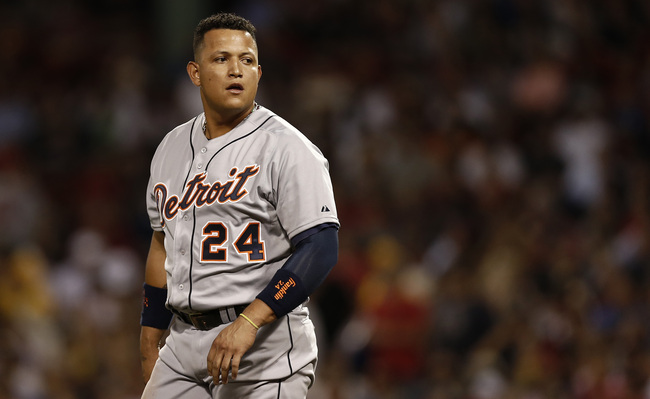 Winslow Townson/Getty Images
Opponent: Texas Rangers
I am going to break my rule of looking at small sample sizes and things that happened in the regular season when evaluating a postseason series for this one because I am able to defend it with logic.
The Rangers have defeated Detroit four times in seven meetings. That's not exactly dominant, but it is all you need to win an ALCS. But when I look at the games the Rangers won, that is where I think they can give the Tigers some problems.
Three of Texas' four wins have come in games started by Justin Verlander, Anibal Sanchez and Max Scherzer. Two of the games the Tigers won were started by Justin Grimm, who was traded to the Cubs in the Matt Garza trade, and Nick Tepesch, who doesn't figure to be a prominent part of Texas' postseason rotation.
I love the top of the Rangers rotation in a short series with Yu Darvish, the best strikeout pitcher in baseball, and Derek Holland, who is a strong Cy Young contender flying under the radar, in Games 1 and 2. Matt Garza would likely get the call in a Game 3.
Another factor that would scare me if I was Detroit starting at a series against Texas is that bullpen pitching in Arlington. Despite throwing the fewest innings in baseball, Tigers relievers have given up 42 home runs, 16th in the league.
Even though Texas' lineup isn't as potent as we are accustomed to, this is still a group that is fifth in MLB in slugging percentage, sixth in runs, seventh in average and eighth in on-base percentage.
Elvis Andrus has turned his season around with a stellar second half offensively with a .325/.383/.406 line. If he's getting on base with Ian Kinsler hitting leadoff and Alex Rios (.297/.343/.495 since being acquired) and Adrian Beltre behind him, suddenly the Rangers are just as deep offensively as Detroit.
Another factor to consider is Miguel Cabrera's health. His abdomen and legs haven't been right for a few weeks, which could provide one of the biggest storylines in October.
Oakland Athletics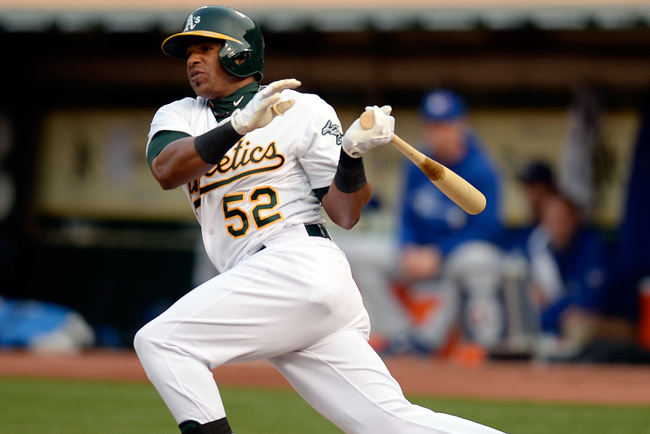 Thearon W. Henderson/Getty Images
Opponent: Texas Rangers
I thought long and hard about putting Detroit in this spot because we saw some of the issues that the Athletics had with the Tigers in October last year. Well, mostly they had issues against Justin Verlander, which is certainly no crime.
But Texas ultimately won the debate in my mind because you have to play a certain style of baseball to beat the A's that I am not entirely convinced the Tigers are capable of. We know about Detroit's pitching staff, which always gives the team a chance to make a deep postseason run.
Yet when I go over the Tigers roster as a whole, a series against Oakland doesn't fill me with a ton of confidence for Detroit.
Texas, on the other hand, can match up nicely with the A's. Aside from knowing each other so well by playing in the same division, the Rangers have their share of strikeout artists in the rotation. Oakland, however, isn't striking out at nearly the same rate this year as it did in 2012.
Oakland is a team that hits the ball in the air, boasting the lowest ground ball-fly ball ratio in baseball at 0.64. The A's also have the second lowest batting average of the teams we are calling playoff shoo-ins.
So to beat them, I want a pitching staff capable of striking this lineup out, preventing the balls being hit in the air from going over the fence, an elite defensive team that can make all the plays when the ball does get put in play and an athletic lineup that can put pressure on the opposing staff.
Texas has the best defensive numbers among playoff shoo-ins with 33 defensive runs saved and 26.9 fielding runs above average. It does rank fourth behind Detroit and Boston in strikeouts but second in strikeouts from starters. The Rangers are second in the AL with 118 stolen bases.
Plus, working in Texas' favor would be playing at least two games in a five-game series in the spacious O.co Coliseum, which ranks 22nd in Park Factor Hits Allowed and 26th in runs.
Texas Rangers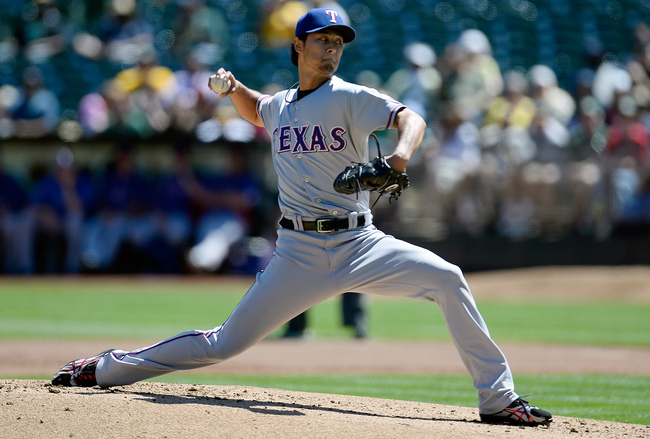 Thearon W. Henderson/Getty Images
Opponent: Boston Red Sox
This one shouldn't have been hard to guess if you followed the way I talked about Texas in the last two pieces. I've run hot and cold on just how good Boston is, wondering if the pitching staff makes this team more of a strong regular-season squad than one built for October.
While I still hold some of those concerns because I don't know which Jon Lester will show up on a given night, or if John Lackey's going to start wearing down in the hot September sun, or what is going on with Clay Buchholz, I do think that the Red Sox can give Texas' pitching problems.
My big fear with Texas' starting staff is home runs. As overwhelmingly dominant as he can be on a given day, Yu Darvish has given up 24 long balls in 179.2 innings. That is a very high total for a pitcher who has the most electric stuff in the sport.
In fact, aside from Derek Holland, every starter the Rangers would likely use in a playoff rotation has a home-run rate over 1.00 per nine innings. Matt Garza is giving up 1.44 homers per nine innings; Martin Perez's rate is 1.04.
The Red Sox are the most potent offensive team in baseball in getting on base and driving the ball. Eight players have more than 10 home runs, showing the incredible balance throughout the lineup. They also have eight players with at least 20 doubles.
They trail Detroit, Tex. and Atlanta in home runs among playoff contenders, but given the athleticism they have with Dustin Pedroia, Shane Victorino and (if healthy) Jacoby Ellsbury, they can create more havoc by taking an extra base on those fly balls that bounce off the wall, whereas the Tigers are strictly a station-to-station team.
On top of that, John Lackey (47.4 percent) and Clay Buchholz (48.8 percent) generate a lot of ground balls, and the Red Sox have an infield that can pick the ball as well as any unit in the American League.
Even though the Tigers might be the obvious choice, Boston would give Texas a much better series.
Atlanta Braves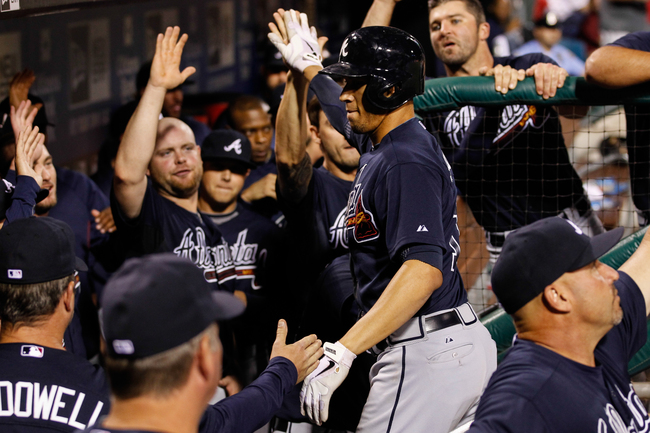 Brian Garfinkel/Getty Images
Opponent: St. Louis Cardinals
I wanted to see two things from a potential opponent before deciding if I thought they could hang with the Braves: High ground-ball rates from the pitching staff and a do-it-all-type offense that can win a game multiple ways.
Two teams immediately fit my first criteria: Pittsburgh and St. Louis. However, the Pirates fail on virtually every level as an offense. Andrew McCutchen is a superstar and will likely be named NL MVP, but who else in that lineup do you really game plan around?
Pedro Alvarez has a .294 on-base percentage. Russell Martin is slugging .393. Starling Marte was slugging .383 after the break before getting hurt. Justin Morneau is a shell of his former self. I could go on, but you catch my meaning.
Meanwhile, over in St. Louis, you are looking at arguably the deepest lineup in the National League. If the Cardinals could find anyone to play shortstop not named Pete Kozma, they could put their 1-8 hitters against anyone in baseball.
The Cardinals actually rank near the bottom of the league with 111 home runs, yet lead the NL in runs scored by a wide margin over Cincinnati because they have a ton of guys who can put the bat on the ball.
And given the depth of Atlanta's bullpen, their opponent has to score a lot of runs early if they want to win a playoff series.
The Braves do two things really well: hit home runs and strike out. The Cardinals are the second most proficient staff in the NL at generating ground balls (48.7 percent), trailing Pittsburgh by just over four percent.
Ultimately, since I still don't have complete trust in A.J. Burnett or Francisco Liriano, that made the decision to go with the Cardinals, who can throw Adam Wainwright, Shelby Miller, Joe Kelly or Lance Lynn at you in a short series, much easier.
It also doesn't hurt that Wainwright, Lynn and Miller all average more than eight strikeouts per nine innings.
St. Louis Cardinals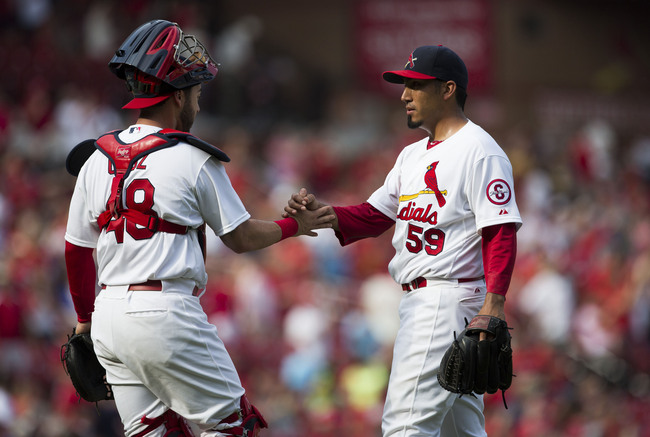 David Welker/Getty Images
Opponent: Los Angeles Dodgers
I did contemplate putting "no one" in this spot for the Cardinals because I believe, top to bottom, they are the best and deepest team in the National League. They haven't been quite as consistent offensively in the second half, though they still rank first in the NL with 226 runs scored since the break.
But ultimately there is always someone out there who can give a team fits. So it just made sense to go with the hottest team in baseball since June.
The Dodgers have all the ingredients of a great postseason team. You need a dominant 1-2 punch at the top of the rotation? Hello, Clayton Kershaw and Zack Greinke. You need some offensive firepower? Meet Yasiel Puig, Adrian Gonzalez and Hanley Ramirez. You want bullpen arms to stop a rally? Paco Rodriguez and Kenley Jansen would like to introduce themselves.
I don't have a great formula or a bunch of numbers that can support this particular claim. It can get irritating to hear, especially if you aren't a St. Louis fan, but the Cardinals really don't have a lot of flaws that you can poke at.
They are one of three teams in the NL (along with the Dodgers and Diamondbacks) that ranks in the top five of batting average and on-base percentage. They don't strike out or make a lot of mental mistakes during a game.
One weakness the Cardinals do have is on defense, where they rate as one of the worst teams in baseball, thanks in large part to Carlos Beltran and David Freese who have combined for a UZR of negative-29.6.
But they have such good strikeout pitchers on the staff that the defense isn't often asked to do much.
Pittsburgh Pirates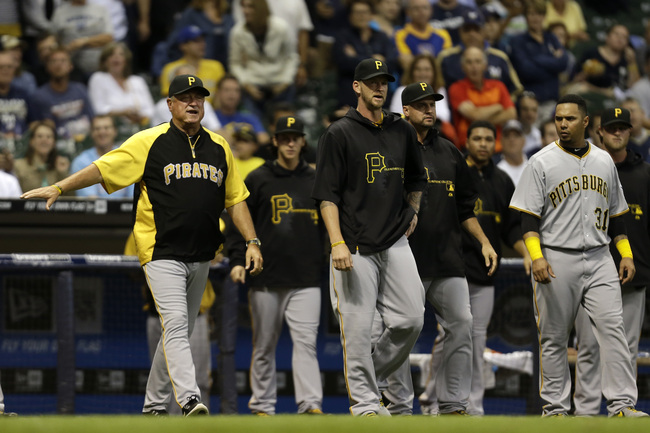 Mike McGinnis/Getty Images
Opponent: Any Top Contender
This one may seem like a cop out, and while you wouldn't necessarily be wrong to think that, there is a good reason why the Pirates match up horribly with all of the playoff teams: They can't score runs.
The belief is that once you get into October baseball pitching wins championships. Be that as it may, you still need a team capable of scoring at least one run every night. Since the odds of only needing one run per game are low, that puts more pressure on a lineup that just isn't very good.
The Pirates rank fifth in the league in strikeouts, 17th in walks, 19th in stolen base percentage and 22nd in runs scored. Considering they play in a division with the pitching staffs from Milwaukee and Chicago, both in the lower half of baseball in ERA, and haven't been able to pad their offensive numbers better than that is worrisome.
Look at the pitching staffs from St. Louis, Los Angeles, Cincinnati or Atlanta. Oh by the way, those are four of the top five teams in team ERA in MLB. (Pittsburgh is sandwiched in between LA and Cincinnati.) Then tell me which one in that group is really going to have problems getting outs against Pittsburgh's lineup.)
Also, as great as their comeback stories have been, how much faith do you have in A.J. Burnett or Francisco Liriano in a short series?
The Pirates are certainly trending in the right direction. The fact that we are talking about them in the postseason this year, when I figured it would be at least another year or two, is a testament to the job the front office has done finding spare parts in trades and free agency to get here.
The farm system is still loaded and getting ready to churn out a lot more talent, especially on offense, over the next year or two that will make Pittsburgh a premiere place to watch a baseball game for a long time.
But this just isn't their year to make a deep run.
Cincinnati Reds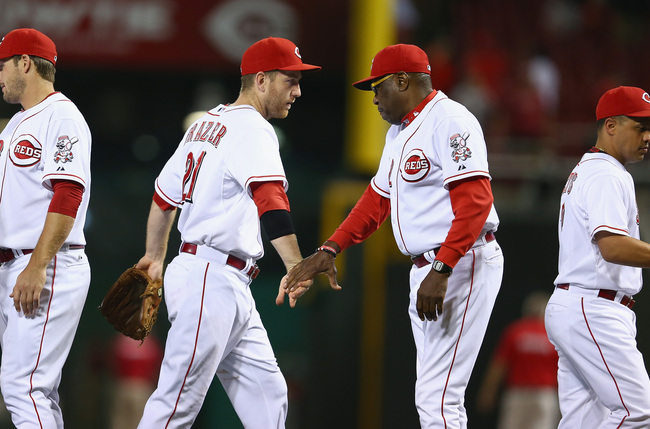 Andy Lyons/Getty Images
Opponent: Los Angeles Dodgers
I'm going back to the Dodgers' well for the Reds. Yes, I can talk about their pitching staff again. I might even wax rhapsodic about Yasiel Puig's ridiculous home run on a very good slider on the outside part of the plate in Saturday's matchup between the two teams.
But my biggest concern for the Reds is their inability to win on the road and problems they showed earlier this season in Los Angeles.
Of the teams on this list, Atlanta and Cincinnati are the only ones with a losing record on the road. The Reds also lost three out of four games to the Dodgers at Chavez Ravine earlier this season with Homer Bailey, Bronson Arroyo and Tony Cingrani on the mound.
The Dodgers, while not a dynamic offensive team, have the bats in the middle of the lineup that can give a fly-ball pitching staff like Cincinnati's fits. Mat Latos has always been a predominantly fly-ball guy, though his home-run rate this season is a career-low 0.57 HR/9.
Homer Bailey has a pretty heavy platoon split, with a .749 OPS allowed to lefties this season. Adrian Gonzalez, Carl Crawford and Andre Ethier will get at-bats at some point during a series. Tony Cingrani is a deception guy with an average fastball, decent changeup and no breaking ball. Eventually, you would think, that has to catch up to him.
As a whole, Cincinnati's pitching staff has allowed 145 home runs, third most in the NL. That is dangerous against a lineup in Los Angeles that has a few big-time power hitters at the top.
I also wonder who the Reds' horse is going to be. Is it Latos? Will it matter if he's matched up against Kershaw twice? Does Bailey put it all together to become a breakout star in October? Can he do it against Greinke?
There is also the Dusty Factor. Dusty Baker might be a great manager of men, but he still constructs a lineup that makes you wonder if he's aware on-base percentage is a good thing. Their No. 2 hitters have a collective .282 mark in that category this year.
We have seen the formula for defeating the Reds in the playoffs thanks to Philadelphia in 2010 and San Francisco in 2012, so it won't be any great mystery what happens if it happens once again.
Los Angeles Dodgers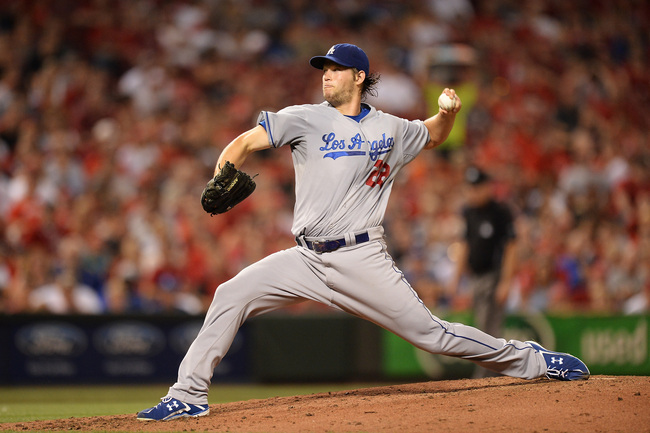 Jamie Sabau/Getty Images
Opponent: St. Louis Cardinals
If you want to defeat the Dodgers in the postseason, you at least need two starting pitchers who can match Clayton Kershaw and Zack Greinke pitch for pitch.
Atlanta might fall in that category, thanks to the vast improvements of Mike Minor this season and Julio Teheran's growth before our very eyes. But I would still give the Dodgers a decided advantage in both games because Kershaw and Greinke could combine for 30 strikeouts against the Braves lineup.
But Adam Wainwright has been every bit as valuable to the Cardinals this season as Kershaw has been to the Dodgers. Wainwright is right behind Kershaw in innings pitched and strikeouts with the best walk rate in the NL.
In Game 2, Mike Matheny could go with his hard-throwing rookie, Shelby Miller. The first-year stud has missed bats at a much higher rate than Greinke (9.4 per nine innings to 7.4) and has roughly the same walk and hit rates.
I would still give the Dodgers the advantage in that matchup, but it is much closer than you might think. If you can at least split those two games, you get Lance Lynn or Joe Kelly against Ricky Nolasco.
In order to get to Kershaw and Greinke, a team must be able to put the ball in play with enough power to hit home runs when needed. Atlanta and Cincinnati certainly fall into that second category but come up short when you look at the respective strikeout totals of those lineups.
Plus, the Cardinals might actually be a better fit in a park like Dodger Stadium since it plays very big, and they don't hit a lot of home runs anyway. If they can use that gap power to pepper the wall, things would get very interesting in a short series.
The Dodgers and Cardinals, on talent, are the two best teams in the NL and would make for a great heavyweight fight. I might give St. Louis a slight edge overall, but with Kershaw and Greinke at the top, it is hard to bet against LA.
If you want to talk baseball, feel free to hit me up on Twitter with questions or comments.
Keep Reading