Although the San Francisco 49ers' 34-28 season-opening victory over the Green Bay Packers is just that, one win, there was much to takeaway from their final home opener in Candlestick Park.
While it's normally unwise to take a lot of stock in the action from Week 1, hence the name "Overreaction Sunday," there were many silver linings in San Francisco's performance for the upcoming season, as well as critical questions left unanswered.
With that said, let's examine five critical takeaways from the 49ers' season opener.
Colin Kaepernick's Passing Ability
After a stellar run—no pun intended—in his first season as a starter, many were quick to attribute Kaepernick's success to the use of the read-option, especially after rushing for 183 yards against the Packers in last season's divisional playoff matchup.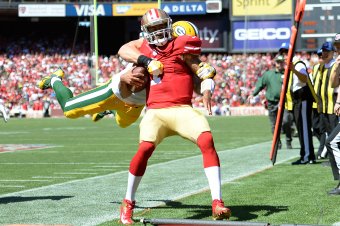 Thearon W. Henderson/Getty Images
With 428 passing yards and only 22 rushing yards on Sunday, Kaepernick spread notice that he can sling the football as well.
Even furthermore, in response to Clay Matthews' in-game late hit on the scrambling quarterback, pictured to the right, Kaepernick let it be known in the following video that he won't be intimidated in the future to run the football.
While I don't expect Kaepernick to make a habit of throwing for 400-plus yards—or running for under 25 yards, for that matter—I suspect that he'll have similar performances against teams that load up to stop the Niners' running game.
The Debut of Anquan Boldin
No Michael Crabtree or Mario Manningham, no problem for San Francisco, as Bleacher Report's NFL lead analyst Matt Miller duly notes.
Reminder: This is how the #49ers offense looks without Michael Crabtree and Mario Manningham.

— Matt Miller (@nfldraftscout) September 8, 2013
After hauling in 13 catches for 208 yards and a touchdown, Boldin made San Francisco's ailing receiving corps a complete afterthought.
Boldin wasted no time acclimating himself into the 49ers offense and turned in big play after big play.
While it's doubtful that Boldin completely turns back the clock to his Arizona days, it appears at the very least that he's been rejuvenated by his move to San Francisco.
As his 17 targets on Sunday indicated, Boldin will be the No. 1 receiver for San Francisco going forward.
You can downplay his debut because of the opponent if you want, but if Boldin dominates in Week 2 against Seattle's vaunted secondary, it will affirm that the 49ers' acquisition of Boldin was the steal of the year.
Also, it will affirm NFL veteran Nick Ferguson's assertion of Boldin as a top-flight NFL receiver.
#Boldin shwN 4 he's one of the best slot WRs N the @nfl Size Strong hands & Beast mentality @NFLONFOX @SkySportsNFL Get some @49ers

— Nick Ferguson (@NickFerguson_25) September 8, 2013
Eric Reid's Emergence
Tasked with replacing the 49ers' best secondary player from last season, free safety Dashon Goldson, the No. 18 pick from the 2013 NFL Draft made his presence felt in the opener, as The Sacramento Bee's Matt Barrows details:
I know Dashon Goldson was known as a hard hitter. Eric Reid, however, looked like he was shot from a Howitzer on that last tackle of Rodgers

— Matt Barrows (@mattbarrows) September 8, 2013
In addition to his hitting, Reid also showcased his playmaking ability with an interception of Rodgers.
Still, as safety Donte Whitner stated, via Eric Branch of the San Francisco Chronicle, Reid wasn't perfect:
He missed a couple tackles, but he made a couple big hits out there. We expect that. He'll work on the missed tackles, but he did a great job. For his first game, going against one of the best quarterbacks in the National Football League, the stage wasn't too big for him.
With Reid exiting his matchup with the vaunted Packers offense relatively unscathed, his prospects for the remainder of the season only look brighter.
It appears that in Reid replacing Goldson, the only thing San Francisco has lost is Goldson's salary-cap hit.
Questions Surrounding Nnamdi Asomugha
Defensive coordinator Vic Fangio made it a point in the preseason to question if Asomugha still had "it" and if he would even make the roster.
In light of his dreadful performance in the opener, it appears the answer to the former question is a definitive no.
This was a sentiment Eagles fan Alex Kress certainly agreed with:
Happy to see Nnamdi is still a worthless piece of trash. #EaglesTalk #SFvsGB

— Alex Kress (@AlexKress) September 8, 2013
Aside from routinely getting burned by Jordy Nelson, who finished with seven catches and 130 yards on the day, Asomugha channeled Deion Sanders with his affliction toward tackling.
A big physical cornerback bereft of speed and ball-skills, physicality is the only calling card Asomugha has left, making the fact that he finished with zero tackles even more astounding!
If it wasn't Randall Cobb shaking Asomugha, it was Nelson running through his arm tackles.
To make matters worse, some of his missed tackles extended Green Bay's drives, as Matt Barrows details:
Lots of thumping in the 49ers' coaches booth after Nnamdi Asomugh's mistackle allows a Packers' first down on third and long.

— Matt Barrows (@mattbarrows) September 8, 2013
With Perrish Cox and Tramaine Brock on San Francisco's roster, one more performance like this from Asomugha and he can all but kiss his role as the nickel cornerback goodbye.
The Niners' Absent Pass-Rush
With Patrick Willis, Justin Smith and Aldon Smith, the 49ers have one of the most vaunted front-sevens in the NFL.
Going against a Packers offensive line that gave up 51 sacks last season and is missing starting left tackle Bryan Bulaga, you'd think that Aaron Rodgers would be under pressure all afternoon.
After the 49ers only registered two sacks on Sunday, that clearly wasn't the case.
While Green Bay did run a good amount of quick-hitting pass plays to neutralize the Niners' pass-rush, Green Bay's offensive line held up pretty well, as Matt Miller notes:
Credit timing of Aaron Rodgers, too. RT @Original_LD: pack O line isnt look too bad in pass protection

— Matt Miller (@nfldraftscout) September 8, 2013
It was just last postseason that San Francisco hung its defense's demise on the injury of one Justin Smith.
Since Smith was healthy in the opener, you have to be concerned about the Niners' pass-rush going forward.
With mobile quarterbacks like Robert Griffin III, Russell Wilson and Andrew Luck on the schedule, it's only going to get harder for the 49ers to pressure the passer in the coming weeks.