Week 1 won't be officially in the books until the Houston Texans and San Diego Chargers wrap up their Monday Night Football game, the second of two prime-time matchups, but the majority of the NFL already has its eyes firmly fixed on Week 2.
Opening weekend was quite the fix after a six-month layoff.
The Denver Broncos kicked the 2013 season off with a win over the Baltimore Ravens, while several other early Super Bowl contenders (San Francisco 49ers, Seattle Seahawks, New England Patriots) started the year on a high note with a victory.
On any given Sunday, as they say, things can change quickly in the NFL.
Winning coaches can't allow their teams to celebrate in practice this week, while teams currently 0-1 will have to turn it up a notch to avoid starting the year with a losing streak. Keeping that in mind, here's a complete look at the Week 2 NFL schedule and a prediction for every game.
*For a complete look at the Week 2 schedule, visit NFL.com. To revisit Ethan Grant's predictions for Week 1, click here.
NFL Week 2 Predictions
Game-by-Game Week 2 Predictions

| | |
| --- | --- |
| Matchup/Prediction | Comments |
| New England Patriots 27, New York Jets 17 | See below |
| Atlanta Falcons 21, St. Louis Rams 13 | Atlanta went 7-1 at home in 2012. Coming off a tough loss to New Orleans, expect the Falcons to rebound against St. Louis. |
| Philadelphia Eagles 35, San Diego Chargers 25 | Two teams with new head coaches meet in this matchup. Philadelphia will have a big day and win in its 2013 home debut. |
| Dallas Cowboys 28, Kansas City Chiefs 17 | Dallas forced six turnovers on Sunday night to beat the Giants, while Kansas City faced virtually zero resistance from Jacksonville in a 28-2 win. The Cowboys will keep rolling in KC. |
| Indianapolis Colts 16, Miami Dolphins 14 | Andrew Luck saved the Colts from an upset yet again in Week 1. His heroics will continue against Miami. |
| Houston Texans 20, Tennessee Titans 6 | Tennessee's surprising defensive effort against Pittsburgh will carry over against Houston, but the Texans also have an outstanding D and will earn the victory. |
| Green Bay Packers 35, Washington Redskins 28 | A battle of offensive juggernauts, Green Bay will show it's a little further along toward contention with a victory over Washington. |
| Baltimore Ravens 31, Cleveland Browns 21 | Baltimore got spanked by Denver on opening night, but the offense will get back on track by feeding Ray Rice the ball more than the 12 carries he had against the Broncos. |
| Buffalo Bills 17, Carolina Panthers 16 | Both Buffalo and Carolina had chances to beat playoff teams in the fourth quarter and failed. The Bills will win a tight one at home. |
| Chicago Bears 22, Minnesota Vikings 19 | See below |
| New Orleans Saints 30, Tampa Bay Buccaneers 10 | New Orleans made a huge statement against Atlanta, while Tampa Bay took a step back against the Jets. That trend will continue. |
| Arizona Cardinals 28, Detroit Lions 24 | Detroit impressed more than a few viewers on offense against Minnesota, but Arizona will come into this game motivated after losing a tight one to St. Louis. |
| Oakland Raiders 27, Jacksonville Jaguars 13 | Jacksonville will take another step toward the No. 1 pick in 2014 with a loss to the upstart Raiders. |
| Denver Broncos 30, New York Giants 20 | This year's "Manning Bowl" has Peyton written all over it. |
| San Francisco 49ers 24, Seattle Seahawks 16 | See below |
| Cincinnati Bengals 21, Pittsburgh Steelers 13 | Pittsburgh struggled to move the ball against Tennessee, and things won't get much easier against Cincinnati. Expect QB Andy Dalton to look sharp in the nationally televised win. |
NFL.com
New England Patriots 27, New York Jets 17
One of the NFL's best inner-division rivalries over the past few years, the Patriots and Jets will be in prime time on Thursday night to officially get Week 2 underway.
New England will be playing its second straight AFC East game; the Buffalo Bills had a lead in the fourth quarter on Sunday but quarterback Tom Brady engineered a game-winning drive that ended with a Stephen Gostkowski field goal.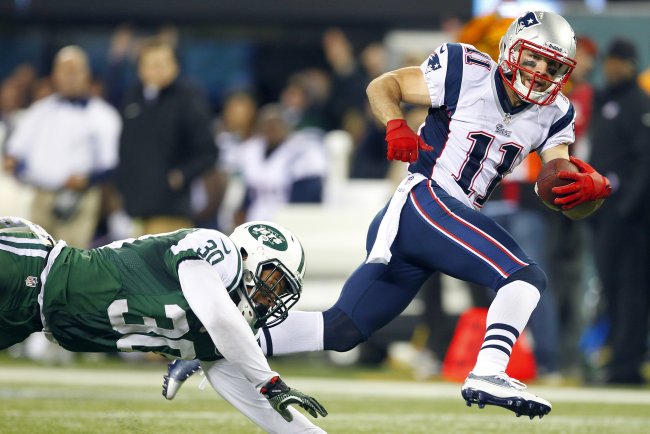 Rich Schultz/Getty Images
The Jets were also big winners in Week 1, beneficiaries of a late penalty enforced on the Tampa Bay Buccaneers' defense. Rookie QB Geno Smith had a game-winning drive of his own that ended in a field goal, and as reported by NFL.com's Marc Sessler, Rex Ryan is sticking with Smith for Week 2.
Brady spread the ball around to a number of different receivers against the Bills, but one of his biggest playmakers won't be available against the Jets. According to this ESPN report, via Fox Sports' Jay Glazer, Shane Vereen broke a bone in his wrist and will require surgery. He will miss the game against the Jets.
Stevan Ridley, who was benched after two fumbles in favor of Vereen, will likely see the biggest uptick in playing time from the injury.
Another option to see more work is Julian Edelman, who had two touchdown receptions against the Bills. According to the team's Twitter account, he's also the new NFL career leader in punt return average:
After yesterday's game, @Edelman11 now holds the @NFL all-time record for punt return average at 13.0 yards. (min 75 returns)

— New England Patriots (@Patriots) September 9, 2013
The Patriots have won the last four games in the series and have home-field advantage in this matchup. New York's defense looked stout against Tampa Bay and there are holes to be exploited in the New England defense, but for the second week in a row, a rookie QB will fall to the Pats.
Chicago Bears 22, Minnesota Vikings 19
Mike DiNovo-USA TODAY Sports
Adrian Peterson rushed for over 150 yards and two touchdowns in a Minnesota victory the last time these two NFC North rivals met, but Chicago is the only team between the two who will enter Week 2 with a 1-0 record.
Minnesota got off to a hot start in the first quarter against the Detroit Lions but gave up 34 points to Matthew Stafford and Co. as Christian Ponder struggled in his 2013 debut.
The Bears fell behind Cincinnati by double digits in the third quarter in their season opener, but new head coach Marc Trestman guided his club to a come-from-behind victory as Jay Cutler threw a go-ahead touchdown pass in the fourth quarter.
Expect a gritty, defensive-minded effort from both teams.
Chicago will key on Peterson throughout the game, especially after watching Ponder struggle against Detroit's coverage schemes and pressure. Minnesota will need to find a way to stop Chicago's quick-passing attack, but it has plenty of motivation to play better on defense after allowing 34 points in Week 1.
Just as they did in Week 1, the Bears will keep this game close in the second half. Ponder will struggle to put pressure on the secondary again, and the Bears will use a balanced attack to keep the Vikings off balance.
San Francisco 49ers 24, Seattle Seahawks 16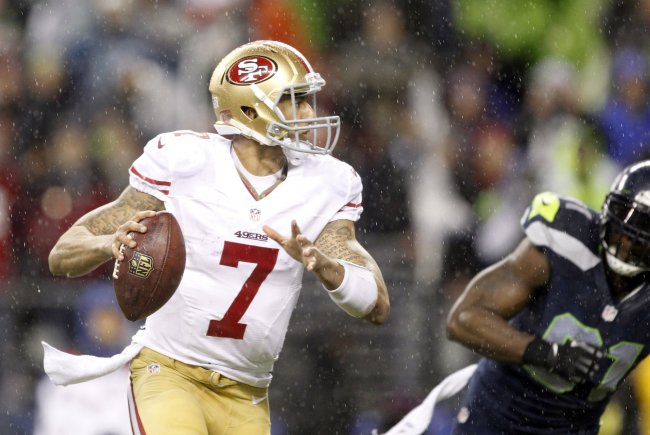 Joe Nicholson-USA TODAY Sports
San Francisco has a target on its back, and NFC West rival Seattle will pull no punches in trying to hit the bull's eye on that target.
Both teams scraped out Week 1 victories in the fourth quarter. The 49ers leaned on big days from Colin Kaepernick (412 yards passing) and Anquan Boldin (208 yards receiving) to pull out a narrow victory over the Green Bay Packers.
The Seahawks also eeked out a win over the Carolina Panthers late; Russell Wilson struggled to move the ball against Ron Rivera's defense but had just enough to avoid an upset when Jermaine Kearse plucked a 43-yard touchdown catch out of the air.
When the Hawks and Niners meet, sparks fly.
Which Week 2 matchup are you most looking forward to?
Seattle will have its hands full with Kaepernick. The third-year man had the first 400-yard passing game of his career against the Packers and didn't need to use his legs—arguably his biggest asset—to secure the victory.
Conversely, San Francisco will have to contend with a stingy Seahawks defense. Seattle is still working out the obvious kinks on offense, but if you let Pete Carroll's team hang around long enough, it finds a way to win football games.
The Carolina score was indicative of that.
Don't expect San Francisco to have its way with Seattle; the Seahawks blew out the 49ers by 29 points in the last game between the two at CenturyLink Field. But that was then, and this is now.
Kaepernick will battle through some early struggles on the road, and the 49ers will pull out a close victory to start the season 2-0.
Follow B/R's Ethan Grant on Twitter.