Vikings vs. Lions: Full Roster Report Card for Detroit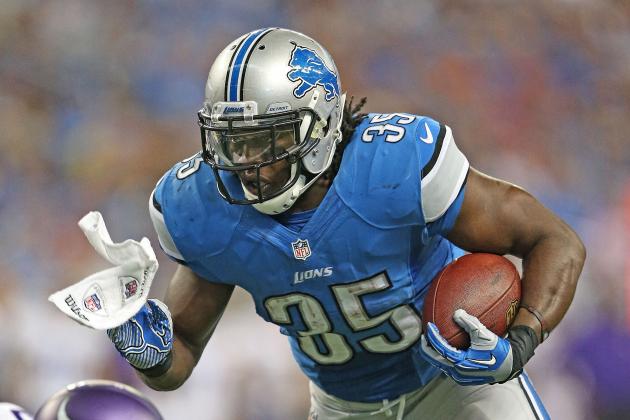 Leon Halip/Getty Images

Bill Bentley had ample reason to celebrate, as the Detroit Lions opened the 2013 NFL season with a 34-24 triumph over the NFC North rival Minnesota Vikings. This victory was the result of strong perseverance, largely excellent play by both lines, a dynamic newcomer on offense and a renewed ability to force turnovers.
Here is a position-by-position report card on how everyone did against Minnesota
Begin Slideshow

»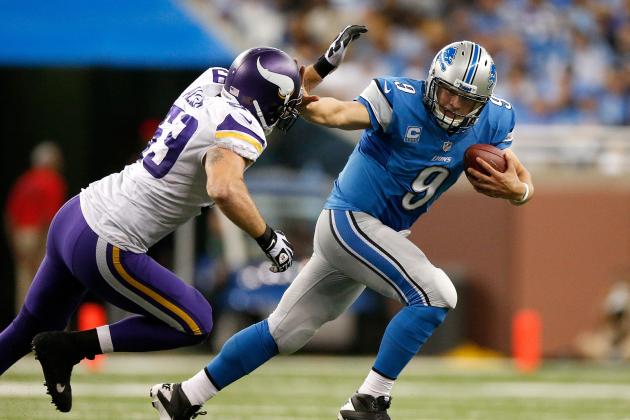 Gregory Shamus/Getty Images

Matthew Stafford came out strong against Minnesota, completing eight of his first 12 attempts. Getting off to a strong start is something that Stafford has struggled with, so his early effectiveness is a good sign.
Stafford showed real strong zip on his balls and command with his accuracy all afternoon. The nullified touchdown throw to Calvin Johnson was as awesome of a throw as you will see all year, rifling a perfect strike into a small window before a pretty good safety (Harrison Smith) could react. There were a couple of forced throws, and he did have three passes deflected at the line, including his one interception.
Augmenting the grade was Stafford's movement. He's not the most agile QB in the league, but Stafford showed he could avoid a rush and get rid of the ball quickly when needed. He owned the QB sneak for the fourth-down conversion.
Grade: B+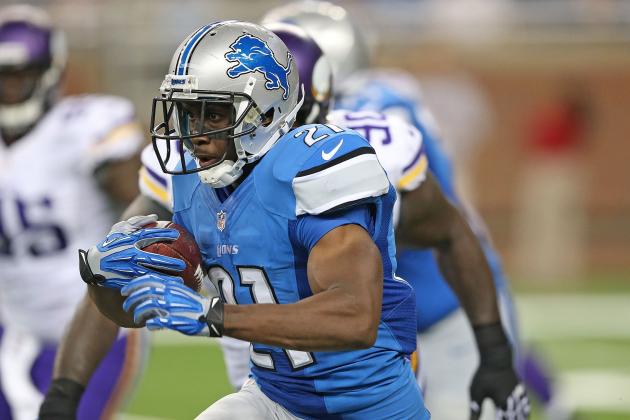 Leon Halip/Getty Images

Reggie Bush and Joique Bell had a whale of a game for the Lions.
Bell rushed six times for 25 yards. Those aren't great numbers, but the stat that counts for Bell is the two touchdowns on those six carries. His scores came from the 1- and 2-yard lines, providing real punch in the red zone. Bell also caught five of the six passes thrown his way, three of which converted first downs.
Reggie Bush was the star of the day. Bush rushed 21 times for 90 yards while also catching four passes for 101 yards and a touchdown. Kevin Seifert summed it up nicely on Twitter:
Reggie Bush factor: Matthew Stafford threw for 357 yards but averaged 5.0 air yards per pass. 240 yards after catch for #Lions Sunday.

— Kevin Seifert (@SeifertESPN) September 9, 2013
Bush ran around, over, and past the Vikings, proving his lethal ability in space. He just missed becoming the first Lion since Billy Sims in 1982 to get 100 yards on both the ground and the air in the same game.
Grade: A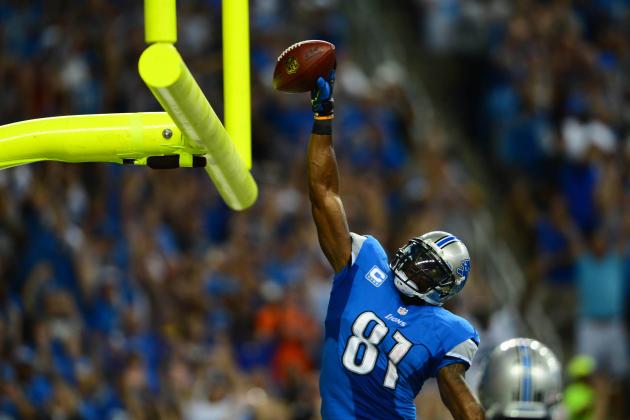 Andrew Weber-USA TODAY Sports

This was a sort of bizarro-world game for the Lions' wideouts. Calvin Johnson was noticeably quiet, catching just four of the nine balls thrown his way. His inability to complete the process of the catch on the apparent touchdown is something about which Megatron, of all people, should know better. The Vikings focused on taking him away as a target, and they largely succeeded.
Nate Burleson proved capable of picking up the slack. This comes as a pleasant surprise to anyone who watched the veteran struggle throughout the preseason. Burleson looked spry and strong in catching all six targets, racking up 78 yards. His blocking was also stellar, though he did earn a holding penalty.
Patrick Edwards provided a lift, catching three passes for 30 yards. His sudden speed off the line pulled safety attention over the top, which opened room for Bush and Burleson to run after the catch. Kris Durham hauled in one catch to go with an iffy drop. Like Burleson, Durham deserves praise for his blocking.
Grade: B-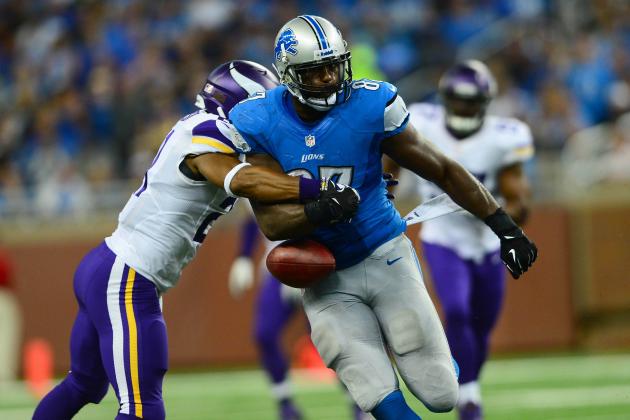 Andrew Weber-USA TODAY Sports

The tight ends were a decidedly mixed bag. Brandon Pettigrew had a drop and a fumble on consecutive plays in the first half. Pettigrew did rebound nicely with some excellent in-line blocking and a first-down conversion in the second half.
Undrafted rookie Joseph Fauria caught three passes, including a touchdown on a quick goal-line back-shoulder toss. His energy proved infectious, though he loses a half grade for a regrettable touchdown dance.
Tony Scheffler dropped the only ball thrown his direction and barely played afterwards.
Grade: C+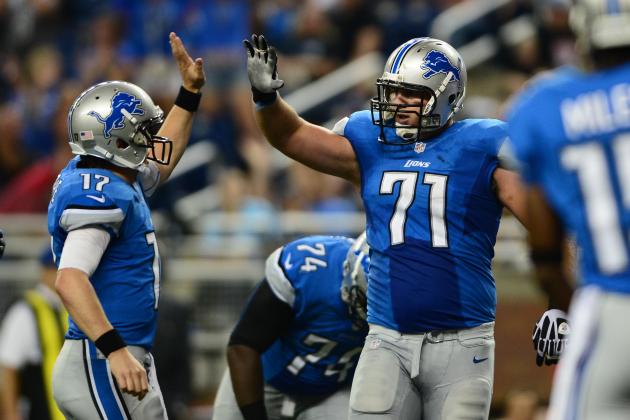 Andrew Weber-USA TODAY Sports

Left tackle Riley Reiff had some success against Jared Allen, which Chris McCosky from the Detroit News nicely encapsulates.
The interior of the line started slowly, namely center Dominic Raiola. He struggled to anchor against the rush, and it resulted in a tipped pass that got picked off. Raiola regrouped, and he and right guard Larry Warford consistently created surge and openings in the run game. Warford had a very impressive debut.
Right tackle Jason Fox left the game early on with a groin injury. Corey Hilliard stepped in and played very well, allowing just one QB pressure.
The line paved the way for over four yards per carry by the running backs and 469 yards of total offense. That's a strong day.
Grade: B+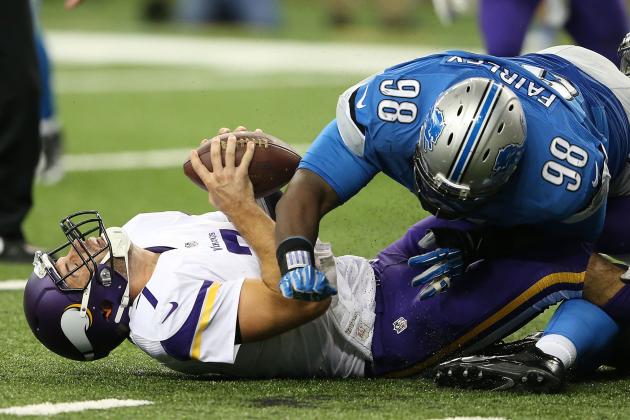 Leon Halip/Getty Images

This is the supposed strength of the Lions defense, and they did not disappoint. After getting blasted on Adrian Peterson's long touchdown run on Minnesota's first play, the Lions defensive line largely dominated the line of scrimmage.
Nick Fairley recorded 1.5 sacks and continually provided interior pressure that forced panicked movement from Christian Ponder. The stat line doesn't indicate just how fantastic Fairley played.
Ndamukong Suh will be noted for his personal foul penalty, but beyond that egregious mental mistake, he played well. CJ Mosley offered stoutness against the run in relief duty.
The ends barely impacted the stat line, but their proficiency at setting a hard edge against the run really bottled up Adrian Peterson. Ziggy Ansah earned a half sack in his debut. He recorded a vicious strip sack on another play but was clearly offsides. Ziggy fared well in his individual battle with Matt Kalil, one of the better left tackles in the league.
The penalties on Suh, Fairley and Ansah dock the grade by a half mark.
Grade: A-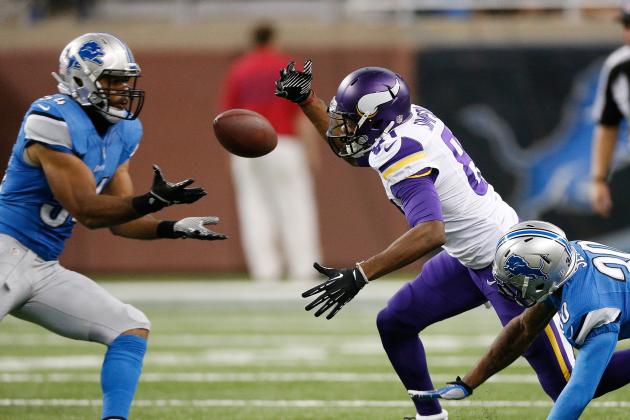 Gregory Shamus/Getty Images

Anytime you contain Adrian Peterson to 15 yards on 17 carries—as the Lions did after AD's first rush—you've played very well.
Stephen Tulloch surpassed his 2012 totals in both sacks and interceptions by recording one of each. He consistently filled the A-gaps with stout authority.
DeAndre Levy also produced an interception on a deflected pass and would have scored a touchdown if not for Suh's penalty. His coverage on Vikings TE Kyle Rudolph was solid, holding the talented receiver to just two catches for 27 yards.
Ashlee Palmer wasn't on the field much, but he made a great open-field tackle for loss on Peterson that is mysteriously absent from the box score.
Grade: A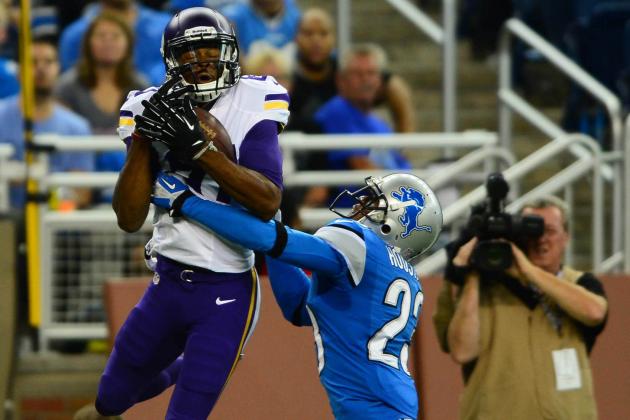 Andrew Weber-USA TODAY Sports

The corners were the weakest performers for Detroit. Chris Houston once again demonstrated a complete inability to locate the ball in the air. Twice he was caught completely unaware that the ball was in play; he had a chance to deflect both of them but instead surrendered completions.
Rookie Darius Slay had a rough debut. He missed tackles on both Peterson touchdowns and couldn't stick with Jerome Simpson, who had an unexpectedly big day for Minnesota. Slay was benched in favor of Rashean Mathis, who played much better against the run.
Bill Bentley was very good in the slot. He consistently made it hard for the receivers to get a clean release and was enthusiastic in run support. Bentley did drop an easy pick-six.
Glover Quin picked off a pass and delivered a couple of hammering hits at safety. He and fellow safety Louis Delmas communicated well after the first play. Delmas committed an asinine unsportsmanlike conduct penalty and was late to get to the play on a Vikings touchdown. His coverage looked solid on first impression.
Grade: C-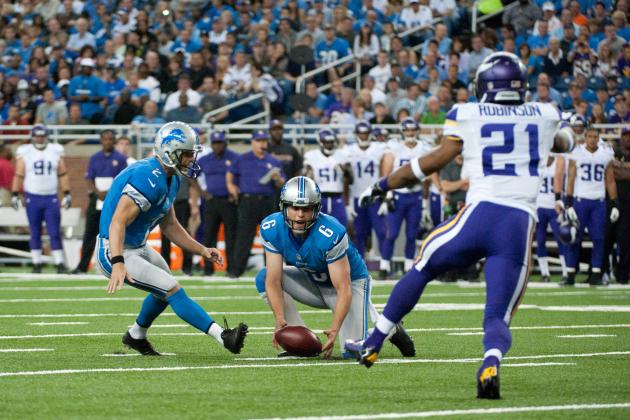 Tim Fuller-USA TODAY Sports

Rookie punter Sam Martin was all over the map. He fumbled the snap on the first field-goal attempt and shanked two punts. But he also sailed two beautiful punts. One flipped the field-position battle, and the other was downed at the 1. More than half his kickoffs sailed out of the end zone.
Kicker David Akers had a clean stat sheet, making both of the field goals that he actually got to kick.
Micheal Spurlock had little to do as a return man but played very well in coverage. He is the man that downed the deep punt. Two of his punt returns created something out of nothing, and he didn't fumble despite taking some big hits.
Grade: C+