Nadal vs. Djokovic: Tale of the Tape for Epic Clash in US Open Final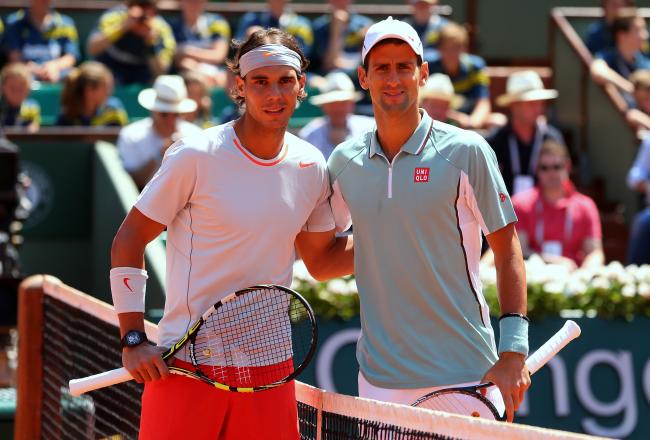 Julian Finney/Getty Images
The men's draw at the 2013 U.S. Open involved plenty of surprises, but things will ultimately be decided by the two players whom most figured would persevere until the end. No. 1 Novak Djokovic and No. 2 Rafael Nadal will meet in the Monday final in what has the potential to be the best tennis match of the year.
As the top two players in the world in terms of rankings, it simply doesn't get any better than Djokovic vs. Nadal right now. Both men are so evenly matched that a five-set affair like the one they engaged in at the French Open seems a foregone conclusion. Djokovic and Nadal are very different as players in many ways, which is why their matches always seem to impress.
Here is a breakdown of how Djokovic and Nadal stack up against each other in every vital category:
Djokovic vs. Nadal Tale of the Tape

| | | |
| --- | --- | --- |
| Novak Djokovic | Category | Rafael Nadal |
| 26 | Age | 27 |
| Serbian | Nationality | Spanish |
| Right | Handedness | Left |
| 6'2" | Height | 6'1" |
| 176 lbs. | Weight | 188 lbs. |
| No. 1 | Ranking | No. 2 |
| 1 (2011) | U.S. Open Titles | 1 (2010) |
| 6 | Grand Slam Titles | 12 |
| 28 | Hard-Court Titles | 14 |
| 15-21 | Head-to-Head Record | 21-15 |
| 50-8 | 2013 Record | 59-3 |
ATPWorldTour.com
It's obviously difficult to pick a winner based on those numbers alone, but check out this deeper dive into some of the statistics that are likely to decide Monday's huge matchup.
Head-to-Head History
As the top two players in tennis today, it's only natural that Djokovic and Nadal have played each other on several occasions. In fact, Monday's match will mark their 37th meeting, with Rafa currently holding a 21-15 advantage. They are no strangers to facing each other on the big stage either, as this will be the sixth match between them in a Grand Slam final, according to ESPN Stats & Info.
Rafael Nadal advances to US Open Final. Will be 6th time Djokovic-Nadal will meet in a Grand Slam Final (tied for 2nd-most all-time)

— ESPN Stats & Info (@ESPNStatsInfo) September 7, 2013
Djokovic is 3-2 in those encounters, although Nadal won their most recent at the 2012 French Open. This will also be their third U.S. Open final against each other, with the series currently tied at one win apiece. In other words, Djokovic and Nadal are about as evenly matched as they come. Nadal was dominant in the early portion of their rivalry, but since Djokovic's meteoric rise to the pinnacle of the sport a couple years ago, he has gotten the better of Rafa more often than not.
With that said, Nadal has been nearly unstoppable this year, with just three losses on his record. One of those defeats came courtesy of Djokovic in the Monte Carlo Masters, but Nadal is 2-1 against Nole on the season, including a hard-court victory in Montreal.
While Nadal would seem to have the advantage due to the fact that he holds the career advantage over Djokovic and is playing like a well-oiled machine, this series is about as close as it gets.
Hard-Court Excellence
Nadal has gotten the better of Djokovic more often than not over the years, but those numbers are skewed to a certain extent as many of their matches have taken place on clay. While Rafa won those matches fair and square, playing on clay and playing on hard courts are completely different animals. In fact, Nadal is 13-3 against Djokovic on clay, which means that Djokovic is actually better overall on other surfaces as far as their head-to-head history is concerned.
Most would probably agree that Nadal is the greatest clay-court player of all time, but Djokovic is making a strong case for himself as one of the best hard-court players ever. Nadal has 14 career hard-court titles on his resume, which is an impressive number, but Djokovic blows him away with 28. Nadal is fully aware of that, and he understands how great of a challenge defeating Djokovic in a hard-court final is going to be, according to U.S. Open Tennis on Twitter.
#Nadal on 37th mtg w/ #Djokovic: "Novak is an amazing competitor. He's 1 of the best players ... a great champion. It will be tough final."

— US Open Tennis (@usopen) September 7, 2013
Nadal has two hard-court Grand Slam titles to his credit, as he has won the U.S. Open and Australian Open once each, while Djoker has won those titles five times in total. Djokovic owns the Aussie Open in much the same way Nadal has dominated the French Open, as he has won Down Under three consecutive years and four times overall.
Djokovic is easily the better hard-court player from a statistical standpoint, but Rafa seems to be playing the best hard-court tennis of his entire career in this tournament.
Grand Slam Success
Winning any tournament on the ATP tour is obviously a major accomplishment, but players are measured by their ability to win Grand Slams. That is a big reason why Djokovic and Nadal are considered to be the two best players in the world right now. Djokovic has six Grand Slam championships to his credit, with one coming this year at the Australian Open, while Nadal has won 12 Grand Slam titles, with one coming at the 2013 French Open.
Nadal also happens to be playing near-flawless tennis, which Djokovic has even acknowledged, according to Tennis View Magazine.
Djokovic on Nadal: "With no doubt he's the best player in the moment this year, no question about it." #USOpen

— Tennis View Magazine (@tennisviewmag) September 8, 2013
Who will win the 2013 U.S. Open final?
Nadal is in a position that could very well see him challenge Roger Federer's record of 17 career Grand Slam titles. Federer looks to be shot, so it's unlikely that he'll be adding another major championship to that total. Nadal, on the other hand, is in the prime of his career, and he may have five or six more Grand Slam titles in him.
Beating Djokovic in the U.S. Open final would be a huge step in the right direction, especially when you consider that the French Open title is pretty much automatic for him on a yearly basis.
Nadal is currently tied for third on the all-time list with Roy Emerson, and he is just two Grand Slam titles away from tying Pete Sampras for second on the list.
Djokovic is in pretty special company in his own right, as he is one major championship away from tying players like Mats Wilander and John McEnroe. He's also a year younger than Nadal, and he could have four, five or even six more great years left in him. When it's all said and done, Nadal and Djokovic are going to be considered two of the greatest players ever due to their success in Grand Slams.
Unfortunately for them, though, only one man can come out on top on Monday.
Follow @MikeChiari on Twitter
This article is
What is the duplicate article?
Why is this article offensive?
Where is this article plagiarized from?
Why is this article poorly edited?