Team USA claimed a 17-9 victory in the Walker Cup on Sunday, regaining the amateur trophy back from Team GB and Ireland at the National Golf Links of America, Long Island.
The tie was sewn up with a convincing 7-3 victory in Sunday afternoon's singles encounters, with the victory the fourth for the U.S. side in the past five editions of the tournament.
With some of the world's finest amateur golfers on show, the level of competition was high between the two sides, but the British team were simply unable to keep pace with the Americans on home soil.
It was in the singles that the U.S. pressed home their advantage, winning 13.5 of 18 points available in the format over the two days of competition.
Final-Day Results
Sunday Foursomes Results

| | | | |
| --- | --- | --- | --- |
| USA | | GB & Ireland | Score |
| C Whitsett/B Wyatt | beat | N Kimsey/M Orrin | 2 & 1 |
| M Weaver/T White | lost to | M Fitzpatrick/N Raymond | 3 & 2 |
| M Homa/M Kim | beat | G Porteous/R Pugh | 1up |
| P Rodgers/J Niebrugge | lost to | G Moynihan/K Phelan | 2up |
USGA
Sunday Singles Results

| | | | |
| --- | --- | --- | --- |
| USA | | GB & Ireland | Score |
| Bobby Wyatt | beat | Neil Raymond | 4 & 3 |
| Justin Thomas | beat | Max Orrin | 6 & 4 |
| Michael Weaver | lost to | Matthew Fitzpatrick | 3 & 2 |
| Todd White | beat | Rhys Pugh | 4 & 3 |
| Nathan Smith | beat | Nathan Kimsey | 4 & 3 |
| Cory Whitsett | lost to | Callum Shinkwin | 2 up |
| Michael Kim | beat | Garrick Porteous | 4 & 2 |
| Max Homa | lost to | Kevin Phelan | 2 & 1 |
| Jordan Niebrugge | beat | Jordan Smith | 6 & 4 |
| Patrick Rodgers | beat | Gavin Moynihan | 1 up |
USGA
Full tournament results can be found on the USGA website.
A Lift for U.S. Golf
The U.S. team's dominant showing at the Walker Cup was a much-needed result for fans of team matchplay golf in America, with the Ryder Cup, Solheim Cup and Curtis Cup all currently in the opposition's hands.
Their amateur side, though, proved to be utterly dominant in one-on-one matchplay and well worthy of their convincing victory on this occasion.
While America's golfing stars have continued to perform well in majors, it will be a relief for the golfing authorities to have returned to winning ways in team competition after some notable recent defeats.
Young Stars Live Up to Their Billing
Much attention will be paid to some of the leading lights on show, with several players tipped to go on to be successes at the professional level.
The most hyped of all those involved did not disappoint either, with World No. 1 Matthew Fitzpatrick winning three of his four ties for Team GB and Ireland, while No. 2 Michael Kim won all three matches in which he competed.
James Corrigan of The Telegraph reports that 18-year-old Fitzpatrick will likely be involved in the return fixture in two years' time, having opted to enroll on a four-year course at Northwestern University in Chicago.
The first British winner of the U.S. Amateur championship since 1911 will compete in three of next year's four major championships as reward for his achievement, having already finished as low amateur at this year's Open Championship, per the Golf Channel.
Kim, meanwhile, was the low amateur at the U.S. Open this year, per NCAA, and followed in the footsteps of Tiger Woods and Phil Mickelson to win the 2013 Haskins Award for best collegiate player, as reported by World Golf.
Now entering his third year of college, Kim may well turn professional before the re-match in two years' time.
A More Balanced Contest
It is 91 years since the first edition of the Walker Cup was played on the very same course in 1922—a tie that featured the legendary Bob Jones as part of the U.S. side, per Steve DiMeglio of USA Today.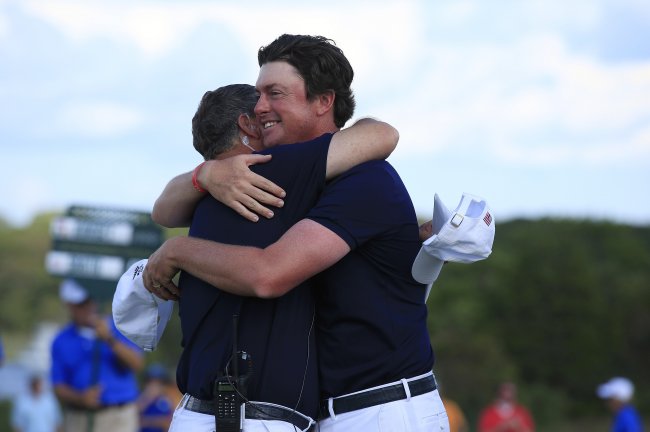 Michael Cohen/Getty Images
The Americans have held a great advantage in the overall scores ever since, with 35 wins to Britain's eight in the 44 meetings to date. Of late, though, the contest has been much more even, with the USA now holding a slender 7-6 advantage since 1989.
Britain and Ireland will hope to level matters up in the scoring in 2015, with the event to be held at Royal Lytham & St Annes.
British team captain Nigel Edwards himself, according Corrigan, admits his side will need to putt much better on that occasion if they are to achieve victory.