Giants vs. Cowboys: Full Roster Report Card Grades for Dallas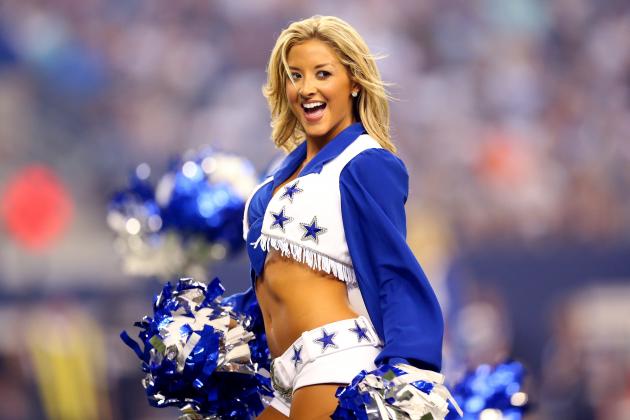 Ronald Martinez/Getty Images

In what was one of the oddest games in recent memory in a series that's been a roller coaster for both teams involved, the Dallas Cowboys took down the New York Giants, 36-31, in a monumental opening-night victory—the Cowboys' first over the Giants in "Jerry's World."
Dallas forced six turnovers on the night, and they needed every one of them to take down New York. The Giants really had an outstanding game plan against the Cowboys offense, taking the ball out of Dez Bryant's hands and forcing Dallas to continually check the ball down underneath.
But the turnovers were too much for the Giants to overcome, and the 'Boys now sit atop the NFC East's early standings. Let's break down the Cowboys' performance by position.
Begin Slideshow

»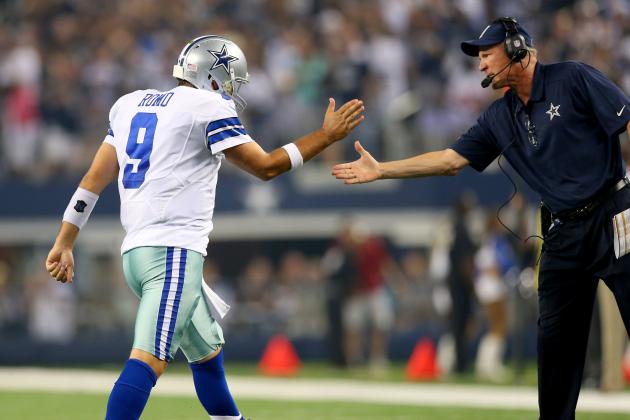 Ronald Martinez/Getty Images

2—Kyle Orton
Tony Romo didn't play a great football game, throwing for only 263 yards on 49 attempts. That's just 5.37 YPA. Romo added two touchdowns—both to tight end Jason Witten—and threw one pick on a blown Terrance Williams route.
Romo showed some toughness in coming back from a tough shot on which he might or might not have broken a rib. This could turn into a story later in the week, but for now, Romo comes out on top.
Grade: C-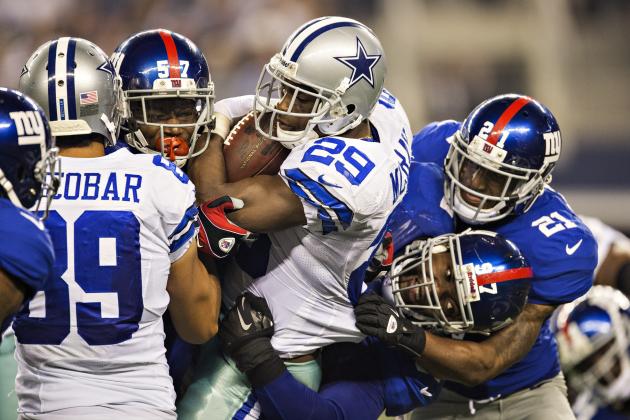 Wesley Hitt/Getty Images

2—Phillip Tanner
3—Joseph Randle
DeMarco Murray handled 20 of the Cowboys' 21 carries by running backs, and that's a great sight to see. At nearly 220 pounds with 4.41 speed and past NFL efficiency, Murray is so much better than Phillip Tanner and Joseph Randle that it's not even funny.
Murray averaged 4.3 YPC, thanks to a few nice runs in the fourth quarter. He also caught eight passes, showing he'll be a staple in Bill Callahan's short passing game.
Grade: C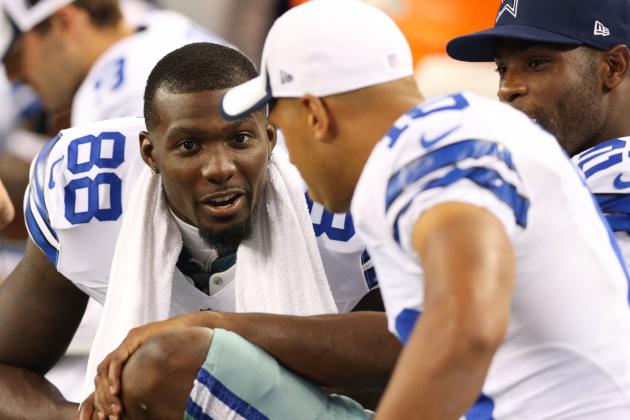 Matthew Emmons-USA TODAY Sports

1—Dez Bryant
2—Miles Austin
3—Terrance Williams
4—Dwayne Harris
The story of the game was the Giants' ability to shut down Dez Bryant, who caught four passes for just 22 yards. If you read my pregame articles, you know that's really what we should have expected. The Cowboys see a huge dose of Cover 2 and Cover 2 Man-Under when they play the G-Men, and Sunday night was no different.
In playing with a safety over top of Bryant on nearly every play, the Giants were vulnerable over the middle of the field. Miles Austin took advantage with 10 receptions, although he took them for only 72 yards.
Rookie Terrance Williams had a rough debut, getting Romo picked off by failing to continue his route. He also dropped a pass. It's interesting to note that Dallas couldn't have possible gone with a five-wide look since Cole Beasley was inactive.
Grade: C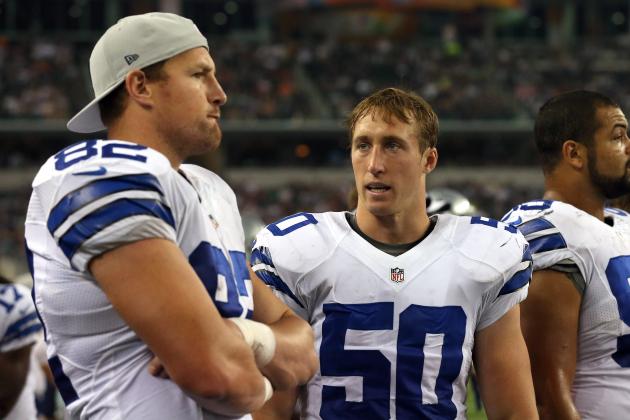 Matthew Emmons-USA TODAY Sports

1—Jason Witten
2—James Hanna
3—Gavin Escobar
4—Andre Smith
Witten saw man coverage almost all night, and he capitalized to the tune of eight receptions and two scores. Witten averaged 8.8 yards on those catches, so it's not like he's suddenly an explosive option in the passing game. We knew he'd have opportunities in this particular contest, though. Word to the wise: If you have Witten in your fantasy league, sell high.
We didn't see too much from backups James Hanna and Gavin Escobar. Hanna got flagged for holding, and the rookie caught one pass for seven yards.
Grade: B+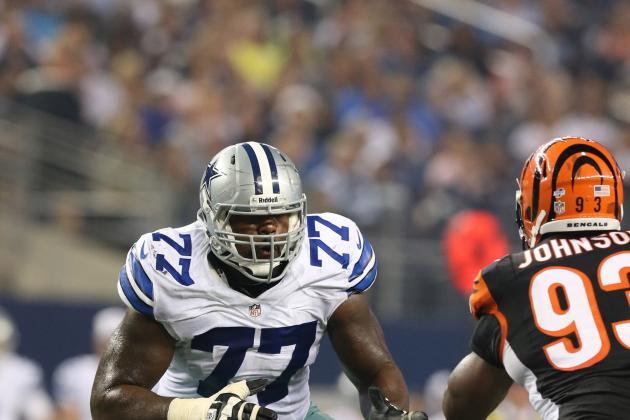 Matthew Emmons-USA TODAY Sports

LT—Tyron Smith
LG—Ronald Leary
C—Travis Frederick
RG—Mackenzy Bernadeau
RT—Doug Free
OT—Jermey Parnell
G—David Arkin
C—Phil Costa
Until late in the game, the offensive line didn't allow a sack. Right tackle Doug Free looked good at times, but his weakness on the outside also showed. He got pancaked on numerous plays. On the opposite side of the line, Tyron Smith looked outstanding. He got called for a couple penalties, but for the most part, Smith did an awesome job on Jason Pierre-Paul.
On the inside, both Mackenzy Bernadeau and Ronald Leary struggled. That's really going to be a weakness for Dallas all year. I didn't notice too much of rookie center Travis Frederick, but that's probably a good sign.
Grade: B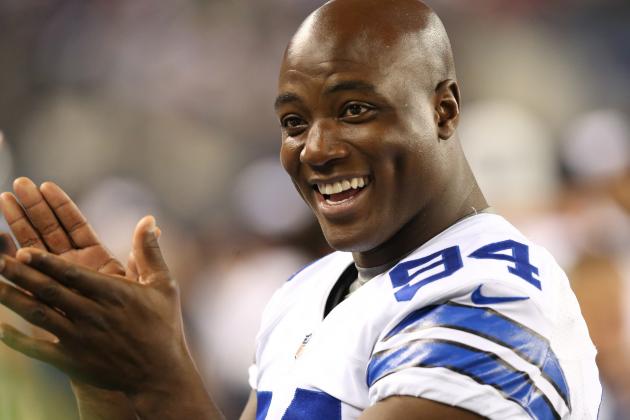 Matthew Emmons-USA TODAY Sports

1—DeMarcus Ware
1—George Selvie
2—Kyle Wilber
2—Edgar Jones
The 'Boys got three sacks on the night, none of which came from DeMarcus Ware. Ware was around the quarterback, but he never managed to bring down Eli Manning. He also didn't record a tackle, although Ware hauled in a Manning pass to start the ballgame and really set the tone for Dallas.
Fellow defensive end George Selvie, playing for the injured Anthony Spencer, had a big sack near the goal line. I've explained why I think Selvie has the potential to be special.
Grade: C+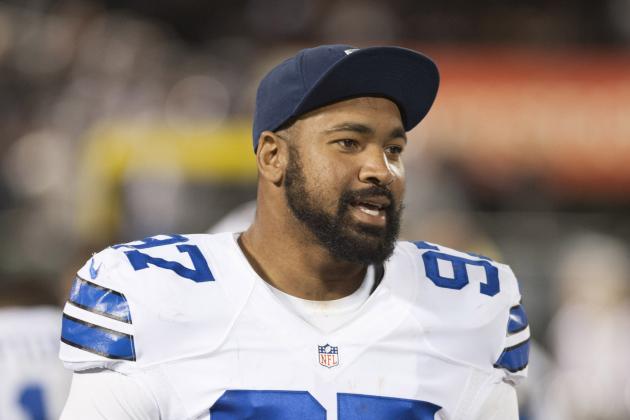 Ed Szczepanski-USA TODAY Sports

1—Jason Hatcher
1—Nick Hayden
2—Landon Cohen
2—Jerome Long
It was a relatively quiet night for the interior defensive line. Jason Hatcher made only two tackles. Nick Hayden and Landon Cohen combined to add four more, but none seemed to be able to generate a consistent pass rush.
Grade: C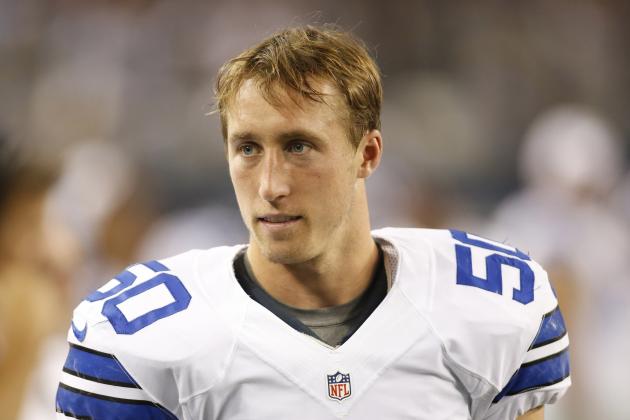 Tim Heitman-USA TODAY Sports

1—Sean Lee
1—Bruce Carter
1—Justin Durant
2—Kyle Bosworth
2—DeVonte Holloman
2—Ernie Sims
It was another big night for stars Bruce Carter and Sean Lee. The duo combined for 14 tackles, nine of which came from Carter. He's really a nice fit in this 4-3 scheme, and he added a sack to his stat line. Justin Durant had three tackles as well, although none were solo takedowns.
Grade: A-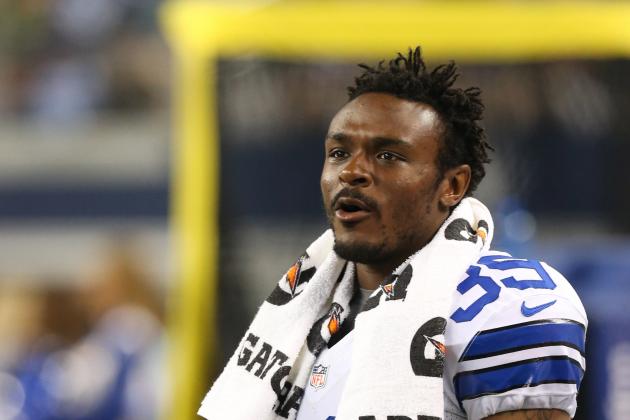 Matthew Emmons-USA TODAY Sports

1—Brandon Carr
1—Morris Claiborne
Nickel—Orlando Scandrick
2—B.W. Webb
Although Victor Cruz torched the Cowboys for 118 yards and three touchdowns, the cornerbacks really didn't play him too poorly. Seventy of Cruz's yards came on his second-quarter touchdown on which Dallas was in quarters coverage and Cruz was covered by safety Will Allen. Other than that play, the Cowboys held him to only 48 yards.
The unit was really led by Brandon Carr. Manning seemingly didn't look his way for the first three quarters. In the fourth, Carr cemented the Cowboys' win with a huge pick-six.
Grade: C+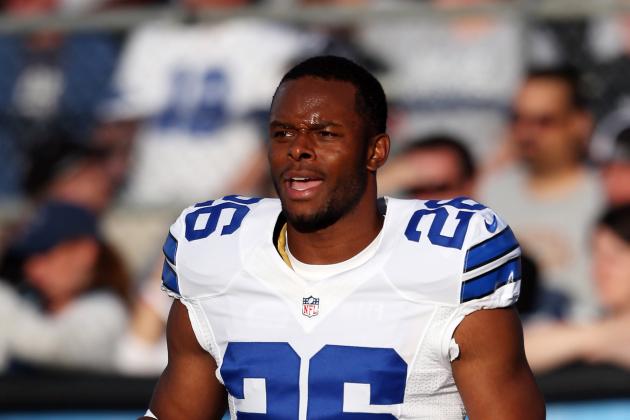 Ron Schwane-USA TODAY Sports

1—Barry Church
1—Will Allen
2—J.J. Wilcox
2—Jeff Heath
Safety Barry Church was the defensive MVP for Dallas. Church led Monte Kiffin's defense with eight tackles. I've previously predicted that Church will have a big 2013 season. He was a big part of the Cowboys' takeaway frenzy, forcing a fumble and recovering another one.
Safety Will Allen landed one of Manning's three interceptions, but I thought he played an otherwise unimpressive game. As mentioned, he gave up the big 70-yard touchdown to Cruz by sitting down at the first-down marker when he should have been playing much farther off in his deep quarter.
Grade: B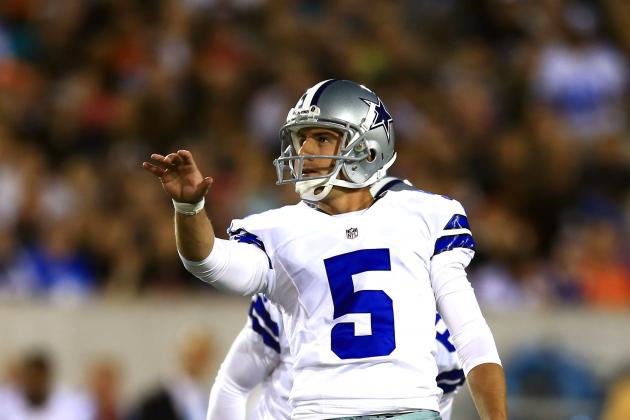 Andrew Weber-USA TODAY Sports

K—Dan Bailey
P—Chris Jones
LS—L.P. Ladouceur
Wide receiver Dwayne Harris had just two punt returns for nine yards, but he was a beast on the coverage units. Chris Jones averaged 42.5 yards per punt, and Dan Bailey connected on all three of his field-goal tries. The 'Boys also had a fumble recovery on a fluky punt that hit an unsuspecting Giant.
Grade: A