The 20 Best MMA Fights Scheduled to Finish Out 2013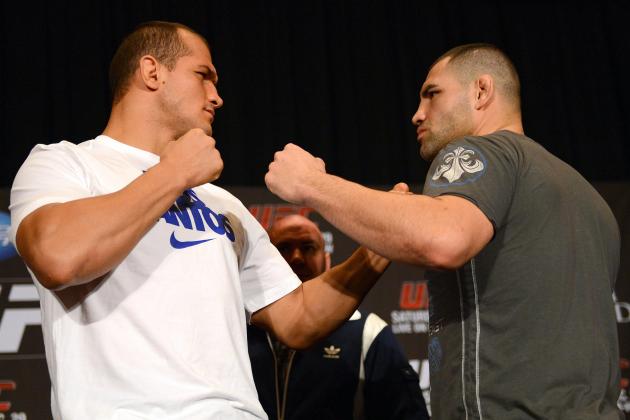 Jake Roth-USA TODAY Sports

2013 is winding down in a major way. The UFC has 11 events scheduled to end the year, and there is also the upcoming Bellator season to take into consideration.
MMA fans are beginning to become a spoiled bunch with the amount of fight cards they are getting. Some might say that it's too much.
The upcoming fight cards are jam packed with excellent fights. From preliminary bouts with hungry prospects to the championship encounters that are eagerly anticipated, these remaining events are filled to the brim with action.
Some events still do not have all their bouts signed. These are simply the best fights that have been already announced by the promotions. There are still more coming our way.
These are the 20 best fights that are currently scheduled to close out the year in chronological order.
Begin Slideshow

»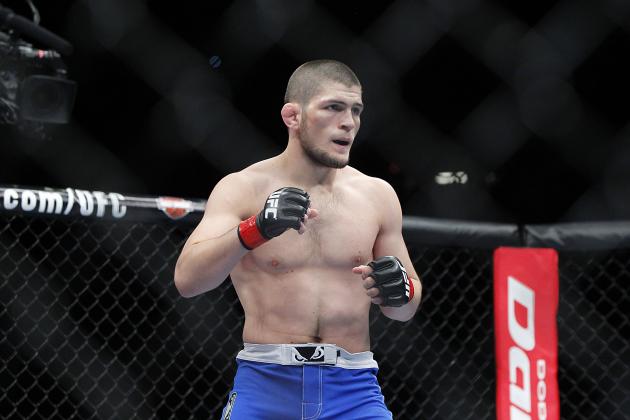 Gary A. Vasquez-USA TODAY Sports

The first fight on this list will come to you on September 21 from the Air Canada Centre. Two top-tier lightweights meet in the cage to move up toward title contention.
No. 10-ranked Pat Healy will meet undefeated Khabib Nurmagomedov.
Healy made his return to the UFC with a dominant performance over Jim Miller. The result was later turned to a no-contest thanks to a positive post-fight test for marijuana, but Healy stuck around in the UFC's lightweight Top 10 anyway. Nurmagomedov is looking to crack into the rankings with a win.
He may already deserve to be in that grouping, but he doesn't have the number beside his name to show for it. A win will do just that.
The two quality grapplers will go toe-to-toe in the opening bout of the pay-per-view telecast of UFC 165.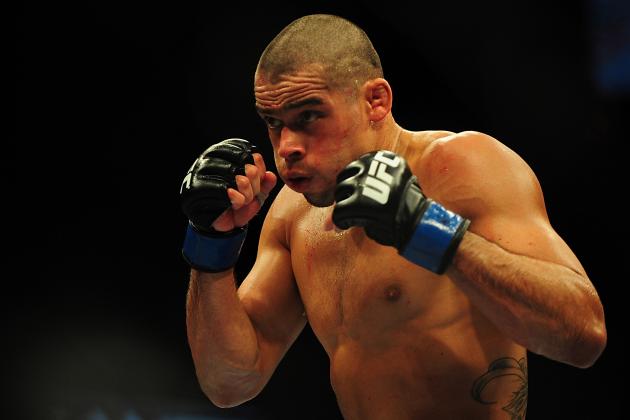 Anne-Marie Sorvin-USA TODAY Sports

Renan Barao is set to defend his UFC Interim Bantamweight Championship against Eddie Wineland in the co-main event of UFC 165.
Barao has been the interim champion for quite some time, while Dominick Cruz has been sidelined with injuries.
Wineland enters as the No. 4-ranked bantamweight. He is only behind the two title challengers to lose to Barao, Michael McDonald and Urijah Faber. He will get his chance to dethrone Barao and put himself in position to head the division.
The title tilt is not one to be missed, and it is only the co-main event of the card.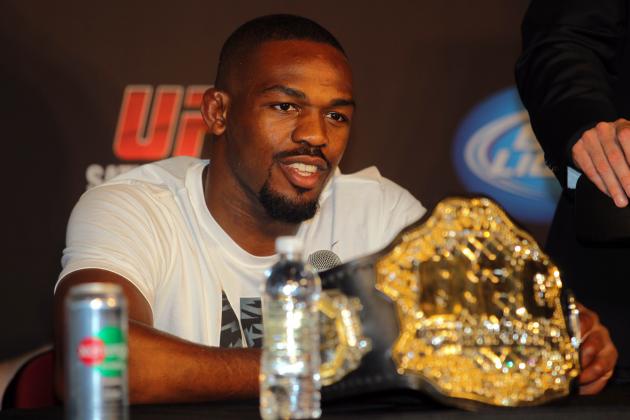 Brad Penner-USA TODAY Sports

After Renan Barao vs. Eddie Wineland, it is time for the main event: five rounds in the UFC's light heavyweight division.
No. 1-ranked Alexander Gustafsson has earned his shot at the undisputed champion and the No. 1-ranked pound-for-pound best fighter in the world, Jon Jones.
The two rangy fighters will meet in an intriguing battle. Gustafsson is the only 205-pound fighter who has comparable measurements to the champion. Two of Jones' biggest assets have been his size and reach. Gustafsson will challenge him on that front.
Jones will try to keep his streak of dominant performances alive, and a win will make him the most decorated light heavyweight of all time.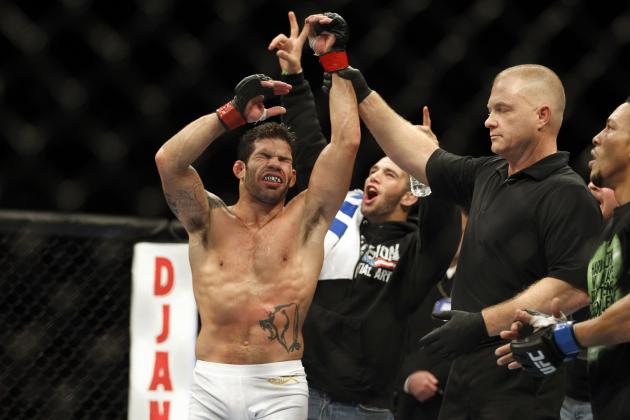 Joe Nicholson-USA TODAY Sports

UFC Fight Night 29 will kick off its main card with a Top 10 bantamweight bout on October 9.
No. 9-ranked TJ Dillashaw meets No. 5-ranked Raphael Assuncao, and there is more on the line than just a number.
If the chips fall just right, the winner could find himself in the catbird seat for a title shot.
Dillashaw has won four in a row and has looked increasingly impressive since the arrival of Duane Ludwig as Team Alpha Male's head coach. He has made the camp one of the best in the world.
Assuncao is no slouch either. He is undefeated at 135 pounds and already in the Top Five in the division.
This is a big bantamweight clash, and it will be on Fox Sports 1 for free.
Steve Mitchell-USA TODAY Sports

Erick Silva and Dong Hyun Kim meet in the co-main event of UFC Fight Night 29, and the two welterweights will try to make it into the Top 10 of the division.
The welterweight division is deep—so deep that neither of these exceptional talents are currently in the Top 10. Silva is coming off a win against Jason High, and Dong Hyun Kim has won back-to-back fights over Paulo Thiago and Siyar Bahadurzada.
Both of these fighters have made waves in the division before being sidetracked with losses to elite fighters. This is their chance to restate their case as one of the division's next stars.
This is one of the best welterweight fights of 2013.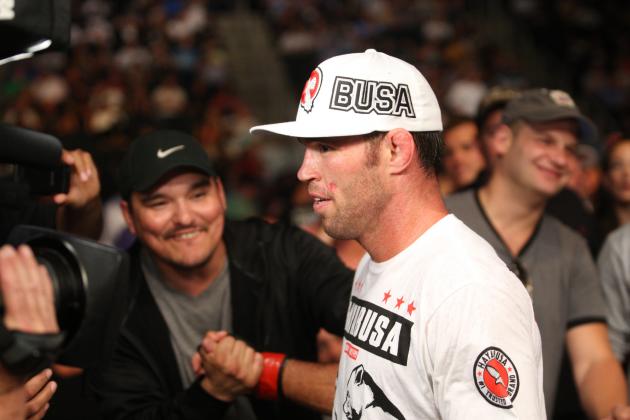 Bruce Fedyck-USA TODAY Sports

No. 4-ranked Demian Maia will meet Jake Shields in the UFC Fight Night 29 main event.
Shields is not ranked in the Top 10, but no one will doubt his abilities. The former Strikeforce champion returned to the welterweight division with a split-decision win over Tyron Woodley at UFC 161.
Maia has looked amazing since dropping to 170 pounds. He has won three straight in the division, and all three were dominant performances.
Shields will be looking for a signature win to elevate his status back toward the top of the division, and a win for Maia will continue his trek toward the title. And if the fight should happen to hit the canvas, we should be prepared for one of the finer jiu-jitsu battles.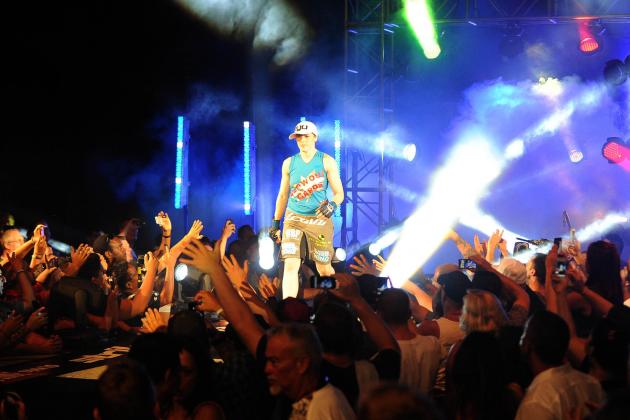 Jayne Kamin-Oncea-USA TODAY Sports

Sarah Kaufman was supposed to make her UFC debut in August against Sara McMann, but the Olympic silver medalist had to drop out of the bout for undisclosed reasons. This left Kaufman without an opponent and forced her off the card.
Jessica Eye stepped up to the plate. The former top-ranked flyweight will move to bantamweight to battle with the No. 2-ranked Kaufman in an interesting battle at UFC 166 on October 19.
Eye's performance will answer a lot of questions about her ability to compete at the higher weight. With solid boxing, she poses an interesting challenge for Kaufman. The former Strikeforce champion is known for her powerful striking and stand-up wars.
This matchup will answer questions from both ladies, and with the top of the division being so thin, the winner of this bout could find herself in a position to be the next title challenger.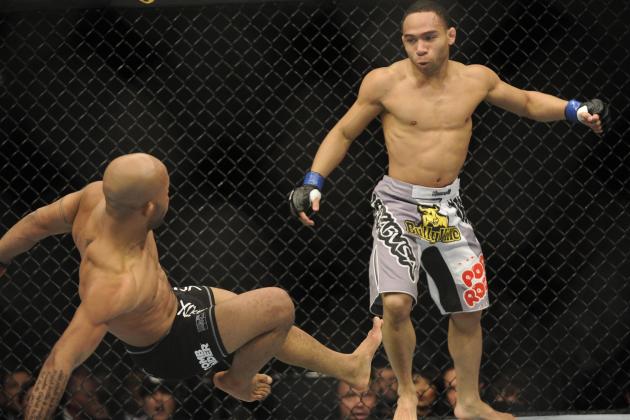 David Banks-USA TODAY Sports

John Dodson was 3-0 in the UFC before challenging Demetrious Johnson for the UFC Flyweight Championship, but The Ultimate Fighter winner came up just short.
Dodson hurt Johnson numerous times, but the champion's resolve was too much over the course of 25 minutes. Now, Dodson returns to welcome a tough 125-pound fighter to the UFC in a bid to restate his case for another title shot.
Darrell Montague is coming in on a four-fight win streak. The 13-2 fighter has the chance to make a big impact on the PPV card of UFC 166. If he can upend the No. 2 fighter in the division in his debut, it will go a long way for his career.
Flyweights are always fun, and this fight will continue the trend.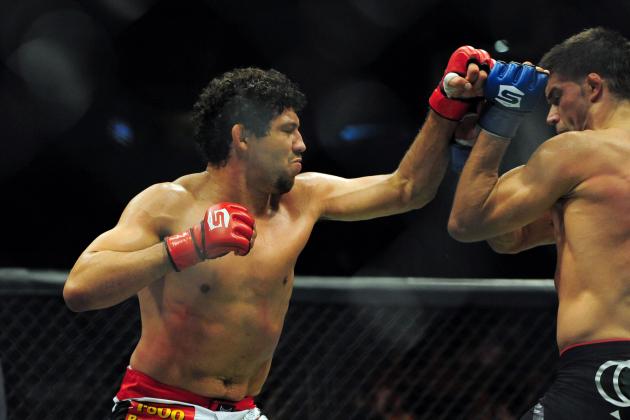 Kyle Terada-USA TODAY Sports

Gilbert Melendez made a solid UFC debut, but it was in a losing effort for the UFC Lightweight Championship. The former Strikeforce lightweight champion will try to right the ship against one of the most exciting fighters in UFC history.
Diego Sanchez tried to return to the lightweight division in March, but he missed weight. Regardless, he grabbed a contentious decision win over Takanori Gomi. Now, Sanchez has a chance to put the doubts away against Melendez.
These are two aggressive lightweights. They will come forward, throw hands and put on a show. This has to be one of the fights considered for Fight of the Night at UFC 166.
Sanchez will try to make his run up the ladder, but No. 2-ranked Melendez will meet him in the center of the Octagon to retain his spot in the division.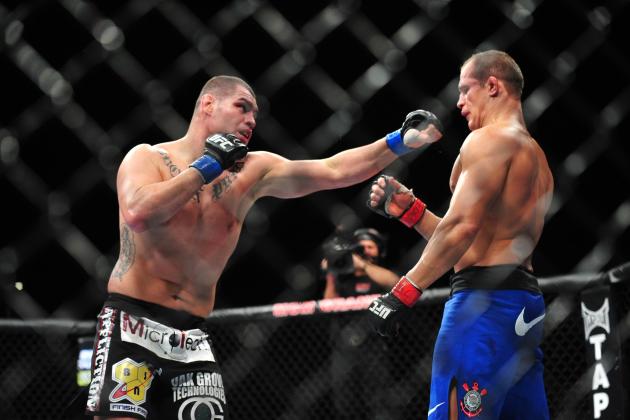 Gary A. Vasquez-USA TODAY Sports

The two heavyweight figureheads will meet for the third time at UFC 166, and it probably won't be for the last time.
The first meeting didn't last long. Dos Santos leveled Velasquez early to take his title. The second meeting was dominant on the opposite end of the spectrum. Velasquez pummeled Dos Santos for 25 minutes to reclaim the title.
The third meeting between the two best heavyweights on Earth should be the best fight of the trilogy to date.
The crowd in Houston will turn out for this massive battle. With a competitive fight between these two men, the matchup will go down in combat sports history. Rarely do you get two fighters at the top of their game at the same exact time.
UFC 166 is headlined by the best heavyweight title battle that the UFC has ever known.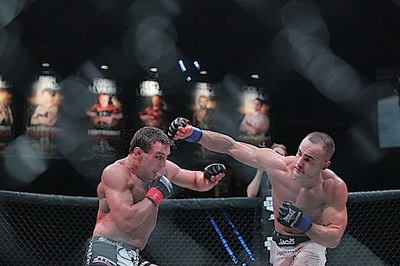 Photo Credit: William Musacchia/Sherdog.com
Eddie Alvarez will finally make it back to the cage when he challenges Michael Chandler for the Bellator Lightweight Championship at Bellator's first PPV event on November 2.
Their first meeting was one of 2011's best fights. Chandler and Alvarez went back and forth until Chandler snatched victory and the championship away from Alvarez.
Alvarez won two fights in a row following the defeat before heading into legal battle with Bellator. He lost that matchup but returns to seek revenge on the undefeated Chandler. Since that fight, Chandler has looked exceptional.
He is one of the finest lightweights in the world, and another win over Alvarez will further cement that fact.
If you are on the fence about the first Bellator fight, this is a good reason to bite the bullet. While the main event, Rampage Jackson vs. Tito Ortiz, leaves a lot to be desired, the Chandler vs. Alvarez title tilt does not. It is one of the best fights remaining in 2013.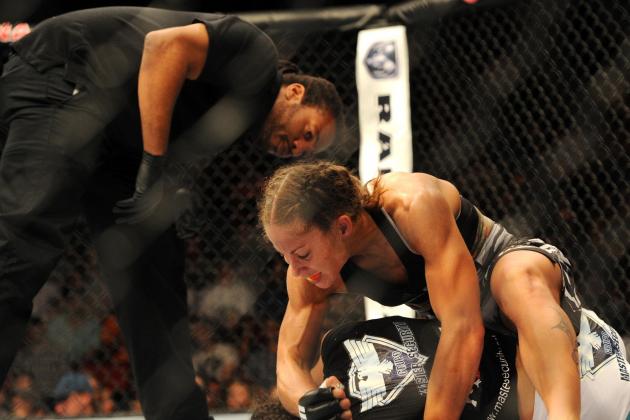 Jayne Kamin-Oncea-USA TODAY Spor

UFC Fight for the Troops 3 on November 6 features a Top 10 women's bantamweight bout between No. 5-ranked Liz Carmouche and No. 6-ranked Alexis Davis.
Carmouche rebounded from her championship loss to Ronda Rousey with a one-sided beatdown against Jessica Andrade. It moved her back into position to make a title run in 2014.
Davis, on the other hand, hurt her stock a bit with a lackluster showing against Rosi Sexton at UFC 161. She got the win, but her performance wasn't as sharp as it could have been.
Now the two will meet later this year in what could steal the show in Kentucky.
An impressive win for either lady would put her in a position to shoot for a title shot. It may be a battle of Carmouche's strength and wrestling against Davis' more well-rounded abilities. Keep an eye on this women's bantamweight battle.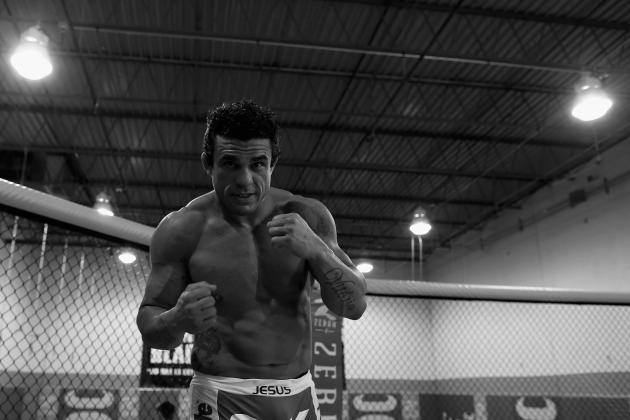 Chris Trotman/Getty Images

Vitor Belfort, ranked No. 2 in the middleweight division, will take another light heavyweight fight since no 185-pound title shot is coming his way in 2013.
He will meet a familiar face at UFC Fight Night 32 in Brazil. No. 7-ranked Dan Henderson will be standing opposite Belfort when the two meet later this year.
These two MMA legends met once before back in PRIDE. Henderson grabbed a decision win over Belfort, and the rematch could look the same. However, it could also be one of the more exciting wars of the year. We won't know until they step into the cage, and it cannot be left off this list.
These are two fighters who carry everything you want into a fight: name recognition, knockout power and an unwavering will to win. Both men want one more run atop the sport, and the loser may eliminate himself from that discussion.
A lot is at stake when these two meet on November 9.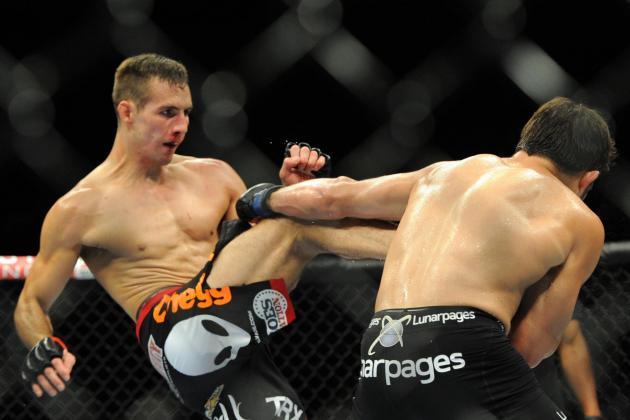 Jayne Kamin-Oncea-USA TODAY Spor

The UFC's 20th anniversary event, UFC 167, is already shaping up to be huge. A Top 10 welterweight battle is a piece of that.
No. 3-ranked Rory MacDonald will meet No. 8-ranked Robbie Lawler with plenty on the line.
MacDonald's last performance left a lot to be desired, but the welterweight won without much issue. Lawler, on the other hand, won emphatically over lesser competition. Stylistically, this should be a fun fight, and the winner could find himself in a title fight in 2014.
Lawler has looked fantastic since his UFC return, and a win over MacDonald would be the icing on his cake of resurgence. MacDonald is looking to show that he is every bit the part of a future champion by dispatching of Lawler impressively.
There are high stakes for these two contenders on November 16.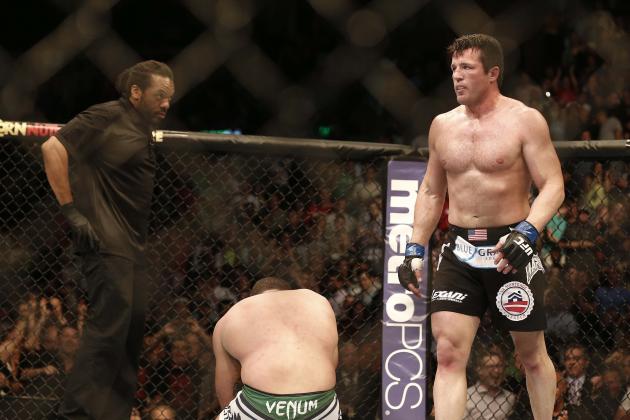 Winslow Townson-USA TODAY Sports

Chael Sonnen made a push to be on the 20th anniversary show as the co-main event, and he got what he wanted. He will meet Rashad Evans in a clash between two Top 10-ranked fighters.
Sonnen, ranked No. 9 in both the middleweight and light heavyweight divisions, will try to make a claim for another title shot with a win over the No. 5-ranked light heavyweight in Evans.
Evans got a decision win over Dan Henderson in his last fight, and Sonnen looked exceptional with a first-round submission over Shogun Rua. The winner of this fight will be in the title mix at light heavyweight. They are marquee names in the UFC who know how to sell a fight.
The two light heavyweight wrestlers have different styles in both standing and grappling. This is an intriguing stylistic matchup. The lead-up to this fight should be fun, especially on UFC Tonight where both work as analysts.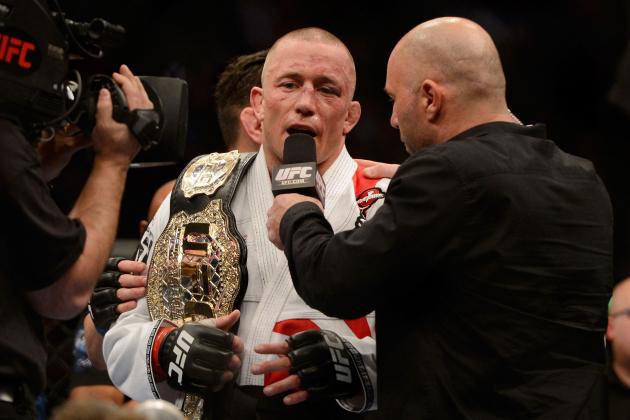 Eric Bolte-USA TODAY Sports

The main event of the UFC's 20th anniversary show is a much anticipated welterweight championship fight between GSP and Johny Hendricks.
GSP is one of the best pound-for-pound fighters on the planet, and Hendricks could be his toughest challenger to date.
Hendricks marched to the top of the division using his wrestling and big left hand. He knocked out both Jon Fitch and Martin Kampmann with his straight left lunchbox of a fist. He then claimed his title shot with an exciting battle with Carlos Condit.
This is the title fight many have been waiting for. Hendricks is a two-time NCAA wrestling champion, and his knockout power sets him apart from his wrestling brethren. It is what makes this fight so interesting.
This is a new challenge for GSP, and should he get past it, there may not be much left at 170 pounds for him.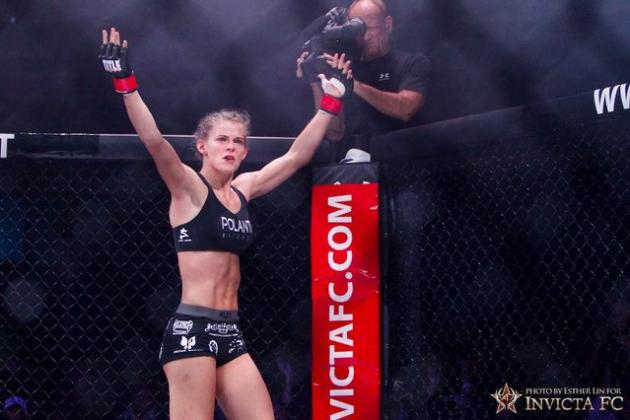 Photo Credit: Esther lin/Invicta FC
The Ultimate Fighter Season 18 has just begun, and by year's end, the finale will be here. The women's finale will be the one to watch.
This is not a typical TUF finale. This is a veteran cast of fighters, and getting through the eight-woman tournament will be difficult. The victor has a chance to be ranked after winning the tournament crown, and if she is impressive throughout, she could earn a high-profile bout immediately.
Shayna Baszler and Jessamyn Duke are the early favorites to make deep runs, but the rest of the cast is exceptionally talented as well. Under the direction of their coaches, we could see them all improve by the time the finale rolls around.
The stakes for winning TUF are higher than usual this season because of where the women's bantamweight division currently stands and the high caliber of casting for the show. That makes the finale a can't-miss event.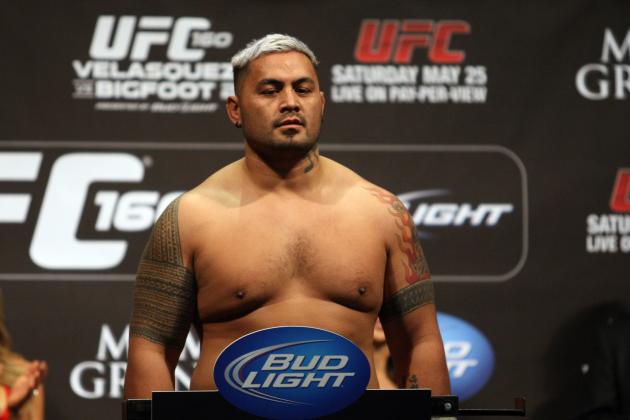 Bruce Fedyck-USA TODAY Sports

UFC Fight Night 33 on December 7 got its main event in the form of a heavyweight battle.
Antonio "Bigfoot" Silva will return to the cage to take on Mark Hunt. Silva tried unsuccessfully to capture the UFC Heavyweight Championship, and Hunt was unable to stun the world with a defeat of Junior dos Santos. Now, they will meet in Australia to duke it out amongst themselves.
Silva is still ranked in the Top 10 at No. 4, but Hunt fell out of the rankings with his loss. He'll have a chance to regain his position among the elite with a win.
Neither man will be getting a title shot anytime soon, but this fight should be fun. Silva is a decent heavyweight with good ground skills but a large dome as a target. Hunt is one of the most fun heavyweights to watch. He goes for the KO at all times.
Grab the popcorn for this fight.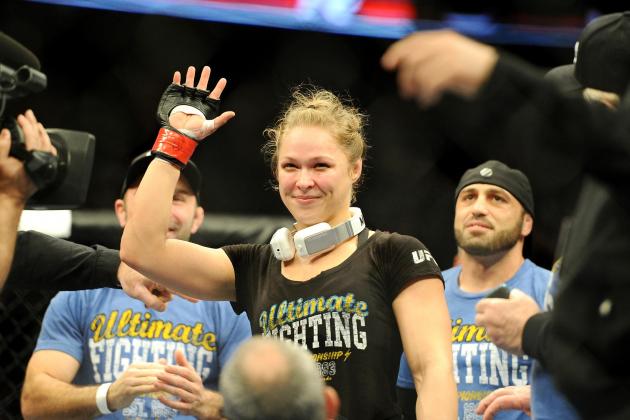 Jayne Kamin-Oncea-USA TODAY Sports

UFC 168 closes out the year with two fantastic title tilts, and the first up to the plate is Ronda Rousey vs. Miesha Tate.
The hate is real, and the two bantamweights will meet for a second time at year's end.
Their first meeting ended with Rousey armbarring Tate. It was the night Rousey was crowned champion in Strikeforce, and she has stood atop ever since. She is the queen of the MMA world. She is undefeated with first-round armbars in each of her fights. She has only been in trouble once in her career.
Tate backed into this title fight thanks to an injury to Cat Zingano, but she has the shot now, and it's a fight that sells. The animosity between the two fighters is great for viewers. And they are two entertaining warriors, which makes it all the better.
December 28 is a big day for MMA. Neither fighter will be on the other's Christmas card list, and they'll be looking to deliver a charitable beating to each other in the co-main event of UFC 168.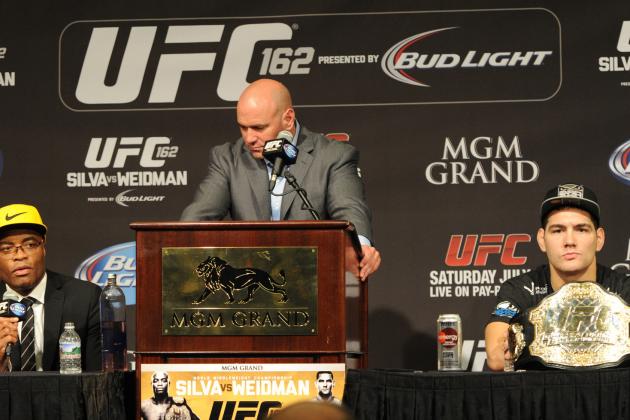 Jayne Kamin-Oncea-USA TODAY Spor

Anderson Silva was once the kingpin of the UFC. Chris Weidman changed all that on July 4th weekend.
The result brought out the MMA conspiracy theorists due to how Silva lost, but their inane accusations make no difference. He lost and gets the immediate rematch with Weidman.
It is hard to tell how this fight will go because Silva is such an enigma in the cage. You never know what he will do. But the bottom line is that Weidman is a capable fighter who is not afraid of Silva—in any way, shape or form.
He very well may finish off Silva for good.
"The Spider" is nearing the end of his career, but he wants to go down as the greatest of all time. He'll need another classic performance to carve out his name in that regard.
This is the most anticipated fight of the year, and it's the final fight of 2013.