Los Angeles Dodgers: 2013 All-Prospect Team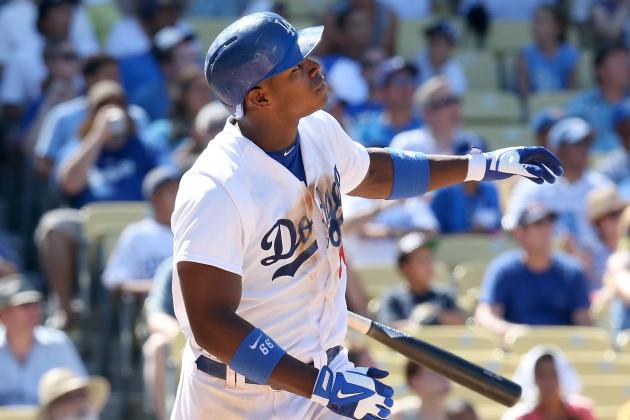 Stephen Dunn/Getty Images

After six long months of mostly average (just being honest) minor league baseball for the Los Angeles Dodgers' farm system, all we have left is the handful of Triple-A players who were added to the expanded roster for the stretch run.
We had a few dazzling performances by highly ranked prospects, some surprises in both directions, and a whole heap of Yasiel Puig. Now it's time to name the all-prospect team of your 2013 Dodgers, based on the following criteria:
If they were a "prospect" with no major league experience before the season, a player is eligible for this list. Meaning, Puig and Hyun-Jin Ryu both fit the mold, whereas Scott Van Slyke and Dee Gordon will watch from the sidelines.
I will select one player at each position, with the exception of the pitching staff.
The pitching staff will consist of five starters and three relievers.
Players drafted in 2013 will not be eligible, based on sample size.
With all that in mind, let's turn the page and see what the best of the best from down on the farm looked like in 2013.
All stats courtesy of MiLB.com and Baseball-Reference.com.
Begin Slideshow

»
2013 stats: 130 G, .252 BA, 12 HR, 57 RBI, .790 OPS
Ogle, a 2013 Single-A All-Star, found his way into the top 10 rankings at the beginning of the season, when he hit .338 in April. The long season clearly played a role in his decline, as his monthly average dipped all the way to .205 in August.
After a decent start in the power department, he saw that decline sharply as the season wore on for his Great Lakes Loons, as he stumbled through August with one homer and just four RBI. Nevertheless, Ogle made tremendous strides this year in all facets of the game.
He especially impressed by walking 96 times and striking out just 76 times. The Dodgers don't have a lot of depth in the organization at catcher behind A.J. Ellis and Tim Federowicz, but hopefully Ogle can continue to develop and become the next OBP-machine backstop for the big league squad.
2013 stats: 122 G, .280 BA, 15 HR, 88 RBI, .796 OPS
Dickson, a 5'11, 215-pound Bay Area native, smacked 15 homers and drove in 88 runs this season for Rancho Cucamonga. He also dipped into the rankings at one point, and deservedly so. In 122 games this season, Dickson connected for 50 extra-base hits (three triples, 32 doubles).
With runners in scoring position, Dickson hit .314, and was pretty consistent in both halves of the year. He was a key cog in the Quakes' lineup, and though he's moved up a level every year in the Dodgers system, we have seen his OPS take a dive each time.
2013 stats: 128 G, .267 BA, 6 HR, 33 RBI, 16 SB, .708 OPS
Ynoa is in his eighth year as a minor leaguer for the Dodgers, and is just a career .265 hitter. You may be asking why a 26-year-old who is likely a career minor league player is joining the Dodgers' "all-prospect team"? There is no depth in the organization at this position after Mark Ellis.
Maybe Dee Gordon. Maybe.
This kid can play a little bit of defense; however, he made his fair share of errors in Double-A this season as well. Ynoa made seven errors in 535 attempts at second base. One troubling statistic is that Ynoa snagged 40 steals in 2010, and hasn't topped 23 since. Still, he's your 2013 all-minor league second baseman for the Dodgers.
2013 stats: 43 G, .333 BA, 7 HR, 37 RBI, .954 OPS
I know the sample size is tiny, but this top-10 list alum had a good year before getting injured. He was by far the best option for third base on this all-minor league team, unfortunately. That makes two older prospects in one infield.
Mount, who is 27 and just finishing his ninth professional season, did only play a handful of games but was having the best offensive season of his career. The defense was a bit worse, as he posted a ghastly .826 fielding percentage in 40 games at the hot corner.
Corey Seager can't come soon enough.
2013 stats: 101 G, .269 BA, 16 HR, 72 RBI, .824 OPS
Seager was having a monster year in Single-A before being promoted to High-A late in the season.
He struggled a bit after the move, but still remains one of (if not) the best hitting prospects in the Dodgers system. Younger brother to Seattle Mariner Kyle Seager, Corey has all the tools to become an everyday impact bat in the big leagues down the line.
The Dodgers seem to be moving Seager through the ranks at a good pace, and he will likely start out in High-A next year again, barring any major slumps or injuries. He has the ability to hit for power and average, but really needs to work on becoming a consistent defender at shortstop.
Either way, fans and the front office are counting on this kid to be the future in Los Angeles.
2013 stats: 131 G, .303 BA, 17 HR, 100 RBI, 22 SB, .888 OPS
This was a toss-up between "Chili" Buss and Rancho Cucamonga's Scott Schebler (.296/27/91/16/.941).
I went with the 26-year-old Triple-A All-Star in Buss because he had better plate discipline (90 K vs. 41 BB, as compared to Schebler's 140 K vs. 35 BB) and more steals. Plus, he's a lot closer to the majors than Schebler.
Buss has been slowly moving up the ranks in the Dodgers farm system since he was drafted out of USC in 2008. He may not have a full-time MLB spot in his future, but he's shown that he could be a valuable commodity off the bench.
Either way, you have to appreciate a season with such gaudy numbers, even in the hitter-friendly Pacific Coast League. His nine assists from the outfield are nifty, too.
2013 stats: 133 G, .278 BA, 22 HR, 58 RBI, 31 SB, .878 OPS
Pederson, who represented the Dodgers in the 2013 Futures Game and was named a Double-A post-season All-Star, spent most of the 2013 season ranked as one of the Dodgers' top three prospects, and for good reason. He sputtered a bit at the end of a long season, but was truly impressive in his all-around game for the better part of six months.
Besides the obvious benefits Pederson can provide in the average and power departments, he swiped a career-high 31 bases, walked a career-high 70 times (vs. 114 K), and threw out 10 runners from the outfield, which was also a personal best.
Pederson has five-tool potential written all over him, and if the Dodgers develop him correctly, they could have another star to add to that loaded big league outfield.
2013 stats: 40 G, .313 BA, 8 HR, 37 RBI, 13 SB, .982 OPS
We all know what Yasiel Puig has done and continues to do to major league pitching since firmly supplanting himself in the Dodgers starting lineup. But the story started even earlier, in Spring Training when he had baseball fans everywhere abuzz with long home runs and rocket throws from right field.
He was relegated to Double-A Chattanooga, where he tore up pitchers to the tune of .313 in just 40 games. Obviously, he continues to do the same in the majors, and won't have to worry about being on lists like this ever again.
Still, he was one of the better players for the Dodgers in the minor leagues this year.
1. Hyun-Jin Ryu, LHP (MLB): 26 GS, 13-5, 3.02 ERA, 167 IP, 158 H, 59 R, 56 ER, 46 BB, 139 K
Ryu was ranked as the No. 42 prospect in baseball entering this year after coming over from Korea. He has become a bona fide MLB starter very quickly and has a legitimate shot at NL Rookie of the Year with those numbers.
2. Zach Lee, RHP (Double-A): 25 GS, 10-10, 3.22 ERA, 142.2 IP, 142 H, 57 R, 51 ER, 35 BB, 131 K
Lee, the Dodgers' No. 2 prospect behind Yasiel Puig for much of the year, dazzled his way through Double-A. He improved in many areas, and appears to be set for a chance at a couple starts in 2014, barring injury. The Dodgers former No. 1 pick is on the right track.
3. Ross Stripling, RHP (Double-A): 27 GS, 8-4, 2.82 ERA, 127.2 IP, 115 H, 44 R, 40 ER, 30 BB, 117 K
Stripling made huge strides this year, especially after being promoted to Chattanooga halfway through the season. The Dodgers moved him to the bullpen to save his arm around the MLB All-Star break, but he struggled. Once back in the rotation, he flourished.
4. Julio Urias, LHP (Single-A): 18 GS, 2-0, 2.48 ERA, 54.1 IP, 44 H, 15 ER, 16 BB, 67 K
What can I even write here? Urias was signed this season as a 16-year-old out of Mexico. The Dodgers had high hopes for him, but nobody could have expected such a dominating first half-season for the young southpaw. If he stays healthy, his future is extremely bright.
5. Onelki Garcia, LHP (Triple-A): 6 GS, 2-4, 2.90 ERA, 62 IP, 47 H, 23 R, 20 ER, 35 BB, 67 K
I'm cheating a little bit calling Garcia a starting pitcher, since he only made six starts in 35 appearances between Double-A and Triple-A. But the Cuban lefty, who used to be pitching in an adult league before getting a second shot, has great stuff and could be a future No. 4 or 5 starter in the bigs.
1. Michael Thomas, LHP (Double-A): 45 G, 1-1, 2.87 ERA, 11 SV, 59.2 IP, 53 H, 19 ER, 24 BB, 68 K
The young lefty spent most of his season in these rankings, though he did start to get rocked in Double-A down the stretch. I don't know whether he was fatigued or just losing it, but Thomas was absolutely filthy for the first two-thirds of the season over two levels of ball.
2. Yimi Garcia, RHP (Double-A): 49 G, 4-6, 2.54 ERA, 19 SV, 60.1 IP, 35 H, 17 ER, 14 BB, 85 K
Overall, Garcia was probably the best reliever in the Dodgers farm system this season. He posted 19 saves for Chattanooga and had a ridiculous strikeout-to-walk ratio. He scuffled a little bit here and there, but kept finding ways to recover and post a solid line at the end.
3. Matt Shelton, RHP (Single-A+): 33 G, 6-2, 2.40 ERA, 3 SV, 48.2 IP, 40 H, 16 R, 13 ER, 20 BB, 48 K
After just three appearances for Single-A, Shelton moved up to High-A and made his presence felt. In 33 appearances there, he had an ERA of 2.40 and struck out a batter per inning. If he can work on his command a bit, he'll be moving up the ladder soon enough.
Follow Jeremy Dorn on Twitter @Jamblinman.