NFL Power Rankings Week 1: Where Each Team Stands Heading into Week 2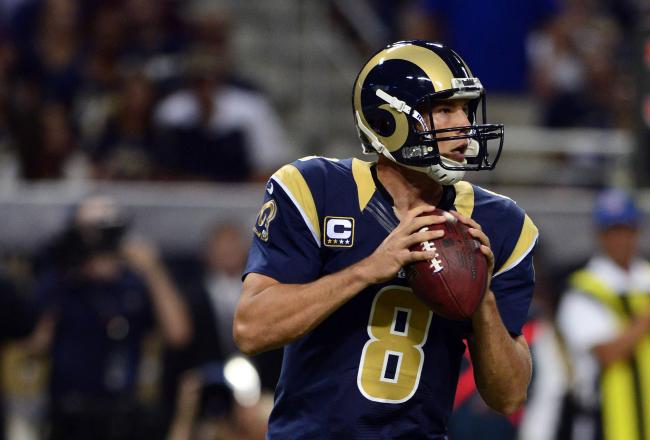 Jeff Curry-USA TODAY Sports
There is a sense of renewal in the air now that the NFL has returned, and Week 1 sure was not for lack of exciting action and surprises no one could have accurately predicted.
Offseason power rankings are always the most difficult to figure out because they are widely determined by looking at a team on a piece of paper.
That's not the case with a week of action in the books.
Here's how legitimate power rankings shake out heading into Week 2 now that we have seen teams in action on the field, rather than on a piece of paper.
1. Denver Broncos (1-0)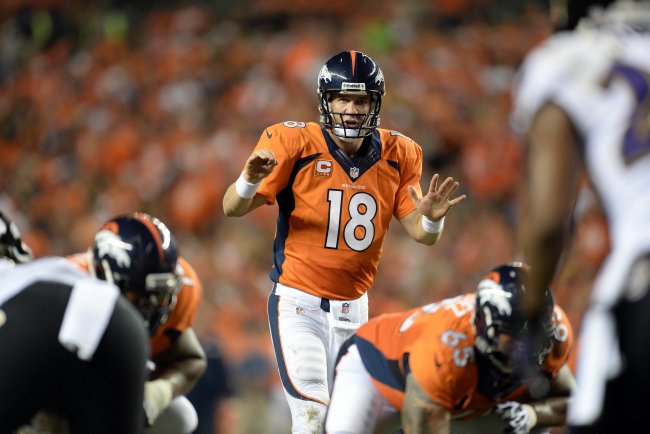 Ron Chenoy-USA TODAY Sports
Expecting something else?
Peyton Manning finds himself once again at the top of a power rankings list after tossing seven touchdowns in a historic performance over the defending champs. It does not get more dominant than that, and the Broncos won't be leaving this slot for quite some time.
2. San Francisco 49ers (1-0)
The 49ers are easily the deepest team in the league and Colin Kaepernick showed he can beat a solid team with his arm rather than his legs. Scary.
I still have a hard time thinking Kaepernick could out-duel Peyton Manning, so for now the 49ers sit tight.
3. Seattle Seahawks (1-0)
As many speculated, Seattle almost had its wings clipped in Week 1 after traveling over 2,000 miles to take on the Carolina Panthers in a road opener. Russell Wilson and Co. managed to pull out the victory, and in the grand scheme of things it will probably serve as more of a wake-up call than anything.
4. Houston Texans (0-0)
Houston has yet to play, but one of the NFL's better backfields with Arian Foster and Ben Tate behind a quality zone-blocking scheme equates to a solid roster nonetheless.
As always, Houston is one of the most well-rounded teams in the NFL that goes unnoticed until the postseason rolls around. That will be the case for most of 2013 as well.
5. New England Patriots (1-0)
No Wes Welker, no problem. Danny Amendola stepped up nicely as Tom Brady and the Patriots downed the Buffalo Bills in their opener, but it was a little too close for comfort.
Until the Patriots can prove the defense is good enough to handle a rookie quarterback and take care of business against a team like Buffalo, there is absolutely no reason for them to be ranked higher. Times have changed in New England.
6. New Orleans Saints (1-0)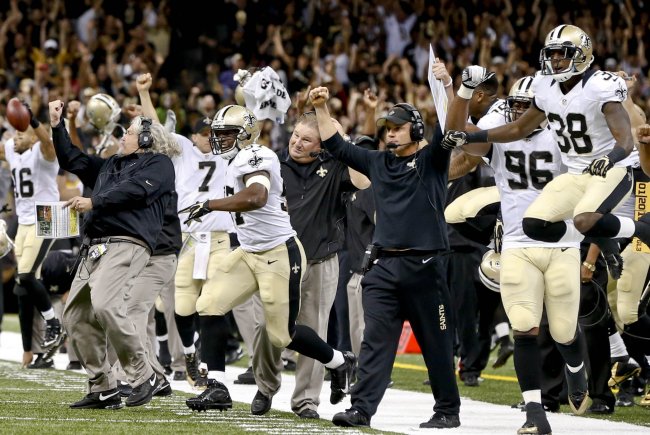 Derick E. Hingle-USA TODAY Sport
Sean Payton is back and so are the Super Bowl chances for the New Orleans Saints. Drew Brees was as dominant as ever in a big win over AFC South rival Atlanta, and the new-look defense headed up by Rob Ryan did good enough against an elite offense.
With the way the Saints played in the opener, seeing them ranked even higher week after week should not come as a surprise. Things will only get better as the defense continues to learn a new scheme.
7. Green Bay Packers (0-1)
Road loss or not to start the season, the Green Bay Packers overall, especially the defense, looked like a much better team than the one that got abused in the NFC divisional round of the playoffs a year ago.
Aaron Rodgers will keep being himself, but it was the solid play of the defense for most of the game that should be scaring the rest of the league.
8. Atlanta Falcons (0-1)
Atlanta lost on the road against New Orleans, but the team still has one of the most potent offenses around.
With Matt Ryan guiding things, the Falcons will bounce back. The defense is going to have to step up if the team is seriously looking to contend in 2013.
9. Chicago Bears (1-0)
Chicago defended its home turn well when it welcomed Cincinnati to town. The new offense under head coach Marc Trestman didn't wake up until the second half, but when it did, it was an explosive unit that took advantage of an elite defense.
Even more impressive was the defense without Brian Urlacher, which intercepted two passes and forced two fumbles. Chicago is a contender for now.
10. St. Louis Rams (1-0)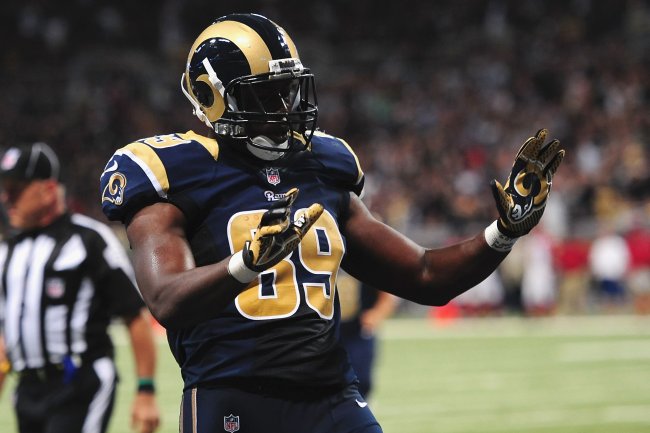 Michael Thomas/Getty Images
Surprise! The team that quietly went 4-1-1 against a tough NFC West a season ago is back doing its thing in a big way. The defense is as physical as ever, but it's the offense led by new elite weapon Jared Cook (141 yards, two touchdowns) that should strike fear into the rest of the NFL.
The Rams are legit.
11. Cincinnati Bengals (0-1)
What an egg Cincinnati laid at Soldier Field in a road opener against the Chicago Bears. Outside of A.J. Green, Cincinnati was horrific on offense, as Andy Dalton tossed two interceptions and Green and Mohamed Sanu coughed up the football twice.
Not only that, Cincinnati was flagged for two critical personal foul penalties that ultimately cost them the game. It's growing up time in Cincinnati before the ranking gets worse.
12. Baltimore Ravens (0-1)
Fans knew things would be rocky in the beginning for a team that just lost Ed Reed and Ray Lewis, but no one predicted the team would give up seven passing touchdowns.
That's just bad, and there's no good excuse. The champs have a lot of work to do on both sides of the ball in order to be taken seriously again.
13. Indianapolis Colts (1-0)
Indianapolis and quarterback Andrew Luck survived a bit of a scare against the Oakland Raiders, but that's on the defense. The offense for the Colts is just fine with Luck leading things, but the defense is going to have to step up or it's going to be another long season just to get bounced in the first round of the postseason again.
14. Washington Redskins (0-0)
Health permitting, Washington will once again be one of the top teams in the NFL. That's not just Robert Griffin III either—defenders like Brian Orakpo and Ryan Kerrigan need to stay on the field for the Redskins to be competitive.
15. Dallas Cowboys (1-0)
It's hard to love how Dallas had a game gift-wrapped and given to them like a giddy kid at Christmas, with the giddy kid being Tom Coughlin and his awkward Giants, but a win is a win.
The problem is not every game will be such a joke and there were alarming issues, such as Victor Cruz's three touchdowns, that exploited ugly weaknesses on the roster. Holes need to be patched before the ship can sail where it wants.
16. Kansas City Chiefs (1-0)
The Andy Reid era started off in a successful manner, but that's not saying much against an opponent that can only score two points.
It's hard to hate how the defense played either way and quarterback Alex Smith was smooth with 173 yards and two scores—just how he and Reid planned it. Fans have not heard the last from a very deep Kansas City squad.
17. New York Giants (0-1)
New York was the definition of sloppy on the road in Dallas, with some laughably bad mistakes from Eli Manning and Co.
That said, the defense played well enough and Victor Cruz and his three touchdowns is the type of rare talent who can win games on his own. Things look bleak for the Giants right now, but the team was still in it down to the wire.
18. Detroit Lions (1-0)
Reggie Bush was just what the doctor ordered for the Detroit Lions offense, as many fantasy and regular fans had proclaimed since he joined up.
Bush exploded against the Lions for 90 rushing yards on 20 carries and four receptions for 101 yards and a score. He outplayed Calvin Johnson, meaning the offense in Detroit just got that much more dangerous.
19. Buffalo Bills (0-1)
Here is where things start to take a turn for the worse in the rankings. The good news for Buffalo is twofold despite that fact.
For one, EJ Manual is healthy and efficient. One hundred fifty yards and two scores is about the best Buffalo could have hoped for so early. Two, the Bills were in it with New England right to the end. The winds of change are blowing in the AFC East.
20. Carolina Panthers (0-1)
Any team that can take the Seattle Seahawks down to the wire is a solid unit overall. Cam Newton is still one of the NFL's best and can keep Carolina in most games on his own.
Most encouraging was the play of the defense and rookies like Star Lotulelei, who held the dynamic Seahawks to just 12 points. That's a defense that will win Carolina more games than expected in 2013.
21. Miami Dolphins (1-0)
Miami struggled with a hapless Cleveland Browns team in an ugly game on the road to start the season off. Mike Wallace, the biggest free-agency prize of them all, was unsurprisingly a dud with only one catch.
Once again, free-agency victories mean little on the field. Not an encouraging start, win or not.
22. Philadelphia Eagles (0-0)
Time will tell if Chip Kelly's offense with Michael Vick will work. The same can be said about his new defensive unit with so many 4-3 pieces adapting to a 3-4.
23. Minnesota Vikings (0-1)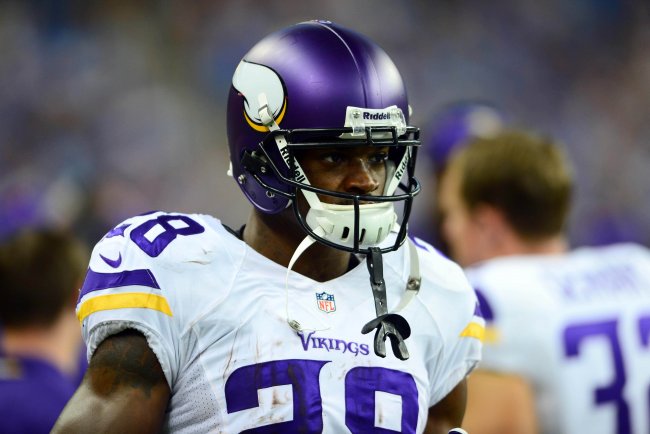 Andrew Weber-USA TODAY Sports
Minnesota is a bad team. That's all there really is to say about it. Were it not for Adrian Peterson and his 93 yards and two scores, Minnesota would be hanging out in the basement of the NFL with Jacksonville. They may reach that low either way with Christian Ponder at quarterback.
24. Tampa Bay Buccaneers (0-1)
Ouch.
An opening-week loss to the New York Jets hurts, even if it was off a questionable penalty late in the game.
The fact of the matter is Tampa Bay should not have been in that spot to begin with. Now the Buccaneers enter Week 2 as the laughingstock of the league.
25. Pittsburgh Steelers (0-1)
Things are going to go from bad to worse as the season wears on for the Pittsburgh Steelers. Maurkice Pouncey, Larry Foote and LaRod Stephens-Howling are all lost for the year.
That means Ben Roethlisberger has less time to throw, but is also helped by a less-talented backfield. The defense loses a veteran leader with no real quality option at behind him.
It's going to be a long season in Pittsburgh.
26. San Diego Chargers (0-0)
It's going to be a long season in San Diego as well.
Philip Rivers is in full regression mode and the front office has done little to surround him with weapons or protection. They have yet to play, but it's easy to see how things will turn out for the Chargers.
27. Tennessee Titans (1-0)
For a team with such a talented offensive line and running back, the Titans sure do have trouble putting points on the board.
That's probably because quarterback Jake Locker cannot complete a pass more than 10 yards down the field. It's easy to stop a sound running game when defenses can ignore a guy who only throws for 125 yards.
28. Arizona Cardinals (0-1)
It's hard to hate what the Cardinals did on the road in Week 1. The offense looks good enough with Carson Palmer under center and the defense looks like it is not suffering too much from the loss of coordinator Ray Horton.
Now to win some games.
29. New York Jets (1-0)
Speaking of winning games, not many gave the New York Jets a chance in Week 1. Well, quarterback Geno Smith gets the last laugh (of the week) by winning his first career game.
30. Oakland Raiders (0-1)
As great as Terrelle Pryor looked at times against Indianapolis, Oakland still has such a lack of talent on the roster overall that the team is going to have a hard time winning four games.
Victory was within reach near the end of the contest, but the lack of depth and overall talent eventually caught up to the Raiders.
31. Cleveland Browns (0-1)
Some things never change.
Forget sleeper picks, forget Trent Richardson, forget sleeper tight ends and the development of a 30-year-old second-year quarterback—this is the Browns.
Cleveland struggled throughout its home opener against Miami and quarterback Brandon Weeden looks as if he has regressed.
It's going to be a very, very long season in Cleveland.
32. Jacksonville Jaguars (0-1)
The Jacksonville Jaguars are so bad cable television should stop carrying their games.
Blaine Gabbert and Co. scored just two points and moved past their own 36-yard line just once as the tank for Teddy Bridgewater or whichever prospect they have an eye on begins.
Yikes.
Follow B/R's Chris Roling on Twitter for more news and analysis @Chris_Roling
This article is
What is the duplicate article?
Why is this article offensive?
Where is this article plagiarized from?
Why is this article poorly edited?