Overcoming slow starts hasn't exactly been an area of expertise for the Seattle Seahawks. Prior to Sunday's game, the 'Hawks (under head coach Pete Carroll) have managed to post a 1-12 record on the road when they trail at halftime.
After a disappointing first half on the offensive side of the ball, it appeared as if Seattle was primed to add another loss to that dismal record. Fortunately enough, the team showed a newfound resilient nature in the third and fourth quarter.
Through the final two quarters of the game, quarterback Russell Wilson led two scoring drives. One was a nine-play, 43-yard drive that ended with a field goal, and the other was a six-play, 74-yard drive that ended with a 43-yard touchdown pass from Wilson to wide receiver Jermaine Kearse.
However, the Seahawks offense shouldn't take all of the credit for the win. They couldn't have done it without defensive coordinator Dan Quinn's defense. Quinn's defense forced one turnover and shutout quarterback Cam Newton during the final 30 minutes of the game. On three second-half possessions, Newton only tallied 44 yards passing.
Yes, Carolina's offense was trying to shorten the game by burning some clock on the ground, but it appears as if offensive coordinator Mike Shula's play-calling was a little too conservative when the Panthers were playing with the lead.
This, in turn, came back to haunt them when the Seahawks milked the final 5:25 off the clock. Was it a pretty victory for Carroll's club? No. Nevertheless, it was a hard-fought win that taught some invaluable lessons.
So impressed with Seahawks running out last 5:25 on clock. Few offenses are able to do that with the one-score lead.

— Scott Kacsmar (@FO_ScottKacsmar) September 8, 2013
Winning on the road isn't easy to do in the NFL. Yet, the Seahawks persevered and showed pundits that they are indeed the real deal. Moreover, they showed them that they still have their eye on the ultimate prize, a Lombardi Trophy.
One mediocre performance to start the season shouldn't take them out of Super Bowl contention. As a whole, the positives from the game outweighed the negatives.
Wilson notched his first 300-yard game (regular season) while completing 75.7 percent of his passes and posting a 115.7 quarterback rating. The second-year signal-caller showed a good rapport with slot wide receiver Doug Baldwin.
Baldwin caught seven passes on eight targets for 91 yards. But putting together an impressive stat line only says so much. The 189-pound receiver out of Stanford not only put up big numbers, he was Johnny-on-the-spot when Wilson needed him the most.
Time and time again Baldwin made big catches on third down that extended drives. In fact, four of his seven grabs were third-down receptions that netted a first down. This was a welcomed sight based on the fact he fell off the face of the earth in 2012.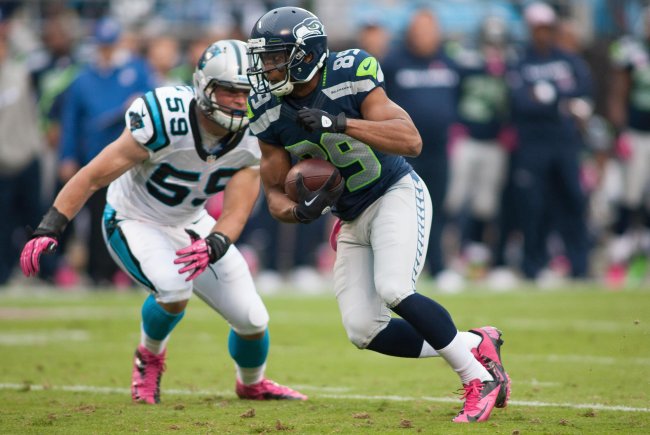 Jeremy Brevard-USA TODAY Sports
Defensively, Seattle held Carolina to 253 total yards. Its pass defense was on point. Despite missing Pro Bowl cornerback Brandon Browner, Newton mustered up a mere 125 yards passing through the air on 16 completions.
Browner's fill-in, Walter Thurmond III, did a bang up job. He held wide receivers Brandon LaFell and Ted Ginn Jr. to 10 yards receiving on one catch. Steve Smith was able to get behind his coverage a couple of times, but Smith has shown over the course of his career that very few corners can completely shut him down.
Outside of the secondary, it was hard to get excited about the Seahawks defense. Pressure from the defensive line was almost nonexistent, and the linebacker play was average at best. Inside backer Bobby Wagner had an unusually quiet game. At times, he struggled to get off blocks against the run.
Moving forward, the return of defensive ends Cliff Avril and Chris Clemons should help the pass rush immensely.
DE Chris Clemons will be "full go" in practice next week according to Pete Carroll. #Seahawks

— John Boyle (@johnpboyle) September 6, 2013
All in all, the Seahawks' ability to adapt to in-game situations and overcome poor performance areas says a lot about their ability to continuously compete. Super Bowl-esque teams have to be well versed in conquering adversity.
Based on Sunday's performance, the 'Hawks are well versed in conquering adversity. They will need this powerful trait to continue as they head into Week 2. Next week, they will play host to one of the deadliest teams in the NFL, the San Francisco 49ers.
The Niners are not only one of the deadliest teams in the NFL, but they are Seattle's NFC West archrival. Even though the two organizations split the season series last year, it's safe to say the Seahawks won't be satisfied until they sweep the season series and embarrass San Francisco at home, like they did last year.
This Sunday Night Football matchup will be a crucial test for the Seahawks. It will give them the opportunity see where they stand against a true Super Bowl contender. If all goes well, one would have to think they immediately become the way-too-early Super Bowl favorite in the NFC.
Yet, they will have to score more than 12 points, and they will have to get the run game going. The Seahawks are still a run-first team. Offensive line coach Tom Cable needs to get back to work and figure out what went wrong Week 1 and make the necessary adjustments.
By getting back to doing what they do best and making the necessary adjustments, they can emerge as the class of the NFC.