Fantasy Baseball 2013 Waiver Wire: Top 10 Pickups for Week 24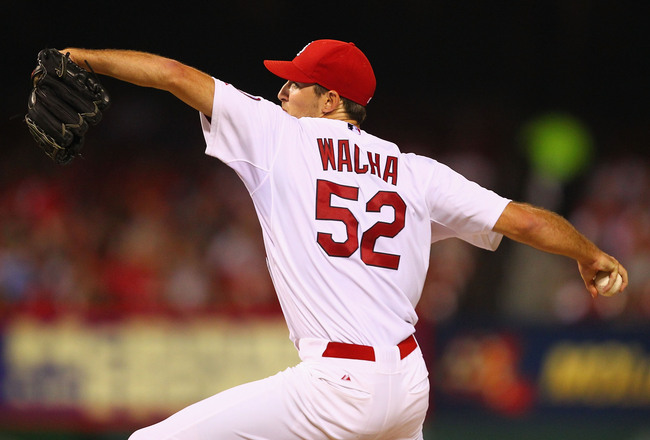 Rookie Michael Wacha has pitched himself into the Cardinals rotation, which means he should be in your fantasy rotation, too.
Dilip Vishwanat/Getty Images
A new week, another batch of waiver-wire additions, just the way you like 'em: hot and fresh out the oven.
Some players mentioned last week—including Scooter Gennett, Yovani Gallardo, Sonny Gray, Martin Perez, Ubaldo Jimenez and Dillon Gee—are already owned in many leagues by now, but they remain quality pickups if they are still available.
In the interest of keeping the names new, though, let's avoid any repeats. Here are the top-10 waiver-wire pickups for Week 24 of the 2013 MLB season.
All ownership percentages come from ESPN Fantasy Baseball. Players owned in more than 51 percent of leagues were not considered.
Just Missed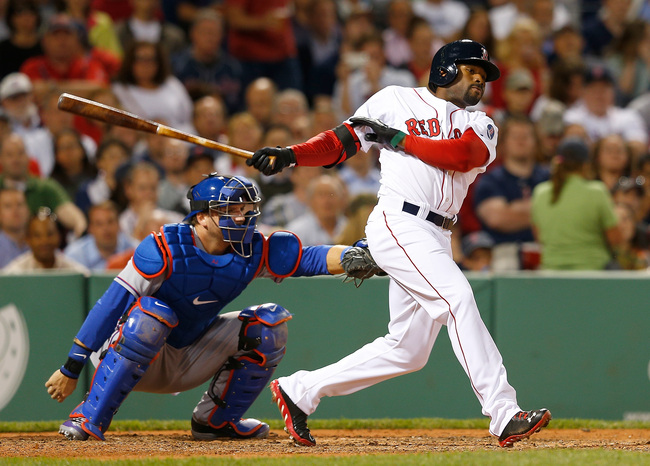 With Jacoby Ellsbury injured, Jackie Bradley Jr. should see plenty of playing time for Boston.
Jim Rogash/Getty Images
Jhoulys Chacin, RHP, Rockies (40.0 Percent Owned)
Wilson Ramos, C, Nationals (11.4 Percent Owned)
Mark Buehrle, LHP, Blue Jays (24.5 Percent Owned)
Jackie Bradley, Jr., OF, Red Sox (1.6 Percent Owned)—pictured
Yusmeiro Petit, RHP, Giants (14.8 Percent Owned)
Brandon McCarthy, RHP, Diamondbacks (12.8 Percent Owned)
Brett Anderson, LHP, Athletics (17.0 Percent Owned)
George Springer, OF, Astros (0.1 Percent Owned)
10. Scott Feldman, RHP, Orioles (28.7 Percent Owned)
In case you hadn't realized, Scott Feldman has pitched almost exactly as well with the Baltimore Orioles (3.63 ERA, 1.14 WHIP, 6.6 K/9) as he did with the Chicago Cubs (3.46, 1.17, 6.2).
The 30-year-old has been really good over the past month now, compiling a 1.36 ERA and 1.00 WHIP with a 25-to-10 strikeout-to-walk rate over 33 frames in his past five starts.
And because his team is in the middle of a playoff chase, there's more motivation for him to keep turning in strong performances—like Friday's outing, his first career shutout—to help the O's get to October.
9. Josh Rutledge, 2B/SS, Rockies (18.1 Percent Owned)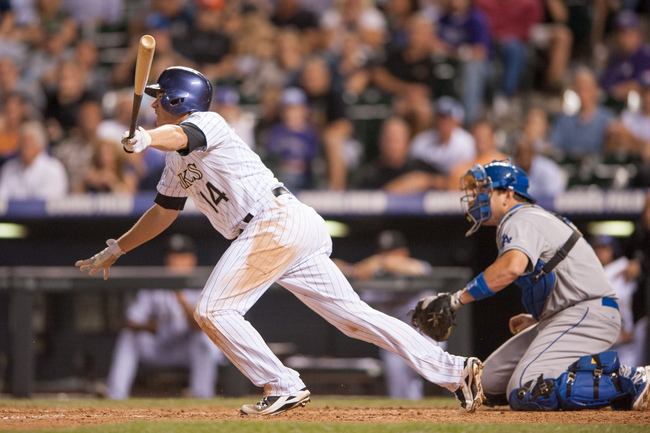 Dustin Bradford/Getty Images
One of 2012's late-season waiver wire gems, Josh Rutledge hasn't had nearly as much success in 2013.
The 24-year-old lost his job as the Colorado Rockies second baseman early on and was sent to the minors for a few months, forced to watch as DJ LeMahieu held down the gig.
But the September roster expansion may be just the thing Rutledge needs to get things back on track and return to fantasy relevance as a middle infield option. He's seeing some action at the keystone and has eight hits in 15 at-bats (.471), including a home run, while also swiping a pair of bases in just six games since returning.
8. Stephen Drew, SS, Red Sox (46.2 Percent Owned)
Frankly, any readily available member of the Boston Red Sox offense should be considered as a pickup this week.
The Red Sox hitters are rolling—57 runs in their past five games—so if you can get any piece of the action, do it. Drew is a good example, as he's notched a pair of home runs and doubles apiece, as well as six RBI, since September started.
For the season, he's hitting around .250 with 12 homers and 59 RBI, which isn't half bad if you need help at shortstop.
7. Billy Hamilton, SS/OF, Reds (22.7 Percent Owned)
Really, you should just watch the video above and appreciate the fact that even though Billy Hamilton has yet to get a plate appearance in the major leagues, the 23-year-old—who has shortstop eligibility in some leagues—has used his ridiculous wheels to swipe four bases and score three runs already.
6. Dan Straily, RHP, Athletics (12.5 Percent Owned)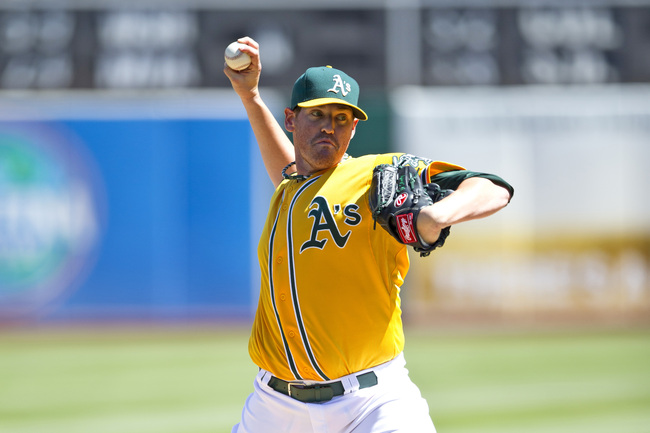 Jason O. Watson/Getty Images
The 24-year-old rookie still has the occasional hiccup, and he does have to pitch in Texas this week, but Dan Straily has been very good since the start of July.
In the 12 starts he's had since that month started, Straily has put up a 3.33 ERA, 1.29 WHIP and 7.5 K/9.
After facing the Rangers, the A's finish up the season against the Angels, Twins and Mariners, so Straily could line up a few nice matchups in the fantasy playoffs.
5. Andrew Cashner, RHP, Padres (8.5 Percent Owned)
So this is what a healthy season from Andrew Cashner looks like?
The 26-year-old has thrown 151.1 frames for the San Diego Padres this year, and he's achieved his 3.45 ERA and 1.24 WHIP by being pretty consistent: Since the end of May, Cashner has allowed more than three earned runs only once.
Sure, the 6.4 K/9 isn't quite what many hoped—or want—from a guy who throws as hard as Cashner does, but when seven of his past eight starts are quality ones, can you really complain that much?
4. Tyson Ross, RHP, Padres (25.2 Percent Owned)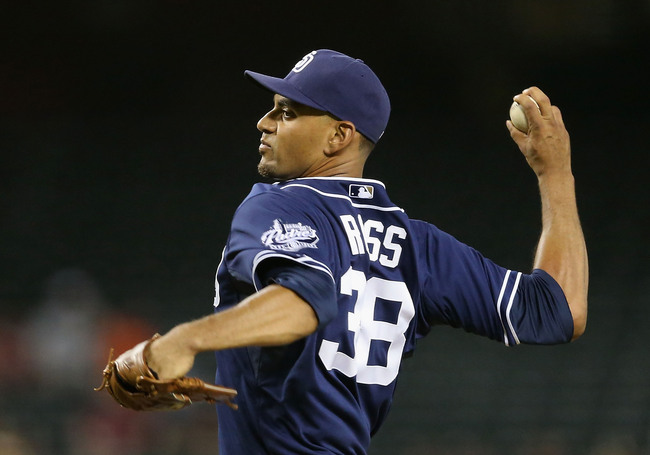 Christian Petersen/Getty Images
Tyson Ross, Cashner's rotation mate, has been equally impressive and even more out-of-nowhere this season.
The 26-year-old bombed out as a member of the Oakland Athletics, but he's revived his career in lovely San Diego, posting a remarkable 2.49 ERA and 1.09 WHIP in 12 starts. Even better? Ross has whiffed 75 in 72.1 innings.
Petco Park—even with the shortened fences this year—really does do wonders for pitchers.
3. Michael Wacha, RHP, Cardinals (20.5 Percent Owned)
Michael Wacha, a 22-year-old rookie drafted only 15 months ago, was simply superb Sunday in a very intense situation.
His two-hit, seven-inning shutout against the Pittsburgh Pirates helped the St. Louis Cardinals stay ahead of the Bucs for the NL Central lead. That he also brought his ERA and WHIP down to 2.72 and 1.04, respectively, was just the icing on the cake.
In case you need any more motivation to add him, next time out, Wacha is due to face the Seattle Mariners.
2. Sonny Gray, RHP, Athletics (40.7 Percent Owned)
Sonny Gray has made six big league starts and been brilliant in five of them.
The other one was a complete dud in which he surrendered eight hits and six earned runs in only 3.1 innings on the road against the heavy-hitting Orioles. So what?
The 23-year-old still owns a 2.77 ERA and 1.03 WHIP as a starter, to go with a sporty 38-to-10 strikeout-to-walk ratio in his 39 innings.
His next turn comes against at the Twins. Sign up now.
1. Matt Adams, 1B, Cardinals (7.6 Percent Owned)
It's not every day a fantasy owner can pick up a bat with big-time potential who'll hit in one of baseball's very best lineups at this stage of the season.
But that's exactly the case here with Matt Adams, who should be taking over the first base job for the St. Louis Cardinals over the next few weeks.
Adams, a 25-year-old rookie, is being inserted into said cushy situation because of Allen Craig's sprained left foot, an injury that is expected to keep him out, possibly until the last week of the 2013 season, as Rick Hummel of the St. Louis Post-Dispatch reports.
While he's cooled some after a hot start to the year as a backup, Adams still has 11 doubles, 11 homers and 38 RBI in under 250 plate appearances—or less than half a season's worth of action.
If you like the idea of adding offense for free, pick up Adams. Stat!
Keep Reading