Atlanta Falcons vs. New Orleans Saints: Full Report Card Grades for Atlanta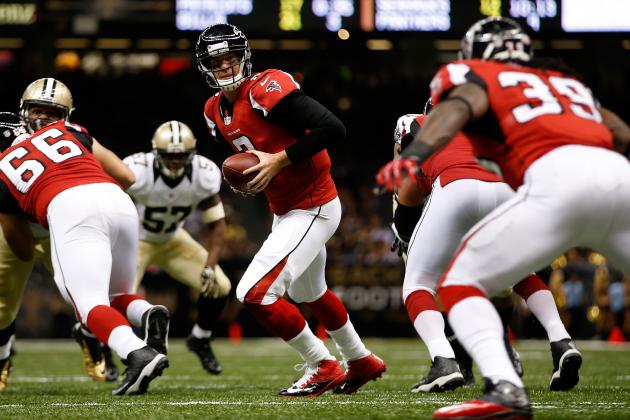 Chris Graythen/Getty Images

The Atlanta Falcons have begun the 2013 season where they left off the last time we saw them play a meaningful football game: a few yards short of a win. For the seventh time since 2008, the Falcons dropped a game to the Saints by a touchdown or less.
With so many weapons on offense, how did Atlanta manage just 17 points? Which players exceeded expectations? Which players left more to be desired with their performance?
We broke down Sunday's game film to help answer those questions and offer our game grades for each position group on Atlanta's roster. Each position group will receive an overall grade, as well as an analysis of the good, the bad and the ugly from each unit's respective play against the Saints.
*All game stats courtesy of NFL.com.
Begin Slideshow

»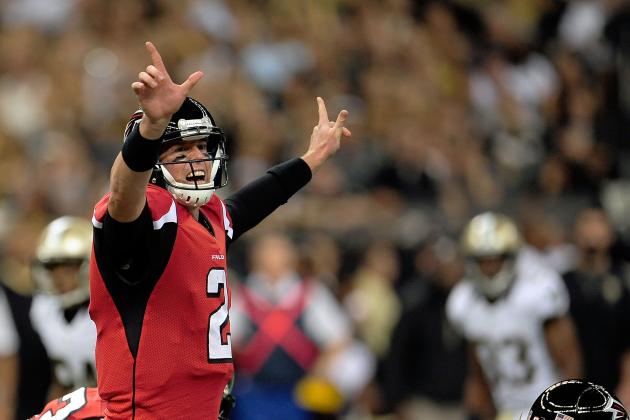 Stacy Revere/Getty Images

Unit Grade: B
1. Matt Ryan
25-of-38, 304 yards, two touchdowns, one interception
The Good: In a rare moment, Ryan displayed some improvisation skills outside of the pocket when he hit Tony Gonzalez on the run for the first touchdown of the game, and Ryan's only interception came on a tipped pass in the end zone that Tony Gonzalez had a shot at. Moreover, Ryan didn't seem to lose his composure, despite the crowd noise and the number of hits he was taking.
The Bad: Ryan faced constant pressure, but the quarterback has to take some of the blame when his offense only scores seven points in three quarters.
The Ugly: It is tough to label anything that Ryan did on Sunday as "ugly" given the beating that Ryan took from Rob Ryan's defense.
Chris Graythen/Getty Images

Unit Grade: B-
11 carries, 77 yards; five receptions, 45 yards
2. Jacquizz Rodgers
Two carries, -1 yards; one reception, three yards
3. Bradie Ewing
One reception, 15 yards
The Good: Steven Jackson made his presence felt on the ground and through the air. His 50-yard run in the third quarter set up Atlanta's last touchdown. Bradie Ewing made his regular season debut with a 15-yard catch that netted a first down.
The Bad: Jacquizz Rodgers was a non-factor, and it doesn't look like the team has figured out which role Rodgers will play now that Jackson is in town.
The Ugly: Steven Jackson may have added another dimension to this offense with his receiving skills, but Jackson dropped the potential game-winning touchdown pass on a third-and-goal from the New Orleans' 3-yard line. Yes, it would have been a contested catch, but Atlanta is going to get to need Jackson to win those kind of one-on-one battles if they want to improve in the red zone.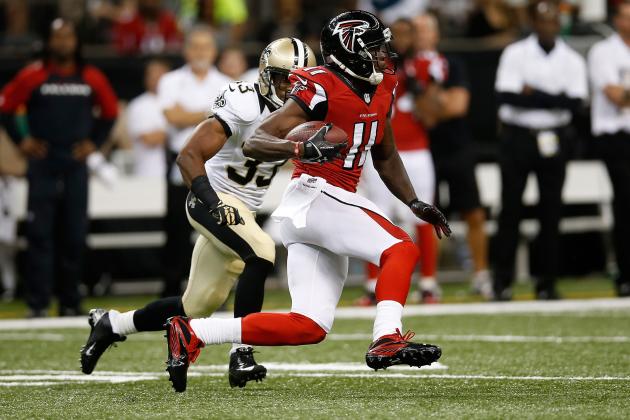 Chris Graythen/Getty Images

Unit Grade: B-
1. Julio Jones
Seven receptions, 76 yards, one touchdown, one fumble lost
2. Harry Douglas
Four receptions, 93 yards
3. Roddy White
Two receptions, 19 yards
The Good: Harry Douglas flashed the big-play ability that many Falcons' fans have been waiting for on his 50-yard first quarter reception that set up the Atlanta's first score. With Roddy White being used as a decoy, Julio Jones played like a No. 1 receiver and made some chain-moving catches. Kudos to Roddy White for giving it a go on his bum ankle, as his contribution isn't fully reflected on the stat-sheet.
The Bad: Aside from the issues in protection, the Falcons' receivers have to shoulder some of the blame for the team scoring just seven points in three quarters.
The Ugly: Julio Jones' second quarter fumble (after a 22-yard gain) that Saints safety Roman Harper recovered completely changed the game's momentum at that point. At first, the catch and run looked like the start of a promising drive that would end with Atlanta building upon its 10-3 lead. Instead, the Saints took advantage of the turnover and tied the game at 10 with a touchdown pass from Drew Brees to Marques Colston.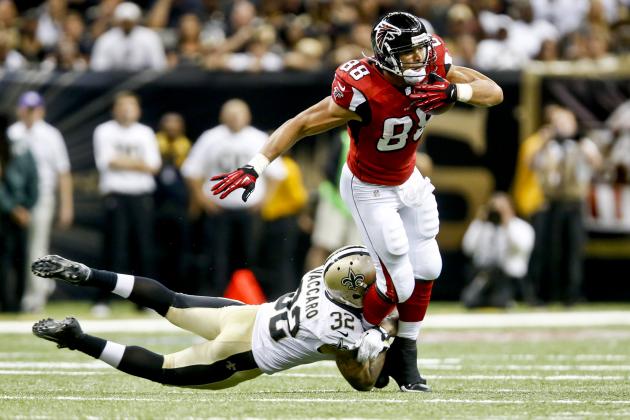 Derick E. Hingle-USA TODAY Sport

Unit Grade: C+
1. Tony Gonzalez
Three receptions, 36 yards, one touchdown
The Good: Gonzalez got involved early by catching the first touchdown of the season from Matt Ryan. His other two catches both went for first downs.
The Bad: Even though Kenny Vaccaro tipped the ball on Matt Ryan's 4th-and-goal pass intended for Gonzalez, replays show that Gonzalez still got both hands on the ball briefly. Like we said with Steven Jackson on the third-and-goal play from this same drive, it would have been a tough, contested catch, so it's tough to knock Gonzalez for it. However, in this case, we've seen him make those kinds of plays before.
The Ugly: Gonzalez whiffed on a block against Junior Galette late in the second quarter, which led to a sack and cost the Falcons a shot at executing their two-minute drill for a field goal that would have tied the game before the half ended.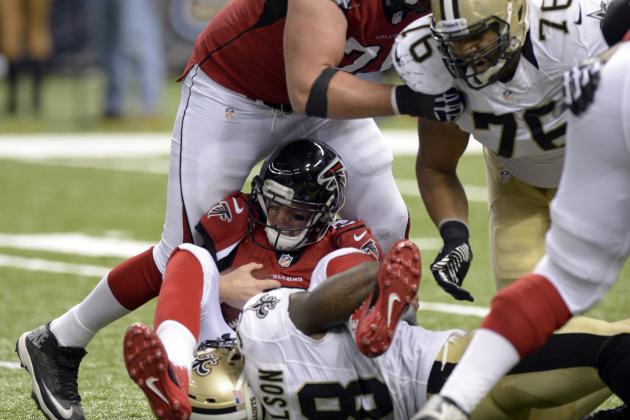 John David Mercer-USA TODAY Spor

Unit Grade: F
1. LT Sam Baker
2. LG Justin Blalock
3. C Peter Konz
4. RG Garrett Reynolds
5. RT Lamar Holmes
The Good: Matt Ryan is still in one piece and Atlanta still had a shot to steal this game in the end, despite how poorly its offensive line played. One of the few highlights for the group was springing Steven Jackson's 50-yard run in the third quarter.
The Bad: Not necessary for this group. Please see "The Ugly".
The Ugly: Three sacks, six quarterback hits allowed and an untimely holding penalty by Sam Baker highlight the "ugly." It's tough to blame the crowd noise too much, either, because the unit didn't have any false start penalties. To make matters worse, this group put together this performance against a New Orleans team that was playing without three of its top projected pass-rushers (Will Smith, Martez Wilson and Victor Butler). Due the pressure Ryan faced, Atlanta's offense probably left at least 14 points on the field.
Chris Graythen/Getty Images

Unit Grade: C
1. Osi Umenyiora
One tackle
2. Corey Peters
Three tackles, one sack
3. Jonathan Babineaux
One tackle
4. Peria Jerry
One tackle, one sack
5. Kroy Biermann (also played linebacker)
Five tackles (total)
The Good: This unit did a great job of moving the line of scrimmage back to help the defense stop New Orleans on fourth-and-inches in the first quarter. The defensive line also had a nice series on the Saints' three-and-out to start the second half.
The Bad: When you're playing Drew Brees, you have to disrupt his rhythm more than the Falcons did on Sunday. He looked too comfortable in the pocket.
The Ugly: Although he helped on Peria Jerry's sack, it was a relatively quiet debut for Osi Umenyiora.
John David Mercer-USA TODAY Sports

Unit Grade: C+
1. Sean Weatherspoon
Seven tackles
2. Akeem Dent
11 tackles
3. Kroy Biermann
Five tackles (total)
The Good: The linebackers did their part to help limit the Saints to 78 yards on the ground and hold their star tight end Jimmy Graham to a modest four receptions for 45 yards.
The Bad: As a product of the coverage, Akeem Dent got caught on Marques Colston and couldn't find the ball when Drew Brees hit Colston to tie the game at 10.
The Ugly: Darren Sproles (six receptions, 88 yards) still managed to be a thorn in this unit's side. He ran by Sean Weatherspoon for a 32-yard reception that set up the Saints last field goal.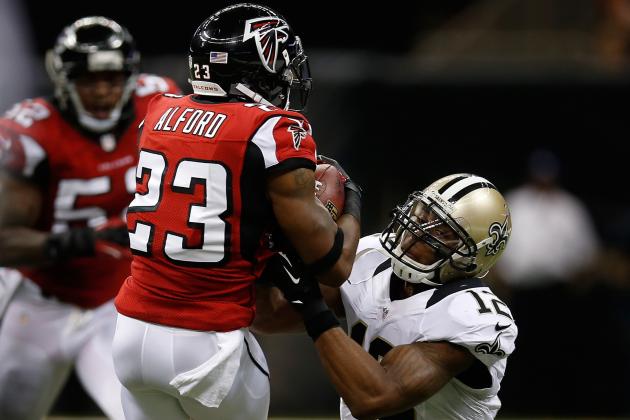 Chris Graythen/Getty Images

Unit Grade: B-
1. S William Moore
Eight tackles
2. S Thomas DeCoud
Seven tackles
3. CB Robert McClain
10 tackles
4. CB Desmond Trufant
Five tackles
5. CB Robert Alford
One assisted tackle, one interception
The Good: The defense gave up some yards, but in the end, they only allowed 23 points. That's a respectable outcome for this young group of corners against Drew Bees and Sean Payton on the road. Robert Alford made a textbook break on the ball on his interception, and he also had a nice hustle play on Kenny Stills' 67-yard catch and run, when he caught and tackled Stills from behind to prevent a touchdown.
The Bad: William Moore's dropped interception on the Saints' go-ahead drive in the third quarter proved to be costly. That's a play you need to make if you want to win a divisional game on the road.
The Ugly: The secondary took away the big play, except for Kenny Stills' 67-yard reception in the second quarter. That catch probably shouldn't have gone for as many yards as it did.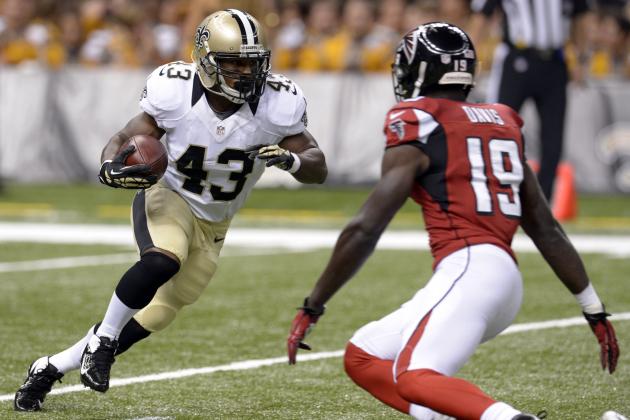 John David Mercer-USA TODAY Spor

Unit Grade: B+
After a shaky preseason, the Falcons special teams coverage units kept Darren Sproles from igniting the crowd with any big returns, and kicker Matt Bryant connected on his only field goal attempt. It was an overall solid showing from Keith Armstrong's group.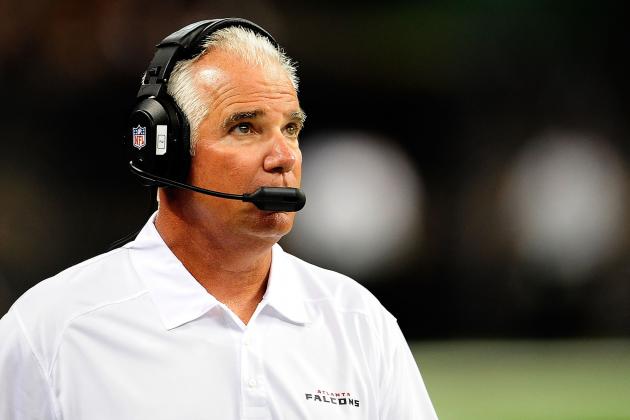 Stacy Revere/Getty Images

Unit grade: C+
The Good: Mike Smith had the team ready to play, as they came out in the first quarter and took the momentum. The Falcons also came out sharp after the half.
The Bad: The late-game issues in the red zone continued for the Falcons, and for a third-straight year, these issues proved to be detrimental for Atlanta. The Falcons burned two timeouts and still couldn't find the end zone. Should Steven Jackson have received a carry on first or second down against a tired group of Saints?
The Ugly: Mike Smith is now 3-8 against the Saints and 2-7 versus Sean Payton. Seven of those eight losses have come by a touchdown or less. Smith needs to shake whatever hex Payton has on him.