Mesut Ozil's days as Real Madrid's creative influence are over. His £42 million switch to Arsenal came as a shock to many—and his absence will surely be felt. But, with several new additions to the squad, Los Blancos will attempt to plug the hole left by the German through a variety of attacking options.
The reaction to Ozil's departure speaks volumes about his ability. From Cristiano Ronaldo to Sergio Ramos, Madridista's everywhere expressed their anger about the sale of the team's leading assist man.
In fact, Ozil's assist tally over the last few seasons puts him on top of Europe in the category.
Despite the playmaker's undeniable influence, Real Madrid have the versatility to replace him with ease. A quick look at their team sheet will reveal a wealth of creative options, and a number of players will combine to pick up the slack.
Modric had some memorable contributions last season.
Let's start with Luka Modric. The diminutive Croatian was brought in last summer with a lot of promise and showed glimpses of his abilities during last campaign. Due to injuries and Ozil's dominating presence, Modric found a regular role in the double pivot in the center of the pitch.
Just three goals and three assists in La Liga last season don't accurately represent his contributions to the side. Rather than playing the final ball like Ozil, Modric was better at spreading possession around from a bit deeper in the park. Though his style of play differs greatly from Ozil, his expanded influence this year will surely replace some of the Arsenal signing's production.
Angel Di Maria doesn't get enough credit. The wiry winger is proficient at cutting in from the right side and wreaking havoc on the opposition. The 25-year-old has recorded 12 goals and 21 assists in the last two league seasons, making the Argentine one of Madrid's top statistical contributors. He is predominately a wide player, but his accumulation of assists will be necessary for a smooth transition to life sans Ozil.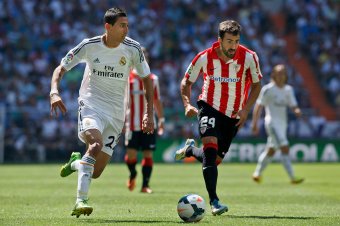 Gonzalo Arroyo Moreno/Getty Images
The arrival of Gareth Bale is another obvious option to fill the gap.
Bale was an integral part of Tottenham's push for fourth place in the Premier League last season, though ultimately the club fell short. The left-footed Welshman exploded for 21 goals and four assists last year, playing largely in a free attacking role. Madrid's biggest signing of the summer should help Madridistas forget about Ozil before long.
The heir to the creative throne, however, likely rests with Isco.
The former Malaga midfielder is off to a blistering start, scoring three and notching an assist in his first three outings for Madrid. At just 21 years of age, Isco's best years lie ahead. Though he is capable of playing anywhere in the attack, his tendency to distribute through the middle will give Los Blancos an exciting future.
Isco's influence will prove critical to Madrid's success this season. The loss of Mesut Ozil leaves a mammoth-size hole in the attack, but the club's surplus of creative talent should be enough to plug the gap.