Cowboys and Giants Play Ugliest Game of Day as New York Commits 6 Turnovers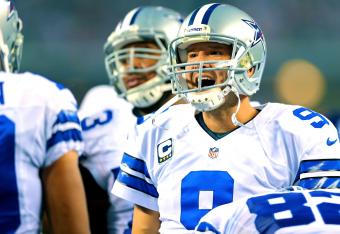 On the Dallas Cowboys sideline, tight end Jason Witten puked. Anyone watching the Cowboys and the New York Giants beat each other to a bloody pulp knew it was the perfect metaphor for the worst-played game of the first Sunday of the NFL season.
This game, a 36-31 Cowboys win in Dallas, was the ugly undercard of the NFC East main event Monday night between the Philadelphia Eagles and Washington Redskins. New York coach Tom Coughlin called the first half one of the worst he's ever seen. He wasn't kidding. Running back David Wilson, deemed a future star by some idiot, fumbled twice. He played like the football was covered in Soul Glo.
At least he didn't cry this time.
Wilson became the first Giants player to lose two fumbles in a game since Tiki Barber in 2004. Barber was once plagued by ball security issues, but Wilson's problems seem worse. Coughlin can't make him go to confession, say 100 Tiki Barbers and cut him. He's stuck with Wilson for now because the other options might be worse (and he was the first-round pick in 2012, after all).
So here we are after Week 1. The good: San Francisco looked electric. The bad: Cleveland is still Cleveland. The ugly: the NFC East.
It's so early in the season that making sweeping judgements is dangerous, but what was scary for these two teams was that they resembled the same unreliable bunches we saw last year. The Cowboys are still an aggressively mediocre franchise, while the Giants look like they took a step back. New York had six soul-crushing turnovers. Six (versus Dallas' one).
It would be silly to hand over the division to Washington after one week of play—and we still haven't seen if Robert Griffin III's knee is sturdy enough to withstand anything beyond James Andrews' glares—but it's impossible to have any confidence, for the moment, in either New York or Dallas.
The Giants made their obligatory comeback, forcing what looked to be a blowout into a 30-24 game with under nine minutes left when Victor Cruz caught his third touchdown, the game's only true highlight. You could indeed feel all of the sphincters tightening in Texas.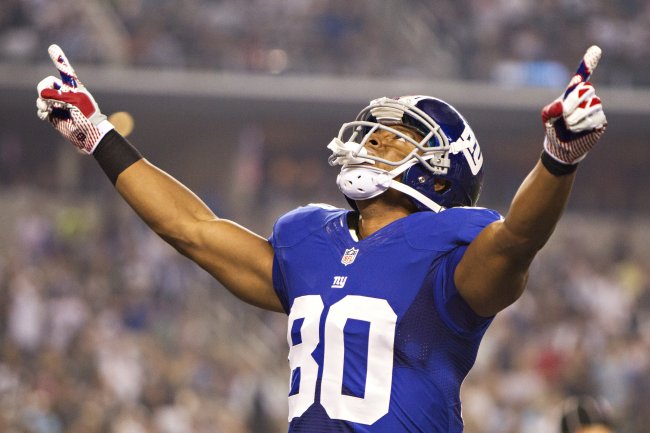 Wesley Hitt/Getty Images
Then, with minutes remaining and the Giants driving, Eli Manning's pass skipped off the paws of running back Da'Rel Scott and was intercepted by Cowboys cornerback Brandon Carr for a score. It was a fitting end, even if the true end only came after another Giants touchdown and a failed onside kick.
You can talk about the other sloppy games on the day, but none of them featured a single team turning the ball over six times. That tied for the most in franchise history in a quarter-century.
There will be some who say that Monte Kiffin's defense is the reason the Giants committed those miscues. There is certainly something to the notion that the Cowboys should be credited with the turnovers.
But it was more about what Coughlin called the Giants' "total disregard, the carelessness" for protecting the football, per Stephen Hawkins of the Associated Press.
"I'm totally, totally disappointed, embarrassed by that kind of football," Coughlin told reporters after the game.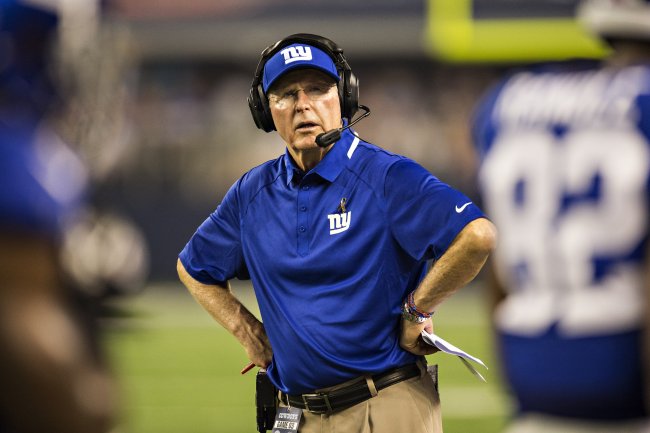 Wesley Hitt/Getty Images
He should be. Coughlin has preached ball security for some time, and still this happens with the Giants.
Yet look at the Cowboys. The Giants almost beat them despite those six turnovers and Dallas' two defensive TDs. The Cowboys had to hold on to the last second.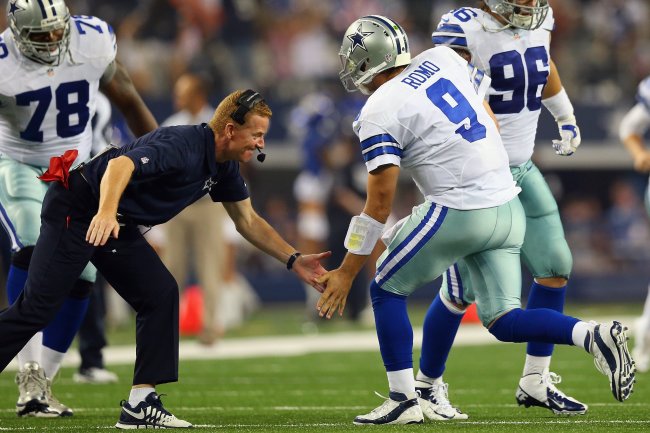 Ronald Martinez/Getty Images
Coughlin wouldn't commit to starting Wilson next week. Of course not—Coughlin can't commit to letting Wilson drive an ice cream truck.
This was ugly. This was uglier than your typical NFC East game. Somewhere, RG3 is laughing hysterically. Maybe Chip Kelly, too.
Or maybe they were tossing their lunch like everyone else watching this game.
This article is
What is the duplicate article?
Why is this article offensive?
Where is this article plagiarized from?
Why is this article poorly edited?