Raiders vs. Colts: Full Roster Report Card Grades for Indianapolis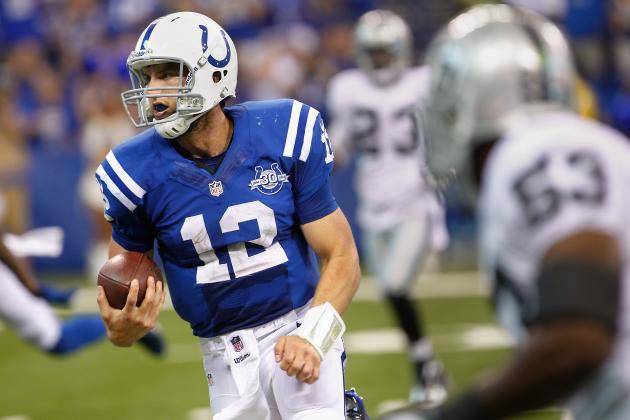 Michael Hickey/Getty Images

The Indianapolis Colts got a win over the Oakland Raiders on Sunday afternoon in Indianapolis but failed to impress much of anybody in the 21-17 win.
The Colts needed some late-game heroics from second-year sensation Andrew Luck, and the defense was even more sieve-like than anybody wanted to admit. There were a few strong performances, but overall, there were far more questions than answers coming out of the win.
So who played well, and who was a goat? Find out in this week's edition of game grades!
Begin Slideshow

»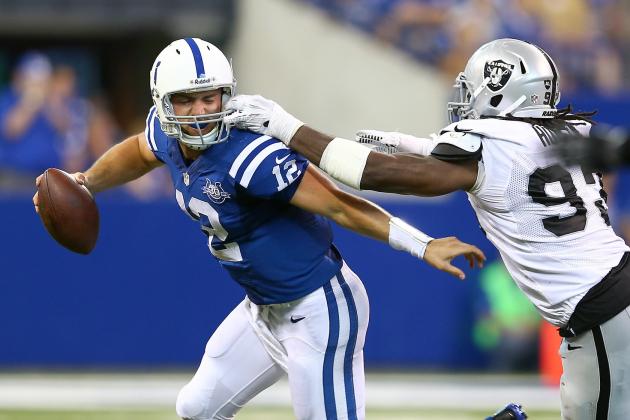 Andy Lyons/Getty Images

Andrew Luck: A
The only negative for Luck during the Colts' win over Oakland was the four sacks that he took. While the offensive line certainly did Luck no favors (seem familiar?), Luck held on to the ball a bit too long, resulting in losses that should not have happened.
Overall, however, Luck was brilliant. On the Colts' first two drives, Luck didn't have a single incomplete pass, leading the Colts to two straight touchdowns.
Luck finished with 18 completions on 23 attempts for 178 yards and two touchdowns. He also added 38 yards and a touchdown on the ground, the game-winning 19-yard run. Luck finished as the top quarterback in ESPN's QBR, as well as third in Advanced NFL Stat's WPA (Win Probability Added) and fifth in EPA (Expected Points Added).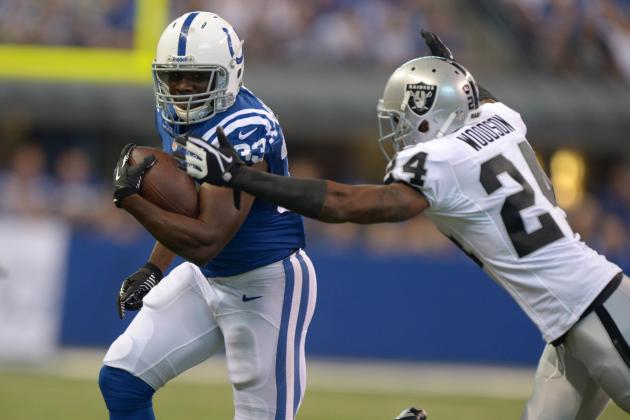 Kirby Lee-USA TODAY Sports

Vick Ballard: B
The Colts needed a boost in running with the renewed focus under offensive coordinator Pep Hamilton. Ballard tried to provide that, picking up 63 yards on just 13 carries, a 4.8-yard average. Ballard's success rate was 46 percent, a decent rate, but the Colts would prefer 50 percent or higher. Ballard was successful on one of his five second-half carries, a big reason why the Colts' drives stalled.
The newest Colt in the running back corp was less than impressive in his debut. It seems that the Colts are still holding him back due to injury, as they played him for just 15 snaps. Bradshaw finished with just seven carries for 26 yards, a 3.7-yard average. His success rate was even worse, finishing with a success rate of just 14 percent rushing the ball.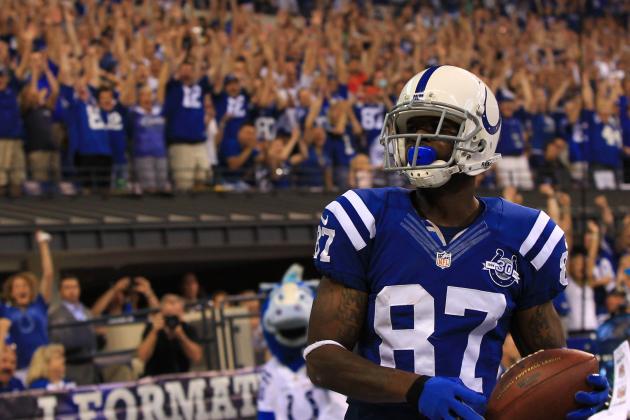 Pat Lovell-USA TODAY Sports

Reggie Wayne: A+
Showing that he's not going to be outdone by the younger, prototypical No. 1 wide receivers, Wayne was Luck's go-to receiver once again, catching eight passes on eight targets for 96 yards and a touchdown. Wayne caught everything (including one spectacular one-handed pass), was consistently open and converted two key third downs.
Darrius Heyward-Bey: B-
Newly-signed Heyward-Bey showed off his toughness in this one, catching a few big passes for 33 yards and drawing an unnecessary roughness penalty on a shot to the helmet. On that same play, Heyward-Bey reached ahead to gain the first down before absorbing the hit, energizing the crowd and extending the drive, which ended in Luck's game-winning touchdown.
T.Y. Hilton: C-
Hilton wasn't as active as some thought he might be in this one, as Hamilton favored two-WR sets. Hilton was on the field for just 25 snaps, and caught three passes on five targets for 20 yards.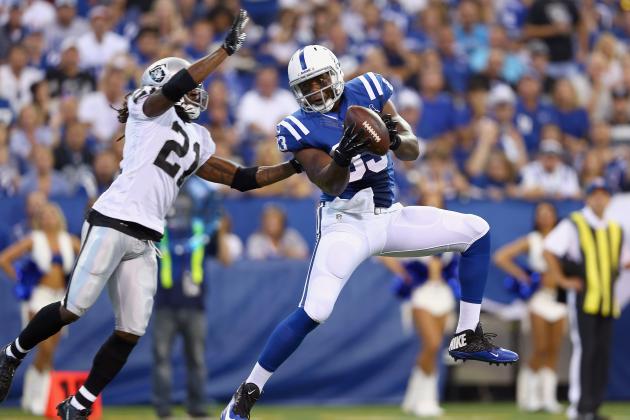 Andy Lyons/Getty Images

Dwayne Allen: B
Allen contributed as a blocker, and was strong, but his most noticeable play came early in the second quarter with a 20-yard touchdown pass. Allen caught the ball in traffic and fought through contact for the touchdown. The offense looked much more efficient when Allen was on the field, so the hip injured in the third quarter is a bit concerning.
Coby Fleener: D
Fleener didn't make any noticeable impact on the game, not sticking out in run blocking and catching just one pass for seven yards.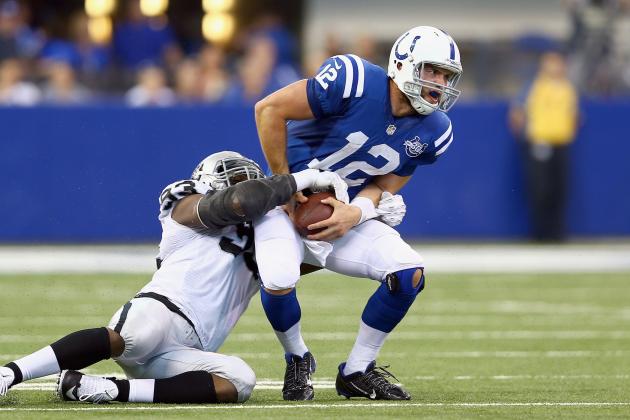 Andy Lyons/Getty Images

Anthony Castonzo: C+
Castonzo did a decent job for most of the game, but had some troubles with Justin Houston and some communication issues with both Donald Thomas and running backs that allowed for pressure on Luck.
Donald Thomas: B-
Thomas run blocked well, and kept Luck clean for the most part. He did allow a few linemen to get around him to the outside a few times, and he didn't always pull well enough to be effective on guard-pulling plays.
Samson Satele: C-
Satele was asked to double-team players more often than not, but still allowed pressure on too many plays, including Luck's second touchdown pass. Satele has to be able to consistently maul people in the run game if he's not going to pass block well, and I don't see that happening.
Mike McGlynn: D+
Easily the Colts' weakest link, Indianapolis tried to hide McGlynn as much as possible, but he still got pushed back into Luck's face too often and couldn't pave the way in the running game.
Gosder Cherilus: C
Cherilus was a decent pass protector in this one, not having any huge gaffes but allowing a few pressures around the edge, and wasn't effective in the run game.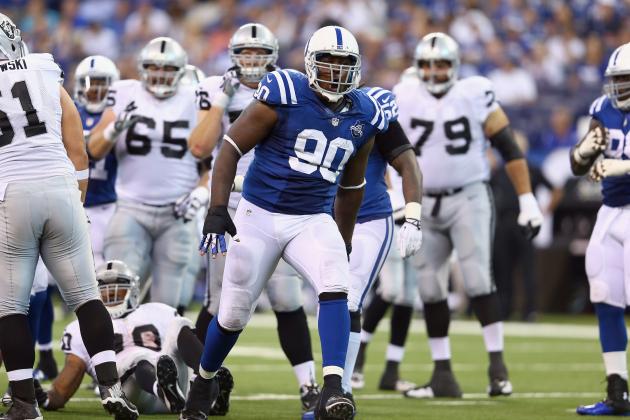 Andy Lyons/Getty Images

Cory Redding: B
One of the Colts' few pass-rushing defensive linemen, Redding finished with three run stops and and picked up a QB hit as well.
Ricky Jean Francois: D+
Aubrayo Franklin: D+
The two free-agent signings were strong against the run, helping to limit Darren McFadden to just 48 yards on 17 carries. Unfortunately, in the area the Colts could have really used s boost (pass rush), the two failed to show up all game.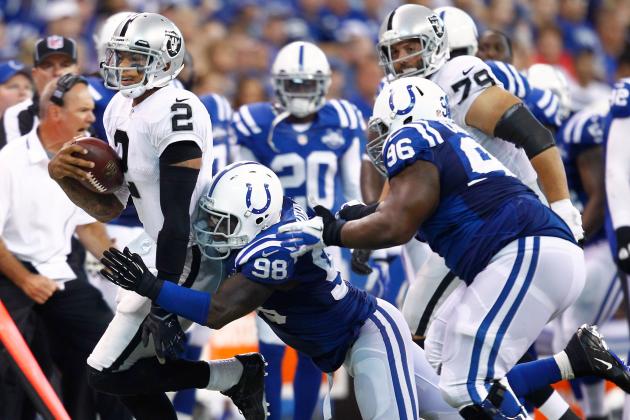 Michael Hickey/Getty Images

Robert Mathis: C+
Mathis finished with one sack, a key one at the end of the Raiders final drive. But he struggled to get pressure outside of that play and wasn't particularly strong against the run.
Bjoern Werner: D
The Colts' 2013 first-round pick did get into the backfield on a couple plays, but failed to notch a single defensive tackle or sack. Werner's inexperience got him trapped inside on a few running plays to the outside, but it was the lack of pass rush that really hurt Indianapolis.
Erik Walden: D+
Walden was slightly more active than Werner, but still failed to make any impact in the backfield at all. He was consistently fooled by Terrelle Pryor and could not track him well Sunday afternoon.
Jerrell Freeman: B
Freeman picked up where he left off in 2012, earning 10 tackles. Overall, he showed exceptional range and covered well too.
Kelvin Sheppard: C-
Sheppard didn't renew anyone's faith in this one as he replaced Pat Angerer and his replacement, Kavell Conner, in the starting lineup. Sheppard allowed too much separation in coverage but was decent in run support.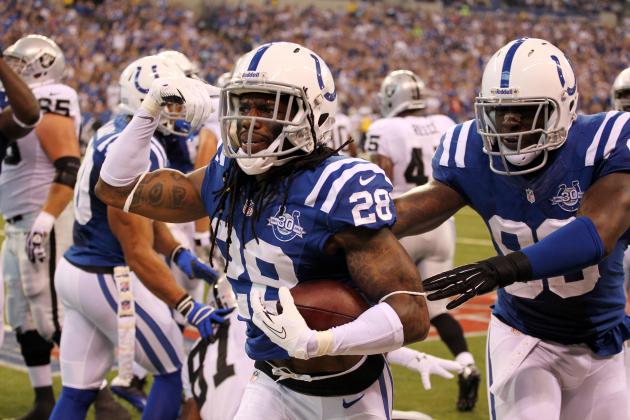 Brian Spurlock-USA TODAY Sports

Vontae Davis: B-
While the Colts secondary can't cover forever, the Colts made some poor decisions that allowed the Raiders to extend drives. Davis needs to play closer to the line of scrimmage with his press-man skills and good size.
Greg Toler: B+
Toler is every bit the ball hawk that he was advertised to be, picking off Terrelle Pryor in the end zone and knocking down two other passes. He did allow a few completions that he shouldn't have, but that's what you get when he only is in the game for 25 plays.
Darius Butler: A-
The Raiders game plan didn't call for a nickel corner on every down, and when Butler was brought in, they didn't pick on him.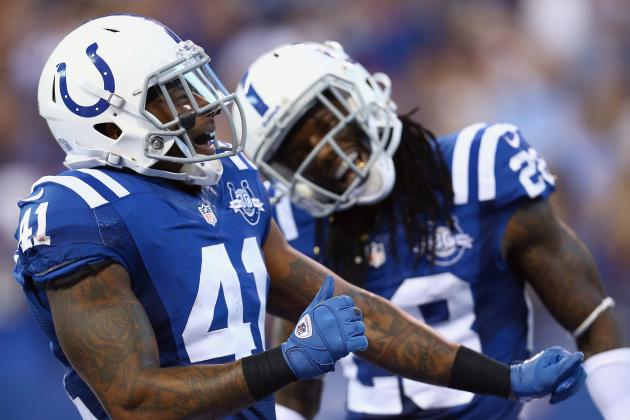 Andy Lyons/Getty Images

Antoine Bethea: B
Bethea filled his new role well, playing like a new man with a solid partner next to him. The veteran safety was all over the field, supporting the run and taking advantage of Pryor's inexperience to earn a pick, saving the game for Indianapolis.
LaRon Landry: B+
The Colts got their first live glimpse at Landry on Sunday and came away impressed.
Landry earned tackles all over the field, picking a team-high 15 tackles as well as a pass defensed. Landry was extremely energetic and was a force against the run and the pass. He showed off his big-hit ability and forced an incompletion in the first half. He did get manipulated by Terrelle Pryor once or twice, but generally helped the Colts contain him.
Andy Lyons/Getty Images

Pat McAfee: C+
McAfee only punted the ball three times, and twice punted less than 40 yards. On one, it was somewhat acceptable, as he pinned the Raiders on their own 15-yard line, but he still had plenty of room to get it farther.
Adam Vinatieri: A
The veteran kicker wasn't tested on Sunday, but was three for three on extra points.