Biggest Hits in World Rugby This Week, Leinster Return with Physical Edge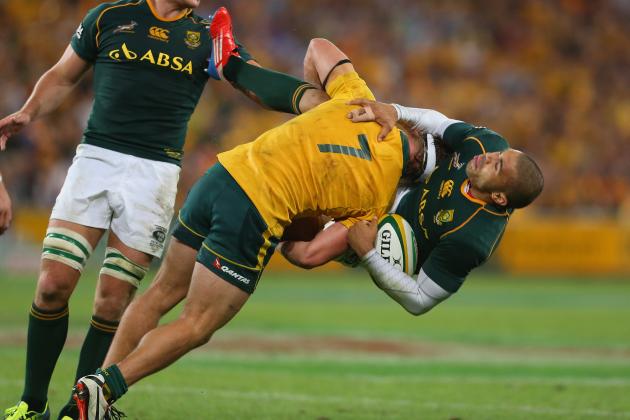 Mark Kolbe/Getty Images

With the return of both Aviva Premiership and RaboDirect Pro 12 competitions this week, we arguably have the most well-rounded offering of global rugby we could ask for.
Piled on top of the Rugby Championship, Top 14, Currie Cup and ITM Cup competitions, it's hard to stray far on the weekends without finding some high-quality rugby in one's midst.
And with that standard of rugby comes some of the most physical collisions known to sport, the biggest of which from this week have been chronicled ahead.
Begin Slideshow

»
Coming off the back of a two-trophy campaign last season, Leinster have as much pressure as any Celtic side to live up to expectations.
In the absence of some of their star players, it was Brendan Macken who deputised for Brian O'Driscoll at outside centre and was a constant bane to the Scarlets' defence.
One particular player who had to deal with that onslaught was Gareth Owen who, as one can see from the video above, didn't quite match up to the test.
*Collision occurs at 2:30 mark on video.
Having a reliable No. 8 at the base of one's scrum is never a bad thing and in Carel Greeff, Griquas would appear to have a presence they can fall back on.
Although his side may have gone on to lose the Currie Cup clash 38-32, the 23-year-old can at least say he kept his side in the match for the most part.
Crashing over from short range, it looked as though there was no stopping Greeff once he had the white line in sight this weekend, bulldozing everything in sight out of his way.
Another aggressive highlight from Leinster's triumph over Scarlets this weekend came as a result of much more recognisable attacking play than Macken's simple carry mentioned earlier on.
This time, it was Darren Hudson who got a little overeager in his attempts to win the aerial duel for Jimmy Gopperth's cross-field kick, taking out Liam Willams in the process.
The clash sparked an understandably outraged reaction from the Llanelli crowd just before the Leinster man was shown yellow for the offence.
The ITM Cup brings together some of New Zealand's finest provincial talent and, true enough to reputation, some of the strongest carriers of the ball in southern hemisphere rugby.
This weekend saw Auckland storm to a 51-15 victory over Taranaki and continue their run as one of only two sides who are still unbeaten in this summer's competition.
While the Amber and Blacks' defence could have been more stubborn, one can't hold it against Patrick Tuipulotu for taking full advantage of his surroundings.
The Auckland lock not only made his own hole in the Taranaki line but proceeded to prise that hole wide enough to bring his whole team into the attack.
Another routing in this weekend's ITM Cup came at Trafalgar Park where Otago fell victim to Tasman's top-of-the-table form.
Clearly frustrated with how things were going for his side, Liam Coltman was sent to cool off for 10 minutes after this tip-tackle offence on a member of the winning side.
Although clearly upset with his punishment, the 23-year-old was rightfully shown a yellow card, regardless of how much it may have satiated the bloodlust of some.
Yet another illegal highlight of this weekend's rugby, Michael Hooper's otherwise impressive performance this weekend was blemished by the dump tackle put in on South Africa's Bryan Habana.
Clearly just that little bit too enthusiastic in wanting to turn the game back in his team's favour, the Wallabies starlet easily won this battle of big versus small, young versus old.
Again, Hooper was sin-binned for his troubles and it was in his absence that the Springboks really started to build their lead in the game, showing just how essential the back-rower is in Australian defence.