Top Storylines for Washington Capitals 2013-14 Training Camp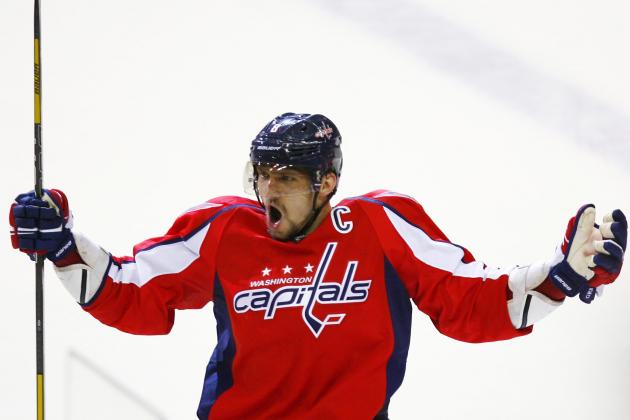 Geoff Burke-USA TODAY Sports

The Washington Capitals open the doors on training camp this Thursday, Sept. 12.
For Caps fans everywhere, Thursday can't get here soon enough.
A lot has happened since the Caps were smoked by the New York Rangers 5-0 at home in Game 7 of the 2013 Eastern Conference Quarterfinals.
Gone from the team are Mike Ribeiro and long-time fan favorite, Matt Hendricks.
Added to the team, however, was Mikhail Grabovski, a man many believe can be even better than Ribeiro was a season ago.
In fact, that last piece of the Caps puzzle, so to speak, was completed when, as reported by The Washington Post, they finally re-signed Marcus Johansson to a two-year, $4 million deal.
Without question, it has been an interesting offseason for the Caps. There have been moments to be rather upset about. Then again, there have been other occurrences about which fans should be excited.
When training camp opens, the Caps will have just 19 days to get ready for opening night in Chicago against the defending champions, the Chicago Blackhawks.
It will be the Caps first regular season game against a Western Conference team since March 25, 2012, when the Caps shut out the Minnesota Wild, 3-0.
Heading into training camp, what will be the big story lines facing the Washington Capitals as they get ready for their first season in the Metropolitan division?
Here are three storylines to keep an eye on as training camp gets going this week.
Begin Slideshow

»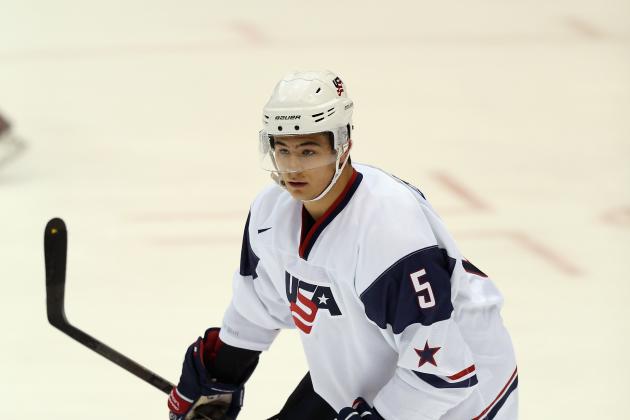 Bruce Bennett/Getty Images
Connor Carrick is a prospect to keep an eye on.
Even though training camp does not begin until Sept. 12, the Caps rookie camp began several days ago on Sept. 4.
On Sept. 9, the Caps rookies will play the Philadelphia Flyers' rookies.
By the time that exhibition is done, much will be known about the Caps prospects and whether there is a place for any of them on the starting roster.
The one player who will probably get the longest look will be Tom Wilson. Wilson, the No. 16 overall pick in the 2012 NHL draft, played in three games against the New York Rangers in the playoffs last season and was rather impressive.
He now wants to earn a permanent role in D.C., and he may very well get that opportunity. At 6'4", 215 pounds, Wilson is a beast, and showed enormous potential in his limited action against the Rangers this past spring.
From a pure skill set, Wilson has many things going for him. He has size, and he knows how to use it. He plays a punishing and physical game. He also knows how to get under the skin of the opposition and can be a bit of an agitator.
If Wilson can be impressive in rookie camp and through training camp, it will be very difficult for the Caps to deny him a roster spot.
But there are other Caps rookies who are also grabbing the attention of the Caps coaching staff.
One of those players is Connor Carrick, a defenseman selected in the fifth round of the 2012 NHL draft by the Caps.
Carrick has made steady progress the past season and a half, progress that has been noticed by Caps head coach, Adam Oates. As Oates told Katie Carrera of The Washington Post recently:
He's one guy that has definitely upgraded, changed and it looks like he's become more than just a junior player to me. I've never been a guy that ever watched junior. It's been 30 years since I was involved in junior; I don't really know what to look for, I'm not exposed to it. I'm used to the NHL, certain size, speed, talent level, and he looks like he's become more of a man, I guess you could say. He looks more ready to play at our level.
Carrick will spend this coming season in the OHL with the Plymouth Whalers. But he has great two-way potential—he led all Whalers defenders with 12 goals last season—and looks like he is turning into a true leader.
If he continues to progress, could he possibly get called up late in the season as Wilson was?
There is also Andre Burakovsky, the first-round draft pick of the Washington Capitals in the 2013 NHL draft, selected No. 23 overall.
Burakovsky will be spending this season with the Erie Otters of the OHL. He is a natural goal scorer and the type of player who commands the puck and wants the puck on his stick. He is a very strong skater and is intelligent as far as his on-ice game is concerned.
It will be interesting to see how he progresses and if he will get any sort of playing time with the veterans before reporting to Erie.
Another defender who might warrant a second or third look from the Caps coaching staff will be Nate Schmidt. Schmidt, a 6'0", 195-pound defenseman, spent this past season with the University of Minnesota and was signed to a two-year, entry level contract by the Caps back in April.
He turned heads at the Caps' recent development camp, and now more is expected of him at rookie camp and possibly beyond. Schmidt will be playing in Hershey this season, but if the Caps defensive corps run into any injury issues, it is conceivable that he could end up with the main club before the season ends.
While Wilson is probably the only Caps rookie with a legitimate chance at making the roster for opening night, there are several prospects who can permanently wedge themselves into the minds of the Caps coaching staff with a strong rookie camp and training camp.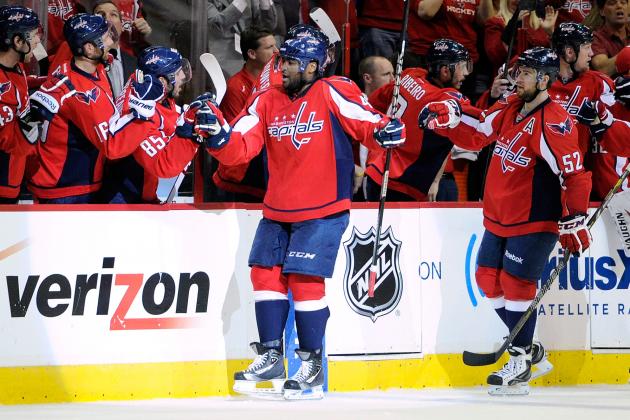 Greg Fiume/Getty Images
Could Joel Ward be on the trading block?
With Marcus Johansson re-signing with the Caps, the top-six looks to be set.
The top line will likely be what it was a year ago with Nicklas Backstrom at center, Alex Ovechkin at right wing (and probably left wing too at times), and MoJo at left wing.
Mikhail Grabovski will be the new second line center and we will see a combination of Troy Brouwer, Martin Erat and Brooks Laich playing on the wing.
The bottom-six, however, is quite up in the air and how this all plays out will be the most interesting story line in training camp.
The discussion about Tom Wilson from the opening slide is poignant here. The problem is that no matter how impressive Wilson might be in training camp or preseason, there just might not be any room for him on the Caps roster—unless someone is moved out, sent down or traded.
This is where things will get very interesting. The Caps have many options as far as their bottom-six are concerned. In all likelihood, head coach Adam Oates will rotate Laich, Brouwer and Erat to the third line from time to time.
The practical effect of this means one less roster spot for players like Wilson, Joel Ward, Eric Fehr, Jason Chimera and Aaron Volpatti. Realistically, there are five players competing for three spots as far as wingers are concerned.
This is why this storyline is, in my opinion, the most fascinating one. It creates a lot of questions and could create some high drama prior to the season opener on Oct. 1.
I suspect the Caps would like to give Wilson a shot. Finding a place for him, however, is another story.
Ward was one of the hardest workers on the team last season but his contract is not the most favorable one on the team. It is possible that he could be traded at some point this season.
Fehr had a decent bounce-back season in 2013. Was it enough for him to get a spot ahead of an up and coming prospect like Wilson?
Chimera had a dreadfully disappointing season in 2013 with just three goals after netting 20 a season earlier. How short of a leash will he be on this season?
Volpatti is an effective checker and adds a level of physicality the Caps need. He won't be breaking any scoring records, but he is essential for what the Caps will need to do in the Metropolitan division.
How will this all play out? Who will make the final roster and who won't.
To me, how the bottom-six plays out is the most intriguing story line that will come out of training camp.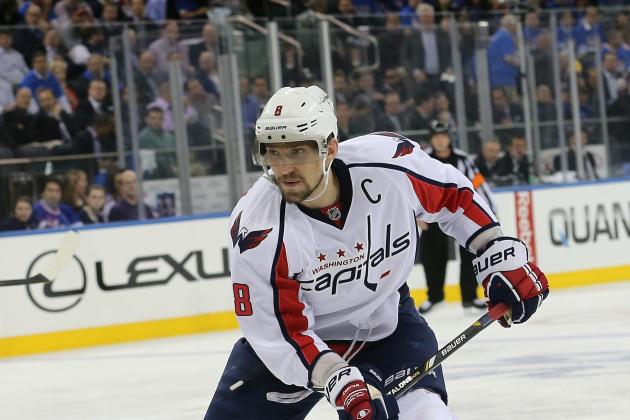 Bruce Bennett/Getty Images
More than ever, the Caps are Ovi's team.
Another interesting storyline to watch in training camp will revolve around Alex Ovechkin and whether he truly takes control of this team.
Ovi is the captain and he been the captain since January of 2010. The Caps are his team. It is up to him to finally get the Caps to that next level.
To a great extent, Ovi finally took the first real steps to stamping his mark on the Caps last season. When head coach Adam Oates wanted to shake things up by putting Ovechkin at right wing, the experiment did not start out so well.
Yet, Ovi stuck with the program and results soon followed. Ovechkin ended up leading the NHL in goals with 32 and power-play goals with 16. It was not just about that though. By sticking with Oates' plan and not trying to undermine him, Ovi sent the message that Oates should be trusted and that his program should be trusted as well.
The end result was a remarkable turnaround for Ovechkin and the team as the Caps rebounded from a dreadful start to win the Southeast division one final time.
As great as that was though, Ovechkin now has to step up and shoulder even more responsibility. He needs to accept the blame for the Caps collapse against the New York Rangers in the playoffs. He must acknowledge that his one goal in the series was not nearly enough.
He must also accept the challenge of firmly re-establishing himself as one of the NHL's elite. He is now a three-time winner of both the Rocket Richard and Hart Memorial trophies. Expectations will once again be sky high for him. Will he rise to the challenge and cement his status as one of the best in the world...or will he wilt under the pressure?
Ovechkin must also be on the front lines to make sure his team is prepared to compete in what looks like it could be the most difficult division in the NHL this season. Gone are the days of the Caps feasting on the road kill that was the Southeast division. The Metropolitan division is another animal entirely.
Ovechkin has to make sure the Caps do not get off to another bad start. In a division that will also have the Pittsburgh Penguins, New York Islanders, New York Rangers, Philadelphia Flyers, Carolina Hurricanes, Columbus Blue Jackets and New Jersey Devils, the margin for error will be even less for the Caps this season.
Ovi will also have to do all he can to make sure the Caps power play remains at or near the top of the NHL. But he must also do what he can to make the Caps a more balanced team and make them more effective at even strength. Ovechkin himself could stand to be more productive at even strength.
Behind the scenes, Ovi might have to monitor Mikhail Grabovski some and make sure that no massive rift develops between Grabovski and Oates as it did between Grabovski and Toronto Maple Leaf's coach Randy Carlyle last season.
Perhaps Ovechkin can also take a more active role in trying to convince Evgeny Kuznetsov to leave Russia and the KHL and, finally, come and play for the Caps.
There is so much Ovechkin can do with and for this team and as the captain, he almost has a duty and responsibility to do that.
Up until now, Ovechkin has been a good captain. Now is his chance to show that he can be a great captain.
If he succeeds, the Caps just might break through in 2013-14.