USC Football: Three Biggest Concerns Surrounding Cody Kessler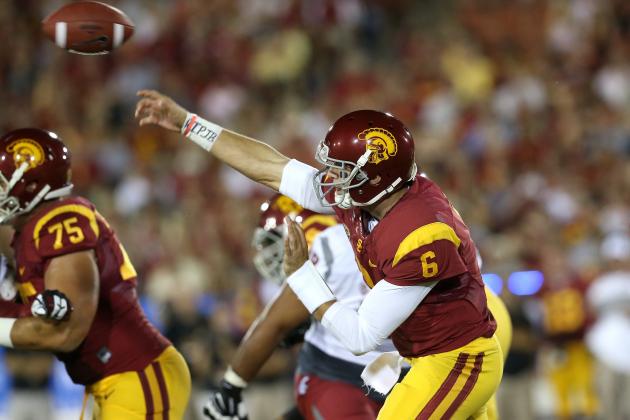 Stephen Dunn/Getty Images

USC sophomore quarterback Cody Kessler's season has started almost as poorly as possible, symbolized by a 56.3 completion percentage, a mere 136 yards and only one passing touchdown in two games.
Here are the three biggest concerns surrounding the Trojan signal-caller right now.
Begin Slideshow

»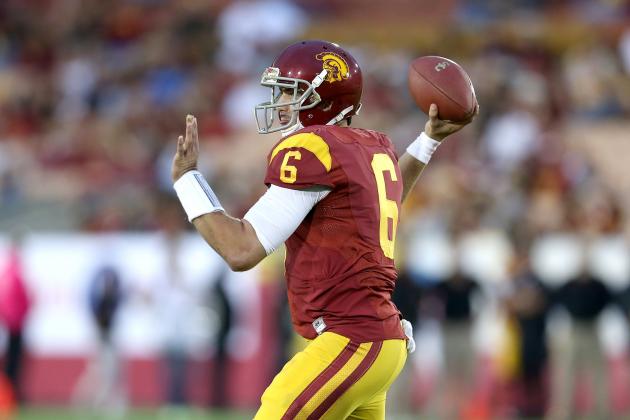 Stephen Dunn/Getty Images

Much like the age old problem of which came first, the chicken or the egg, there is a similar dilemma Trojan fans have when questioning whether Lane Kiffin's game plan accommodates Cody Kessler's lack of arm strength, or if the game plan makes it appear that young Cody has a noodle for an arm.
Either way, USC's lack of a downfield passing game has hurt the Trojans so far in 2013.
As of this writing, Kessler is averaging 7.5 yards per pass completion. While this isn't terrible, the longest gain Kessler has through the air is only 19 yards.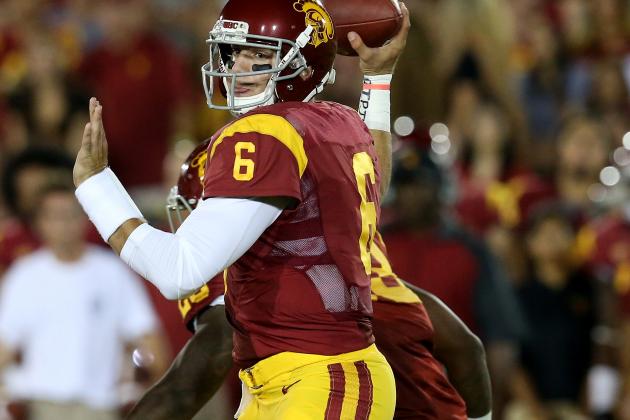 Stephen Dunn/Getty Images

In the Washington State game, I counted at least four passes where Kessler either threw to the wrong receiver missed an open receiver altogether.
And that doesn't even count the horrible interception at the end of the first half which was returned for a back-breaking touchdown, which wound up costing the Trojans this game.
If a guy doesn't have a very strong arm—which is certainly the case with Kessler—he must make good decisions to mask that deficiency.
Unfortunately for Kessler and the Trojans, this isn't one of his strengths.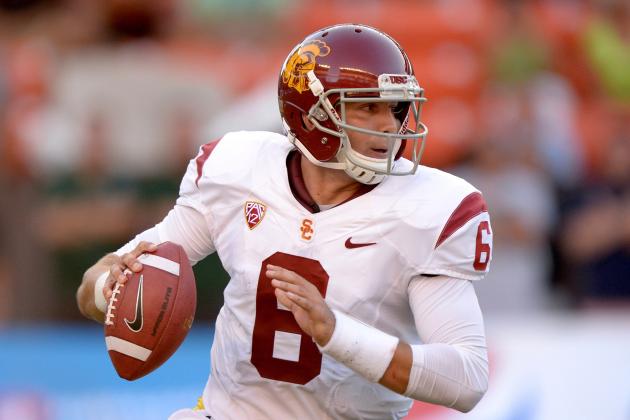 Kirby Lee-USA TODAY Sports

It's hard to put a finger on it, but when one looks at a Cody Kessler-led offense, it just doesn't seem as though he can lead USC to the promised land.
Often looking confused, Kessler seems in a daze half the time he is on the field. The other half seems to be when is committing some sort of gaffe, much to the consternation of those who care about Trojan football.
Nebulous accusations aside, so far in 2013, Kessler has done nothing to inspire confidence that he can consistently produce points for a USC team desperately in need of just that.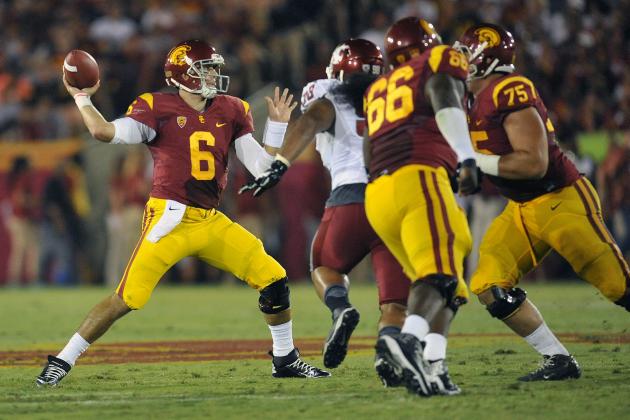 Gary A. Vasquez-USA TODAY Sports

As a man of faith, I find it hard to denigrate a young man who obviously is trying as hard as he can and would likely be the first to tell you that he wished he had done better so far in 2013.
Still, if one were to be honest, it is apparent that Kessler has not provided the leadership at what is probably the single most important position on the team.
However, it should be noted that Kessler is not alone in his shortcoming at the position, and his teammate, Max Wittek, certainly has not been any better.
When all is said and done, Cody Kessler has a ton of room for improvement and the good news is that there are still plenty of games left to do just that.
If he can find a way to become an effective quarterback, it will make a legion of Trojan fans very happy indeed.