Buccaneers vs. Jets: Full Roster Report Card Grades for New York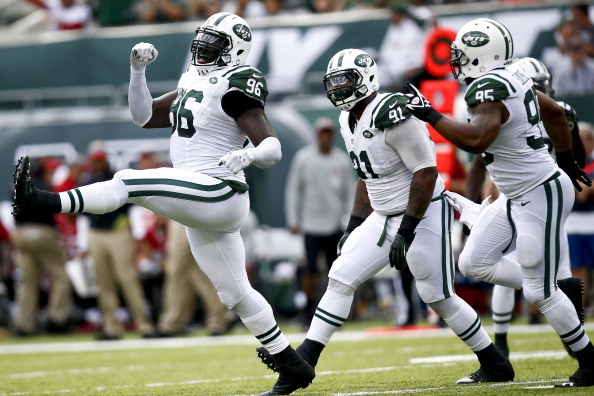 Jeff Zelevansky/Getty Images

Thanks to some solid defense and just enough plays out of their rookie quarterback, the New York Jets managed to escape Week 1 with a big upset over Tampa Bay.
Now, it's time to take a closer look at how everyone did.
Some positions, such as the defensive line, were dominant. The cornerbacks and running backs, however, were certainly hoping for a smoother way to start out the season.
Here are grades for every position on the Jets after their Week 1 win.
Begin Slideshow

»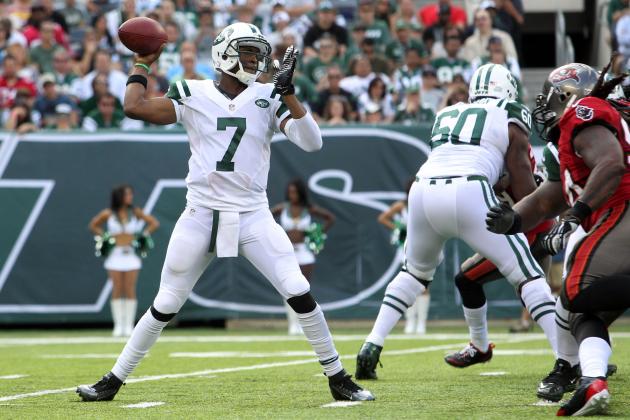 Brad Penner-USA TODAY Sports

It certainly wasn't the most flawless debut, but all things considered, Geno Smith's first regular-season start was a success.
Smith showed off his impressive arm strength on a handful of throws and used his legs to pick up a handful of key first downs when he had room to run. The most impressive aspect of his performance, however, was his willingness to throw the ball away when a play was not developing.
One of Mark Sanchez's biggest flaws is how he tries to make a play when there is not one to be made, which leads to disastrous turnovers. Smith was willing to live for another day—a refreshing way of playing.
His debut was not without flaws, however. Smith took far too long to make decisions in the pocket, often having to scramble to buy time. He may have gotten away with it this week, but that is no way to sustain offense over the long term in the NFL.
Still, there is not much more you could ask from Smith in his first start in a meaningful NFL game.
Grade: B+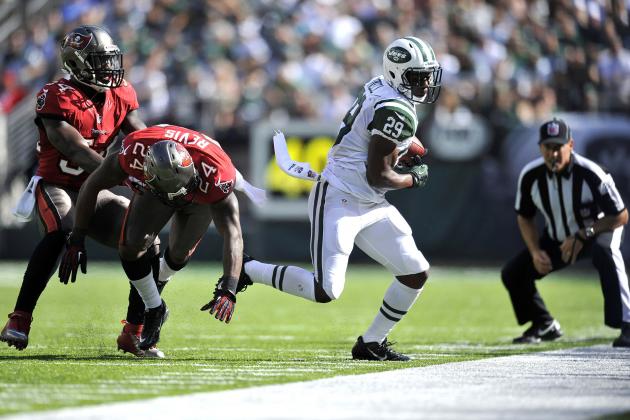 Joe Camporeale-USA TODAY Sports

It was a tough day for running backs on both teams.
Both run defenses came to play, and the Buccaneers certainly lived up to their reputation as the top run defense from 2012. Bilal Powell and Chris Ivory combined for a mere 44 yards. Geno Smith out-rushed all his runners, going for 47 on his own.
Neither back was given a ton of room to work with, as the offensive line did not get a great push at the line of scrimmage. The Buccaneers were intent on stopping the run and forcing Geno Smith to beat them, and for the most part, they were successful.
Chris Ivory has been a disappointment so far, as he has yet to show much of anything. Powell's was at least able to contribute a bit in the screen game with 35 yards through the air.
The Jets faced daunting odds to put up a big game on the ground, but this is an area they must improve to avoid leaning on Geno Smith's arm too often.
Grade: C-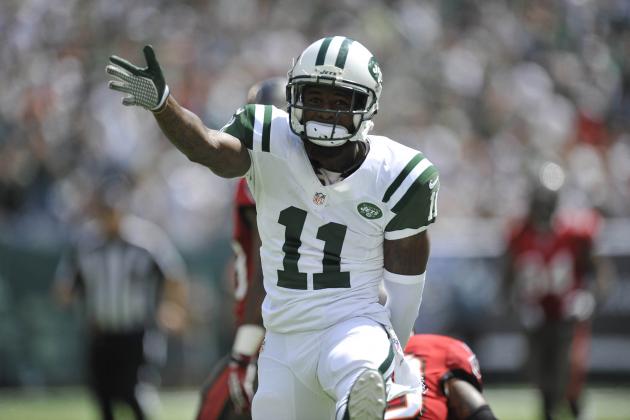 Joe Camporeale-USA TODAY Sports

This group was not exactly put in a position to put up big numbers with a rookie quarterback throwing to it, but for the most part, it made plays when it was called upon.
Jeremy Kerley became Smith's favorite target over the middle, who finished with 45 yards receiving. It took him nearly a half to get involved, but Stephen Hill put up solid numbers with six catches. Santonio Holmes had a quiet day with only one catch, but he was given the Revis treatment for most of the day and is still recovering from an injury.
A bit more production from this group would have been ideal, but it was not exactly put in a position to succeed against a star-studded secondary.
Grade: C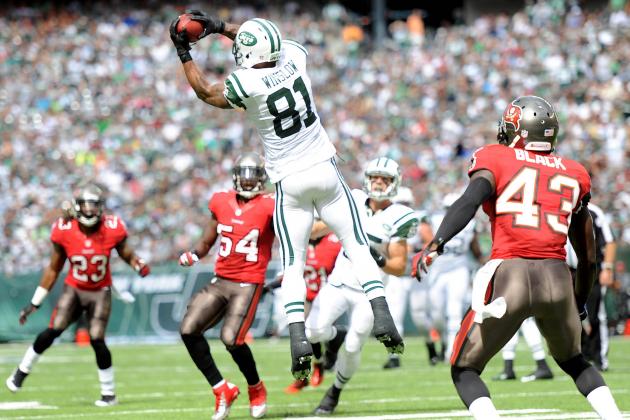 Joe Camporeale-USA TODAY Sports

Kellen Winslow is looking like the steal of the offseason. He led the team in catches (7), yards (75) and caught Geno Smith's first and only touchdown of the game.
After Jeff Cumberland had to leave the game due to a violent collision with Dashon Goldson, Winslow filled the void seamlessly to give his young quarterback a security blanket.
No one, not even the Jets, could have imagined that Winslow would have this big of an impact. After all, he was just a minicamp invite a few months ago, as many assumed his career would be over by now.
Hopefully, Cumberland will be able to return soon to take some pressure of Winslow, but this was a strong showing by a position group that was supposed to be one of the weak links on the team.
Grade: A-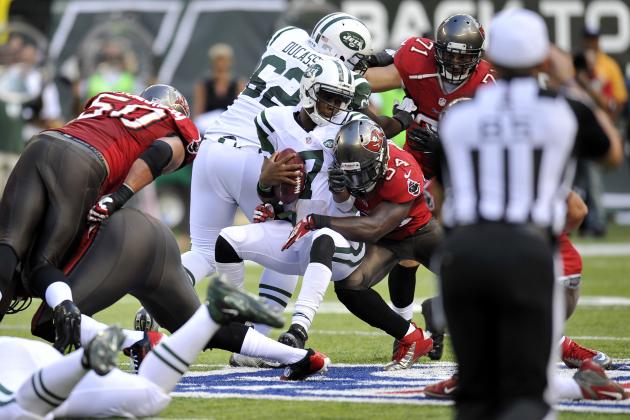 Joe Camporeale-USA TODAY Sports

It was a very up-and-down day for the offensive line. At times, it was dominant in pass protection, giving Geno Smith loads of time to make his reads.
However, as the game went on, the Buccaneers started to get pressure, and not necessarily because the Jets were getting beat in one-on-one battles. Rather, the Jets were beat by their own mental errors, making mistakes picking up blitzes and adjusting to stunts.
Some of this is expected early in the season with two new starters at guard, but these issues need to be ironed out quickly.
Geno Smith didn't exactly do the O-line many favors, as he often took far too long to get rid of the ball and some of the sacks were on him.
Still, the Jets got next to nothing in the run game and were too erratic in protection to sustain offense. They may have escaped this week, but plenty of work remains for the offensive line to be more consistent in all phases of the game.
Grade: C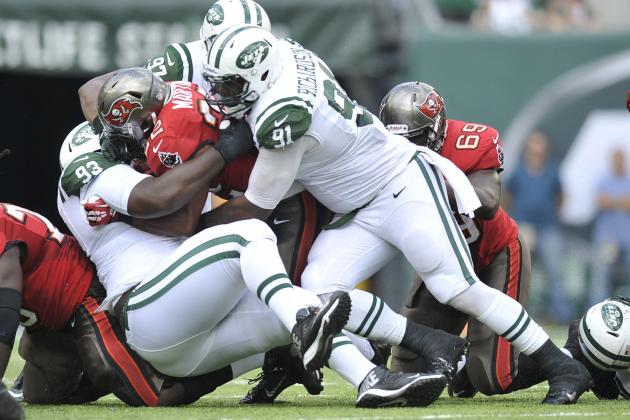 Joe Camporeale-USA TODAY Sports

The toughest task the Jets faced heading into this game was stopping stud running back Doug Martin—and they did just that. Martin was held to just 65 yards on 24 carries, a mere 2.7 average. Martin did not break a big run until the final drive of the game.
Damon Harrison, a former undrafted free agent, may have stolen the starting job from Kenrick Ellis (after all, he did start the game). He was disruptive and beat double-teams, finishing with six tackles and one for a loss.
Ellis was not quite as dominant with just two tackles, but he is battling a back issue and will need some time to get healthy.
While it won't garner many headlines, the Jets' dominance against the run was the biggest reason for their win on Sunday.
Grade: A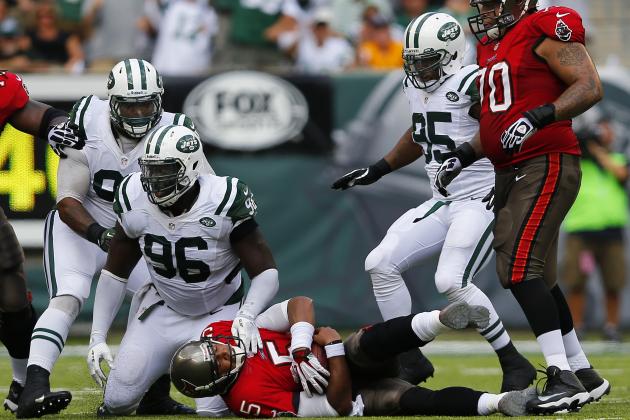 Rich Schultz/Getty Images

The defensive ends were equally as dominant as their counterparts on the interior of the line, as they played a huge role in swallowing up gaps in the run game to keep Doug Martin in check.
Where the defensive ends really shined was rushing the passer. Rookie Sheldon Richardson had a half of a sack and was disruptive in passing situations. Muhammad Wilkerson continues to improve as a pass-rusher, adding a sack of his own.
The Jets have made a concerted effort to get younger and more athletic on the defensive line over the past few years, and it is starting to pay off. The defensive end position is not only the strength of the team—it is one of the best units in the NFL of any team running a 3-4 front.
Grade: A-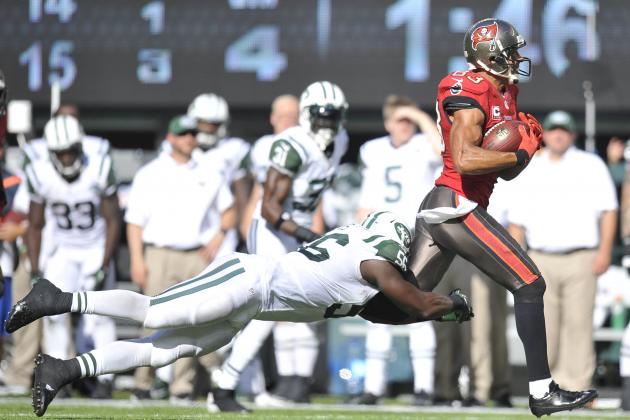 Joe Camporeale-USA TODAY Sports

With two new starters along the linebacking corps, the Jets have gotten noticeably faster and more athletic at the linebacker position.
Antwan Barnes is proving his worth as a pass-rusher, as he was able to get a clean sack on Josh Freeman early in the game. Even Calvin Pace showed improvement as a pass-rusher with a half of a sack on his own.
Demario Davis showed incredible speed and hustle when he tracked down Vincent Jackson late in the fourth quarter. It wound up being a game-saving play, as Jackson would have easily went for a touchdown and put the game out of reach for the Jets. Davis led the team with eight tackles.
David Harris, rebounding from a dismal 2012 season, had a strong game as well. With seven tackles, he was rarely beat to the edge and did not let Doug Martin get by him. Even backup outside 'backer Garrett McIntyre got good pressure on a few occasions.
Overall, this was a strong day for all four starting linebackers for the Jets, and this unit will only get another boost when Quinton Coples returns from injury.
Grade: A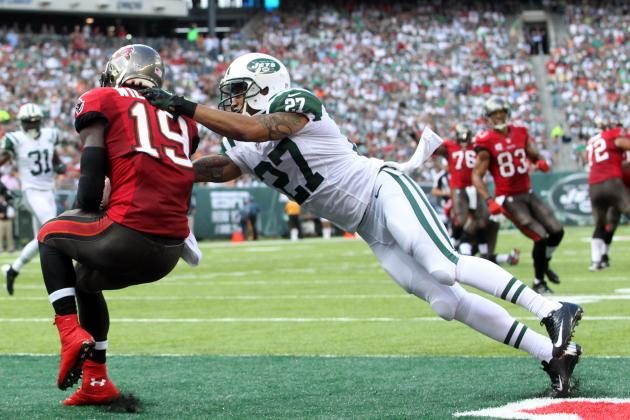 Brad Penner-USA TODAY Sports

The Jets may have won, but they also quickly realized that the impact of losing Darrelle Revis may be even bigger than they thought.
Rookie first-round pick Dee Milliner allowed Josh Freeman's only touchdown pass. He struggled to locate the ball in the air and spent more time guessing than reading and reacting. Milliner has a chance to be a very good player, but he clearly has some technique issues that need to be ironed out.
A rookie cornerback getting picked on is hardly breaking news, but Antonio Cromartie had a rare "off" day as well. He let Vincent Jackson get the best of him, putting up over 150 yards.
The Jets had to know there would be a drop-off in their coverage after losing Revis, but they invested too much in this position to get such mediocre results.
Grade: C-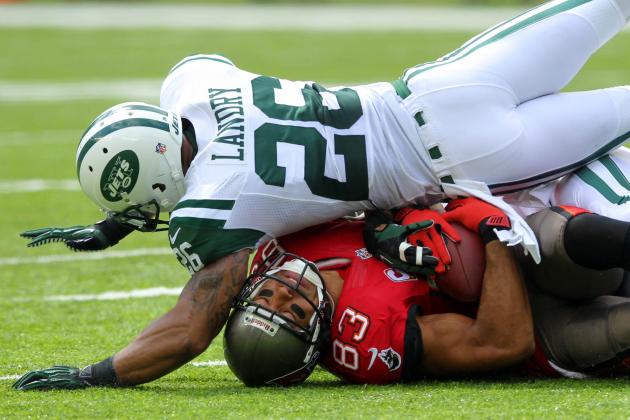 Brad Penner-USA TODAY Sports

The Jets' cornerbacks may have struggled, but their safeties held up their end of the bargain in the secondary.
Dawan Landry had a particularly strong game. He made a handful of big tackles in the run game and had a huge interception in the second quarter to set the Jets up with a key score, although he did miss a tackle on Vincent Jackson's huge reception on the Buccaneers' final drive.
Antonio Allen, who appears to have finally won the starting job over Jaiquawn Jarrett, had a nice outing as well. He sniffed out a screen pass to kill a drive and wound up with six tackles.
The Jets' safeties were not put in easy situations either—Rex Ryan called a lot of blitzes that put a lot of pressure on them to prevent big plays from happening.
For a position that was supposed to be the weak link of the defense, the safeties held their own as the last line of defense.
Grade: B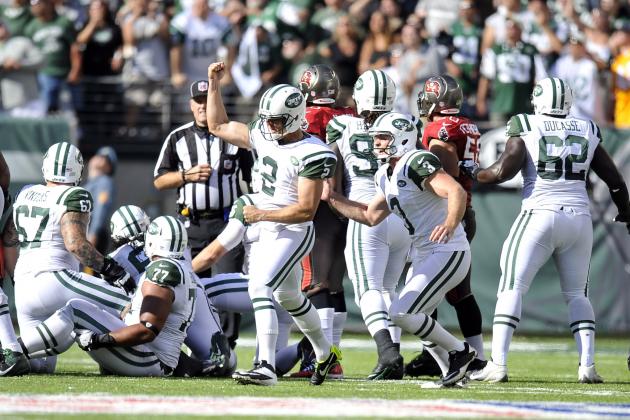 Joe Camporeale-USA TODAY Sports

Without some heroic kicks from their specialists, the Jets simply would not have pulled out this win.
Nick Folk was a perfect 3-of-3, including a clutch 48-yarder in the waning seconds to pull out the win. Folk has quietly grown a reputation for being one of the more clutch kickers in the NFL, and he adds to his resume with a heroic kick at the end of this game.
Meanwhile, punter Robert Malone had a handful of booming kicks, including an 84-yard monster. Malone helped flip field position on a regular basis to give the Bucs a long field to work with on nearly every drive.
Neither return man did much in terms of yardage, but there were no turnovers, either—an improvement form last year's fumble-ridden season in which they led the NFL in muffed punts.
Grade: A