NFL Week 2: What We Learned from Sunday's Action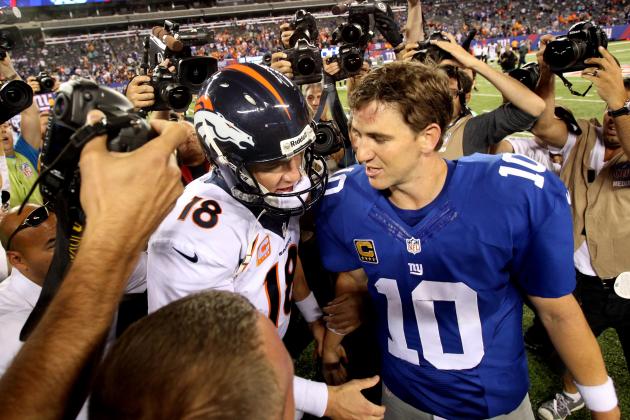 Brad Penner-USA TODAY Sports
Denver Broncos quarterback Peyton Manning is now 3-0 lifetime in head-to-head meetings with younger brother Eli.
After months of anticipation, Monday night's tilt between the Pittsburgh Steelers and Cincinnati Bengals will wrap up two weeks of the 2013 NFL season.
That was quick.
Once again, it was your typical unpredictable weekend in the league. And once again, we are going to point out what we learned from the day before. We won't be breaking any news here. Some of it will make you smile, while some of it may border on strange.
So here are my observations from Sunday's action. Rest assured that no team has clinched a division title or playoff berth, and no team is preparing for the 2014 NFL draft.
At least we don't think so.
Begin Slideshow

»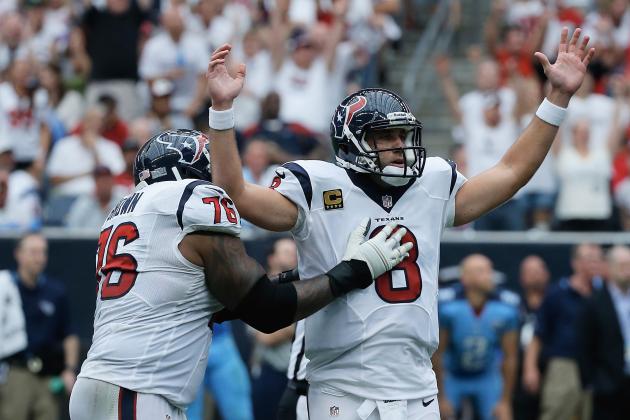 Scott Halleran/Getty Images

This is becoming a habit…and a pretty good one for now.
The Texans may be from Houston, but twice in a seven-day span, they've looked more like Houdini.
Last Monday night at San Diego, Gary Kubiak's club rallied from a 28-7 deficit for a 31-28 win.
On Sunday in the team's home opener against the Tennessee Titans, the Texans trailed 24-16 with less than five minutes to play before rallying for a wild 30-24 overtime win behind quarterback Matt Schaub…really.
The "really" is due to the fact that one of Schaub's two interceptions was taken back 23 yards by Titans cornerback Alterraun Verner with just 4:59 to play, giving Tennessee an eight-point lead.
But it was the Schaub-to-DeAndre Hopkins show the rest of the way, and in overtime, the pair connected for a three-yard score early in the extra session.
Last season, the Texans wilted late in the year and in the playoffs on both sides of the ball. But so far, so good for a club that has rallied for a pair of come-from-behind wins in two weeks.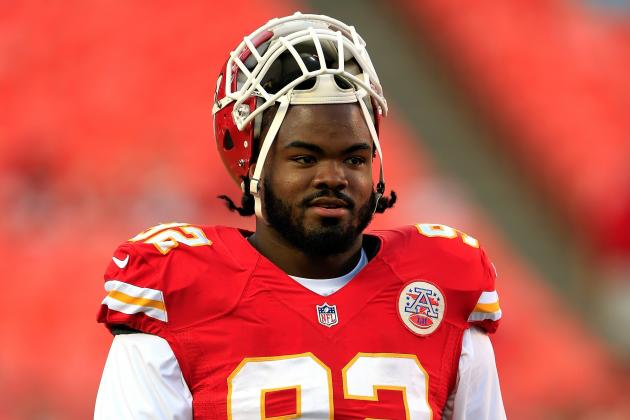 Jamie Squire/Getty Images

The Kansas City Chiefs are on pace for 16 wins this season.
I was just seeing if you were paying attention.
Truth be told, the Chiefs are a 2-0 team one year after finishing 2-14 in 2012. The reasons are many, one of which includes zero turnovers in the wins over the Jacksonville Jaguars and Dallas Cowboys.
But another factor has been the much-improved play of second-year nose tackle Dontari Poe. After a rough rookie year, the former first-round pick has made his presence felt in a big way. Poe totaled four tackles and two sacks in Sunday's win over the Cowboys. In Week 1, he had six stops, 1.5 sacks and knocked down a pass.
Last season, Kansas City was near the bottom of the league in run defense, allowing 135.7 yards per game on the ground. In two games this season, Poe and the Chiefs have allowed a total of 108 yards rushing.
Things may be interesting in the AFC West this season after all.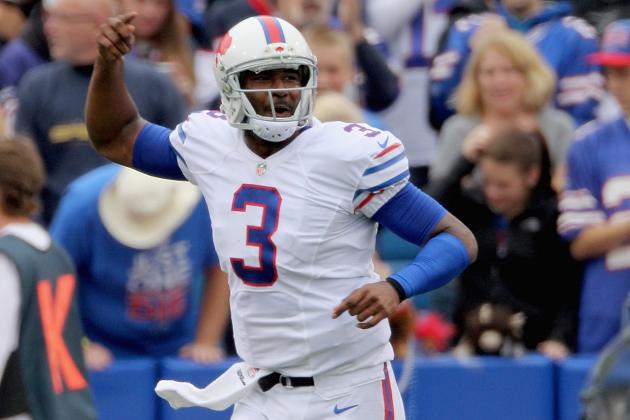 Rick Stewart/Getty Images

Last week, we saw 12 contests decided by seven points or fewer. That was tied for the most such games in one week in NFL history.
One week later, close was, once again, the theme in the National Football League.
Entering Monday night's tilt between the Pittsburgh Steelers and Cincinnati Bengals, 11 of the 15 games played had been decided by seven or fewer points. That included a trio of one-point decisions featuring late comebacks by the Chicago Bears and Buffalo Bills.
Bears quarterback Jay Cutler and Co. scored a touchdown against the Minnesota Vikings with 10 seconds to play in what would be a 31-30 win. Bills rookie EJ Manuel threw a touchdown pass with two ticks left on the clock to help beat the Carolina Panthers 24-23.
Just 31 games into 2013, and there have been four one-point contests, nearly halfway to last season's total of 11 in 17 weeks.
The lesson learned? Don't leave that stadium too early or change that channel. The best may be yet to come.
Brad Penner-USA TODAY Sports

What's the big deal?
The New York Giants are 0-2 for the first time since 2007. Of course, that season resulted in 10 wins and a stunning upset victory over the New England Patriots in Super Bowl XLII.
Tom Coughlin's club has given up a combined 77 points in two losses, most of any team in the league. But during that 0-2 start in '07, the Giants actually gave up 80 points in their two setbacks.
That's the good news. The bad news is that quarterback Eli Manning and the G-Men have already committed a combined 10 turnovers in 2013. That includes seven interceptions by Manning, four of those in Sunday's 41-23 loss to the Denver Broncos.
New York's running game? The Giants have gained a total of 73 yards on the ground on 33 carries. That's the kind of math you can do on your fingers.
And just two weeks into this season, Coughlin's club has been all thumbs.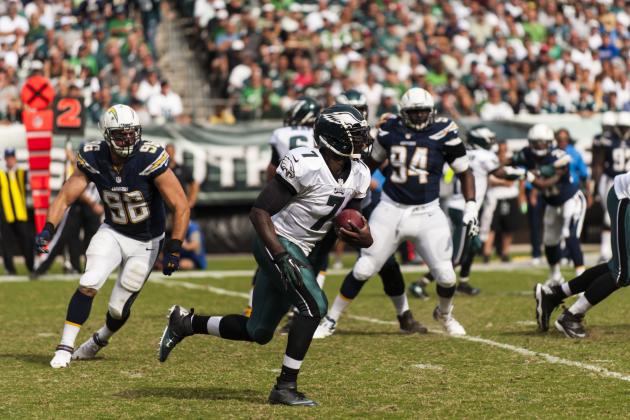 Howard Smith-USA TODAY Sports

We all suspected that the Philadelphia Eagles would score points this season and probably give them up nearly as fast.
So far, it's been so entertaining.
A week after wowing everyone with a 33-27 win over the Washington Redskins, Chip Kelly's club came up short at home against the supposedly demoralized San Diego Chargers, 33-30.
The Birds gained 511 total yards, but they allowed 539 to quarterback Philip Rivers and Co. And it was the Bolts who ran 79 plays to the Eagles' 58, quite a surprise if you remember last Monday night.
In last week's win at Washington, Kelly's team rolled up 322 total yards on 53 plays in the first half alone. That means in the following six quarters, the Eagles have totaled just 82 offensive plays, quite the drop off after that fast start.
Of course, 317 of the team's 511 yards came on nine plays of 20 or more yards. That meant the Eagles needed fewer plays and less time to roll up 30 points. Philadelphia owned the ball for just 19:43 against the Chargers, meaning the Eagles defense was on the field a ton.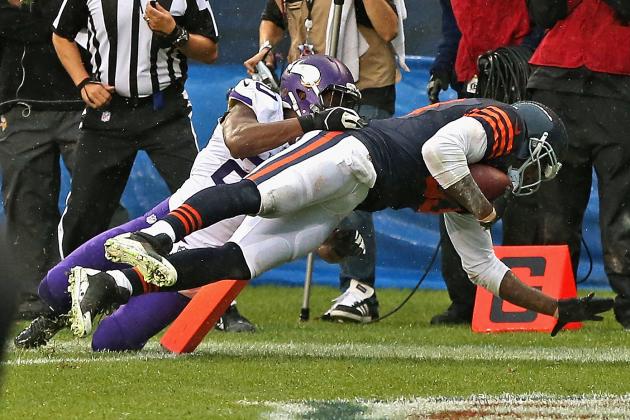 Jonathan Daniel/Getty Images

Thanks to some fourth-quarter heroics the last two weeks, the Chicago Bears are 2-0 for the first time since 2010.
As expected, wide receiver Brandon Marshall is atop the team's leaderboard in terms of receptions, tied with running back Matt Forte with 15 catches.
But lurking not far behind is tight end Martellus Bennett, one of the team's offseason free-agent pickups. Bennett has already totaled 10 grabs for 125 yards and a team-high three touchdown receptions. Two came in Sunday's 31-30 win over the Minnesota Vikings, including the game-winner with 10 seconds to play.
Keep in mind that Marshall had a team-high 11 touchdown catches in 2012, and the rest of the team totaled only 10 scores through the air. It's also worth noting that Bennett's three scores equal the production the Bears received from tight ends Kellen Davis and Matt Spaeth combined last season.
It's safe to say that quarterback Jay Cutler is thoroughly enjoying his newest toy.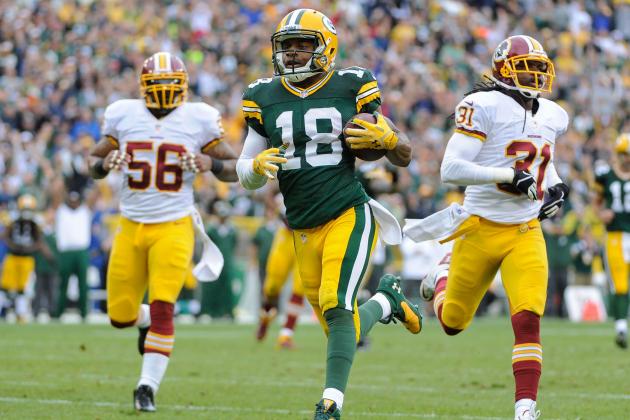 Benny Sieu-USA TODAY Sports

First things first.
Those not old enough to understand the thirtysomething reference, here's an assist from IMDB.com
We return you to our regularly scheduled slideshow.
When it comes to the Washington Redskins, most of the talk surrounds RG3. Perhaps someone should have been concerned about Nos. 1 and 2. As in first and second quarters.
The first 30 minutes of a game have been a nightmare so far for Mike Shanahan's team. Six days after trailing the Philadelphia Eagles 26-7 at intermission, the Redskins were down 24-0 at halftime to the Green Bay Packers on Sunday.
That's a combined 50-7 that Shanahan's team has found themselves down before the break.
Forget halftime adjustments; a few more pregame pep talks may be in order.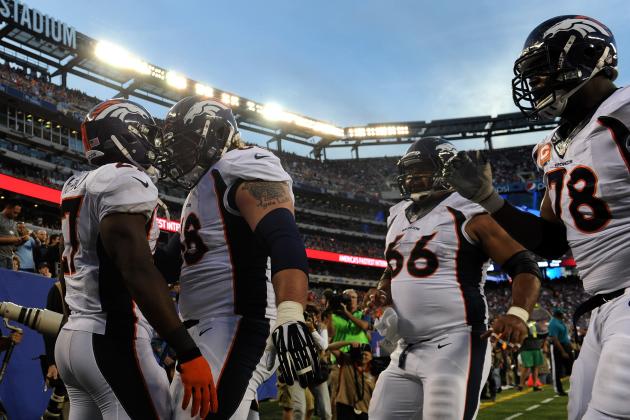 Maddie Meyer/Getty Images

Talk about a team that has not hit its stride yet.
Yes, the Denver Broncos have scored a league-high 90 points in two games, 41 of those in an 18-point win over the New York Giants on Sunday.
But what takes quarterback Peyton Manning so long to warm up? More than two-thirds of those points (66) have come in the second half. The Broncos trailed the Baltimore Ravens at halftime 17-14 in Week 1 before pulling away for a 49-27 win. On Sunday at MetLife Stadium, Denver led just 10-9 at intermission before rolling to a 41-23 victory.
It's even more amazing when you consider that John Fox's team has not scored a point in the first quarter this season.
What does it mean? The Broncos, who have now won 13 straight regular-season games dating back to last season, may be on the verge of an amazing year, once they are clicking on all cylinders. That means getting cornerback Champ Bailey (injured) and outside linebacker Von Miller (suspension) back.
Scary thought, isn't it?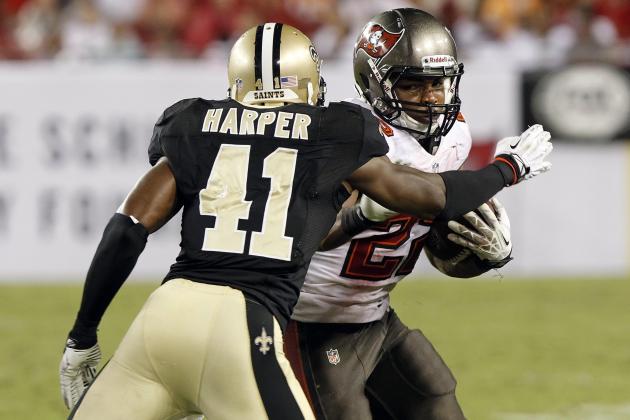 Kim Klement-USA TODAY Sports

Two weeks into the season, and you have to give credit where credit is due.
As has been well-documented, the New Orleans Saints gave up the most total yards in a season in NFL history. And to add insult to injury, they gave up 454 points in 2012, the second most in the league.
But two games into 2013, and Sean Payton's club owns a pair of division wins over the Atlanta Falcons and Tampa Bay Buccaneers. Just as impressively was the fact that the Saints allowed a total of 31 points in two victories.
New defensive coordinator Rob Ryan has seen his unit allow a total of 640 yards in two outings. Keep in mind that the Saints allowed 500 or more total yards in four games in 2012.
The Arizona Cardinals invade the Superdome on Sunday as Payton and Co. look to stay unbeaten. And let's see if the Saints can put together a third straight solid defensive effort.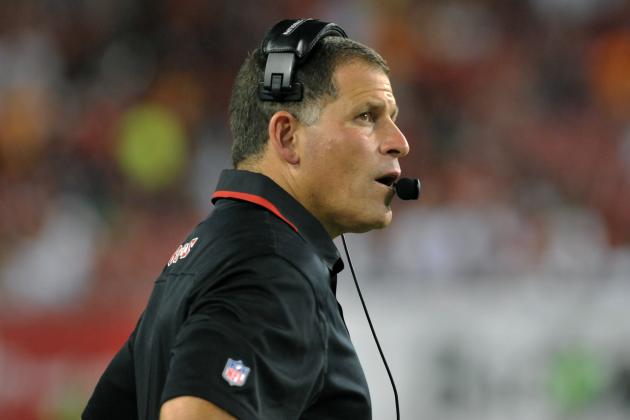 Al Messerschmidt/Getty Images

Cue the special effects.
On Sunday, a pair of NFL games were delayed by the elements. Lightning affected the contests between the New Orleans Saints and Tampa Bay Buccaneers Sunday afternoon, and hours later, the prime-time affair between the San Francisco 49ers and Seattle Seahawks.
But the title is not in reference to the weather. It refers to the Buccaneers, who for the second straight week watched their team come up short, thanks to a very late field goal.
Greg Schiano's team allowed the Saints to drive 50 yards in five plays with 1:06 to play in what ended up being a 16-14 loss. A week earlier, a penalty on Bucs linebacker Lavonte David set up the New York Jets for a late kick and an 18-17 victory for Rex Ryan's team.
It wasn't that long ago that Schiano and his team were a surprising 6-4 in 2012. The Buccaneers are just 1-7 since then, and they now head to Foxborough this Sunday to face the New England Patriots.
Steven Bisig-USA TODAY Sports

Is there something wrong with the San Francisco 49ers defense?
Late last season, we saw the effect that injuries to defensive tackle Justin Smith and outside linebacker Aldon Smith had on this unit. Despite an appearance in Super Bowl XLVII, Jim Harbaugh's club gave up its share of points and offensive scores.
In Week 1 of 2013, Green Bay Packers quarterback Aaron Rodgers threw for 333 yards and three touchdowns (one interception) in San Francisco's 34-28 win.
On Sunday night at Seattle, the Seahawks gained just 290 total yards in their team's 29-3 victory. And the Niners offense managed only 207 total yards by game's end. But it was pretty disturbing that the San Francisco defense allowed 172 yards on the ground.
All told, the Niners have now given up 235 points and 26 offensive touchdowns in their last eight games dating back to 2012 and including their postseason run. That is in stark contrast to the start of 2012, when Harbaugh's club only allowed 184 points and 16 offensive touchdowns during the club's first 13 games.
Are we writing off the 49ers? Hardly. It's safe to say another road game versus the Seahawks wouldn't be too much fun (the team has lost two straight at Seattle by a combined 71-16 score). But their defense needs to be a little more consistent no matter where they are playing this season.