New York Giants vs. Dallas Cowboys: Live Score, Highlights and Analysis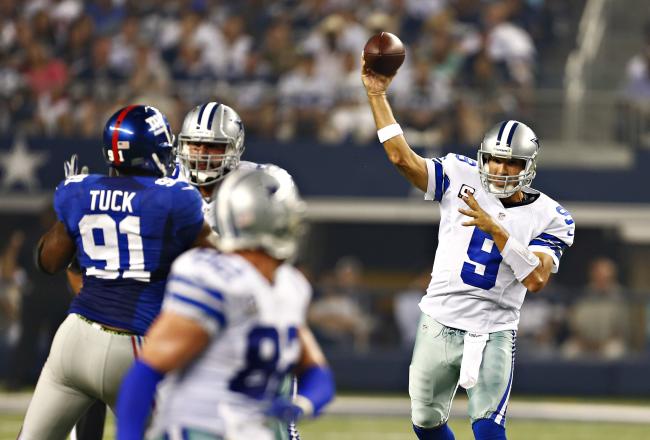 Wesley Hitt/Getty Images
In the first Sunday Night Football matchup of the season, the Dallas Cowboys conquered their division rivals, the New York Giants, 36-31. It was the first time the Cowboys beat the Giants in their new home stadium. The Giants remain winless against the Cowboys in season-openers.
Tony Romo overcame injury to lead his Cowboys to victory, as the Giants sputtered with six turnovers. Manning and the Giants had a chance to pull out yet another last-minute drive, but Brandon Carr sealed the deal with a game-clinching pick-six.
Final: Cowboys 36, Giants 31.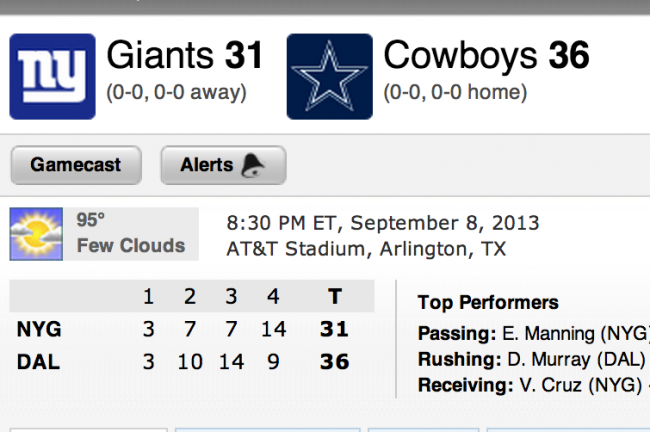 There's your final.
Cowboys win, 36-31.
11 seconds remaining.
Manning connects with tight end Brandon Myers on a last-minute touchdown. Myers, of course, specializes in garbage time; he had 80 catches with the Raiders last season, mostly when Oakland was trailing.
Giants are unable to handle the onside-kick, so all the Cowboys need is a knee.
48 seconds remaining.
Yup, it was about time for an underhand, left-handed Eli Manning-shovel pass.
Unreal: A sixth Giants turnover just might allow the Cowboys to finally break Eli's spell at JerryWorld.

— Skip Bayless (@RealSkipBayless) September 9, 2013
1:50 remaining in game.
I hope you like drama.
Brandon Carr intercepts a deflected pass off Da'Rel Scott's hands and runs it in for a touchdown. Two-point conversion is failed.
36-24, Cowboys. That one should do it.
Two-minute warning.
Manning and the Giants are driving after a first down strike to Rueben Randle.
Starting running back David Wilson is on the sideline, helmet off, after fumbling twice tonight. Da'Rel Scott is currently in at running back. The Giants have turned the ball over five times.
Despite the sloppy play, a touchdown and extra point on this drive will put them on top.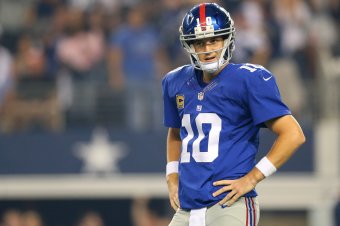 Ronald Martinez/Getty Images
2:47 remaining in game.
Great open field tackle by Ryan Mundy on Dez Bryant, who was injured on the play, to stop the Cowboys short of a first down.
Down by six with two timeouts and the two-minute warning in his back pocket, this is vintage Eli Manning.
Can the Cowboys hold on, or will we see some early season magic from No. 10?
5:33 remaining in game.
Cowboys' defense looked ferocious on New York's last offensive possession, forcing the Giants to go three-and-out.
Expect a heavy dose of DeMarco Murray on this drive; Cowboys need to kill clock.
That sack was on Romo...he got to get rid of the ball

— Clarence Hill (@clarencehilljr) September 9, 2013
Re: Jason Pierre-Paul sack.
So the giants are down 6 with 6 minutes to go and they're getting the ball back. ... Strap in. #NYG

— Ralph Vacchiano (@RVacchianoNYDN) September 9, 2013
Seven minutes remaining.
There it is.
The Giants finally get to Romo, as Linval Joseph and Justin Tuck combine to bring him down.
On the next play, Jason Pierre-Paul joins the party
Too little too late?
Despite turning it over five times, the Giants are within a score. Victor Cruz catches his third touchdown of the night. 30-24, Cowboys.

— SI NFL (@si_nfl) September 9, 2013
Eight minutes remaining.
It's been quite a night.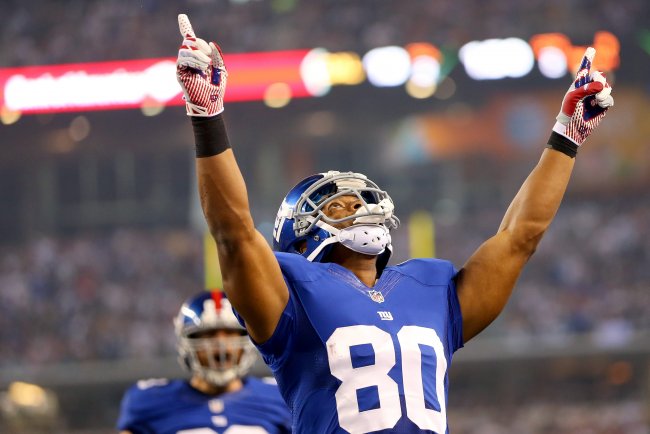 Ronald Martinez/Getty Images
8:47 remaining in game.
Victor Cruz has been unstoppable tonight.
His most recent reception, a ten-yard scoring catch, finalized a 90-yard drive which took just over three minutes to complete. The Giants now trail, 24-30.
The Giants needed a quick score, and they got it.
Can their battered defense hold Miles Austin and Jason Witten, who have combined for 18 catches tonight?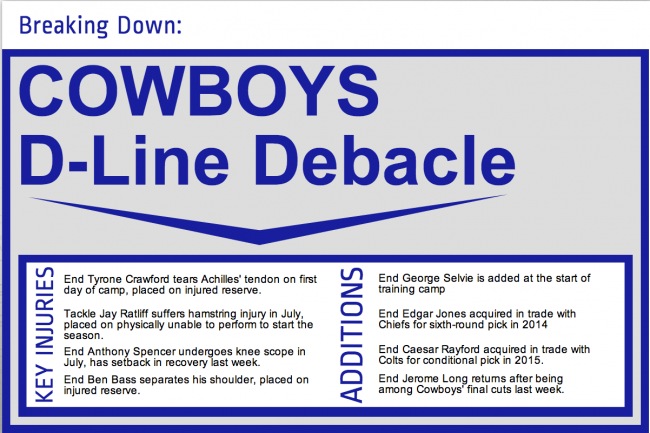 And on the other side of the ball, a patchwork defensive front will work against Manning. So far, Dallas' D-line has gotten the job done, and "brick-layer," as DeMarcus Ware calls him, George Selvie even has a sack.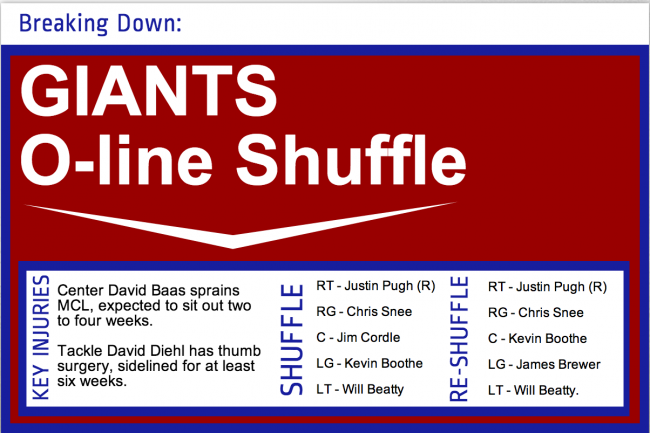 If Manning plans on making a comeback in the fourth quarter, it will be behind a re-tooled offensive line. Take a look at how the Giants have managed their O-line after sustaining injuries to starters David Baas and David Diehl.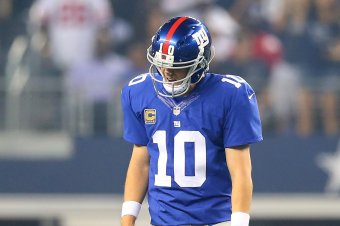 Ronald Martinez/Getty Images
12:10 remaining in the game.
Dan Bailey hits another field goal, and the Cowboys lead is now 13 points.
You can never count Eli Manning out in the fourth quarter, but the clock is quickly becoming the enemy.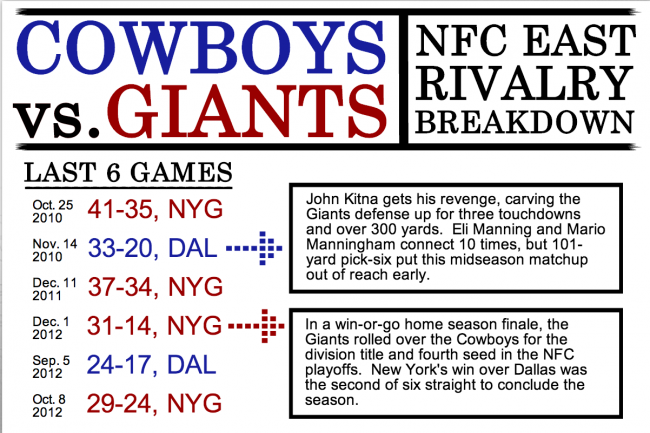 OK, final rivalry review for the night.
Claiborne's return is questionable. Giants linebacker Spencer Paysinger went to the locker room for dehydration.
Tonight's attendance: 85,348 ... I'm no math major, but I believe that's less than 100,000.

— Ralph Vacchiano (@RVacchianoNYDN) September 9, 2013
Hold on let me check...
Yes, that's less than 100,000.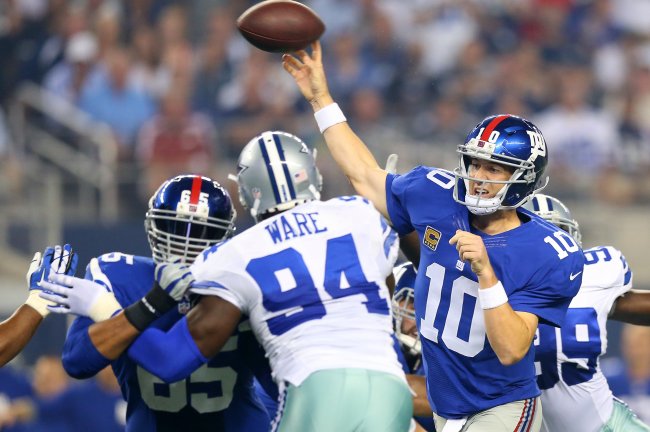 Ronald Martinez/Getty Images
1:44 remaining in third quarter.
This game is not over yet.
Manning finds Victor Cruz for a second touchdown tonight, capping off an 80-yard drive, the best of the night for New York.
The Cowboys still lead, 27-17.
TAFOYA: Cowboys medical staff talking with Claiborne by the bench

— SNF on NBC (@SNFonNBC) September 9, 2013
Claiborne was shaken up while making a tackle earlier on this drive.
NBC is guilty of false advertising, they said Giants were playing on Sunday Night Football, but it seems the Jets showed up instead.

— Ben Maller (@benmaller) September 9, 2013
Two minutes remain in third quarter.
That's just not fair.
Manning and the Giants driving...
Mundy stuck with Witten as long as he could there, but when Romo has 8-plus seconds in the pocket, not much he can do. #nyg

— Conor Orr (@ConorTOrr) September 9, 2013
On Witten's most recent touchdown.
Pressure still isn't there. Romo has not been sacked tonight.
It has been a long, long time since I've seen the Giants play THIS pathetically.

— Skip Bayless (@RealSkipBayless) September 9, 2013
Under five minutes remaining in the third quarter.
Romo finds Witten again over the middle for a score. Dallas' lead is now 17 points.
Sure, the Giants have played poorly, but let's give credit where credit is due. Monte Kiffin's new 4-3 defense is proving to be troublesome for an experienced New York offense, and Romo is overcoming injury en route to a solid performance.
Trumaine McBride is the player the bouncing punt hit. ... The Coughlin Doghouse is overbooked now.

— Ralph Vacchiano (@RVacchianoNYDN) September 9, 2013
5:44 remaining in the third quarter.
That's the fifth turnover for the Giants tonight, as the Cowboys recover a live punt inside New York's 20-yard line.
It has been an ugly one for the boys in blue, and Dallas can extend their lead considerably with a touchdown right here.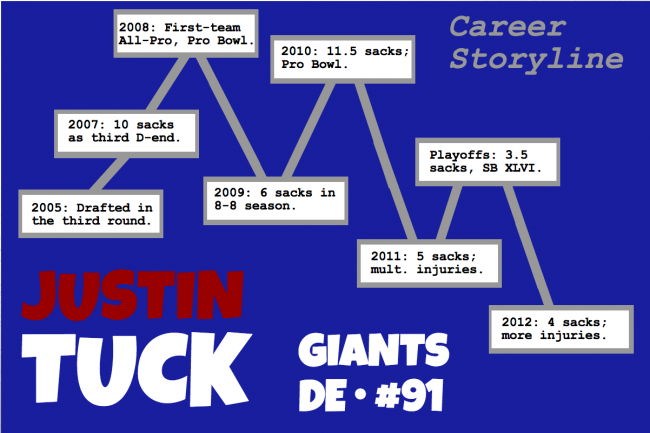 6 minutes remaining in the third quarter.
Jason Pierre-Paul appears to be in pain on the sideline; he made his return from back surgery tonight.
Meanwhile, Justin Tuck is putting together a solid outing with seven tackles and a QB hit. Take a look at his career storyline.
This article is
What is the duplicate article?
Why is this article offensive?
Where is this article plagiarized from?
Why is this article poorly edited?