NFL Power Rankings Week 1: Complete Outlook Following Weekend Action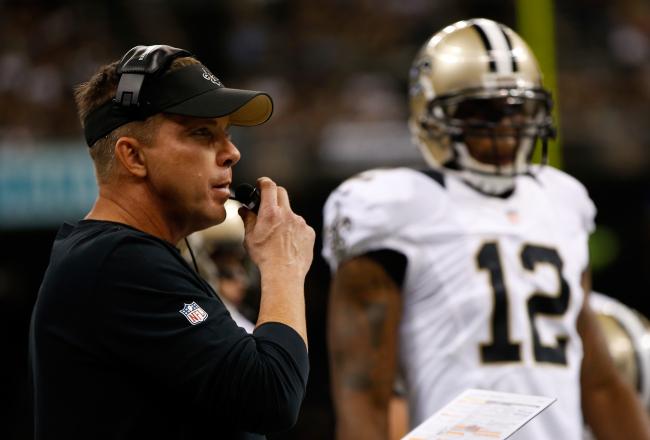 Chris Graythen/Getty Images
One weekend of the NFL season is in the books, and there has been plenty of movement in the power rankings already.
It's unwise to read too much into just one game. When ranking the teams after Week 1, you don't want to have too much movement one way or the other. If you had one of your Super Bowl favorites lose, you shouldn't change that pick too much.
The season is 16 games long. A team can realistically start 1-4, sneak into the playoffs on one of the wild-card spots and lift the Lombardi Trophy at the end of the year.
Here's how the league shakes out after the first Sunday, with the two teams who had the biggest performances underlined.
1. Denver Broncos (1-0)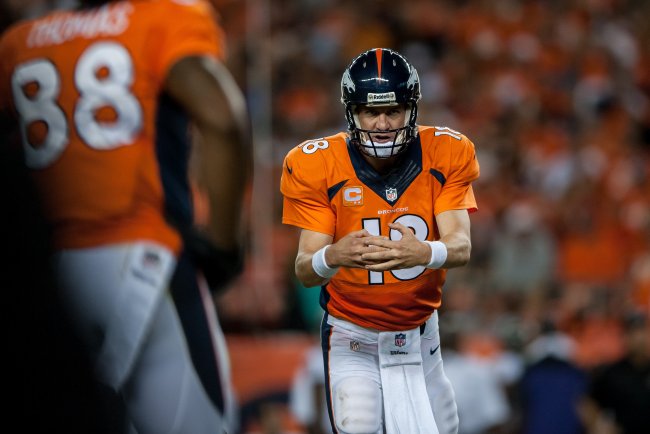 Dustin Bradford/Getty Images
It's hard to not get ahead of yourself with the Denver Broncos. They looked great in their 49-27 win over the Baltimore Ravens. Their offense was hitting on all cylinders, with Peyton Manning looking 27 instead of 37. The running game was just good enough to take attention away from Manning and the air attack, while also keeping the Ravens defense honest on play-action.
Putting up 500-plus yards of total offense is a major accomplishment, even in today's NFL.
On defense, Denver forced Joe Flacco into two interceptions, one of which should have been taken back for a touchdown. Just think how good the unit is going to be when Von Miller makes his return. At this early stage in the season, the Broncos are the Super Bowl favorites.
2. San Francisco 49ers (1-0)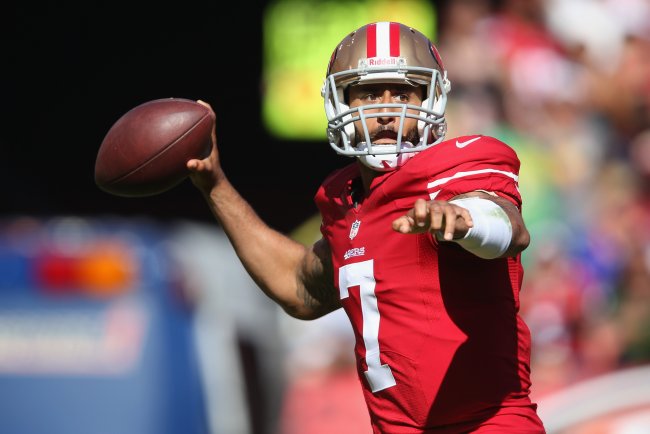 Jeff Gross/Getty Images
The 49ers picked up a huge win on Sunday. They made a major statement, downing the Green Bay Packers. San Francisco has to be ecstatic with Colin Kaepernick completing 27-of-39 passes for 412 yards and four touchdowns. He didn't need to rely on his legs too much to tear apart the Green Bay defense. That's good because it keeps Kaepernick from exposing himself too much on the ground.
One of the bigger positives was the performance from Eric Reid. Letting Dashon Goldson go in free agency could have been a big loss had it not been for the 49ers drafting Reid in the first round of the 2013 draft. He has the look of a Pro Bowl safety already.
Although it was only Week 1, this game had a postseason feel to it. It was like you were watching the NFC Championship Game. For the 49ers to have walked away victorious speaks volumes about how good this team is.
3. Seattle Seahawks (1-0)
It wasn't pretty, but the Seahawks got the win. There's something to be said for Seattle coming out victorious in such an ugly game. That's the mark of a winning team, finding ways to win even when you aren't at your best. The defense did a good job of limiting Cam Newton, while on the offensive side, Russell Wilson was solid enough and avoided too many costly mistakes. His fumble in the red zone could have been a killer, though.
4. New England Patriots (1-0)
The big turnovers cover up what was a good game from the Patriots. Tom Brady threw for 288 yards, and Shane Vereen ran for 101. Danny Amendola looks like he's already transitioned into the New England offense. And the Patriots surrendered only 286 yards to the Bills. This is still one of the elite teams in the league.
5. Houston Texans (0-0)
The Houston Texans have yet to play, so there's no telling how they will look to start the season. As of right now, they're still the favorites in the AFC South and have a good shot at taking the conference. A lot will be up to Matt Schaub. Will he be able to take that next step?
6. Green Bay Packers (0-1)
The good news for the Packers is that they don't have to play the 49ers again in the regular season. After a loss like this, it's important not to get too ahead of yourself. Green Bay is still a very good team, and its defense will return to form with Kaepernick out of the way. Seeing Eddie Lacy eat up yards on that last touchdown drive was an encouraging sign.
7. New Orleans Saints (1-0)
Having your head coach can make a big difference. With Sean Payton on the sidelines, this looked like a radically different Saints team from the 2012 version. The defense did a good job in limiting the big plays against the Falcons. It was a far cry from how awful New Orleans was on that side of the ball last year. You knew the team would improve there—just how much, was the issue.
In a stacked AFC South, this is the kind of win that sets the Saints apart. For as bad as the Saints were defensively last year, they still finished 7-9. With Payton back, it should be a return to normalcy.
It may be a bit of an overreaction after just one week, but New Orleans could be a dark horse for the Super Bowl. If the Saints continue playing this well, it will be a big season.
8. Atlanta Falcons (0-1)
There's just something about the Falcons that rubs me the wrong way when it comes to putting them in an elite category. Atlanta had the chance to lay down a marker in Week 1. Instead, it leaves New Orleans with a loss. The Falcons are in that category of good but not great, similar to where the Philadelphia Eagles were in Donovan McNabb's prime.
9. Chicago Bears (1-0)
The Chicago Bears did a great job of handling the Bengals' vaunted pass rush. Cincinnati didn't get a single sack in the game. Jay Cutler was assured in the pocket and didn't take too many needless risks. Defensively, the Bears were flying around the field wreaking havoc. Charles Tillman was a major difference-maker.
10. Cincinnati Bengals (0-1)
What a terrible game from Cincinnati. The Bengals had terrible clock management toward the end, expending two of their timeouts because they couldn't get 11 men on the field. Then there was Rey Maualuga's stupid personal foul penalty to end the game. Andy Dalton did look like an improved passer, especially with his downfield throws.
11. Baltimore Ravens (0-1)
The Ravens came into the first game with some major question marks on defense and didn't do much to answer them on Thursday night. So far, they've failed to replace the leadership and inspiration that Ray Lewis and Ed Reed brought. Baltimore will need to get the ground game going as well, since Joe Flacco isn't going to be successful throwing 62 times every week.
12. Dallas Cowboys (1-0)

The Dallas Cowboys nearly choked it away on Sunday night. After dominating the game for so long, doing so would have been a big blow. However, they got the timely pick six to seal the win. It was fitting that a turnover was the final deciding factor; Dallas had six of them. With Monte Kiffin, there's reason to believe this defense is for real.
13. Indianapolis Colts (1-0)
The Colts avoided what could have been an embarrassing Week 1 loss. You never want to get beat by Oakland, especially if you're trying to fight for a playoff spot. Indianapolis had trouble corralling Terrelle Pryor and probably suffered by not having a ton of game film on him.
14. Washington Redskins (0-0)
Having Robert Griffin III back for Week 1 is huge. Just what kind of quarterback he'll be remains to be seen. There's no doubting he won't have the same license to tuck the ball and run. As Colin Kaepernick demonstrated, mobile, read-option QBs don't need to rely on their feet to be successful.
15. Kansas City Chiefs (1-0)
Mike Ehrmann/Getty Images
I'm really high on the Chiefs this year. Granted, improving on a 2-14 season isn't hard to do. They did so much right in the offseason, from hiring Andy Reid to trading for Alex Smith and signing the combo of Dunta Robinson and Sean Smith.
Beating the Jaguars is a bit like Oregon dropping 60 points on an FCS team. It's a win, but you can't really take too much from it because the opposition is so bad.
To its credit, Kansas City did exactly what was expected and handled Jacksonville with relative ease. Jamaal Charles' injury didn't look to be serious at all, which was great news. Alex Smith put in an Alex Smith performance, not throwing for 300 yards but rather managing the game well and avoiding any turnovers.
16. St. Louis Rams (1-0)
There shouldn't be any doubt about Sam Bradford being a franchise quarterback. He really regressed in his sophomore season but got back on track a bit last year. Bradford passed for 299 yards and two touchdowns against the Cardinals. Jared Cook's emergence would also be a huge boost for the Rams' passing game.
17. New York Giants (0-1)
The New York Giants couldn't have done more to un-win their game against the Cowboys. They turned the ball over six times and shot themselves in the foot any time it looked as if they could get into the game. The Giants will have their fair share of highs this season. However, injuries have really hit them hard, and there's no telling how Da'Rel Scott will fill in at running back.
18. Detroit Lions (1-0)
Who would have thought the Lions would get just four receptions and 37 yards from Calvin Johnson and still score 34 points? This week was all about Reggie Bush. He had 191 total yards and scored a touchdown. It was a performance reminiscent of his days as a USC Trojan. With Bush and Joique Bell, Detroit could have a lethal ground attack.
19. Miami Dolphins (1-0)
The Miami Dolphins looked solid in the win over the Browns. They forced Cleveland into three turnovers and got a good performance from Ryan Tannehill. Down the road, the Dolphins will need a lot more from Lamar Miller and Mike Wallace. Neither player contributed much, with Wallace really needing to live up to that big contract he got in the offseason.
20. Carolina Panthers (0-1)
The Carolina Panthers can't afford to do their Jekyll and Hyde routine for a second season in a row. The NFC South is too good this year. Starting with the Seahawks was a bit rough, but facing off with the Buffalo Bills in Week 2 is an opportunity for Carolina to get into the win column and build some positive momentum.
21. Minnesota Vikings (0-1)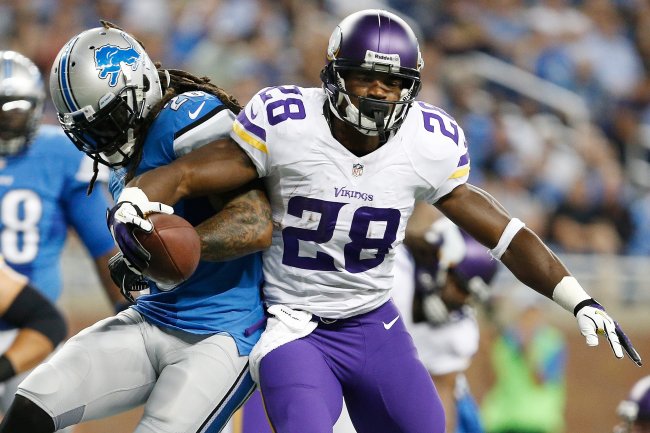 Gregory Shamus/Getty Images
The Minnesota Vikings will go as far as Christian Ponder can take them. Going off his Week 1 performance, that doesn't look like it will be very far at all. Ponder threw three interceptions and fumbled the ball once, negating Adrian Peterson's 93 yards and two touchdowns on the ground.
22. Philadelphia Eagles (0-0)
The Eagles are playing the Redskins in Washington at the right time. There are question marks over RG3, so if Philadelphia is going to get the better of its NFC East rivals, now's the time.
23. Pittsburgh Steelers (0-1)
The Pittsburgh Steelers have gotten real old real fast. On both sides of the ball, they just looked a step too slow. There's no excuse for getting just 195 yards against an average Titans defense. The bigger problem could be replacing Maurkice Pouncey, who tore his ACL and MCL (h/t SportsCenter).
THIS JUST IN: Steelers All-Pro C Maurkice Pouncey needs surgery after tearing ACL and MCL in his right knee.

— SportsCenter (@SportsCenter) September 8, 2013
24. Tampa Bay Buccaneers (0-1)
What has happened to Josh Freeman? He fumbles the ball out of the end zone to gift the Jets two points and completes only 15 of his 31 passes. Once one of the more promising quarterbacks in the league, Freeman can't afford to have too many more performances like this.
25. San Diego Chargers (0-0)
For a team that struggled protecting the passer last season, the last thing you want to see in Week 1 is J.J. Watt. D.J. Fluker will have a baptism by fire in his first regular-season game.
26. Tennessee Titans (1-0)
There's reason to be encouraged in Tennessee. Beating the Steelers is nice, no matter how abject they looked on the field. You should reserve judgment on the Titans for another few weeks. Jake Locker and Chris Johnson will need to be better for the offense to succeed.
27. New York Jets (1-0)
Did that really happen? Did the Jets really beat the Buccaneers? It's a nice step forward for New York and especially for Geno Smith. He's been thrown into a bit of a tough situation, given the New York fan reception toward its quarterbacks, but he performed well in Week 1.
28. Buffalo Bills (0-1)
This was one that really got away from the Bills. They should have posted the victory, which would have been huge for Doug Marrone. With Tom Brady and Stevan Ridley's fumbles, it was all falling into place for Buffalo. Put that aside, and there's no shame in a loss the to Patriots. Still, the Bills have a long way to go to become a good team again.
29. Oakland Raiders (0-1)
Andy Lyons/Getty Images
How about Terrelle Pryor? He still looked like a raw quarterback, but that's to be expected at this point in his career. This is a great starting point for Pryor. As long as he continues improving, the Raiders just may have found their QB of the future.
30. Cleveland Browns (0-1)
Oh, Browns. I had high hopes for Cleveland in Week 1, but the team looked hapless on offense. Brandon Weeden threw three picks and was hit 16 times. The Browns' pass rush looked good, which should be the case after the money they spent on Paul Kruger and Desmond Bryant.
31. Arizona Cardinals (0-1)
With Carson Palmer under center, Arizona seems to have solved its passing issues. The Cardinals should be a better team in 2013, and don't be surprised to see them rise up in the standings once they pick up their first win.
32. Jacksonville Jaguars (0-1)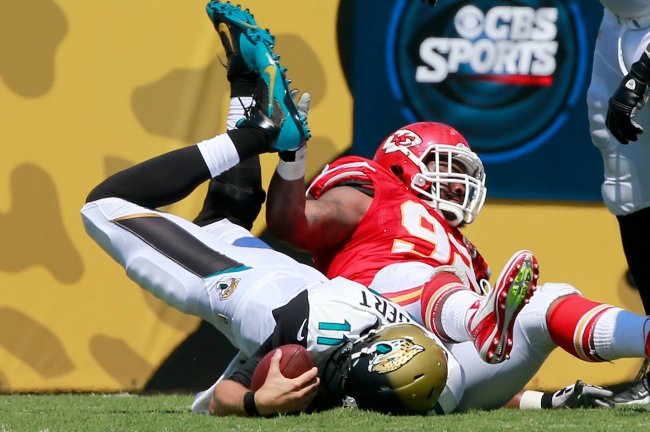 Sam Greenwood/Getty Images
Of all the picks, this one was the easiest. The Jaguars are a mess at the moment. Blaine Gabbert doesn't look like an NFL-caliber quarterback. Until it sorts out that QB situation, Jacksonville is not going to make much progress in 2013.
This article is
What is the duplicate article?
Why is this article offensive?
Where is this article plagiarized from?
Why is this article poorly edited?