Power Ranking 2013 SEC QBs After Week 2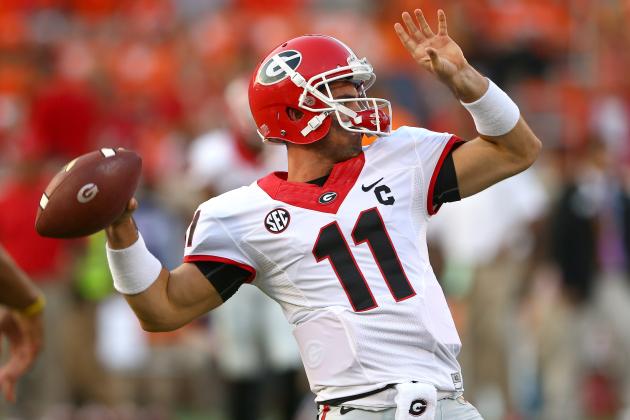 Streeter Lecka/Getty Images

The SEC has some of the best quarterbacks in college football at the moment. The conference is far more than great defenses and talented running backs. Not only did the conference produce last year's Heisman winner in Johnny Manziel, but there are also a handful of players who are getting attention from NFL draft scouts.
But which quarterbacks have played the best through the first two weeks of the season?
Some of the top names may surprise you.
Begin Slideshow

»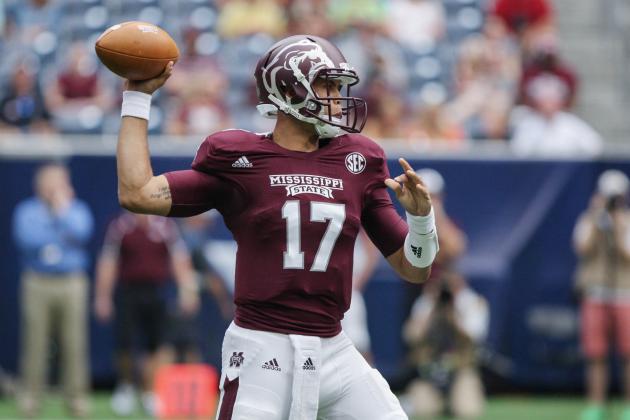 Troy Taormina-USA TODAY Sports

Tyler Russell is last by default, as he was injured in the third quarter of the season opener against Oklahoma State. He then missed last week's game against Alcorn State due to a concussion.
However, he is expected to return for Saturday's crucial game against Auburn.
Russell threw for 133 yards and an interception before getting hurt. Backup Dak Prescott looked sharp filling in for the senior quarterback, but it's clear Russell is Mississippi State's starter when healthy.
Don't expect this ranking to last for long, as Russell has the potential to have a breakout season. But for now, there's nowhere else to put him until he can get back onto the field.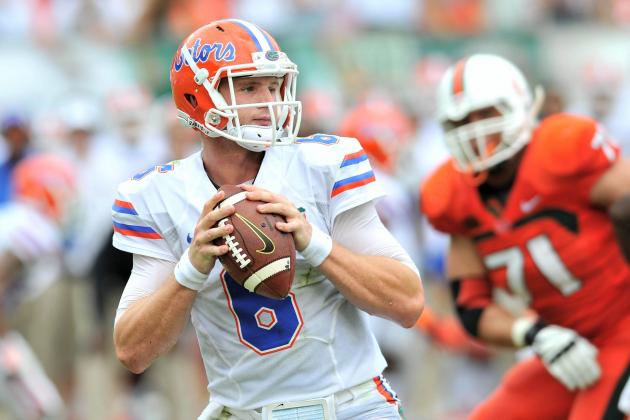 Steve Mitchell-USA TODAY Sports

Jeff Driskel has yet to improve in his second season as a full-time starter.
His two interceptions and fumble pretty much cost his team the game against Miami. He still makes poor decisions with the ball, holds onto the ball way too long and appears lost at times when looking down field.
It's a shame, because Driskel does have the potential to blossom into a solid quarterback. He has great size at 6'4" and has a cannon for an arm as well as more than enough athleticism to make plays with his legs. He could be great, but it's hard to put a time table on when he will start to reach his potential.
Is it the system? Is it the lack of receivers? Combination of everything?
Whatever the reason, Driskel continues to struggle mightily in Florida's offense.
Michael Chang/Getty Images

Nick Marshall hasn't quite lived up to the hype, but Auburn fans must be patient. He's a young quarterback in his first year as a starter, and we are only two games into a long season. He has the skill set to become something special.
Marshall is only completing 55.6 percent of his passes and has thrown two touchdowns. While those numbers aren't spectacular, he did show progress in last week's win against Arkansas State and told Greg Ostendorf of ESPN that he is feeling more confident.
"I talked to Jonathan Wallace before the game, and he told me just to be cool, calm and collected, so that's what I did," Marshall said. "I just went out there and did what I do best."
Marshall will be just fine in due time.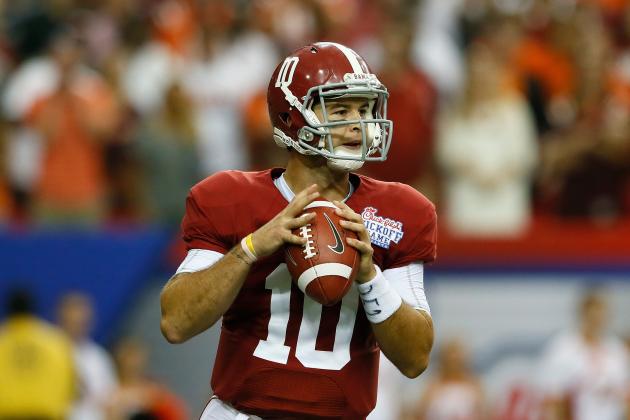 Kevin C. Cox/Getty Images

AJ, is that you?
McCarron has only played in one game so far, but he was hardly recognizable in Alabama's 35-10 win over Virginia Tech. He completed just 43.5 percent of his passes and threw for only 110 yards and an interception.
It was nothing like last year when he set the SEC on fire by throwing for 30 touchdowns and 2,933 yards. He had a hard time dealing with pressure and made a few careless throws that nearly resulted in turnovers.
Of course, McCarron will move up the rankings quickly, but there's no question his senior season started off on the wrong foot.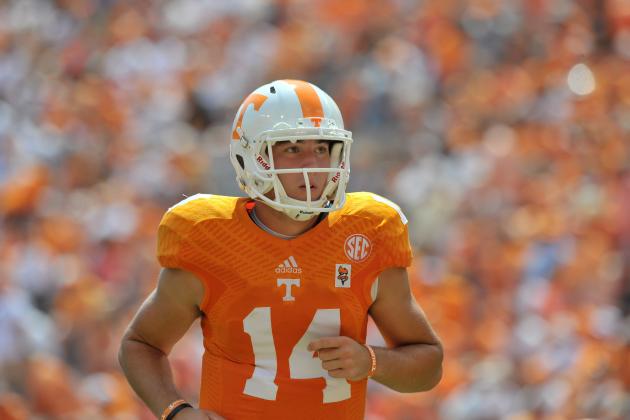 Jim Brown-USA TODAY Sports

Justin Worley has given Tennessee fans a little taste of both sides of the plate.
In the win over Austin Peay, he completed 84.6 percent of his passes and tossed three touchdowns. Last week, although the Volunteers beat Western Kentucky, Worley completed only 57.9 percent of his passes and threw an interception along with a touchdown.
Consistency is the key, and it will be important that he plays like he did in the season opener if Tennessee is going to improve this season. Worley has potential and could turn some heads once he gains confidence and takes the starting job by the horns.
The upcoming game against Oregon will be a real measuring stick for Tennessee and its quarterback.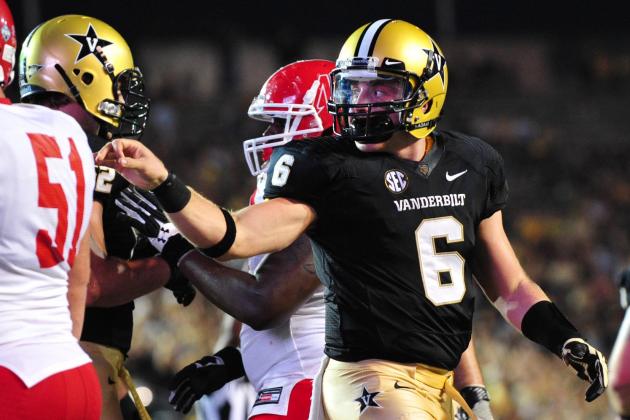 Don McPeak-USA TODAY Sports

It appears that Vanderbilt has found a solid replacement for Jordan Rodgers in Austyn Carta-Samuels.
The senior quarterback, who is seeing consistent playing time for the first time since 2010, has thrown for 523 yards and three touchdowns in two games. He has also shown a little mobility by rushing for 30 yards and two touchdowns.
Carta-Samuels can improve his decision making and do a better job of getting off to a faster start, but he has shown that he has the ability to lead this offense and help put points on the board. Everybody will soon see what he is really made of when Vanderbilt travels to South Carolina this week.
Don't be surprised if he plays well.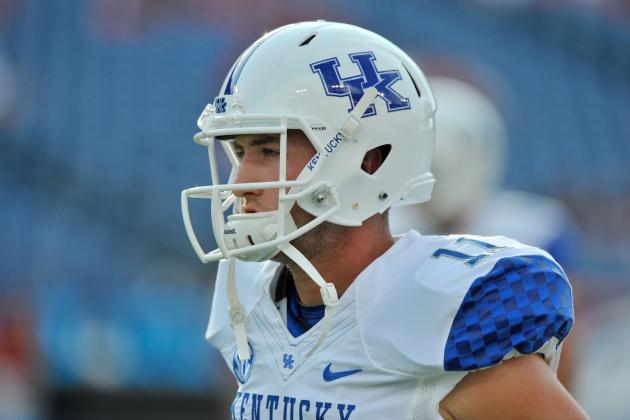 Jim Brown-USA TODAY Sports

Maxwell Smith got off to a fast start last year but had his season cut short due to an ankle injury. Now, he's healthy and has picked up where he left off a year ago.
Smith is completing nearly 64 percent of his passes and really taking advantage of Kentucky's Air Raid offense. He's letting the ball fly and always looking to expose a defense for the big play. He already has six passes of 25 or more yards, which is tied with some of SEC's elite such as Johnny Manziel and Aaron Murray.
Kentucky appears set at quarterback and his playmaking ability could help the Wildcats qualify for a bowl game for the first time in three seasons.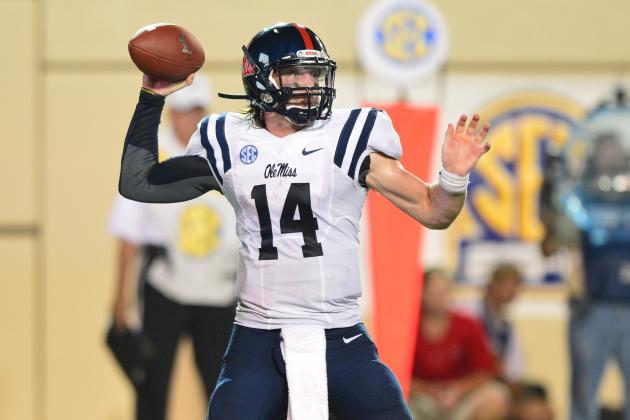 Don McPeak-USA TODAY Sports

Bo Wallace was a quarterback who was poised to have a breakout season, and that's exactly what he's having early on. Wallace is the engine behind an Ole Miss offense that is one of the most balanced in the country that is averaging 35 points per contest.
The junior has thrown for 471 yards and two touchdowns. He's also rushed for two touchdowns in the season opener. While those numbers aren't incredible, Wallace has improved his decision making and is doing a nice job of managing the game. Last year, he threw 17 interceptions, but he has yet to turn the ball over this season.
As the Rebels continue to roll, Wallace could make a name for himself as a top-tier SEC quarterback.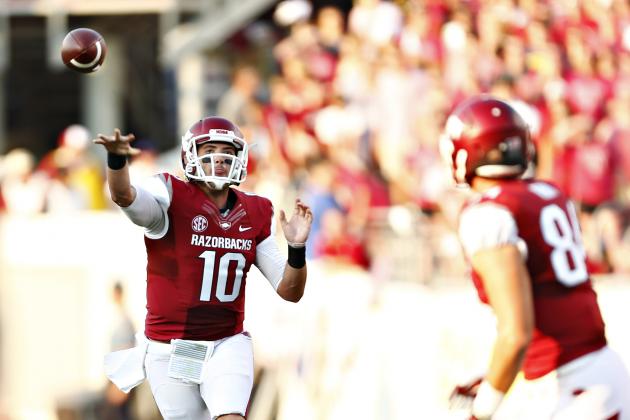 Wesley Hitt/Getty Images

Tyler Wilson who?
Brandon Allen has made Arkansas fans forget about all of the offensive talent it lost during the offseason, as he's handled himself quite nicely in the first two games.
He is completing a solid 61.5 percent of his passes and has thrown five touchdown passes. He has yet to throw an interception and is doing just enough to help the Razorbacks start the season with a 2-0 record.
Allen has moved the chains on 16 of his 24 completions and has eight passes of 15 or more yards. Arkansas may not have as much elite offensive talent as it once had, but consistency at quarterback has certainly improved.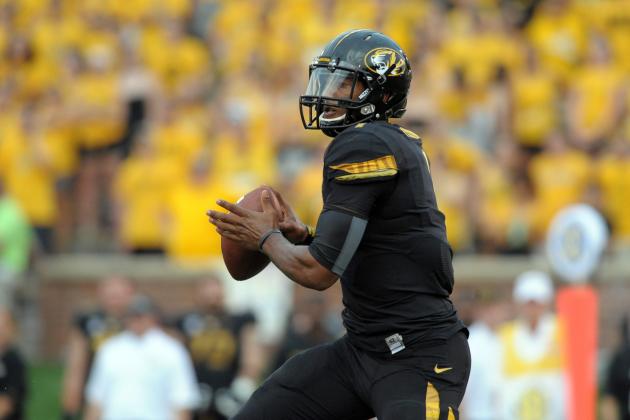 Denny Medley-USA TODAY Sports

James Franklin is back!
The quarterback who was hobbled by injuries all of last year appears to be slowly regaining his 2011 form and he is helping Missouri win games.
He's bumped his completion percentage to 66.7 percent and has thrown for 530 yards. He is also helping the Tigers sustain long drives with his legs, as he already has 121 rushing yards, including two rushing attempts that produced 20 or more yards.
Franklin is a scary quarterback when healthy and could easily lead this program to a bowl appearance. If he can play at this level when the Tigers enter the heart of the SEC schedule, Franklin will continue to rise up the rankings and would soon be mentioned with some of the top signal-callers in the country.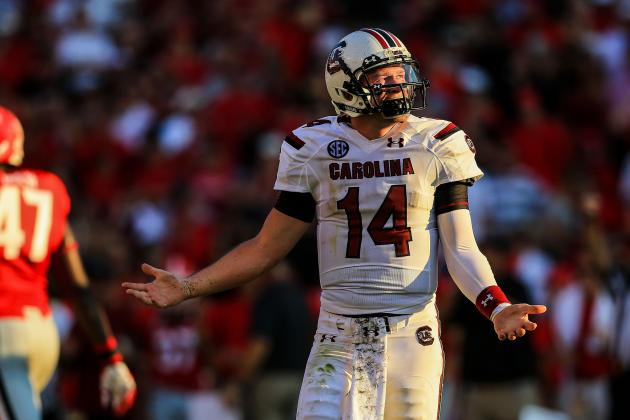 Daniel Shirey-USA TODAY Sports

Connor Shaw simply looks like a more confident quarterback this season. He's making quicker decisions, is a lot more accurate and seems to walk with a little more pep in his step.
He's thrown for 377 yards and three touchdowns in two games. Most importantly, he has yet to throw an interception. While he's more careful with the football, he's also on pace to set a new career high in rushing yards, as he's already racked up 118 yards on the ground.
Shaw is finally emerging into a quarterback who may be capable of leading South Carolina to an SEC East crown. He's more aware in the pocket and is playing the position at a higher level than he ever has in a South Carolina uniform.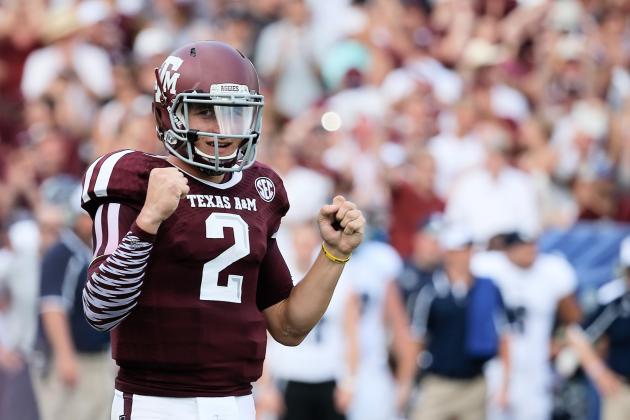 Scott Halleran/Getty Images

Say what you will about Johnny Manziel off the field, but it's hard to criticize his accomplishments between the hash marks. The kid can play football at an elite level, like it or not.
Although he's only played for a game and a half, he already has 497 passing yards and six touchdown passes. He seems more aware on the field than he did last year and isn't so quick to make a play with his legs. He spends more time looking for an open receiver, which is why he only has 55 rushing yards.
Manziel continues to play terrific and could make a case for the top spot depending on how he performs this Saturday against Alabama.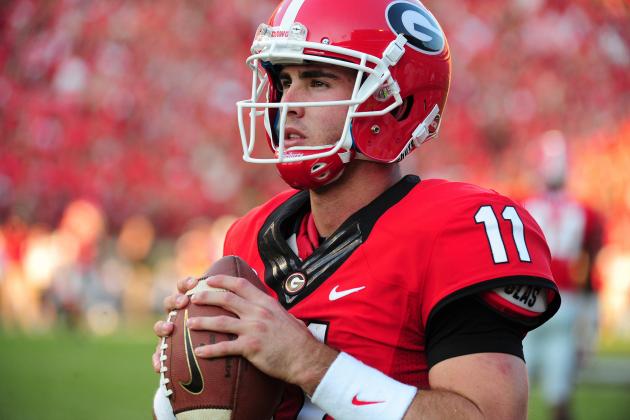 Scott Cunningham/Getty Images

Aaron Murray has topped 300 passing yards in each of the first two games and actually leads the SEC with 632 passing yards. While he didn't throw for a single touchdown against Clemson, he made up for it by taking over in the game against South Carolina and throwing for four touchdowns.
Murray finally silenced the critics by winning a big game and playing his tail off. He did a wonderful job of rolling out of the pocket and buying himself more time, but there were also plays where he stood in the line of fire and delivered a perfect ball before taking a shot in the mouth.
The senior quarterback has always had great statistics, but he seems to have a chip on his shoulder this year. Murray is not only one of the top quarterbacks in the SEC, but he also has reentered the Heisman conversation with last week's win over the Gamecocks.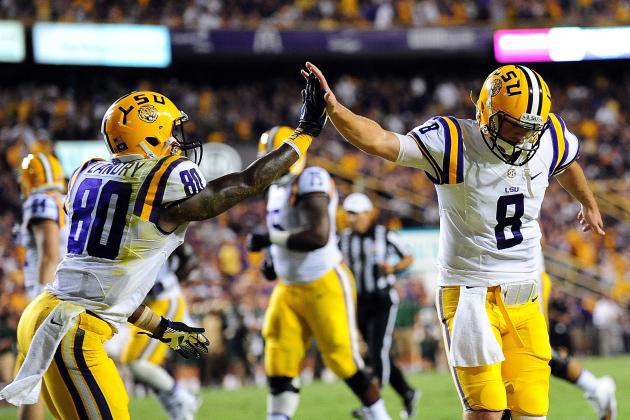 Stacy Revere/Getty Images

No, this is not a typo.
LSU actually has a real quarterback this season, and his name is Zach Mettenberger.
There may not be a more improved player in the country than Mettenberger. The quarterback who couldn't hit the concrete if he tripped over his shoelaces has thrown for 533 yards and six touchdowns in two games.
Those statistics are even more impressive when you consider they are the highest of any LSU quarterback in program history to begin the season.
The addition of offensive coordinator Cam Cameron has obviously worked wonders for the senior quarterback. He is throwing the ball better, isn't afraid to take chances and is a lot more confident. If he can continue this level of play all season, LSU has a real shot to compete for a national championship.