Full Roster Report Card Grades for Cleveland Browns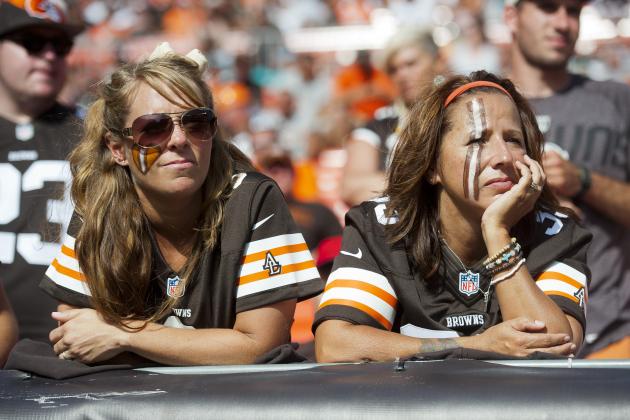 Jason Miller/Getty Images

This is never fun. Handing out grades after a performance like the Cleveland Browns had against the Miami Dolphins is like handing out grades to a room full of students you know did not study for the test.
The offensive side of the football will take the grunt of the damage. From the coordinator to the players, they were simply not good enough.
On the other hand, the defense was phenomenal for the most part.
It is time to hand out grades to every position on the Browns' roster after their 23-10 loss.
Begin Slideshow

»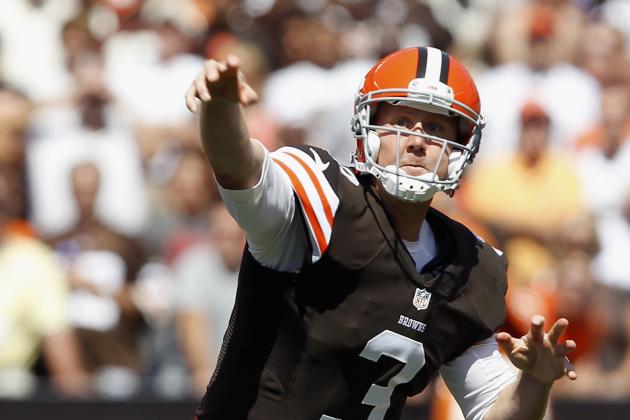 Matt Sullivan/Getty Images

Brandon Weeden: D+
Brandon Weeden's grade bumped up slightly because his play improved in the second half of the loss to Miami. I also factored in the lack of rushing attack, zero blocking and wide receiver drops.
Even with all of those factors, he was still well below where he needs to be. While it looked like things had slowed down for him in the preseason, it was the exact opposite on Sunday.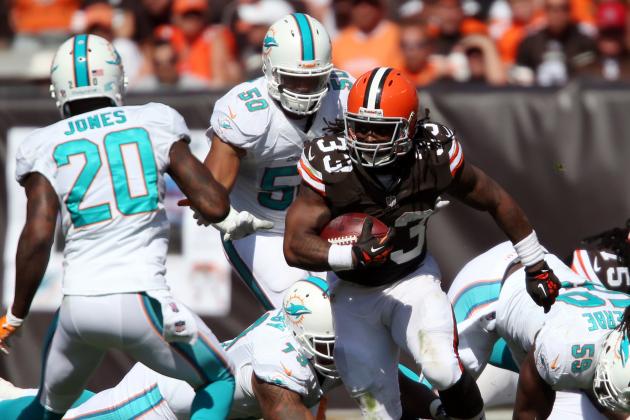 Ron Schwane-USA TODAY Sports

Trent Richardson and Chris Ogbonnaya: C-
It is hard to place too much blame on Trent Richardson for his 47-yard rushing performance. Sure, he can be a little quicker to the hole and less antsy once he reaches it, but he had zero running room to work with.
I also factor in his 15 touches, which is absolutely ridiculous. Former Browns defensive back Trevin Wade, who was cut during training camp after spending a season with Richardson, even tweeted about his lack of involvement:
Why does Trent only have 13 carries?

— Trevin Wade (@TwoStarWade) September 8, 2013
Chris Ogbonnaya was less that stellar as a third-down blocking back, and Norv Turner really needs to consider keeping Richardson in on all three downs.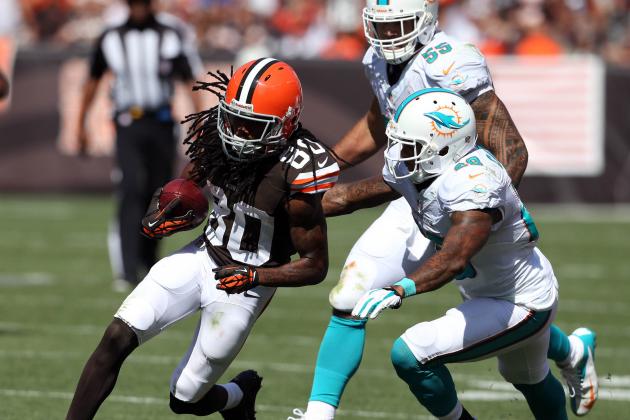 Ron Schwane-USA TODAY Sports

Davone Bess, Travis Benjamin and Greg Little: D
Their combined production was mediocre, the drops were atrocious and no one made a big play when absolutely needed.
I almost feel bad for Davone Bess because he did not have a terrible game. He was the one player in the group who actually showed up, but the overall grade was dragged way down by the other two players.
Never in a million years did I think Greg Little would regress back to the dropped passes after his strong finish to last season.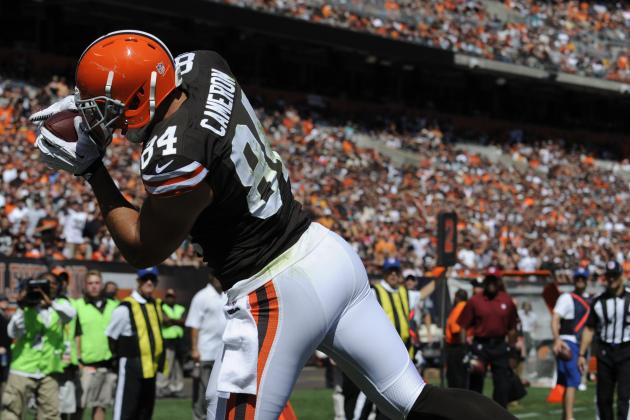 Ken Blaze-USA TODAY Sports

Jordan Cameron and Gary Barnidge: A-
It's tough to play much better than Jordan Cameron did in the passing game. As a tight end, he reaped the benefits of Turner's offense. Anytime you have over 100 yards receiving and a touchdown from this position, it is one heck of a day.
The only thing that brought the grade down from an A+ was blocking. Both Cameron and Gary Barnidge missed key blocks during the game that either got Weeden hit or allowed defenders to reach Richardson easily.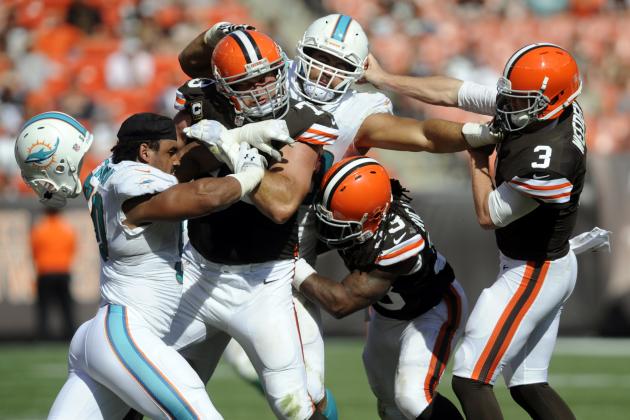 Ken Blaze-USA TODAY Sports

Joe Thomas, John Greco, Alex Mack, Oniel Cousins and Mitchell Schwartz: F
I don't think it can be overstated how poorly the offensive line played. Even though most of the problems came from the right side where Oniel Cousins was abysmal and Mitchell Schwartz wasn't much better, no one played great.
Weeden was hit 16 times in the game, and Richardson rarely had any daylight to work with.
The line's performance has to drastically improve if the offense is going to be any good.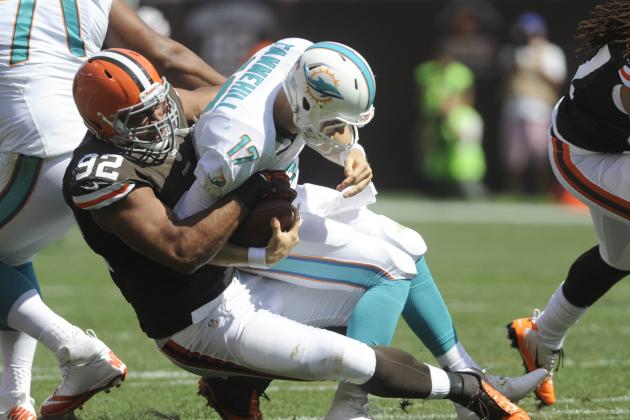 Ken Blaze-USA TODAY Sports

Billy Winn, John Hughes, Desmond Bryant and Phil Taylor: A+
This unit was as dominant as I have ever seen a defensive line in a game. It created pressure on every passing down, completely clogged up the run game and until the players were gassed from being on the field too long in the fourth quarter, they controlled the action.
Desmond Bryant was especially impressive. He and Phil Taylor manhandled their opponents on almost every play.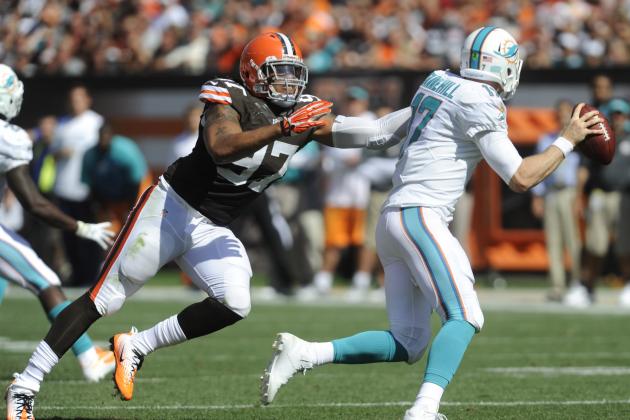 Ken Blaze-USA TODAY Sports

Jabaal Sheard, Paul Kruger and Quentin Groves: A-
The front seven as a whole looks like it is far and away the strength of this football team. Kruger and Co. only missed an A+ because there were a few coverage lapses here and there.
When it came to their main job, menacing the quarterback, they were phenomenal. Even when they didn't get to the quarterback, they created opportunities for the defensive line to get to Ryan Tannehill.
The pass rush was hot and heavy all game long and was fun to watch.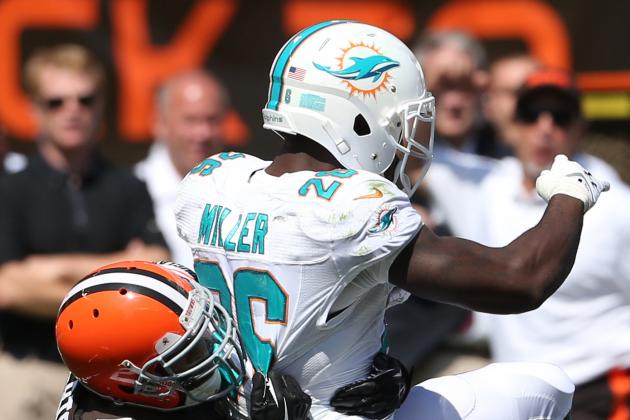 Ron Schwane-USA TODAY Sports

Craig Robertson and D'Qwell Jackson: B
The inside linebacking tandem of D'Qwell Jackson and Craig Robertson was stellar in the run game as well as the pass rush. When Ray Horton dialed up blitzes from their position, they made the most of their opportunities. The calls didn't turn into any sacks, but more often than not they rattled Tannehill or flushed him out of the pocket.
The only area they struggled, which is where they will most likely struggle all season, was in pass coverage.
Tannehill was able to exploit mismatches against them a few times throughout the game. Other than that, it was a very good performance.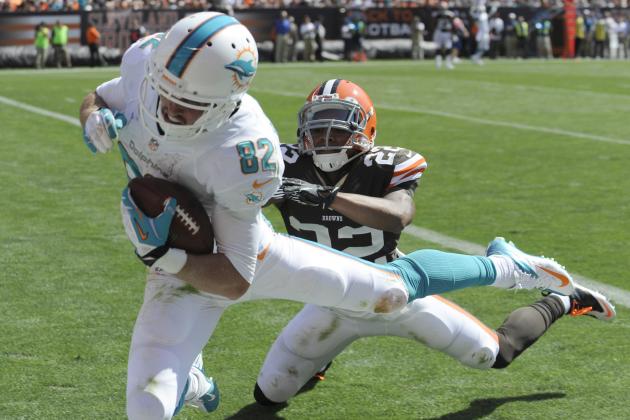 Ken Blaze-USA TODAY Sports

Joe Haden, Chris Owens and Buster Skrine: C-
Joe Haden's grade was tremendously hurt because he is lumped in with Buster Skrine and Chris Owens. Owens and Skrine's grades were lifted immensely because Haden was so dominant.
Haden by himself was an A+. He played the All-Pro cornerback role to perfection. He limited one of the fastest receivers in the league to just one reception, and most of the time Tannehill wouldn't even look to his side of the field.
On the other hand, Skrine and Owens were targeted all day long. Anytime the pass rush couldn't make it to Tannehill he had an open target against one of these two.
What made the situation even worse were Skrine's penalties and Owens' missed tackles late.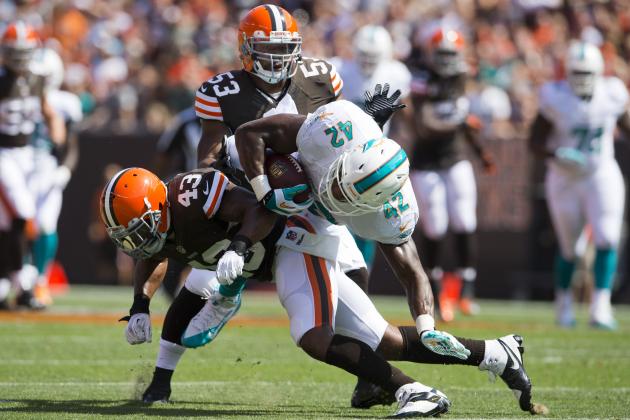 Jason Miller/Getty Images

T.J. Ward and Tashaun Gipson: C+
It will be tough to truly grade the safety position until I can watch coach's film on Wednesday because these guys were lined up all over the field.
T.J. Ward seemed to be explosive and make plays but left the game with a shoulder injury. While he did return, he lost some of his effectiveness.
Tashaun Gipson was not targeted too often in the passing game, so that was a good sign.
Both had a pass defensed as well.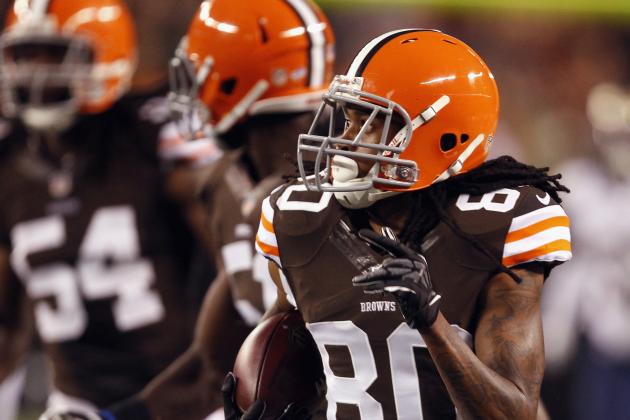 Matt Sullivan/Getty Images

Travis Benjamin, Bobby Rainey, Billy Cundiff, Spencer Lanning and Coverage Units: C+
Despite worries about Billy Cundiff and Spencer Lanning, the special teams units were solid.
Cundiff made his only attempt from 39 yards and had two touchbacks on kickoffs. Lanning was better than expected and had a respectable 45-yard-per-punt average.
Benjamin also broke a nice 31-yard punt return on a re-kick. Bobby Rainey stepped in and did a solid job on kickoff returns as well, averaging 26 yards per return.
The Browns' punt coverage was fantastic, holding the Dolphins to just seven yards on three attempts.