Falcons vs. Saints: Takeaways from Atlanta's 23-17 Loss to New Orleans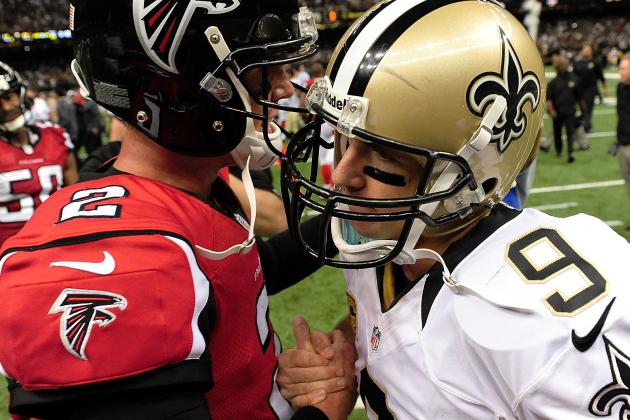 Stacy Revere/Getty Images

In a game that potentially could decide the winner of the NFC South, the New Orleans Saints drew first blood with a 23-17 win over the Atlanta Falcons.

The rivalry between the Atlanta Falcons and the New Orleans Saints is one of the best in football. It was certain that it would be a closely contested ball game.

That proved to be true; it came down to the final possession for the Falcons. They had a chance to win it at the end but were unable to prevail.

But despite their loss, there were many things we can take away from this game as we look forward to the remainder of the 2013 season and a potential division-deciding rematch in Week 12.
Begin Slideshow

»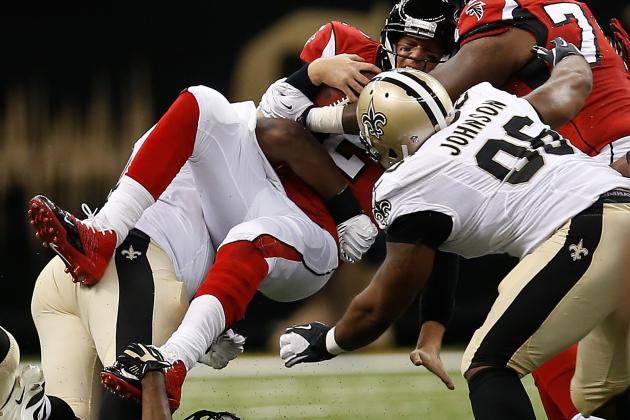 Chris Graythen/Getty Images

Matt Ryan was sacked three times and hit six times by a New Orleans Saints pass rush lacking signature pass-rushers.
Issues with the blocking forced the Falcons into three 3rd-and-longs on consecutive drives at the end of the third quarter and start of the fourth. The final instance occurred thanks to a holding penalty on Sam Baker, negating a 17-yard pass to Harry Douglas that would have given Atlanta a first down.
The same happened to the Falcons at the end of the first half as they attempted to try and score before halftime. But Tony Gonzalez whiffed on a block on Junior Galette, leading to a 10-yard sack that set up a 3rd-and-20 that the Falcons could not convert.
What is most troubling is that it wasn't just right tackle Lamar Holmes who struggled as Holmes was the team's biggest question mark up front. But Baker and left guard Justin Blalock had their fair share of struggles. The Falcons will have to make adjustments next week, as they face two premier pass-rushers in Chris Long and Robert Quinn of the St. Louis Rams.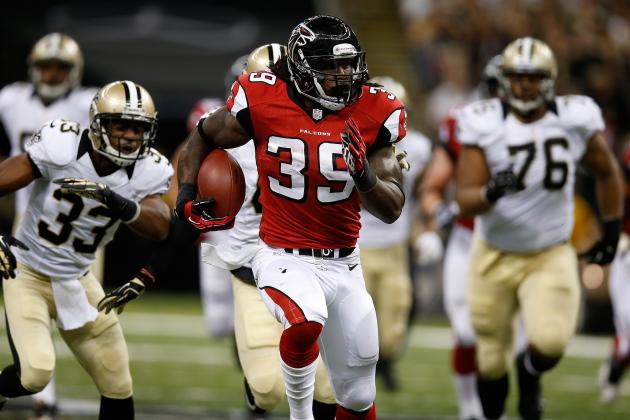 Chris Graythen/Getty Images

While Steven Jackson dropped a pass at the goal line that could have been the game-winner in the final minute of the game, he made several nice plays in his Falcons debut. That included a 50-yard run that set up a touchdown pass to Julio Jones.

Jackson also showed his prowess as a pass-catcher, nabbing five passes for 45 yards on the day. Despite his critical drop, he proved to be one of the more reliable receivers for Matt Ryan. Several checkdowns, dump-offs and screen passes were directed his way.

It was certainly a performance to build off moving forward in 2013. And it appears the Falcons' 29th-ranked rushing attack from a year ago has taken strides forward.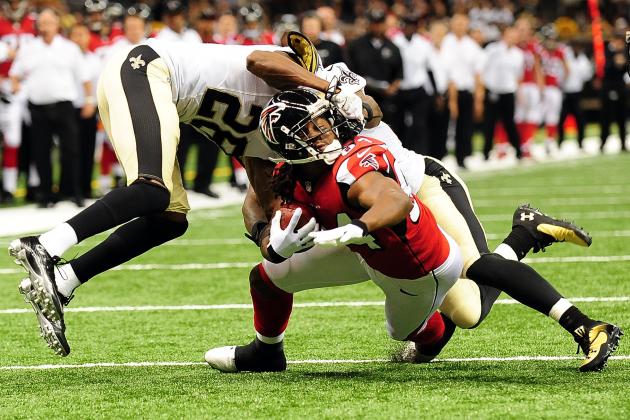 Stacy Revere/Getty Images

Roddy White was limited to just two catches for 19 yards on the day. He was nursing an ankle injury, and it was clear he wasn't 100 percent. He was limited in practice all week, but there was little doubt about whether he would suit up. Rather the concern was about how effective he would be against the Saints when he did.
Well, he proved to be not very effective.
White struggled getting off the line and had trouble separating from Saints coverage all game long. His 15-yard catch along the sideline was one of the few 3rd-and-long conversions the Falcons had all game, but besides that he was largely a non-factor.
The Falcons could have used White on a number of plays, using his ability to separate from coverage quickly and offset the poor pass protection. But his lack of a presence allowed the Saints defense to focus on the team's other receivers, and he served more often as a decoy than a threat. That needs to change in future games.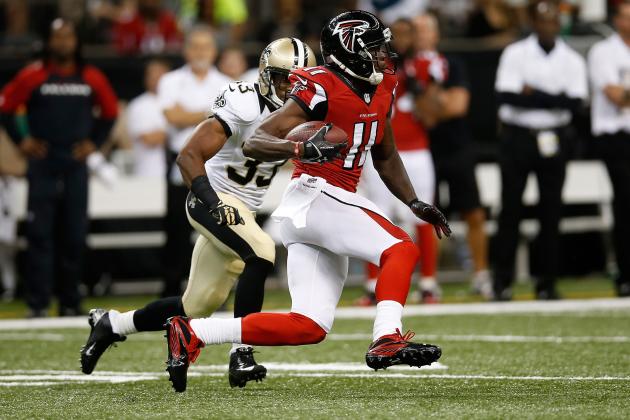 Chris Graythen/Getty Images

Without Roddy White up to his usual form, the Falcons had to rely heavily on Julio Jones to help move the ball. Jones responded with seven catches for 76 yards and a touchdown.

While far from a spectacular stat line, Jones flashed his ability to make plays throughout the day after the catch. The only issue he had all game was his fumble on a play where he was fighting for extra yards and had it stripped out of his hands. It proved to be a critical play, allowing the Saints to generate seven points to tie the score in the second quarter.

Jones made a tough grab in traffic to start the Falcons' final drive in the fourth quarter, going and getting the ball. That ability, coupled with his athleticism, makes him one of the more difficult matchups in the league.
If the Falcons can do a better job protecting Matt Ryan to give him more time to find Jones, it's a matchup that can be further exploited this season.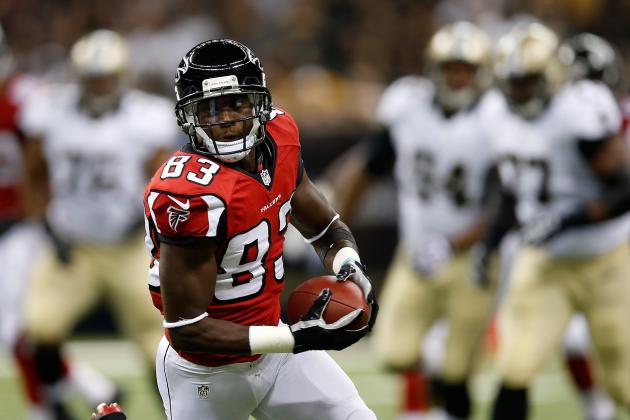 Chris Graythen/Getty Images

Harry Douglas had his number dialed up quite a bit against the Saints due to the injury to Roddy White.

Douglas responded with two of the team's biggest plays on the day, catching passes for 50 and 20 yards. His 50-yard catch in the first quarter set up the team's first score. Douglas caught a crossing pattern and used his speed to pull away from the defense after the catch.

His 20-yard play came in the fourth quarter with the Falcons driving, helping put the Falcons inside the red zone to set up the go-ahead touchdown.

While the Falcons ultimately failed to score that touchdown, Douglas' ability to generate big plays was critical to the team's ability to stay in the game. Douglas is often the forgotten man in the Falcons' offense, but he's shown time and time again that when Julio Jones and White aren't up to snuff, he's capable of stepping up.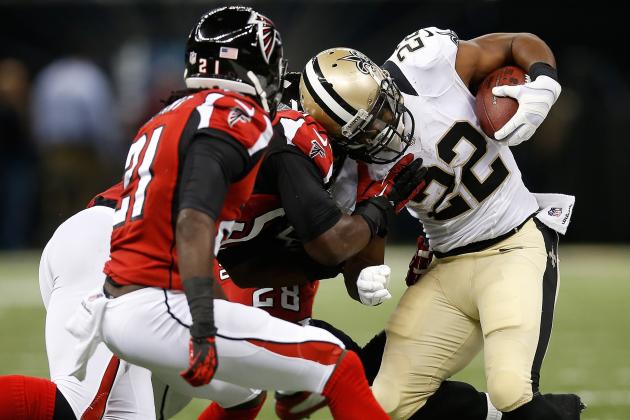 Chris Graythen/Getty Images

While the numbers don't look great for the Falcons defense on the day, with 419 total yards given up to the Saints, they had a solid performance.

They made stops when it mattered.
The Saints only scored a touchdown on one of their three red-zone trips. Their final stop was the most impressive of the game, forcing the Saints to settle for a 22-yard field goal with little more than three minutes remaining. That gave the Falcons offense a chance to win it with a touchdown rather than needing two scores.

Given that the Falcons were lacking their top cover corner in Asante Samuel, who was a game-day scratch due to a lingering thigh injury, it was an impressive performance.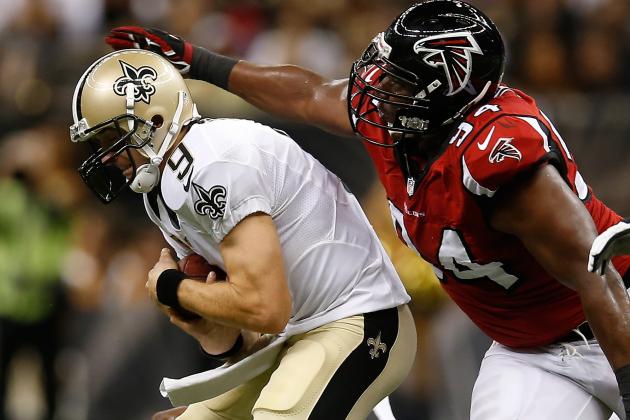 Chris Graythen/Getty Images

There were times throughout the game when the Falcons were able to get pressure on Drew Brees. But there were many more times when they did not.
And while the Falcons' own quarterback was running for his life much of the game, Brees was relatively comfortable.

In fact, many of the instances where the Saints' offense was forced off the field were due to plays made in the secondary or simply because Brees was inaccurate at times.
Osi Umenyiora showed up early with a hit on Brees on the second play from scrimmage. He also had another pressure later when Peria Jerry got credit for a sack for cleaning up the play. But the Falcons' pass rush could not exploit the Saints' new left tackle Charles Brown.

While not an ideal performance, it was a small improvement from previous years where the pass rush was nonexistent in such games.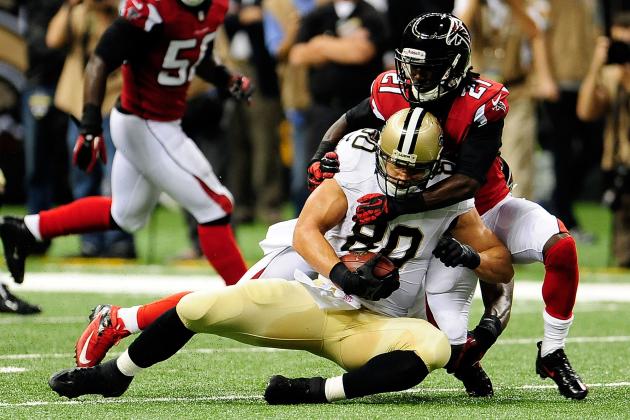 Stacy Revere/Getty Images

Due to the absence of injured cornerback Asante Samuel, the Falcons were forced to rely heavily on a pair of rookie corners, Desmond Trufant and Robert Alford.

Trufant was expected to start at right cornerback, but Alford's role on defense was enlarged once Samuel was ruled inactive. He served as the team's nickel cornerback. Normal nickel guy Robert McClain slid into Samuel's vacated left cornerback spot.

Trufant and Alford made a couple of nice plays in coverage, with Alford picking off a Brees pass late in the third quarter. While the Falcons' offense could not capitalize with points off the favorable field position, it certainly quelled any worries that the young players wouldn't be ready to go against a prolific offense like the Saints'.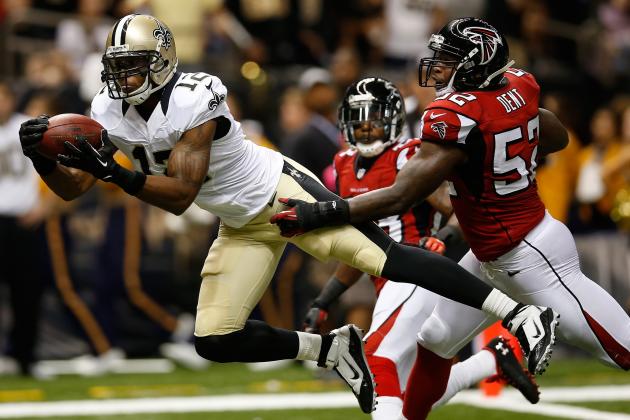 Chris Graythen/Getty Images

Falcons middle linebacker Akeem Dent got his first taste of being an every-down player.
A year ago, he was a regular in the team's base package featuring three linebackers, but he was pulled off the field when the Falcons moved to their nickel sub-package. And they used nickel quite a bit a year ago.
With a declining Stephen Nicholas, Dent no longer is being pulled off the field in passing situations.
While he had his share of breakdowns in coverage today, some of them were understandable. He was beaten by Marques Colston on a 25-yard score when he was tasked with deep coverage down the middle. Dent should not be in a position where he's asked to run with slot receivers as good as Colston.

But he made up for it against the run, leading the Falcons with 11 tackles. Dent at times looked lost when defending the run last season, but he showed much better instincts against the Saints. While his coverage still needs work, growth as a run defender is at least a starting point for a better 2013.