College Football Week 3 Preview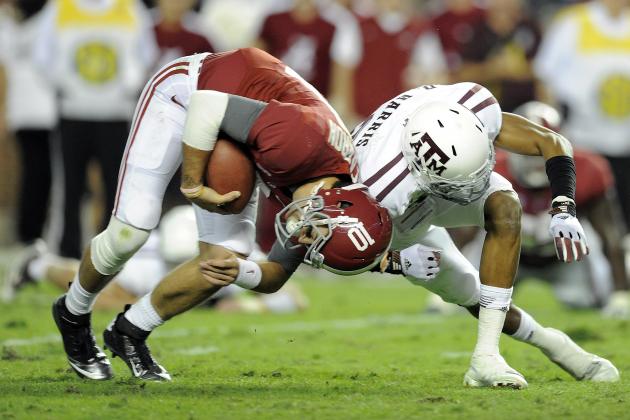 John David Mercer-USA TODAY Sports
The much-hyped clash between Alabama and Texas A&M is the most anticipated game of the 2013 season.
The mega-matchup between No. 1 Alabama and No. 6 Texas A&M seems like the only game anyone wants to talk about, which is understandable considering the circumstances surrounding the heavyweight bout.

Though the battle between the Tide and the Aggies may be the main focus this week, there's going to be plenty of other important action taking place around the country as well.

Here's a look at the key storylines for the third weekend of the 2013 college football season.
Begin Slideshow

»
John David Mercer-USA TODAY Sports

It's highly doubtful there will be any other regular-season game this year that will receive the type of publicity and magnifying treatment as this weekend's huge SEC showdown between No. 1 Alabama and No. 6 Texas A&M.
This one has all of the ingredients to be a classic. But then again, we also said the same thing about the "Game of the Century" battle between Alabama and LSU back in 2011, and that one didn't quite live up to expectations, did it?
Does Johnny Manziel have enough tricks up his sleeve to beat an Alabama team that is not only more talented overall than the Aggies, but also has the revenge factor playing in its favor?
We'll find out on Saturday.
Hopefully, this game lives up to the hype, because if it does, it has the potential to be one of the best regular-season college football games we've seen in years.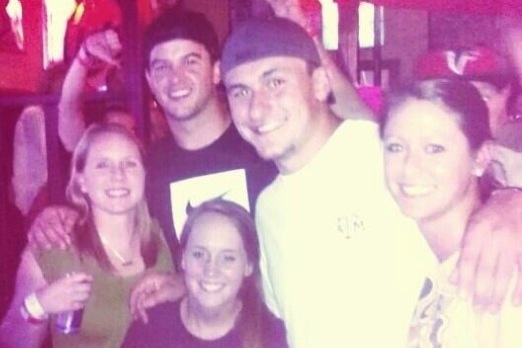 Photo Courtesy of Twitter: @reagann14
In sports, you can never play the "what if?" game. Still, you have to at least wonder just what would have happened if A.J. McCarron would have completed that fourth-down pass on the goal line against Texas A&M and led Alabama to victory instead of tossing an interception.
If that had happened, it's likely it would have been McCarron, and not Johnny Manziel, who would have taken home the 2012 Heisman Trophy, and it's likely we would have spent all summer talking about the Alabama quarterback instead of Johnny Football.
At this point in the season, it's silly to call anyone a Heisman favorite, but it's clear that right now, McCarron and Manziel are two of the top contenders for the award.
Ultimately, this will be a pivotal game in the Heisman race. The winning quarterback will receive a huge boost in the eyes of Heisman voters, while the loser will likely be eliminated from contention.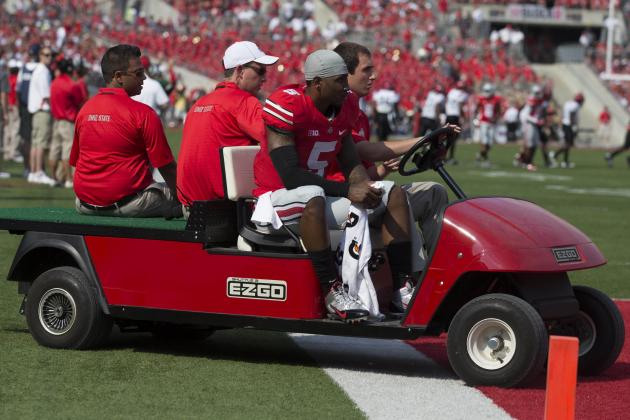 Greg Bartram-USA TODAY Sports

Ohio State fans endured their worst nightmare last week, as they were forced to watch as star quarterback Braxton Miller was carted off the field with an apparent knee injury early in the first quarter against San Diego State. Luckily, the Buckeyes got a tremendous relief performance from backup Kenny Guiton, who led the team to a 42-7 blowout victory over the Aztecs.
What's even more lucky, however, is that it turns out Miller's knee injury is not a serious one. According to the Columbus Dispatch, Miller suffered a sprained MCL, and Urban Meyer has deemed his status as "day-to-day."
Ultimately, it will be very interesting to see which quarterback Meyer chooses to go with when Ohio State plays its first road game of the season at Cal on Saturday night.
Though Miller is obviously the preferable choice, when you consider the Bears defense has given up 74 total points and more than 1,000 total yards in its first two games against Northwestern and Portland State, the Buckeyes offense shouldn't have much trouble moving the ball, no matter who is behind center.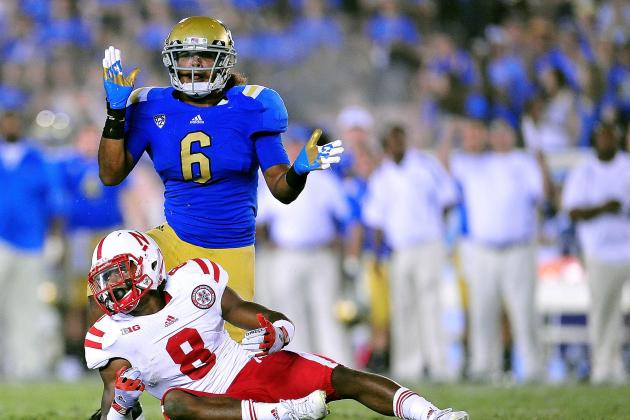 Gary A. Vasquez-USA TODAY Sports

Besides the Cal-Ohio State game, there will also be three other big battles involving Big Ten and Pac-12 teams, all of which will feature ranked teams.
At noon ET, No. 23 Nebraska will look to avenge last year's 36-30 loss to UCLA when the Cornhuskers host the No. 16-ranked Bruins. The matchup will feature two of the most talented dual-threat quarterbacks in the country: Nebraska's Taylor Martinez and UCLA's Brett Hundley. In last year's meeting, Martinez and Hundley combined to account for 649 total yards of offense and five touchdowns.
At 6 p.m. ET, No. 23 Washington will play its first road game of the season at Illinois. The 2-0 Illini have already matched their win total from last year due in large part to the drastically improved play of senior quarterback Nathan Scheelhaase, who has completed 74 percent of his passes for 747 yards and six touchdowns. The Huskies secondary, which allowed just 3.8 yards per pass against Boise State in the season opener, could have its hands full, trying to contain Scheelhaase, who is averaging 10 yards per pass.
Finally, in the night-capper at 10:30 p.m. ET, the underrated Arizona State Sun Devils will host the No. 18-ranked Wisconsin Badgers. After feasting on two cupcakes—UMass and Tennessee Tech—at home, Wisconsin will venture out on the road for the first time under new coach Gary Andersen. It will be interesting to see if Andersen will have his team properly prepared. Last year, the Badgers didn't fare so well in their first road test of the season, which also happened to be against a Pac-12 opponent, losing to Oregon State 10-7 in what was one of the most pitiful offensive performances in school history.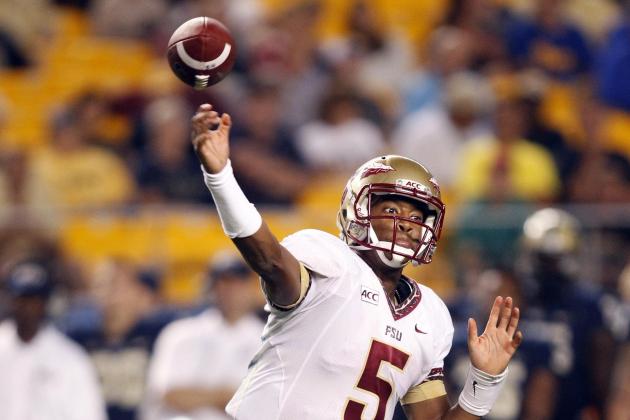 Charles LeClaire-USA TODAY Sport
Jameis Winston
On Labor Day night, Florida State freshman sensation Jameis Winston put together one of the greatest debut performances in college football history. Winston, a former highly touted All-American recruit from Alabama, basically had the football equivalent of a pitcher's perfect game. He completed 25 of his 27 passes for 356 yards and four touchdowns as he guided the Seminoles to a dominant 41-13 win over Pittsburgh.
That magnificent showing has now helped Winston garner plenty of buzz.
We'll have the opportunity to see what the incredibly gifted 6'4'', 227-pound freshman signal-caller can do for an encore when Florida State hosts Nevada on Saturday.
Winston will have his fair share of opportunities to create some big plays in the passing game. However, it's likely the Seminoles will rely more on their dynamic rushing duo of James Wilder Jr. and Devonta Freeman to take advantage of the Wolf Pack's lackluster run defense, which gave up 345 yards on the ground and five rushing touchdowns in a 58-20 loss to UCLA in the team's season opener.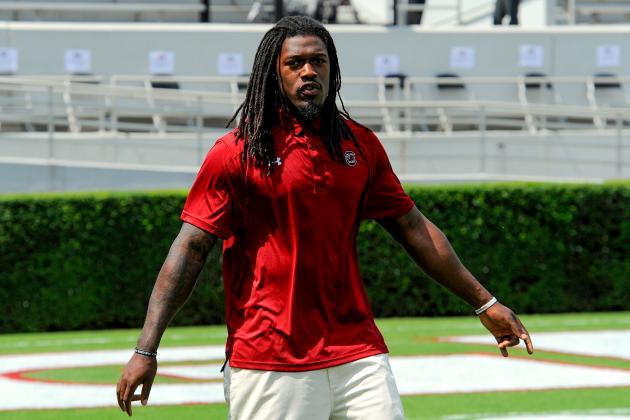 Dale Zanine-USA TODAY Sports

Besides Andrew Luck, no other college player in the past decade received the same level of offseason hype and publicity as South Carolina star Jadeveon Clowney did this summer.
Clowney solidified his status as the consensus No. 1 overall ranked prospect in the 2014 NFL draft class following a sensational sophomore season, in which he totaled 13 sacks, 23.5 tackles for loss and three forced fumbles. So far, however, Clowney has not exactly lived up to his billing in South Carolina's first two games of the season against North Carolina and Georgia, as he's totaled just one sack and five solo tackles.
The former No. 1 overall prospect of the 2011 recruiting class expressed his frustration after last week's loss to the Bulldogs, telling reporters he wants to be used differently in South Carolina's defensive scheme.
Obviously, opponents have figured out how to neutralize Clowney's impact on the game, which is why it will be interesting to see how the Gamecocks coaching staff chooses to use him against Vanderbilt on Saturday.
The freakish physical specimen clearly possesses the versatility to line up at a variety of different positions instead of just being a traditional 4-3 defensive end. Hopefully, South Carolina figures out a more effective way to use Clowney, because it would be a shame to squander his rare skills.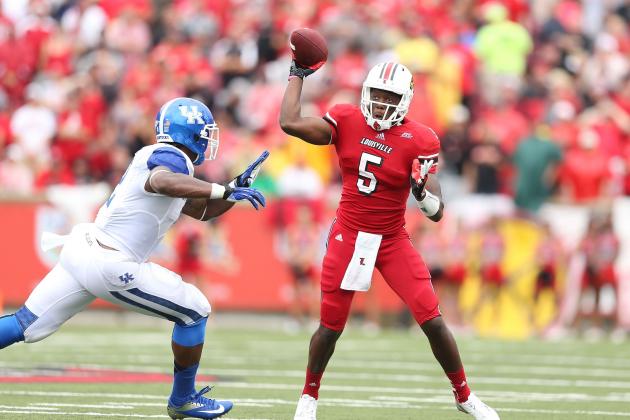 Andy Lyons/Getty Images

Back in January, Louisville QB Teddy Bridgewater became a national star with his brilliant performance in an upset victory over Florida in the Sugar Bowl.
On Saturday, Bridgewater will get another opportunity to prove himself against an SEC defense when the Cardinals travel to Lexington to battle in-state rival Kentucky. Though the Wildcats defense doesn't have nearly the same caliber of talent as the Gators D did, it's a unit that at least features more speed and athleticism than the two defenses Bridgewater has faced so far this season in wins over Ohio and Eastern Kentucky.
So far this season, the gifted pro-style passer has looked exceptional, and he's managed to live up to his press clippings, as he's completed 76 percent of his passes for 752 yards and nine touchdowns.
Bridgewater has built quite a bit of momentum as well as Heisman buzz. Now, he'll have his first opportunity of the season to prove what he can do on the road against a BCS foe.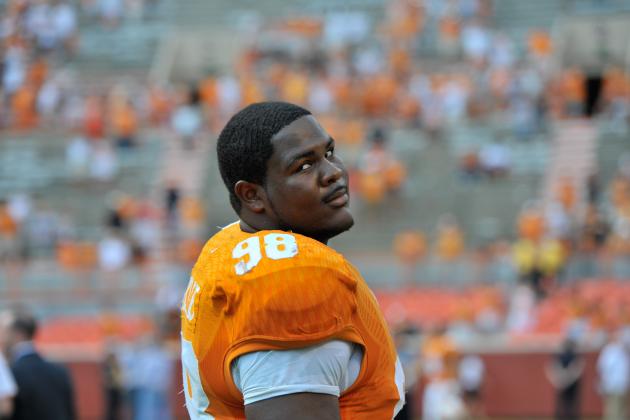 Jim Brown-USA TODAY Sports
Daniel McCullers
No Chip Kelly, no problem for Oregon's offense. So far this season, the Ducks have been just as explosive and just as powerful as they were during Kelly's tenure, averaging 62 points and 664 yards per game in the first two games of the year.
Now, Tennessee will get its chance to try to slow down the Quack Attack when the Volunteers head to Eugene this weekend.
Though the Vols ranked 87th in the nation in rushing defense last year, they do at least have two big, powerful 300-plus-pound defensive linemen: Daniel McCullers and Maurice Couch, as well an All-American-caliber standout linebacker in A.J. Johnson.
This will be Oregon's toughest challenge of the season so far. However, judging by the way Heisman hopeful Marcus Mariota and the rest of the offense have been playing so far, it's tough to see the Volunteers going into Autzen Stadium and pulling off a big upset.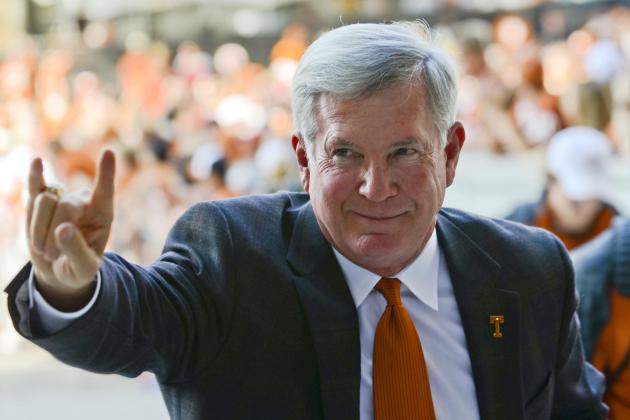 Brendan Maloney-USA TODAY Sports

550.
That's the number of rushing yards Texas allowed in an embarrassing defensive performance in a 40-21 loss at BYU this past Saturday.
The dismal defensive showing was the last straw for Manny Diaz, who was relieved of his coordinator duties by Mack Brown following the game.
Brown has tapped former Syracuse coach Greg Robinson to run the defense when No. 25 Ole Miss comes to town on Saturday. The last time Robinson was in charge of running a defense was at Michigan back in 2010. The Wolverines defense was absolutely awful that year, ranking 107th nationally in scoring defense and 110th in total defense, allowing an average of 35 points and 450 yards per game.
If Robinson can't turn things around in a hurry, it seems like this will be Brown's final season in Austin.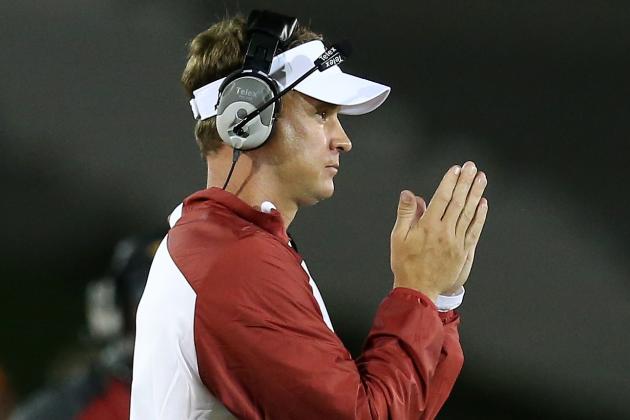 Stephen Dunn/Getty Images

USC's offense is another high-profile unit that has been downright dreadful so far this season. Following the loss of four-year starting QB Matt Barkley, the Trojans have been left with a gaping hole at quarterback, which neither Cody Kessler nor Max Wittek has been able to properly fill so far.
Kessler and Wittek have combined to complete just 52 percent of their passes for one touchdown and three interceptions, while averaging just 4.5 yards per pass.
After a shocking 10-7 loss at home to Washington State last week, Lane Kiffin is now starting to feel the heat.
Kiffin announced on Monday that Cody Kessler will start this week against Boston College. If the Trojans don't find an offensive spark soon, this could be a long, and ultimately final, season for Kiffin in L.A.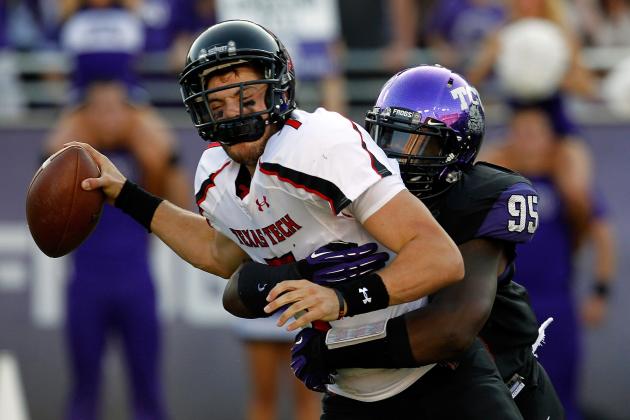 Tom Pennington/Getty Images

This week's main Thursday night game is a much more exciting matchup than last week's East Carolina-Florida Atlantic snooze fest.
No. 24 TCU will start off its Big 12 slate when it heads to Texas Tech to battle Kliff Kingsbury's new-look Red Raiders offense.
Last year, these two teams needed three overtimes before the Red Raiders finally prevailed 56-53. It was a game that featured nine lead changes and more than 900 yards of total offense.
It will be interesting to see how Texas Tech freshman QB Baker Mayfield fares against TCU's veteran secondary, led by All-American CB Jason Verrett.
So far, Mayfield has looked impressive, completing 71 percent of his passes for 780 yards and seven touchdowns without throwing an interception. However, he's yet to face a defense that's nearly as good as the one he'll see on Thursday night.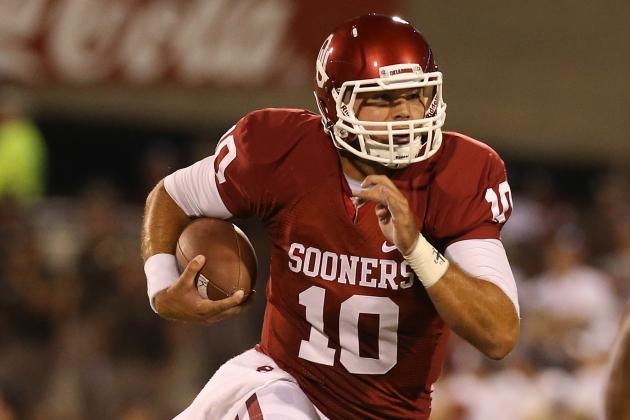 Matthew Emmons-USA TODAY Sports

Going into the 2013 season, it seemed like Blake Bell was the odds-on favorite to replace Landry Jones as Oklahoma's new starting quarterback. However, Bob Stoops instead made the surprising decision to go with unproven redshirt freshman Trevor Knight.
Unfortunately, Knight, who struggled in last week's win over West Virginia, completing just 10 of his 20 passes, has been ruled out of this Saturday's game against Tulsa with a bruised knee.
With Knight sidelined, that means the Sooners will now be forced to ride "The Belldozer" this weekend against the Golden Hurricane. The big, powerful 6'6'', 252-pound junior now has the chance to prove to the Oklahoma coaches that he can indeed be a successful starting signal-caller.
Let's see if he can make the most of the opportunity.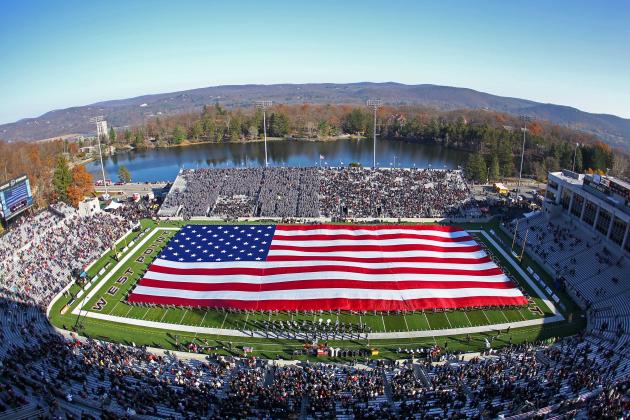 Danny Wild-USA TODAY Sports

This week, No. 5 Stanford will make the cross-country trip to West Point, N.Y., to battle Army for the first time since 1979. It will mark the first time the Cardinal have played a game in the Northeast since they traveled to Boston College back in 2002.
Obviously, the Knights don't have anywhere near the same caliber of talent as Stanford, and the Cardinal shouldn't have much trouble winning this game rather easily.

Still, it will be interesting to see how David Shaw's squad will handle the dreaded time zone switch and how the team will adjust to having to play a noon kickoff time on the East Coast.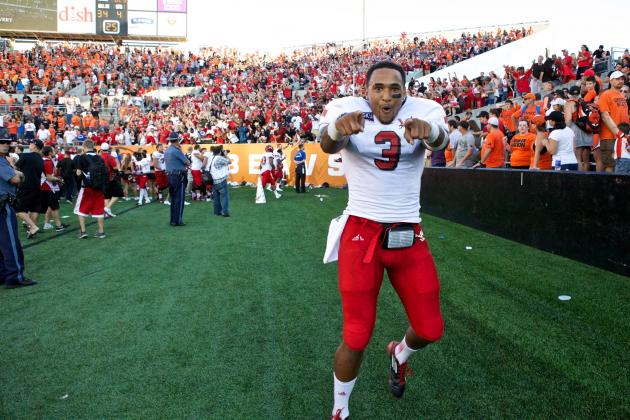 Jaime Valdez-USA TODAY Sports

Back in Week 1, Eastern Washington pulled off a stunning 49-46 upset win over then No. 25-ranked Oregon State in Corvallis.
This week, the Eagles will be looking to make another big statement against an FBS school when they travel to Toledo.
The 0-2 Rockets are a bit bruised and beaten up following two tough road losses to SEC opponents Florida and Missouri to start the season.
Eastern Washington QB Vernon Adams, who has already accounted for 11 total touchdowns in just his first two games, should cause plenty of headaches for Toledo's defense.
The question is, though, will Adams be able to lead Eastern Washington to another big upset win on the road?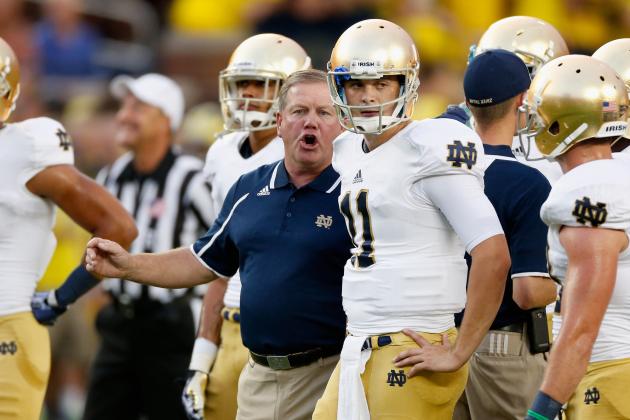 Gregory Shamus/Getty Images

Notre Dame failed to get the job done last Saturday night against Michigan, losing 41-30 in the Big House.
This week, the Irish will look to get back on track when they head to West Lafayette to take on Purdue.
On paper, the Boilermakers—a team that got destroyed by Cincinnati 42-7 on opening weekend and then barely beat Indiana State 20-14 last week—don't appear to be much of a match for Brian Kelly's squad. However, over the past four years, the average score in this matchup has only been 26-15 in favor of the Irish, including just a three-point win last year.
It will be interesting to see if Notre Dame will have to deal with a bit of a hangover after last week's tough loss to the Wolverines.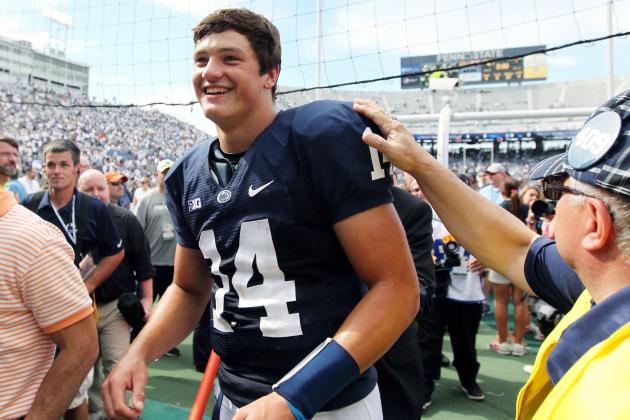 Matthew O'Haren-USA TODAY Sports
Christian Hackenberg
There are a few ranked teams that need to be on upset alert this weekend, including Alabama, Washington, South Carolina and Wisconsin. However, if you're looking for an off-the-radar potential upset possibility, then watch out for Central Florida at Penn State.
The Nittany Lions look like they have a budding star in true freshman quarterback Christian Hackenberg, who has looked terrific in his first two games. However, you have to expect that Hackenberg will have a few rough, mistake-filled games during his first season, and this could be one of them.
The Knights offense is led by one of the most underrated quarterbacks in the country, Blake Bortles, who is certainly capable of going toe-to-toe with Hackenberg.
Penn State head coach Bill O'Brien coached under George O'Leary at Georgia Tech from 1995-2002. You can bet that O'Leary would love to get a big win over his former pupil.
The boys in Vegas have installed the Nittany Lions as just five-point favorites for this game, which is certainly an interesting line to say the least.