Texas Football: Grading the New Longhorns Offense So Far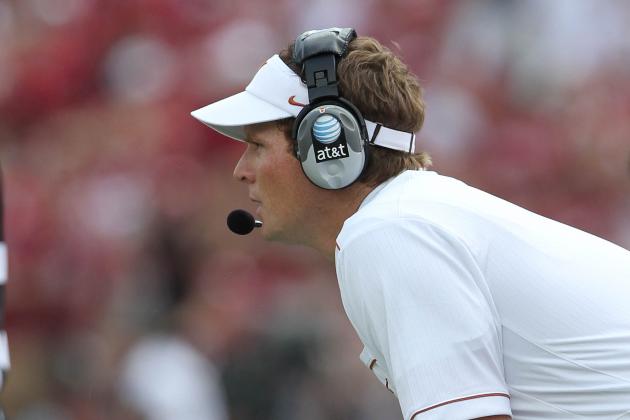 Matthew Emmons-USA TODAY Sports
How much of a difference has Applewhite's offense made through two games?
The Texas Longhorns are two games in and have experienced two different results in the new uptempo offense. Major Applewhite's group may not be in as much trouble as the defense, but it has not alleviated any concerns moving forward.
The Longhorns are in full circus mode. Greg Robinson has replaced Manny Diaz as defensive coordinator after last night's drubbing at BYU, and the entire nation is snickering at the Longhorns' prospects for the rest of the season.
Could the Diaz demotion be the spark the program needs? Perhaps on defense, but the offense needs some help of its own. The 'Horns were unable to pull themselves out of a second-straight slow start, and figure to be a feature section of Kyle Van Noy's draft film this spring.
There were still explosive plays, but this was not the offensive machine fans wanted and the team needed to beat the Cougars. Especially with a defense that is still in progress.
But how far has this offense come in the new scheme? The answer will alleviate your concerns for this 2013 season.
Begin Slideshow

»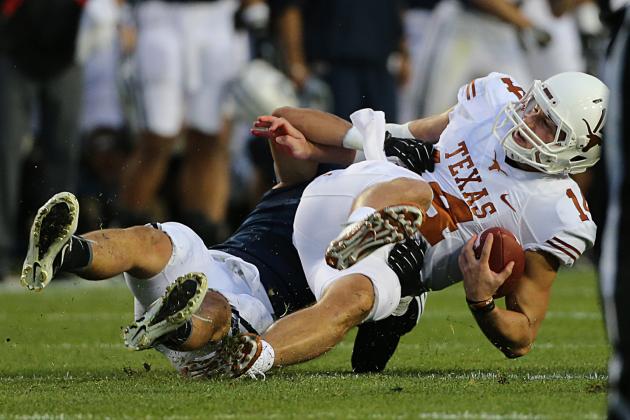 George Frey/Getty Images
Other than taking too many hits, David Ash has been successful in the up-tempo offense.
A main reason for the switch to an uptempo offense was to allow David Ash to make quick decisions and use his athleticism. The results have been a mixed bag.
Ash has looked great at times, stretching the field with his arm while still completing over 63 percent of his passes. His six touchdowns have an average distance of almost 60 yards, and he has picked up big chunks with his legs when the defense gives him too much room.
However, there are still some obvious flaws in Ash's game. He has not turned the ball over when pressured, but is taking off and is allowing the defense to get shots on him. He also struggles with overlooking open receivers underneath for easy completions.
Overall, Ash has handled the accelerated pace well. The good is outweighing the bad because he has avoided crucial mistakes. That is about all that can be asked of him.
Grade: C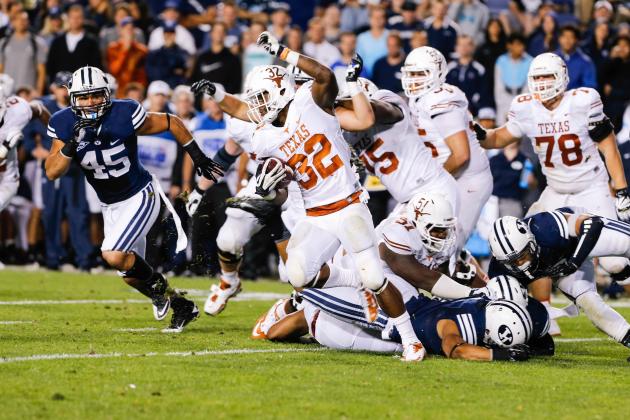 Chris Nicoll-USA TODAY Sports
Johnathan Gray was the only Texas back that had any success in the loss to BYU.
The Texas running backs have had their moments in this offense. But it has proven difficult to live up to their potential without any room to run.
When Texas steamrolled New Mexico State for 359 yards on the ground, it looked like all of its backfield talent was coming together. Four of Texas' backs averaged better than 4.5 yards per carry, with three of them averaging over 10 yards a pop.
The excitement over those numbers was somewhat tapered after the BYU game. Johnathan Gray was able to pick up 90 yards on 13 totes, but the rest of the backs averaged less than a yard per carry.
This is partly because Texas has continued to run against loaded fronts, yet has refused to use powerful one-cut runner Malcolm Brown to do it. The offensive line has been unable to get consistent push, so getting yardage anywhere but outside has been tough.
This grade should be higher with the talent in the backfield. These guys just need more room to work.
Grade: C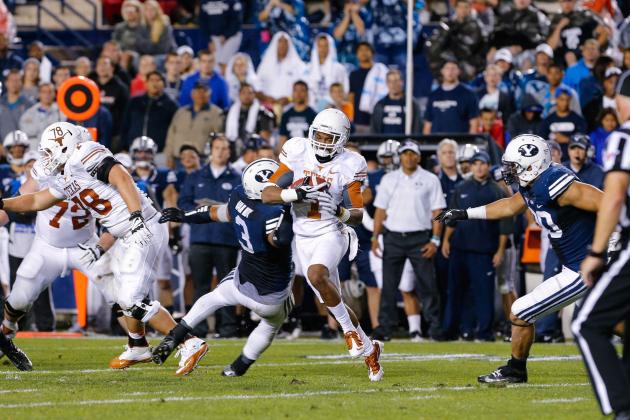 Chris Nicoll-USA TODAY Sports
Mike Davis is off to a strong start for the Longhorns.
When the Longhorn receivers have gotten the ball, they have been stars. The problem is that some of them have not been getting it enough.
Just like in 2012, top receivers Mike Davis and Jaxon Shipley have been solid. After shaking off the rust in Week 1, Davis resumed being a reliable deep-threat with three touchdowns of 23 yards or longer. On the other side, Shipley continues to be one of the conference's most reliable possession receivers.
Where the offense has paid the most dividends is turning Daje Johnson loose. The slot receiver, who doubles as a running back, raced to 129 yards and two touchdowns against New Mexico State. He was the starter in the backfield against BYU before exiting with an ankle injury.
Where this offense has failed is in getting everybody else involved. Tight end John Harris leads the team in averaging 29.7 yards per catch, but has only been used sparingly. Offseason breakouts Kendall Sanders and Marcus Johnson have combined for only five receptions.
The production has been good, but some of these athletes are still being ignored. These decisions seem self-defeating in this offense.
Grade: C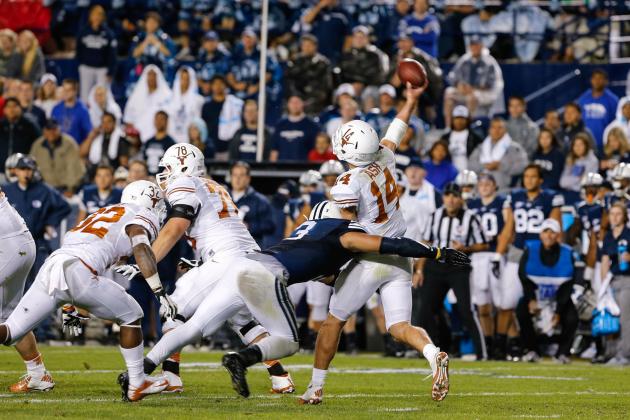 Chris Nicoll-USA TODAY Sports
The Longhorn offensive line continues to struggle against good defenses.
Aside from entire defensive side of the ball, the Texas offensive line is the most disappointing unit on this team. Right now, this group is holding back the entire offense.
When addressing the slow start against New Mexico State, Major Applewhite stated that Texas was "trying to force runs" against a loaded box. When you are returning five starters, pushing around New Mexico State should be a given even if all 11 defenders are on the line of scrimmage.
The line had even more trouble with BYU, getting burned play after play by linebacker Kyle Van Noy. There was just no room up the middle for the running backs, and David Ash spent most of his night running for his life.
Once again, these guys are underachieving. And the entire team is worse for it.
Grade: F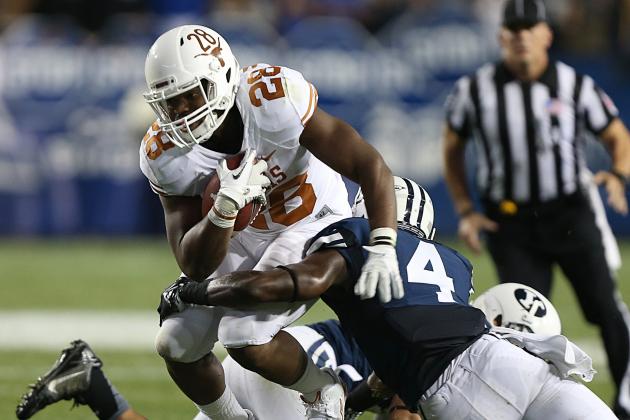 George Frey/Getty Images
This offense is still not playing up to its considerable potential.
Right now, this new Texas offense appears to be a new way of accomplishing the same thing. That seems to be a common theme right now.
The offensive line aside, the middling grades handed out to Texas' offense are not the fault of talent or a lack thereof. Many of these offensive players have made the spectacular plays everyone expected in an uptempo attack. Those plays have just not been made when Texas has needed them.
Texas is still not converting third downs (only 29 percent against BYU), is still being handled up front and is still not getting the most out of its team speed. Sound familiar? It should, because these are the same problems the 'Horns had in 2011 and 2012.
It is early and there is talent capable of getting hot during Big 12 play. But presently, this team is still less than the sum of its parts.
Grade: C-