Oregon Football: 5 Biggest Early Season Storylines for Ducks
Joe Robbins/Getty Images
The sun is shining bright on Mark Helfrich and the Ducks through two games
Through the first two games of the 2013 season, the Oregon Ducks are 2-0.
No surprises there.
The offense has scored 66 and 59 points, respectively.
No surprises there.
De'Anthony Thomas is making defenses look sillier than ever.
No surprises there, either.
A 2-0 start with wide margins of victory comes as little surprise to Ducks fans, most of whom expected the team to handle business with ease in the first few weeks.
But if we dig a little deeper, Oregon's victories over Nicholls State and Virginia have revealed a lot about this team and what it can accomplish this season.
Let's take a look at the five biggest storylines developing thus far for the 2013 Oregon Ducks.
Begin Slideshow

»
Bob Donnan-USA TODAY Sports
RB De'Anthony Thomas
After the questions about what kind of impact new head coach Mark Helfrich would have on the program (which has turned out to be as big of a non-storyline as they come so far), the running back situation seemed to generate the most conversation in the offseason.
Could De'Anthony Thomas really be an every-down back? What would Byron Marshall look like in Year 2? How will highly touted freshman Thomas Tyner factor in to everything?
With the caveat that it's only been two games, it's safe to say a light has been shed on a few of these questions.
Thomas can indeed be an every-down back and he's thrived in that very role through two games. The power running game still appears to be a work in progress, but when De'Anthony finds space, he is a threat to take it all the way.
The jury is still out on Byron Marshall, however. The sophomore back looked great against Nicholls State in the opening game, but struggled a bit against Virginia this past Saturday. Part of that can be attributed to the offensive line's inability to create running lanes. Another portion of the blame lies solely with the Cavaliers' front seven, which is better than most of the ones that the Ducks will face this season.
But Marshall also looked pretty hesitant at times. He seemed to pick it up in the second half and gain some confidence, but you still have to wonder if he can be effective against great defenses.
Oregon's game at Virginia also gave fans their first glimpse of Tyner, who absolutely dazzled in his four carries. The first rush went for three tough yards and a touchdown. The next two were medium-length gains in which Tyner hit the hole hard, and the final carry was a long touchdown run straight up the middle.
To be fair, the running lanes were big enough to drive small cars through, but you have to love the poise and decisiveness shown by Tyner in his first few carries as a college running back. It will be very interesting to see what kind of role he has this Saturday.
Overall, the rushing attack is alive and well, but what kind of role each back continues to have will be a storyline that dominates the 2013 season.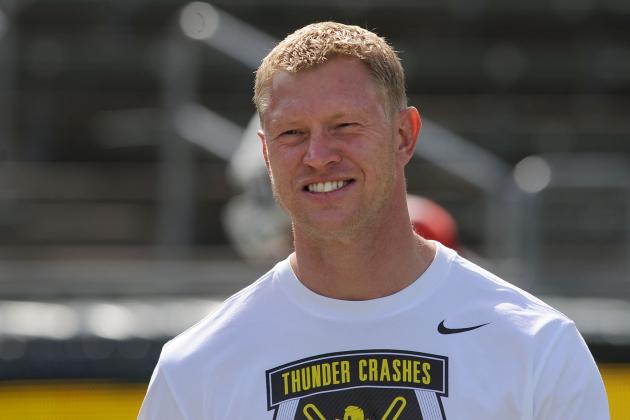 Steve Dykes/Getty Images
Offensive coordinator Scott Frost may need to rethink his fourth down play-calling
After going just 1-for-3 on fourth-down attempts against Nicholls, the Ducks were 0-for-2 against Virginia.
In dominating victories, these statistics are meaningless. But this was a huge issue in the Ducks' only loss last season and it's something that must be addressed.
Oregon goes for it on fourth down for a variety of reasons, and it's one of the things that has separated the Ducks' offense from so many others over the past few years.
For one, it gives Oregon's explosive attack an extra down. But perhaps more importantly is how it can be demoralizing to a defense that has held the Ducks to less than 10 yards in the previous three plays.
Think back to the game at Stanford in 2011. In the first half, the Ducks went for it on 4th-and-6 just inside Stanford territory. The play was a screen to De'Anthony Thomas, who took it all the way up the sideline for a score. That play propelled the Ducks to an impressive victory over the previously unbeaten Cardinal and it was one of the defining moments of the game.
The problem this season is that the Ducks like to rush up to the line and run it up the middle on fourth down. The goal is to catch the defense off guard and quickly gain several yards. But defenses have figured out that Oregon goes for it more often than not and that they need to simply be prepared for a run up the middle. There's no creativity and if the Ducks don't catch the defense by surprise the play is ineffective.
Against Virginia, this strategy meant zero points just before half and it gave the Cavaliers a glimmer of hope heading into the locker room.
Oregon must improve on fourth down as the season progresses.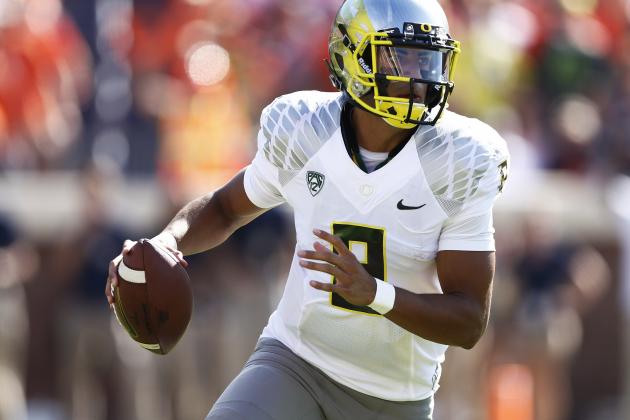 Joe Robbins/Getty Images
Despite posting great numbers, QB Marcus Mariota has been inconsistent at times
Any problems Oregon has had on offense are clearly miniscule in comparison to the troubles plaguing a team like USC.
But we're allowed to be critical, and with that in mind, fans should hope to see more consistency from the offense in the coming weeks.
For example, the Ducks went more than a quarter without scoring against Nicholls State. That should never, ever, happen against an FCS team with its starters in the game.
Against Virginia, the offense played a near-perfect second half, but Oregon's first-half offense seemed to fall into the pattern of getting an explosive play for a touchdown and then following it up with a three-and-out.
With their defense playing well, it wasn't something that ultimately hurt the Ducks, but if the offense can move the ball down the field with ease on one drive, you'd hope it wouldn't look hapless on the next.
It's all about consistency, which is what it will take to put points on the board in hostile environments and against great defenses.
Being more consistent is also something that quarterback Marcus Mariota should be working on because while the Ducks' super sophomore has made his share of great plays, his completion percentage is a lot lower than where he or the coaches would like it to be.
Again, it sounds silly when talking about on offense that has lit up the scoreboard in the first two weeks, but the Ducks can certainly be more consistent in moving the ball.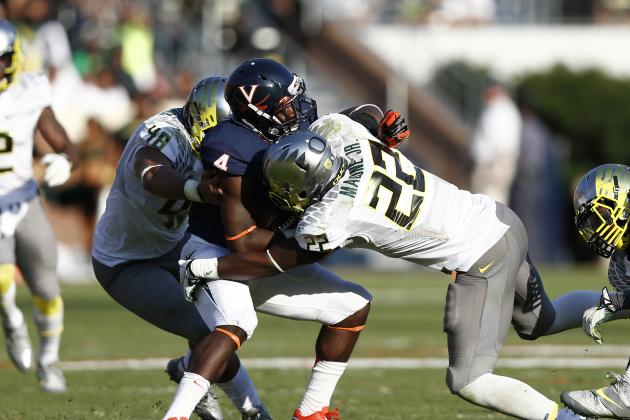 Joe Robbins/Getty Images
Derrick Malone and Rodney Hardrick make a play
When it comes to Oregon's defense, the situation at linebacker typically dominates the conversation.
Through two games, fans should be pleased with what they're seeing.
For starters, the linebackers improved from Game 1 to Game 2. Derrick Malone posted 12 tackles against Virginia and Rodney Hardrick had four of his own to go along with an interception. Tony Washington had two tackles for losses against the Cavaliers as well.
After a game against Nicholls State in which the Colonels seemed to dink and dunk their way down the field a little too easily, the Ducks tightened the screws on defense and held the Cavaliers to under 300 yards of total offense.
As we discussed before the Virginia game, diagnosing plays and being sure tacklers were the two most-important things the new linebackers needed to do. Washington is already a stud in the making, but Hardrick and Malone are clearly capable of making this defense one of the best in the league.
Given the talent on the defensive line and in the secondary, any missteps on defense—fair or not—are going to be blamed in the linebackers. It will be interesting to see how the young group continues to develop throughout the season.
Defensive statistics via cfbstats.com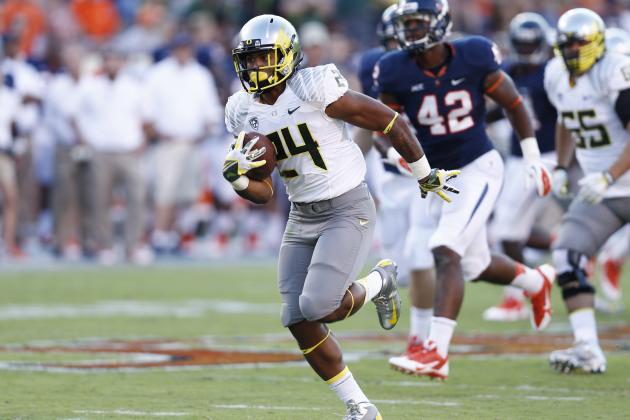 Joe Robbins/Getty Images
Duck fans finally got to see RB Thomas Tyner in action.
The narrative surrounding the Ducks this past offseason was all about how this may be the most talented Oregon team ever, and that it should be a serious national title contender.
The only issue with that kind of talk is that it can only be backed up by educated guesses based on previous years. You never truly know what the team will look like, how the players will jell, and in Oregon's case, how the season will play out under a new head coach.
After two weeks, even in a pair of victories over subpar opponents, it's safe to say that this Ducks' team has the pieces in place to win it all.
That's not a prediction, but when you can beat a BCS opponent by 49 points on the road despite giving what some would call a "B" effort, anything is possible.
We speculated that the Ducks may be able to win it all this season. Now we know they can, but that doesn't mean they will and games against Washington, UCLA and Stanford loom large. Heck, failing to show up against Tennessee could even lead to an embarrassing home loss.
But the sky is the limit with this team in 2013.