Eagles vs. Redskins: Live Grades and Analysis for Washington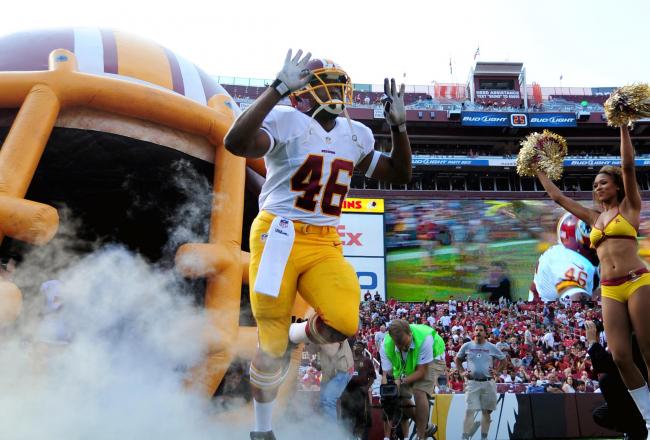 Evan Habeeb-USA TODAY Sports
The Redskins made a late-game push, but it wasn't enough to overcome the onslaught by the Eagles early in the game.
Check out final grades and analysis for Washington below.
Final:
Redskins: 27
Eagles: 33
Washington Redskins Grades

| | | | | |
| --- | --- | --- | --- | --- |
| Position Unit | 1st Half Grade | Final Grade | | |
| Pass Offense | D+ | C+ | | |
| Run Offense | C- | C | | |
| Run Defense | D | D | | |
| Pass Defense | D+ | C- | | |
| Special Teams | B- | B | | |
| Coaching | B | B | | |
vs. Eagles / Week 1
Pass Offense: For how bad the passing offense was to start the game, the Redskins had to show improvement in the second half.
Griffin finished the game with 329 yards, two touchdowns and two picks. But even with better mechanics and feel in the second half, RG3 rarely looked like himself tonight. His passes lacked zip, and they weren't tight. His accuracy was off due to poor feet.
Meanwhile, the offensive line played well enough to create a pocket, and Roy Helu Jr. deserves credit for sticking his face in there on pass protection during the Redskins' last-quarter push to retain some pride.
Run Offense: The Redskins didn't have much to do with the ground game in the second half while desperately playing from behind, but Alfred Morris did wind up with a score.
That being said, albeit on limited carries, Morris looked a bit improved after the half. He did more north and south and less dancing, playing more like himself from last year.
Pass Defense: As the Eagles' tempo slowed in the second half, the Redskins' pass defense naturally looked better. But it didn't matter much late in the game. The Eagles adopted a more conservative plan on offense and stuck to the ground.
Run Defense: LeSean McCoy put on a video-game performance tonight with numerous jukes, dinks and spins. The Redskins couldn't seem to contain much of anything. McCoy finished with 184 yards rushing, and Michael Vick with 55. The Eagles' tempo certainly didn't help Washington either.
Special Teams: Kai Forbath missed a rather routine 40-yard field goal, but three points when down by more than three touchdowns should barely resonate.
The better side of Forbath, however, was his added leg strength on kickoffs. It was a weakness of his last year, and hopefully that's corrected for good.
Coaching: It seems elementary to say, but I appreciate Mike Shanahan staying aggressive in the second half. Sure, the game isn't over 'til it's over, but the balance in this game between run and pass is completely lopsided because the Redskins offense attacked the entire second half and never let up on the gas pedal.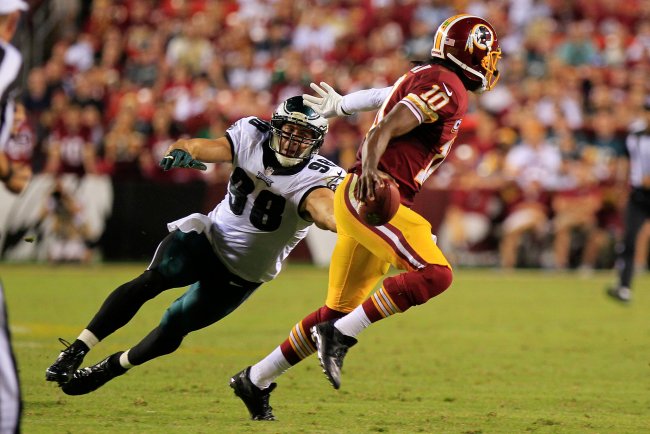 Geoff Burke-USA TODAY Sports
First Half Game Analysis for Washington
Pass Offense: A rough start to the season would be an understatement. Robert Griffin III—returning from offseason ACL surgery—doesn't appear comfortable when throwing the football. Although the line is doing a decent job of providing him with a pocket, Griffin hasn't made the best decisions, and we can only hope he's knocking the rust off.
Griffin finished the first half 5-of-12 for 52 yards and an interception.
Run Offense: A fumble, a botched pitch and less than 30 yards on the ground—certainly not your Redskins rushing attack from a year ago. The offensive line has struggled to maintain blocks, and Alfred Morris can't string together enough respectable carries to gain momentum. This Eagles defense is faster than anticipated, and they're all over the ball-carriers.
Pass Defense: Atrocious. Sure, give it to Chip Kelly's offense and the Redskins' unfamiliarity. But the Redskins pass defense has done nothing through the first quarter to make it seem like they can slow down the Eagles' passing attack. The linebackers in particular can't cover a thing.
The Redskins have gotten a few good hits on Michael Vick, even bringing him down for two sacks. But the lone bright spot for the Redskins defense—and their scoring total—was by way of a Ryan Kerrigan deflection on a backward pass from Vick, in which most people didn't know what was going on until DeAngelo Hall picked up the ball and took it the other way for six points.
Run Defense: Seeing as how LeSean McCoy has 115 rushing yards through one half of football, the Redskins have plenty of adjustments to make at the half.
Although there were a few missed tackles here and there, it's more so the Eagles' scheme and the Redskins' inability to get acquainted and clog cutback lanes.
Special Teams: A couple of questionable decisions by rookie returner Chris Thompson. He has to be decisive with his moves and judge the football better as it comes off of the punter's foot.
Coaching: Not sure if it was suggested by the staff, but the fake injuries (or so I'm calling them) by defensive linemen like Kedric Golston and Chris Baker were necessary in order to try to slow down the Eagles offense.
This article is
What is the duplicate article?
Why is this article offensive?
Where is this article plagiarized from?
Why is this article poorly edited?

Washington Redskins: Like this team?