Where the Top 10 Uncommitted 2014 Recruits Are Planning to Visit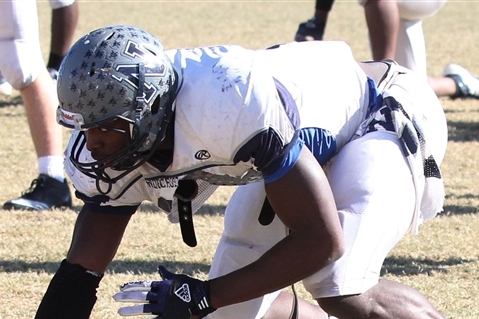 247Sports
With the college football season now in full swing, that means many programs will be hosting recruiting visits during home games in the coming weeks. All of the visits will be scrutinized, especially those involving the top uncommitted recruits in the country.
Visits are crucial in the college football recruiting process, as they give prospects the chance to tour a campus, hang out with the team, observe a game-day atmosphere and see how coaches conduct themselves on the sidelines and in the locker room.
Looking ahead to what's on tap regarding possible recruiting visits for this season, the nation's best uncommitted prospect could pay an ACC team and Big Ten team visits, a defensive end from Georgia does not have definite plans although three SEC schools will see him soon, and an athlete from Los Angeles appears to be set to visit a trio of powerhouses in the Midwest.
Player evaluations are based on review of tape at Scout.com, Rivals, 247Sports and ESPNU.
Begin Slideshow

»
A 5-star linebacker, Raekwon McMillan is a coveted defensive prospect. He is 6'2", 242 pounds and can pack a punch at the point of attack.
McMillan, who is from Georgia, has several visits set up, according to 247Sports. He will visit Georgia on Sept. 27, Clemson on Oct. 18, Ohio State on Oct. 26, Alabama on Nov. 8 and Florida on Nov. 29.
Keep an eye on McMillan's trip to Columbus. If things go well, he could give the Buckeyes a commitment before he heads back home.
Myles Garrett, a 5-star defensive end from Texas, has a ton of potential. The 6'4", 240-pounder displays good quickness, athleticism and flashes the strength to set the edge versus running plays.
The Texan will arrive in College Station on Sept. 13 for the highly anticipated Alabama game, according to 247Sports. Florida State, Ohio State and Alabama also will receive visits, per Jeremy Clark of Scout.com (subscription required), although no dates have been set.
Look for TCU or Texas to be considered for Garrett's fifth and final visit.
At 6'1" and 200 pounds, John Smith has the size, speed and explosive athleticism to be a great receiver or safety. The 5-star southern California native has good ball skills and also has solid strength.
Smith, who is known as "JuJu" by many, has his visits properly organized. Ohio State will see him on Sept. 28, then he'll go to Notre Dame on Oct. 18. Smith is set to visit Alabama on Nov. 9, while Nov. 30 is when he will be at Michigan, per Scout.com.
Smith also told Greg Biggins of Scout.com (subscription required) that he will visit Ole Miss. Cal, USC and UCLA will receive unofficial visits from Smith before he is through.
Marlon Humphrey is one of the top cornerbacks in the country. He is 6'1", 175 pounds and plays with great anticipation. Humphrey has good range in zone coverage, transitions quickly in off-man coverage and is a good athlete.
It would be shocking to see the 5-star cover man sign a school not named Alabama, but Florida State will receive a visit on Nov. 1, per Rivals.com. Oregon, Mississippi State and South Carolina also could get visits, as Humphrey named them in his top five in May to Gene Swindoll of Gene'sPage.com (subscription required).
Perhaps the best all-around athlete in the country, Adoree' Jackson is a 5-star cornerback who plays bigger than his listed size of 5'9" and 182 pounds.
Jackson, who plays in Los Angeles, will take trips to Florida, LSU, Michigan and maybe even Oklahoma, noted Scout.com (subscription required). Tennessee and Illinois also are in the mix for Jackson while USC and UCLA will likely receive unofficial visits this fall.
Although 5-star Tony Brown does not appear to have any set plans for recruiting visits, schools such as LSU, Alabama, Texas A&M, Florida State, TCU, Baylor and Stanford could be on his mind, per Greg Powers of Scout.com (subscription required).
Brown, who is 6'0" and 188 pounds, is a physical cornerback with good strength, short-area quickness and the speed to carry receivers deep. Brown could also become an elite safety in college.
Keep an eye on LSU, Alabama and Texas A&M.
Speedy Noil lives up to his nickname every time he touches the football. The 5'10", 176-pound New Orleans native has great elusiveness, explosiveness and instincts with the ball.
The 5-star recruit will be at Florida on Sept. 20, according to Rivals.com. Schools such as LSU, Texas A&M and USC are also being seriously considered, per 247Sports, so look for Noil to pay a visit to those three programs.
Da'Shawn Hand is a 5-star defensive end whose recruitment has a clear-cut shape and form. The 6'4", 254-pounder is down to Michigan, Alabama and Florida, per 247Sports.
Hand was in Ann Arbor this weekend, says 247Sports, plus Florida will see him on Oct. 4, while Alabama will host him for a visit on Nov. 8. Hand will be announcing his college choice on Nov. 14, according to Michael Clark of Scout.com (subscription required).
The Gators and Tide may impress him, but it would be an upset if Hand doesn't sign with Big Blue.
It doesn't appear that 5-star defensive end Lorenzo Carter has set up any official visits. However, Alabama, Florida and Georgia are his main three schools, per 247Sports, so look for him to definitely take trips to those programs.
Other schools, such Florida State, LSU and Notre Dame, may be able to convince the 6'5", 232-pound Georgia native to come see their campus up close and personal. However, the Gators, Tide and Bulldogs are the trio with the inside track.
Leonard Fournette is a 6'1", 226-pound running back with an outstanding blend of size, speed, quickness, hands and instincts. He is regarded by many as the best player in the country and is a special running back prospect.
Fournette, who is from New Orleans, informed Kipp Adams of 247Sports (subscription required) in August that LSU, Alabama, Miami and Florida would receive visits. Michigan and USC are also possible destinations for Fournette, but the main two teams in this race are the Tigers and Crimson Tide.
Whoever lands Fournette will be getting a college-ready running back.
The nation's top uncommitted recruits can all be located on the 2014 Bleacher Report College Football Recruiting Heat Map.
This is a mobile-ready interactive tool that allows recruiting fans to see where the best prospects in the country for 2014 are located.
Edwin Weathersby is the College Football Recruiting Analyst for Bleacher Report. He has worked in scouting/player personnel departments for three professional football teams, including the New York Giants and Cleveland Browns.