Colts vs. Raiders: Takeaways from Oakland's 21-17 Loss to Indianapolis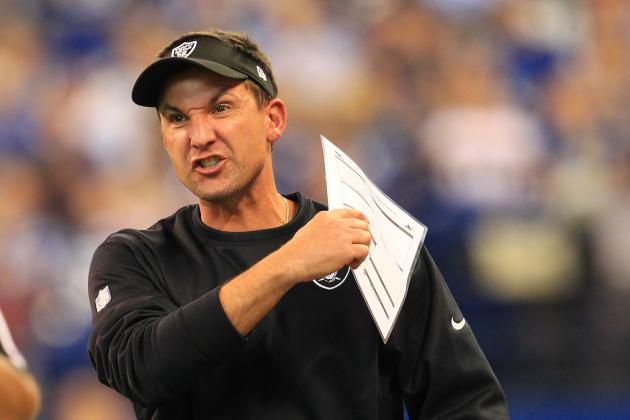 Pat Lovell-USA TODAY Sports

For a team that went into the game as decided underdogs, the Oakland Raiders surprised more than a few people by taking the Indianapolis Colts down to the wire before falling short 21-17 in the season opener for both teams.
Now the question for coach Dennis Allen is, where does his team go from here?
As big of a spark as quarterback Terrelle Pryor provided, there were numerous other areas in which the Raiders didn't play so well. The running game without the quarterback was spotty at best, as was the pass protection. Defensively, there were far too many costly breakdowns that wound up being pivotal.
We examine a few of those mistakes, as well as some of the things that went right for Oakland in Week 1.
Begin Slideshow

»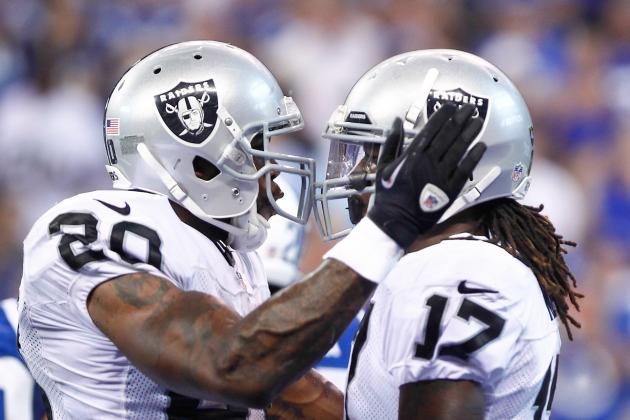 Michael Hickey/Getty Images

Terrelle Pryor set a franchise record for most rushing yards by a quarterback in a single game with 112, but the rest of the running game was a non-factor.
McFadden scored the team's only rushing touchdown but was otherwise shut down. He had 48 yards on 17 carries for just a 2.8-yard average. Unacceptable, especially against a Colts team that was not very good defending the run a year ago.
Rashad Jennings carried the ball twice and almost seemed to tiptoe near the goal line on one of them. Wide receiver Rod Streater outgained Jennings on a reverse.
Had Pryor not put together the afternoon running he did, the stats wouldn't have been as good as they were for the Raiders and the score likely would have been a lot more lopsided.
As much as the makeshift offensive line is to blame, the backs have to run harder and with more authority. McFadden's most effective play of the game came on a screen pass from Pryor. Beyond that, he was held in check.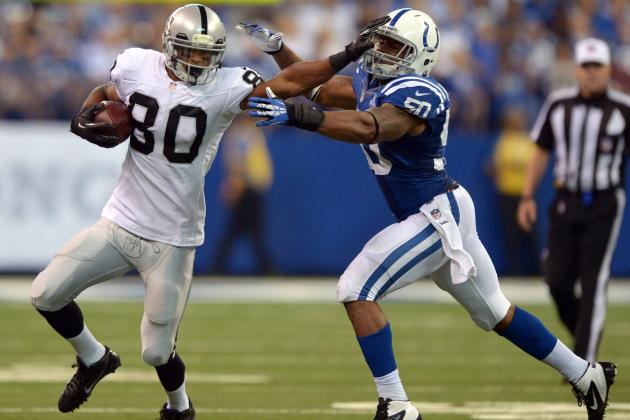 Kirby Lee-USA TODAY Sports

The Raiders made it a point to get Rod Streater going early. The second-year wide receiver was Pryor's favorite target most of the afternoon, and he even got to carry the ball on a reverse in the first half.
That's big because no one else in the Raiders receiving corps really stepped up.
Streater repeatedly found creases in the Colts secondary for big gains and was on the receiving end of a pair of passes from Terrelle Pryor on scramble plays. That shows good awareness on Streater's part, something Oakland receivers have lacked in recent years.
Denarius Moore caught a touchdown in the fourth quarter to pull the Raiders within 21-17 but didn't do much otherwise. He did make a critical catch on 4th-and-long on Oakland's final drive, and he finished with five catches for 43 yards.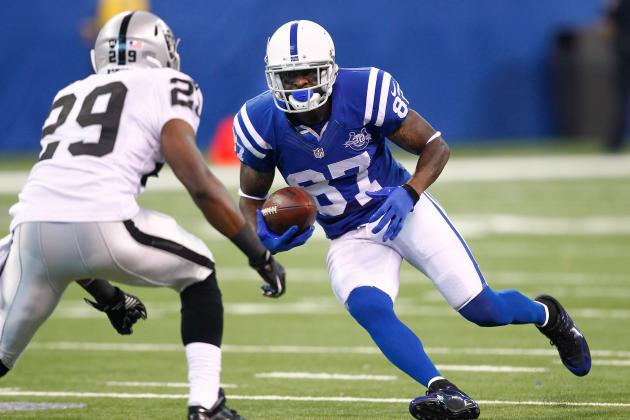 Michael Hickey/Getty Images

Andrew Luck is good, but at times, the Raiders made the Colts' second-year quarterback look like the second coming of Joe Montana. Repeated breakdowns in secondary allowed Luck and his receivers to find gaping holes, which they exploited time and again.
The problems came across the board, too. Luck completed his first eight throws and barely broke a sweat doing so.
Oakland cornerback Tracy Porter was beaten for one touchdown after slipping in the end zone. Mike Jenkins, the other starting corner, let tight end Dwayne Allen catch a pass inside the 5-yard line and failed to wrap him up, allowing Allen to break free and get into the end zone.
First-round draft pick D.J. Hayden played mostly in nickel situations and was also beaten twice.
It hurt not having much of a pass rush, but the Raiders have to be better. At times, they had no one covering the crossing patterns, and Luck took full advantage.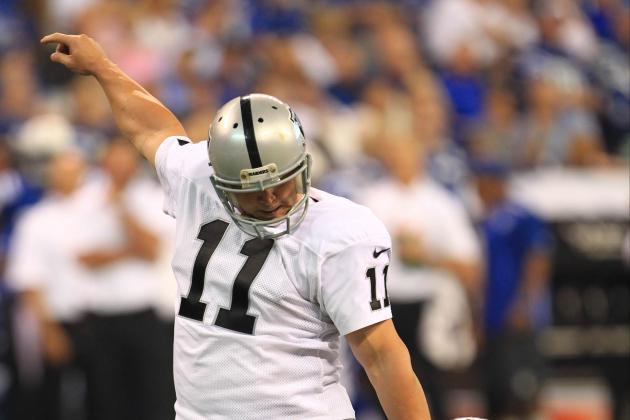 Pat Lovell-USA TODAY Sports

Sebastian Janikowski didn't miss a kick from under 49 yards in 2012. He shanked his first field goal attempt of 2013, a 48-yarder, wide left when holder Marquette King appeared to have a minor issue spinning the ball into position on the turf.
Janikowski came back to make a 38-yard field goal, but it's clear he misses Shane Lechler, his longtime friend and holder who signed with the Houston Texans in the offseason. Janikowski and Lechler formed a tight bond and were rarely out of sync on the field.
The miss by Janikowski was critical because it forced the Raiders to have to go for a touchdown on their final drive. King, who had some problems handling the holding chores during the preseason, has to correct whatever the issue was.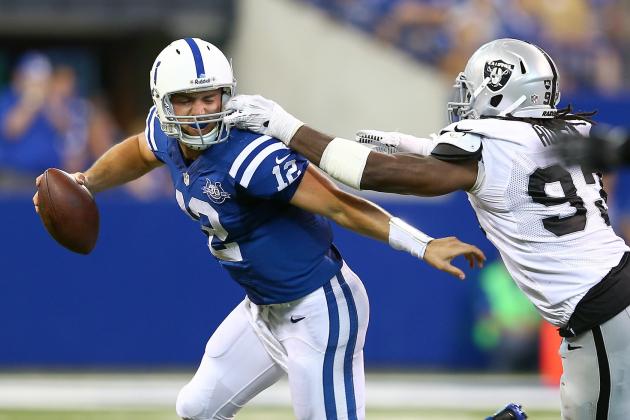 Andy Lyons/Getty Images

For most of the game, Luck was allowed to sit in the pocket with little or no pressure at all. Not surprisingly, he was able to slice up the Raiders secondary whenever he had the time.
The Raiders had four sacks, but only two came from the defensive line. One came late in the game when Luck attempted a play fake on 3rd-and-1 only to be dropped for a 13-yard loss by defensive end Jason Hunter.
Lamarr Houston got the other and added a pair of hurries, but far too often, no one on Oakland even came close to laying a hand on Luck. The interior defensive line didn't do a good job at all of collapsing the pocket.
Credit defensive coordinator Jason Tarver for dialing up a couple of blitzes to throw Luck off his rhythm, but Oakland can't keep relying on its defensive backs for sacks. The pressure needs to start coming from the front four.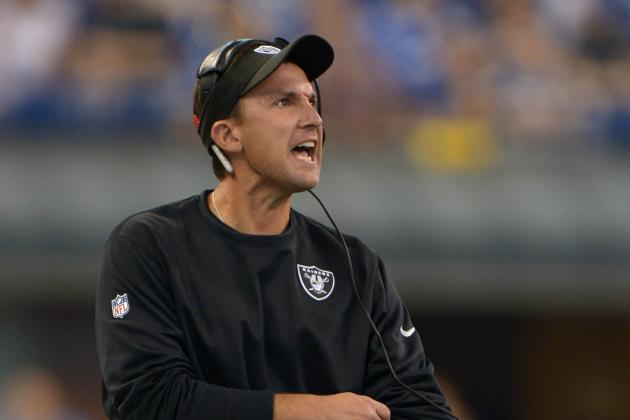 Kirby Lee-USA TODAY Sports

Head coach Dennis Allen made it a point in 2012 to get the Raiders focused on eliminating the types of mistakes and boneheaded decisions that had been so costly to the franchise over the past decade. It worked then, but if Sunday's game is any indication, Allen may have to turn the heat up on his players.
Oakland was hit with eight penalties against the Colts, more than half of them inexcusable. Left tackle Khalif Barnes was called for a false start. Rookie tight end Mychal Rivera couldn't get off the field and the Raiders were flagged for too many men on the field. Linebacker Kevin Burnett was penalized for leading with his helmet.
The Raiders simply aren't good enough to be able to overcome mistakes like these. Offensively, the errors put Terrelle Pryor in a bad spot. Defensively, they helped keep Indianapolis drives going and gave Luck extra opportunities to make plays.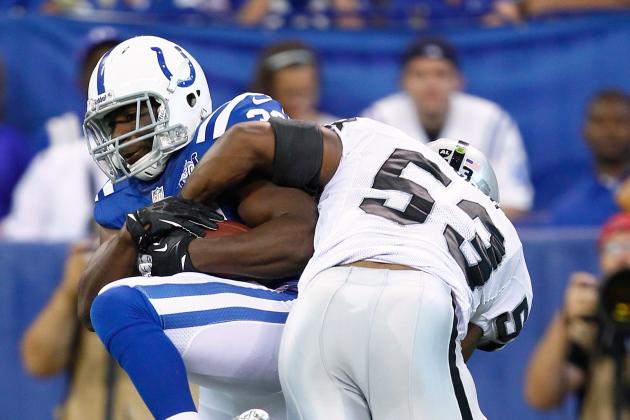 Michael Hickey/Getty Images

Middle linebacker Nick Roach looked very comfortable running the Raiders defense. He had nine tackles and was generally effective most of the afternoon.
The rest of the linebackers? Not so much.
With rookie Sio Moore out with an injury, Kaluka Maiava started and had just four tackles. Kevin Burnett had six but also was called for a personal foul.
The biggest breakdowns were against the run. Indianapolis had 127 yards rushing, 38 coming from quarterback Andrew Luck, who really made Oakland's linebackers look bad when he scored on a 19-yard touchdown run up the middle.
The Raiders looped the linebackers around the ends, clearing the middle out for Luck. By the time anyone realized he was sprinting toward the end zone, it was too late.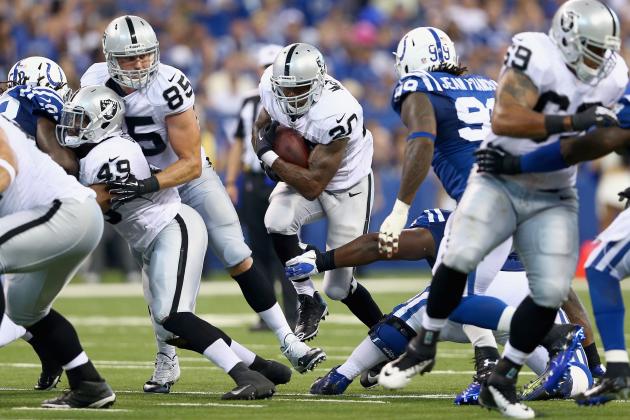 Andy Lyons/Getty Images
Oaklands's line opened a few holes.
The running game never really took off other than when Terrelle Pryor was scrambling to save his life, and most of those were on passing plays that broke down.
That's not surprising considering the shape Oakland's offensive line is in. Left tackle Khalif Barnes was playing out of position, while Tony Pashos started at right tackle less than a week after signing with the team.
It could have been much worse, too.
Pryor was sacked just once and might have gone down a few more times had he not been able to escape the pressure. Just think how it might have been had Matt Flynn started at quarterback.
The concern is that things aren't likely to get much better any time soon. Menelik Watson is nursing a sore knee, and until he's cleared to return, Oakland will have to continue with the front five they have.