Bengals vs. Bears: Full Roster Report Card Grades for Cincinnati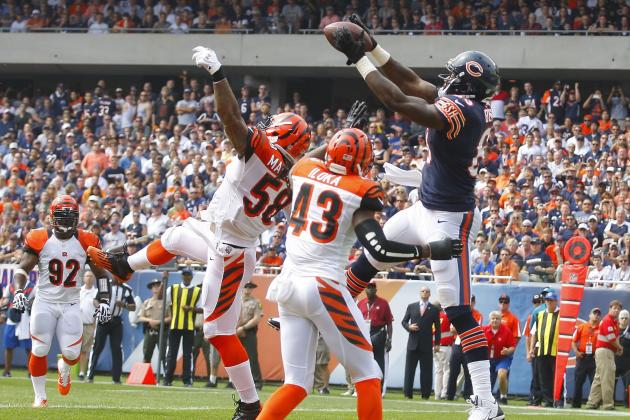 Dennis Wierzbicki-USA TODAY Spor

The Cincinnati Bengals began the season in a closely contested matchup against the Chicago Bears at Soldier Field. It was a hard-fought game by both teams, but the Bengals essentially gave away the game after some bad decisions.
The team played sound football on both sides of the ball; however, they simply could not get out of their own way. Costly turnovers, penalties and game management issues sealed their fate as they fell to the Bears 24-21.
Despite starting the season with an 0-1 record, the Bengals cling to first place in the AFC North—the other three teams lost to AFC opponents which puts Cincinnati on top.
Let's break down each position on the Bengals' roster and grade their performances.
Begin Slideshow

»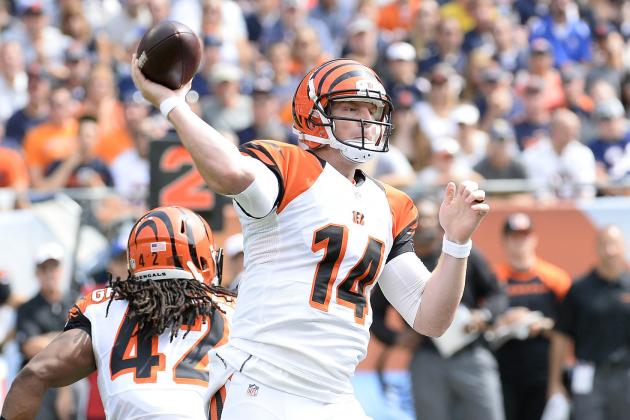 Mike DiNovo-USA TODAY Sports

Despite struggling early, Andy Dalton played a very solid game against the Bears on Sunday.
He threw an interception in the first quarter after a Bears cornerback undercut a slant route. However, Dalton recovered and had a solid game thereafter.
Dalton threw 33 times, completing 26 passes for 282 yards, two touchdowns and two interceptions. This was good enough for a passer rating of 97.2.
Dalton's ball placement was fantastic on Sunday—he was able to give his receivers a great chance to come down with the ball without the risk of an interception. His second interception of the day was solely on the hands of A.J. Green. A perfectly placed pass bounced off of Green's hands and into the arms of a waiting defender.
This is one of those games in which Dalton played better than his numbers would indicate.
Game Grade: B+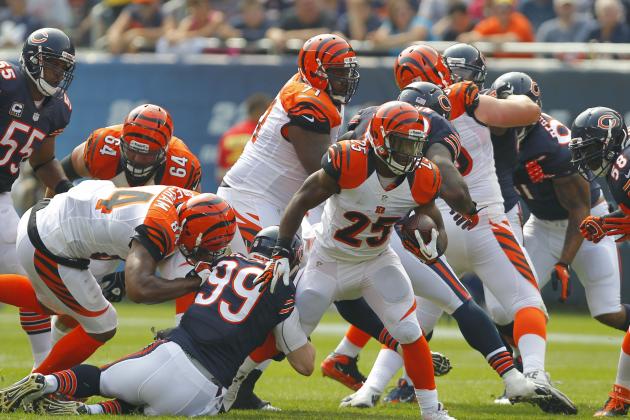 Dennis Wierzbicki-USA TODAY Spor

The Bengals rushing attack was one of the weakest points of the offense on Sunday. Veteran BenJarvus Green-Ellis struggled mightily despite scoring the lone rushing touchdown for the team.
Green-Ellis' plodding style of running made him an easy target in the backfield for a very athletic Bears defense. He finished with 14 carries for 25 yards—a 1.8 yards per carry average—and a score on the day.
Rookie Giovani Bernard had a better day running the ball. He averaged 5.5 yards per carry; however, he only carried the ball four times (22 yards). His performance should award him more carries going forward.
These two running backs were like night and day—they average out to an underwhelming grade.
Game Grade: C-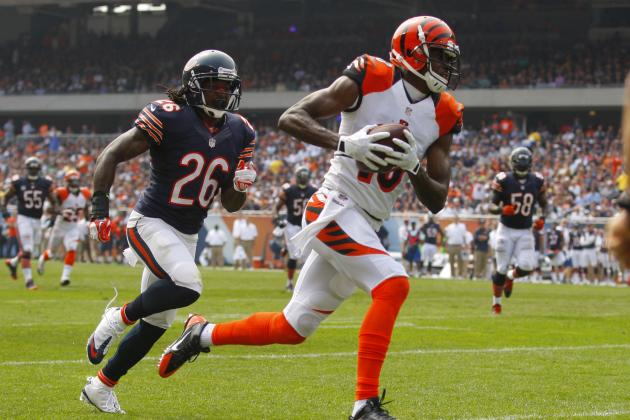 Dennis Wierzbicki-USA TODAY Spor

A.J. Green was virtually unstoppable against a very good Bears secondary. Despite his lone hiccup when a pass bounced off his hands which led to an interception, he played a very solid game. Green left Chicago after catching nine passes for 162 yards and two touchdowns.
Unfortunately, Green's counterparts did not fare so well.
Marvin Jones was nowhere to be found and only caught one pass for seven yards.
The highly anticipated return of Mohamed Sanu also fell flat. He only caught four passes for 19 yards and lost a fumble deep in Bears' territory. His turnover led to the go-ahead score by Chicago.
One of these receivers must step up going forward to create a balanced passing attack for Cincinnati.
Game Grade: B-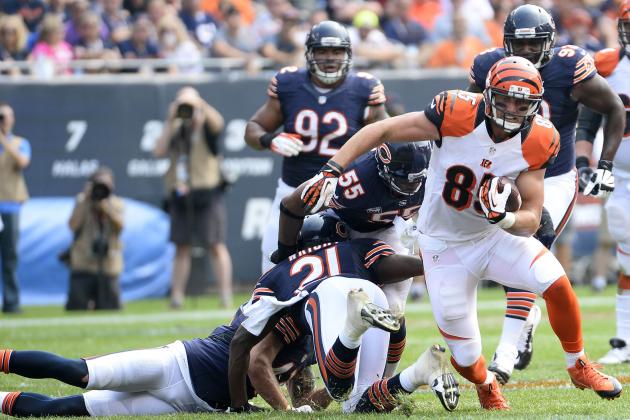 Mike DiNovo-USA TODAY Sports

Both Bengals tight ends played some solid football against the Bears on Sunday.
Veteran Jermaine Gresham was almost unstoppable with the ball in his hands. He was a force to be reckoned with as he broke numerous tackles on his way to some impressive gains. Gresham caught five passes on the day for a total of 35 yards.
Rookie Tyler Eifert was exactly as advertised. He showed great hands and solid route running. It came as no surprise to see him gaining Dalton's trust in the first game of the season. Eifert also caught five passes and gained 47 yards on the day.
Both tight ends were great second options behind Green for the Bengals' passing attack. Each of them were solid when called upon to block as well. This positional group was the highlight of the Bengals offense during Week 1.
Game Grade: A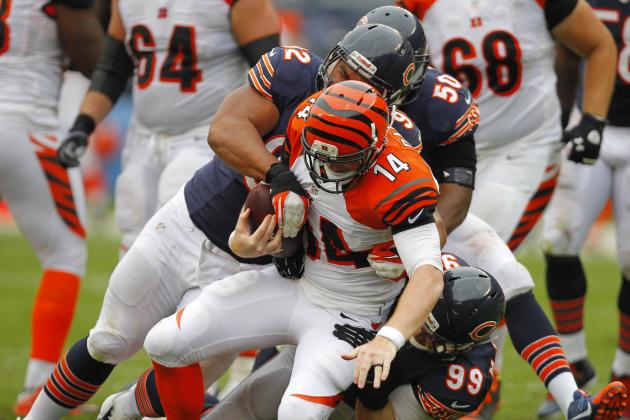 Dennis Wierzbicki-USA TODAY Spor

Despite missing left tackle Andrew Whitworth, the Bengals offensive line played rather well on Sunday. Yes, they were flagged for some penalties, but they protected Dalton very well in the pocket.
Dalton was only sacked once for a five-yard loss which is a huge victory for this unit after facing a very good Bears pass rush featuring Julius Peppers.
The running game did not fare quite so well, but that was not the fault of the line. Green-Ellis decided to run east-west far too often and was caught behind the line of scrimmage by athletic Bears linebackers as a result.
The play of this unit is very promising going forward into the 2013 season.
Game Grade: A-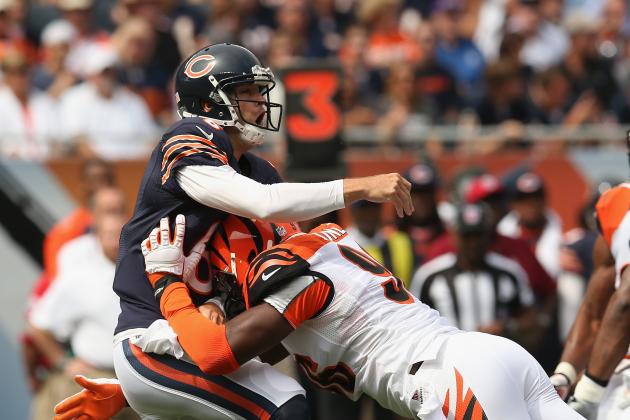 Jonathan Daniel/Getty Images

The Bengals defensive line was not as impressive as initially expected. They were able to pressure Jay Cutler during the contest but were unable to come away with a single sack.
This was one of the most anticipated matchups during this Week 1 contest—the Bears have an offensive line that has been manhandled in the past and the Bengals defensive line should have had a field day with them.
That was not the case.
Cutler was given far too much time to throw the ball which put the Bengals secondary in a bad situation. The Bears offensive line held All-Pro defensive tackle Geno Atkins virtually useless throughout the game. He did not record a single tackle and only had one quarterback pressure.
The standout player on the defensive line was Carlos Dunlap with three tackles, one pass defensed and two quarterback pressures.
Game Grade: D+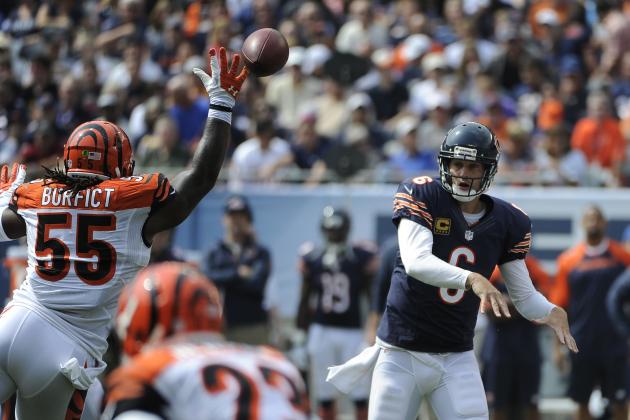 David Banks/Getty Images

This may be one of the more interesting positional groups to grade during the aftermath of the opener. The linebacker corps played a very solid game throughout but were a late-game hindrance and a huge reason for the Bengals' demise.
Rey Maualuga continued his success from the preseason and played a very solid game in Chicago. He was credited with seven tackles, and despite giving up a touchdown, was in great position to make a play on the ball. He has improved immensely since 2012.
Unfortunately, Maualuga had a bone-headed moment late in the game in which he let him emotions get the best of him. He was called for a personal foul—an unforgivable penalty, as it did not allow the Bengals to obtain a possession to tie the game in the waning moments of the fourth quarter.
Vontaze Burfict played a solid game and leads the team in tackles with eight—no surprise there. He also had one tackle for a loss and one pass defensed. It seems as though he picked up right where he left off.
James Harrison was not very effective but was not the cause of any mishaps for the Bengals defense. It was a quiet-yet-solid start in a Bengals uniform.
Game Grade: B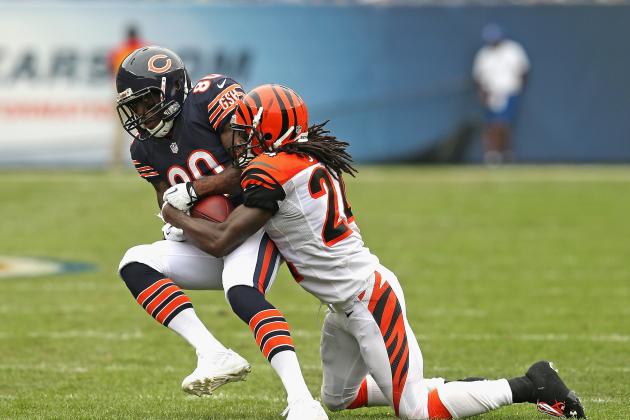 Jonathan Daniel/Getty Images

The Bengals secondary got the short end of the stick against the Bears. They generally flourish due to the great pass rush by the front seven. Unfortunately, that was not the case on Sunday.
Cutler was not pressured as much as expected which forced the secondary to deal with the difficult task of covering Brandon Marshall longer than expected. Despite the talent that resides in the secondary, covering Marshall for longer than three seconds is easier said than done.
The All-Pro wide receiver finished the game with eight receptions for 104 yards and a touchdown. When the Bengals rolled coverage in the direction of Marshall, Martellus Bennett, Matt Forte and Alshon Jeffery were there to pick up the slack.
This allowed Cutler to flourish—he threw 33 passes, completing 21 for a total of 242 yards and two touchdowns against one interception. A great offensive game plan pay Marc Trestman put the Bears in a good place to succeed through the air.
Game Grade: C-
Dennis Wierzbicki-USA TODAY Spor

The special teams unit had a solid outing on Sunday. Coverage against the dangerous Devin Hester was phenomenal. He was only allowed one kickoff return (31 yards) and two punt returns (1 yard) in the game.
Punter Kevin Huber had a great game—he averaged 48.3 yards per punt on four attempts.
This unit looks primed to continue its success from the 2012 season.
Game Grade: A-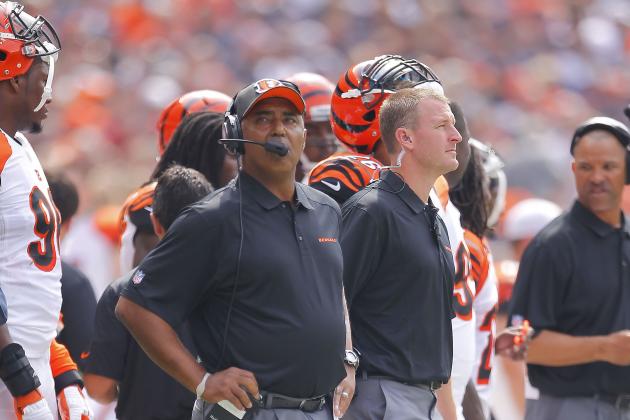 Dennis Wierzbicki-USA TODAY Spor

This may have been the weakest point for the Bengals in their opener. The coaching staff had a nice game plan early on but struggled to keep up with the halftime adjustments by the Bears.
The largest deficiency reflected by the coaching staff was the undisciplined behavior of the team—they just did not seem to have the mental capacity to start the season.
The Bengals ended the game with eight penalties for 84 yards, three turnovers and multiple ill-timed decisions to burn timeouts—something that cost the team in the end.
Despite some outstanding performances by some players, the Bengals coaching staff may have made enough poor decisions to doom the team's opener. This loss gives head coach Marvin Lewis a 4-7 record in the team's opener during his 11-year tenure with the team.
Game Grade: D