Packers vs. 49ers: Full Roster Report Card Grades for Green Bay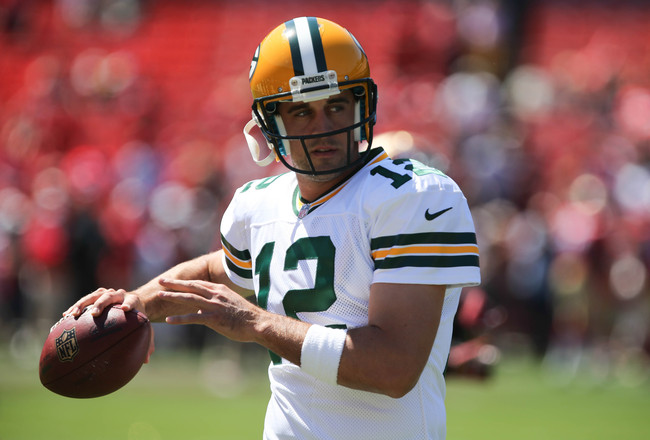 Kelley L Cox-USA TODAY Sports
It was a hard way to open the season for the Green Bay Packers, who fell, 34-24, to the San Francisco 49ers on Sunday with the defending NFC champions hanging on in a game that came down to the final play.
Despite the loss, the Packers actually played a good overall game. Sure, there are areas to improve just like with any team, but the Packers' report card looks pretty good after the first week of the 2013 season.
The obvious standout performance was turned in by none other than quarterback Aaron Rodgers. He was absolutely superb, continuing his case for being the best quarterback in the NFL.
Let's take a look at the full report card for the Packers in Week 1.
Quarterback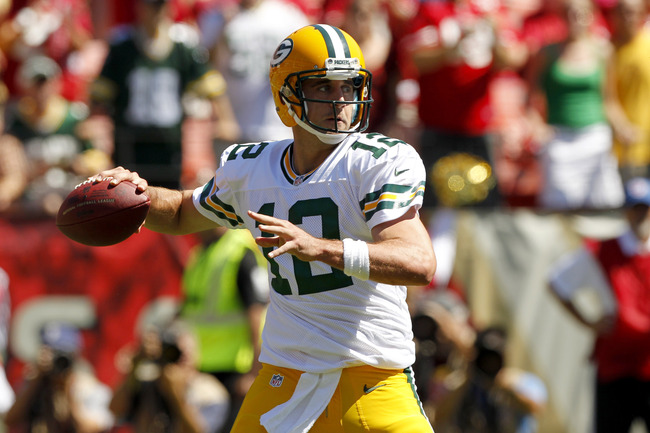 Cary Edmondson-USA TODAY Sports
Key player: Aaron Rodgers
Rodgers was brilliant against the 49ers. He finished the game 21-of-37 passing for 333 yards, three touchdowns and an interception.
His lone interception wasn't even his fault due to a dropped pass by tight end Jermichael Finley. Had Finley not dropped that pass, Rodgers' numbers would have been ever better.
While Rodgers' statistics were great, they don't tell the entire story of just how excellent Rodgers was on Sunday. He continuously evaded pressure, picked up yards with his legs and made impossible throws look extremely easy.
All in all, Rodgers played fantastic football against one of the best defenses in the league.
Final Grade: A
Running Backs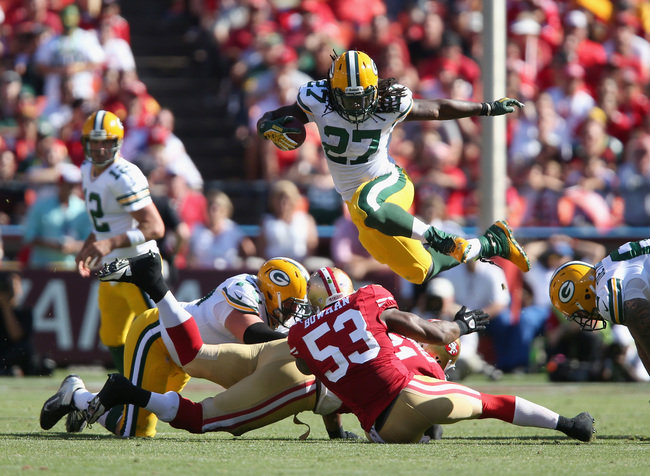 Jeff Gross/Getty Images
Key players: Eddie Lacy, James Starks, John Kuhn
With San Francisco fielding one of the best run defenses in the league, any type of successful production from the Green Bay running backs would need to be seen as a win.
While it did take some time for it to happen, the ground game of the Packers eventually had some success. An early fumble from Lacy caused head coach Mike McCarthy to basically abandon the run for the remainder of the first half and the start of the second half.
However, Lacy got back on the field and had some solid runs to get the ground game going. Lacy rushed for 41 yards and a touchdown on 14 carries while Kuhn added three rushing yards and Starks had an eight-yard reception.
There is certainly room for improvement from the running backs, but it could have been much worse against a solid 49ers' defense.
Final Grade: C+
Wide Receivers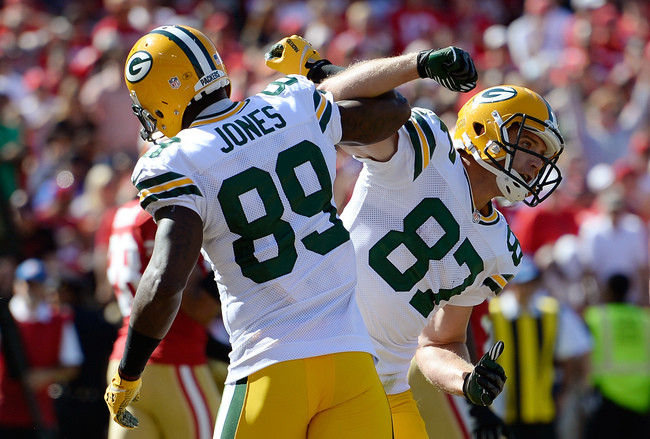 Thearon W. Henderson/Getty Images
Key players: Jordy Nelson, Randall Cobb, James Jones
If we're taking away Jones from this group, then their overall grade would improve greatly. However, Jones had absolutely no impact in this game with no receptions and a dropped pass.
Nelson and Cobb, on the other hand, were absolutely brilliant. They combined for 14 receptions, 238 yards and two touchdowns. They showed off their toughness, hands and ability to pick up yards after the catch all game.
When watching Nelson and Cobb, it's easy to see why the Packers have one of the best passing offenses in the league. Once Jones gets going, this group is going to be extremely difficult to stop.
Final Grade: B
Tight Ends
Thearon W. Henderson/Getty Images
Key players: Jermichael Finley
If you were to look up the definition of erratic, there would be a picture of Finley playing football.
Finley can be so frustrating to watch at times that you want to throw something at him through the TV. Take, for example, his dropped pass that resulted in an Eric Reid interception. That's a catch that Finley should make 99 percent of the time, but for whatever reason, he only makes it 50 percent of the time.
On the opposite side of the spectrum, Finley can make plays like his 12-yard touchdown catch in the second quarter where he makes defensive players look silly. If Finley could do that all the time, he'd be one of the best tight ends in the league.
Finley finished the game with five receptions for 56 yards and a touchdown. It wasn't a spectacular performance by any means, but it was definitely good enough for a passing grade.
Final Grade: B
Offensive Line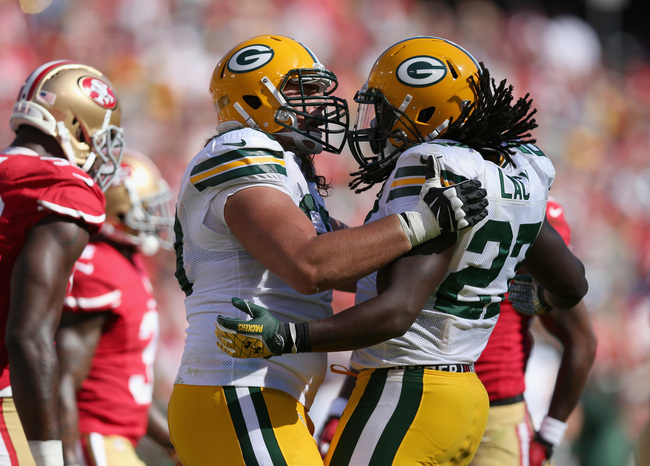 Jeff Gross/Getty Images
Key players: David Bakhtiari, Josh Sitton, Evan Dietrich-Smith, T.J. Lang, Don Barclay
The Packers' offensive line faced a test right away against an extremely talented 49ers' defense. After outside linebacker Aldon Smith recorded a sack on the Packers' first offensive possession, it appeared as if it was going to be a long day for Green Bay's offensive line.
However, the group got things together, giving up only one more sack for the rest of the game. While quarterback Aaron Rodgers, definitely saw his fair share of pressure, it wasn't as bad as it appeared it was going to be.
One area where this team needs to improve is in run blocking. They struggled all game to open running lanes for Eddie Lacy, which is something they'll definitely need to improve on before Week 2.
Overall, it was an encouraging game from the offensive line.
Final Grade: B-
Defensive Line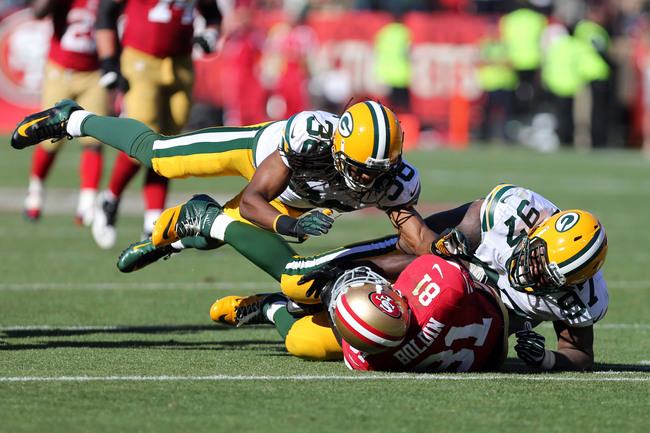 Kelley L Cox-USA TODAY Sports
Key players: Ryan Pickett, Johnny Jolly, Datone Jones, B.J. Raji, C.J. Wilson
One of the brightest spots in the loss for the Packers was their defensive line.
They played surprisingly solid football throughout against the 49ers. While they didn't cause much pressure in the passing game, they were absolutely fantastic against the run. They held the 49ers' running backs to only 68 yards on 27 carries for an average of only 2.5 yards per carry.
The obvious winner was Packers' defensive lineman Johnny Jolly, who started his first NFL game since the 2009 season due to a drug conviction that left him suspended from the NFL and in jail. He finished with one sack on the day.
If Green Bay's defensive line can continue to play as well as it did this week, the defense has a chance to be very good.
Final Grade: A-
Linebackers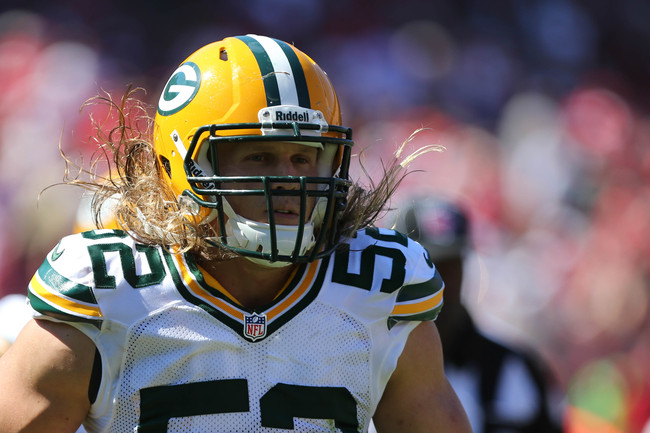 Kelley L Cox-USA TODAY Sports
Key players: A.J. Hawk, Brad Jones, Clay Matthews, Nick Perry, Mike Neal
While Green Bay's linebackers didn't play up to the level that they're certainly capable of, they did have a handful of big plays.
Matthews, of course, made the most noise with his late hit on 49ers quarterback Colin Kaepernick that nearly led to an all-out brawl between the two teams. However, Matthews was also all over the field making plays against both the run and the pass.
Other than Matthews, Jones had the second-best game, leading the Packers with 10 tackles. Neither Hawk, Perry nor Neal made much of an impact.
There is definitely some room for improvement for the group as a whole, but at least Matthews looks poised for a dominant season.
Final Grade: C+
Cornerbacks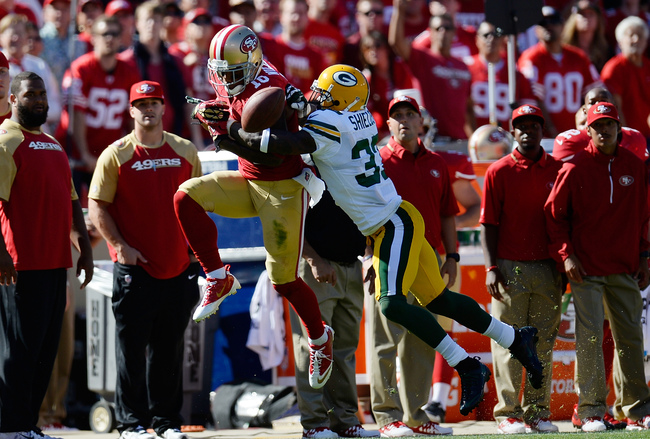 Thearon W. Henderson/Getty Images
Key players: Tramon Williams, Sam Shields, Micah Hyde
This may sound crazy, but Green Bay's cornerbacks actually played pretty well on Sunday. Let me be a little more exact with that statement: The Green Bay cornerbacks played pretty well on the outside on Sunday.
However, whenever Anquan Boldin or Vernon Davis would move to the slot, the Packers didn't stand a chance. This isn't really Williams or Shields fault, and it's even hard to put too much blame on the rookie Hyde.
Getting Casey Hayward back should instantly help this unit. Until that happens though, we could see more teams exploiting the middle of the field like San Francisco did on Sunday.
Final Grade: C
Safeties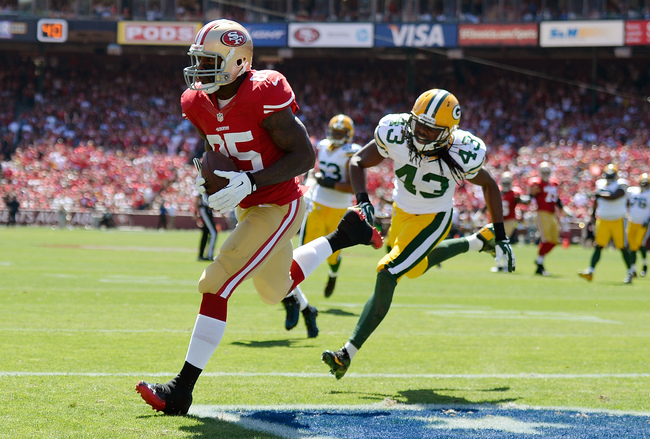 Thearon W. Henderson/Getty Images
Key players: Jerron McMillian, M.D. Jennings
Is it possible to have a grade worse than an "F"? If it is, then the Packers' safeties definitely deserve it.
It's clear after this game that neither Jennings nor McMillian should be starting in the NFL at this point in their careers. Do they have potential? Sure, but it's also possible that the Packers could ruin their confidence and futures by playing them before they are ready.
Getting back Morgan Burnett from injury will certainly help, but this unit seemed completely overmatched.
Final Grade: F
Special Teams
Kelley L Cox-USA TODAY Sports
Key players: Mason Crosby, Tim Masthay, Jeremy Ross, Randall Cobb
Other than Masthay, Green Bay didn't get much from its special teams this week.
Crosby didn't attempt a field goal, but did make all four of his PAT attempts. Ross only averaged 13 yards per kickoff return and Cobb had one punt return for 16 yards.
The play of the day for this unit, and the reason they get a passing grade, is the incredible tackle that Masthay had after his kickoff. It was one of the better tackles by any of the Packers.
Not much was asked from this unit overall, but there is definitely room for special teams to make a bigger impact in the following weeks.
Final Grade: C+
Keep Reading

Green Bay Packers: Like this team?