NFL Week 1 Highlight Tape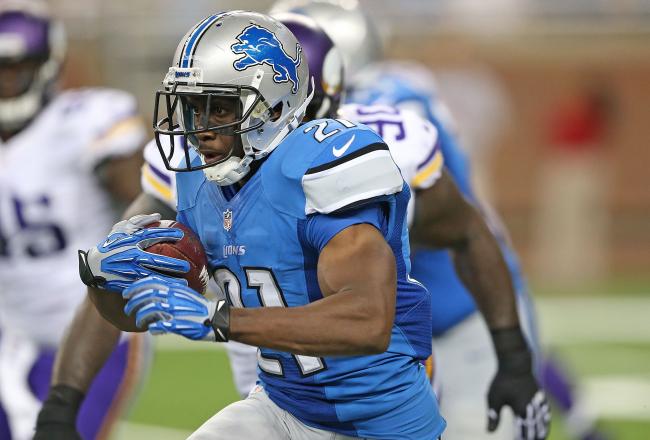 Leon Halip/Getty Images
It's the absolute best time of year for football fans. The college season is underway in earnest, with Notre Dame and Michigan having played in one of the collegiate game's great rivalries Saturday night.
Yawn.
Sunday brought with it the first full day of action by the big boys, with a 12-game slate of NFL action keeping fans across the land entertained all day.
There were thrilling affairs and blowouts, game-winning field goals, great performances and highlights galore.
Here's a look at some of the best that Week 1 had to offer.
Paging Mr. Peterson
Minnesota Vikings running back Adrian Peterson was the NFL's MVP in 2012, propelled to that award by a league-leading 2,097 rushing yards.
It didn't take "All Day" long to get going against the Detroit Lions on Sunday.
Peterson took his his first carry of the game 78 yards for a touchdown. The Lions were able to hold Peterson under 100 yards for the game in a Detroit win, but Peterson demonstrated yet again that he's a threat to score every time he touches the ball.
Anything You Can Do, I Can Do Better
Peterson may have gotten things started on Sunday, but it was Detroit running back Reggie Bush who stole the show.
In addition to gaining 90 yards on 21 carries on the ground, Bush was also able to do more than a little damage as a receiver.
That is, if you consider four catches for 101 yards, including this 77-yard touchdown, "damage."
Searcy Comes Up Big
Buffalo Bills safety Da'Norris Searcy wasn't even supposed to start in Week 1 after losing his starting job to Aaron Williams.
However, an injury to free safety Jairus Byrd caused a shake-up in the Buffalo secondary, thrusting Searcy back into the starting lineup against the New England Patriots.
Searcy responded with nine tackles, a sack and this 74-yard return of a Stevan Ridley fumble for a touchdown.
A Big Day for A.J. Green
The Cincinnati Bengals may have squandered a double-digit second-half lead and lost to the Chicago Bears, but that defeat certainly wasn't the fault of wide receiver A.J. Green.
The third-year pro was dominant in defeat, reeling in nine passes for 162 yards and a pair of touchdowns.
The second of those scores was a 45-yard thing of beauty.
Terrelle Pryor was Good!
The Oakland Raiders are not a good football team. The fact they lost to the Indianapolis Colts should surprise no one.
What was surprising was the play of Oakland quarterback Terrelle Pryor.
Yes, Pryor threw a pair of interceptions, but he also completed over 65 percent of his passes, accounted for over 300 yards of offense and kept the Raiders in the game.
Pryor also rushed for 112 yards on 13 totes, including this 29-yard scamper in the second quarter.
The Honey Badger Has a Nose for the Football
One of the biggest stories of the preseason in the desert was the solid play of rookie safety Tyrann Mathieu of the Arizona Cardinals.
"The Honey Badger" didn't waste any time in making an impact in his NFL debut.
With St. Louis Rams tight end Jared Cook racing toward what appeared to be a certain touchdown, Mathieu not only chased Cook down from behind but also punched the ball loose.
Six points for the Rams became a touchback for the Redbirds.
Tip Drill!
Mathieu wasn't the only player making things happen on an opportunistic day for the Arizona defense.
In the third quarter, with the Rams backed up, quarterback Sam Bradford dropped back to pass. Outside linebacker Matt Shaughnessy got his hands up and batted the ball.
Right into the waiting arms of nose tackle Dan Williams, who rumbled into the end zone for a touchdown.
It's Anquan Boldin's World. We're All Just Living in it.
Granted, it's only one game, but if Sunday's tilt with the Green Bay Packers was any indication, Anquan Boldin is going to be a huge part of the offense in San Francisco.
The 32-year-old exploded against the Packers, reeling in 13 passes for 208 yards in a 49ers win.
In a week of huge performances from wide receivers across the NFL, Boldin's was among the best.
The Lowlight Highlights of the Week
In highlight reels, just as in life, you have to take the bad with the good.
Not a whole lot went wrong for the Tennessee Titans during their surprisingly easy win over the Pittsburgh Steelers, but it didn't seem like that would be the case after the opening kickoff.
It would appear Darius Reynaud needs to bone up on the rule book.
If you field a kickoff at the 1-yard line, back into the end zone and take a knee, that's a safety.
Finally, there is just no way in good conscience that I can wrap up this highlight reel without taking a trip back in time to Thursday night's win by the Denver Broncos.
Seven touchdown passes from Denver quarterback Payton Manning are about as good as it gets.
Linebacker Danny Trevathan's gaffe on a sure pick-six? Not so much.
Hey, at least they won the game.
This article is
What is the duplicate article?
Why is this article offensive?
Where is this article plagiarized from?
Why is this article poorly edited?