Edmonton Oilers Players with the Most to Prove at 2013-14 Training Camp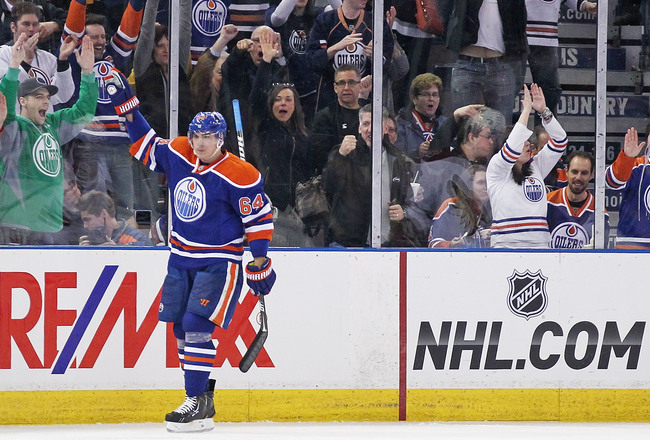 Perry Nelson/Getty Images
The Edmonton Oilers had a busy offseason after another disappointing campaign in 2012-13. Armed with a new GM in Craig MacTavish and new head coach in Dallas Eakins, fans in Edmonton are hoping that the team can finally establish some continuity and finally enter the next phase of their prolonged rebuilding process.
The top-six forward unit of the Oilers is pretty much established with incumbent stars Taylor Hall, Ryan Nugent-Hopkins and Jordan Eberle more than likely comprising the first line and Sam Gagner, Nail Yakupov and the newest addition to the Oilers, David Perron, leading the way on the second line.
Even with such established firepower, Eakins has already let it be known that he expects all players to compete for ice time, regardless of supposed status or prestige.
With only a few forward spots up for grabs, the majority of competition will take place on the blueline. Defensive prospects such as Anton Belov, the former KHL standout who recently signed with the Oilers, or former first-round draft pick Oscar Klefbom, who is coming off of shoulder surgery, will be need to have a strong showing in training camp if they hope to crack the Oilers squad entering into the regular season.
Here is a look at players with the most to prove at the Edmonton Oilers' 2013-14 training camp.
Oscar Klefbom
Klefbom will want a strong training camp to start his North American hockey career.
Nick Laham/Getty Images
Coming off of a serious shoulder injury, Oscar Klefbom is one of the players who most likely have the most to prove at Oilers training camp this season.
And unfortunately for Klefbom, it doesn't appear that his return to the ice is going very well as the highly touted Swede has struggled at recent Edmonton Oiler rookie star games.
Thru 2 games the Oilers D has been underwhelming. Klefbom looks very rusty and passive. Marincin and Gernat need to do more off-season work

— Bob Stauffer (@Bob_Stauffer) September 8, 2013
Klefbom is likely to start the season in Oklahoma City with the Barons, as he looks to become familiar with the North American style of hockey. However, a strong training camp will go a long way to help restore some confidence and fitness after a lengthy injury rehabilitation process.
Ales Hemsky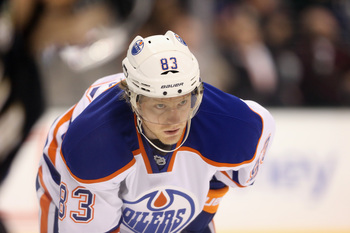 Hemsky may not feel wanted but will want to have a good training camp to put the awkward situation behind him.
Ronald Martinez/Getty Images
Ales Hemsky is one of the most senior members of the Edmonton Oilers roster, and yet he will look to have a strong training camp to prove himself not only to new head coach Dallas Eakins but also new GM Craig MacTavish.
MacTavish and Hemsky have a history together, with MacTavish having coached Hemsky during his stint behind the Oilers bench, but the relationship between the two since MacTavish has assumed the GM position has been rocky to say the least.
Originally MacTavish voiced that he believed it was best for the talented winger to move on from the club but has since reconsidered his position. Hemsky is left feeling as the a player who is perhaps no longer wanted.
This type of situation could have a negative impact on a player, but Hemsky's effort and play will dictate how both club and player move on going forward.
If Hemsky comes into training camp, he will not only continue to prove his value to the club but perhaps to potential suitors at the trade deadline.
Sam Gagner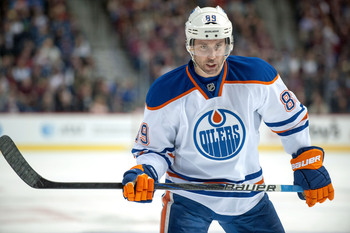 Sam Gagner earned his extension and will look to earn the captaincy heading into the 2013-14 season.
Dustin Bradford/Getty Images
Sam Gagner may have the most to gain and lose in the Edmonton Oilers' 2013-14 training camp, after rumors have started circulating stating that the recently resigned Gagner may become the Oilers new captain.
At only 23, Gagner has already played six seasons with the Oilers and was rewarded for his performance and contributions with a three-year $14.4 million contract extension in the offseason.
Gagner will be looked to as a veteran on this young Oilers team and could very well become the 14th captain in Oilers franchise history with a strong preseason showing.
By signing the extension, Gagner has shown that he is committed to the movement in Edmonton and wants new coach Dallas Eakins to look to him in key situations next season.
Eakins is the type of coach who rewards strong effort and hard work, something that Gagner has demonstrated during his maturation process in Edmonton.
This maturation should only continue to help Gagner become a leader both on and off the ice for the Oilers going forward.
Jujhar Khaira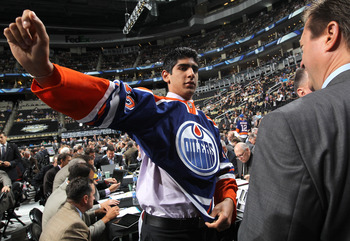 Jujhar Khaira is shaping up to be one of the most interesting Oilers prospects.
Bruce Bennett/Getty Images
Jujhar Khaira is an interesting prospect for the Edmonton Oilers because he is the type of player who satisfies two major needs for the club, size and the fact that he is a center iceman.
The former Michigan Tech standout is one of the few promising forwards in the Oilers system at the moment. At 6'3" and 198 pounds, Khaira's size almost will be his biggest asset heading into the 2013-14 training camp.
Though the rest of the Oilers prospects have struggled to shine thus far during the rookie showcase series in Penticton, British Columbia, Khaira has been one of the lone bright spots.
His physical assertiveness and willingness to drive to the hard areas will go a long way to endear Khaira with Dallas Eakins.
Considering this is Khaira's first professional training camp, it will all prove to be a valuable experience for the young forward, but the stronger he performs in the preseason, the better chances that he will establish himself in the Oilers system.
Martin Marincin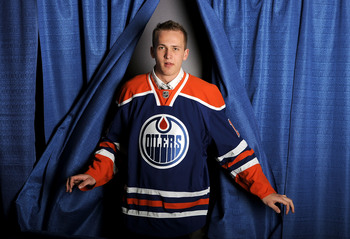 Marincin is one of the more heralded Oilers defensive prospects.
Harry How/Getty Images
There has been quite a bit of hype surrounding Martin Marincin, and Oilers brass will be looking for the big defenseman to assert himself at training camp this season.
Marincin struggled at times last season in Oklahoma City, and now that the Oilers have organizational depth on the blue line, he could see his chances of cracking the NHL lineup pushed further back.
The year spent playing with the Barons in OKC last year has certainly helped his game and should help the rugged Slovakian defender entering the 2013-14 preseason.
Anton Belov
At 27, Anton Belov has more experience than most NHL rookies, but the KHL standout will want to have a strong training camp to cement himself in Dallas Eakins' opening day lineup.
The 6'4", 216-pound defenseman has spent the last nine seasons in the KHL and the Russian Super League and has developed a reputation as a player with impressive footspeed and offensive skills as well as a strong physical game.
Thanks to his experience and his size, if Belov manages to avoid injury and have a decent training camp, he should be close to a lock to make the Oilers when the regular season begins.
Keep Reading

Edmonton Oilers: Like this team?