UFC 165 Preview: Pat Healy vs. Khabib Nurmagomedov Head-to-Toe Breakdown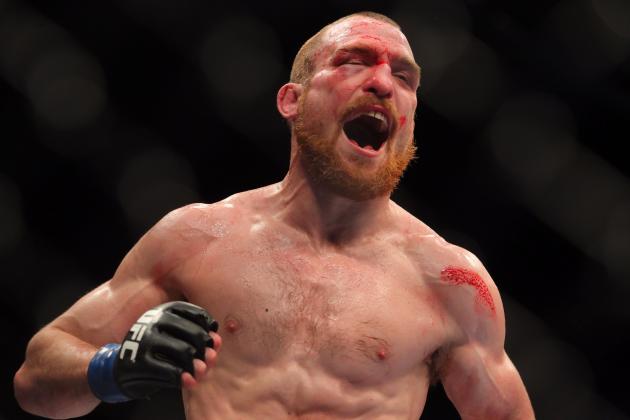 Brad Penner-USA TODAY Sports

After having his first UFC win stripped due to a failed drug test, Pat Healy will try to get his hand raised inside the Octagon again at UFC 165.
Despite his submission victory over Jim Miller being erased, Healy is still considered a top-10 lightweight. It appears few voters on the official UFC rankings panel felt his pre-fight marijuana usage enhanced his performance at UFC 159.
Khabib Nurmagomedov will try to bounce Healy from the top 10 on Sept. 21.
The up-and-coming Russian lightweight is undefeated in four UFC appearances. With a win over Healy, Nurmagomedov could break through and be considered a top contender in the 155-pound class.
As this important lightweight matchup approaches, here is a look at how Healy and Nurmagomedov compare in all areas.
Begin Slideshow

»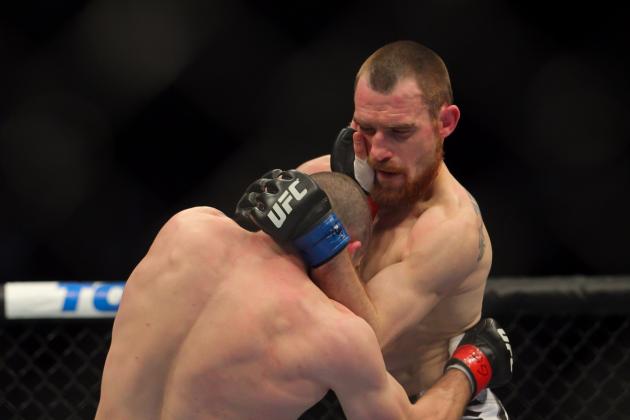 Brad Penner-USA TODAY Sports

Healy has six knockout wins in his career, but one of those came via injury, and the remaining five were scored against low-level competition.
While Healy's forward pressure and toughness allow him to land some solid shots, Nurmagomedov brings the same approach with more quickness. Both men tend to plod forward and throw looping hooks once they have their opponents cornered, so the 24-year-old Nurmagomedov is likely to land first in a battle of haymakers with 30-year-old Healy.
Doing some of his best striking work from the clinch, Healy is going to have a tough time being offensive when in close with Nurmagomedov. Coming off of a fight with Abel Trujillo in which he scored an astounding 21 takedowns, Nurmagomedov will surely force Healy to defend against takedowns whenever the two lightweights lock up.
Considering Nurmagomedov has never been knocked out and the fact that he defends strikes at a slightly higher rate than Jim Miller, who more than held his own with Healy when standing, it's tough to see the Strikeforce veteran winning at UFC 165 with his striking.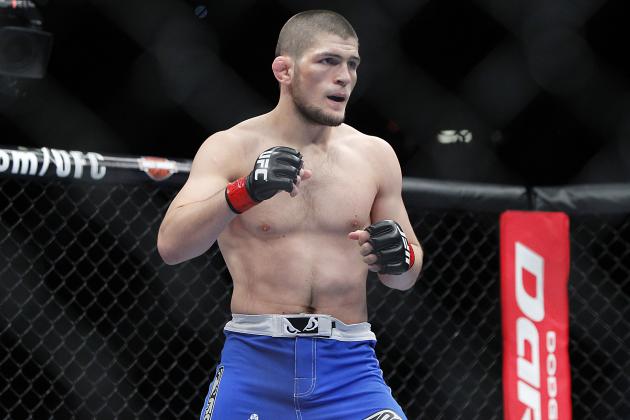 Gary A. Vasquez-USA TODAY Sports

Nurmagomedov's stand-up style isn't a whole lot different than that of Healy.
Both lightweights stalk their opponents down and explode with hooks when their foes run out of room to back up. When Nurmagomedov and Healy meet at UFC 165, there's a good chance the two will walk forward and meet in the center frequently.
When one fighter throws looping punches, the obvious answer is to counter with quicker strikes down the middle. However, when both fighters wing punches, as will likely be the case in the matchup between Healy and Nurmagomedov, speed wins.
Six years younger than Healy, Nurmagomedov would appear to be the fighter with the advantage in that area.
Not only is Healy often caught moving in a straight line toward his adversaries, but his reaction time to opposing attacks is also not something to be marveled.
In the second round of his bout with Jim Miller (top), Healy was cracked with a straight left as he moved directly at Miller with his hands down.
Nurmagomedov has made opponents pay more severely with much smaller openings. Against Thiago Tavares (bottom), Nurmagomedov scored a knockdown with a lead hook from distance, despite the Brazilian's guard being only slightly below his chin at the time the strike was thrown.
Tavares, who defends 63 percent of strikes thrown at him, has been harder to hit than Healy, who defends only 53 percent of opponent attacks. This is true, despite Tavares' much longer run against UFC competition.
If Nurmagomedov can put Tavares away like he did, then the Russian has a good shot at finishing Healy should he keep this fight standing.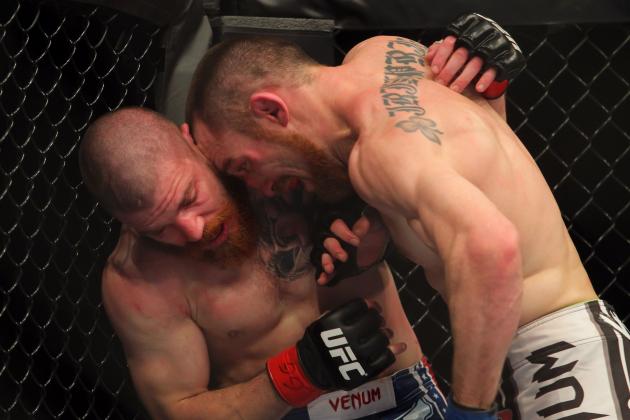 Brad Penner-USA TODAY Sports

Since Nurmagomedov is more likely to win a stand-up battle, Healy needs to find a way to drag this fight to the ground, where he can utilize his very solid offensive jiu-jitsu.
The trouble for Healy is that he'll be facing an outstanding wrestler in Nurmagomedov. A sambo world champion, Nurmagomedov has only been out-wrestled by Gleison Tibau when looking strictly at takedowns scored.
While Tibau's not a top-10 lightweight like Healy, the Brazilian's takedown abilities are much more proven. Only Georges St-Pierre has scored more takedowns inside the Octagon than Gleison Tibau.
Healy impressed with his wrestling against Jim Miller, scoring five takedowns en route to what was originally considered a submission win. However, Nurmagomedov's going to be significantly more difficult to take down than was Miller, who's takedown defense is rather poor, despite his otherwise solid grappling.
Above, Healy shoots in for a double-leg takedown without getting Miller to respect his feinted strikes (top left). As a result, Miller was able to secure an underhook on Healy's left arm (top right), which should have allowed him to defend the takedown by keeping space between Healy and his hips.
Instead of using the underhook to shut down Healy's takedown attempt, Miller took a step backward. This allowed Healy to get in deep on the takedown attempt and lock his hands below Miller's waist (bottom left). With his underhook gone and hips pulled in by Healy, Miller was taken to the canvas (bottom right).
If Healy attempts a takedown under the same circumstances against Nurmagomedov, there's a good chance he'd be shrugged off easily.
Against Tibau, who out-wrestled Miller in a September 2010 decision loss, Nurmagomedov stopped five of six takedown attempts.
In the final minute of the first round, Tibau shot in for a double-leg similar to Healy's previously mentioned attempt on Miller (left). Nurmagomedov secured an underhook on Tibau's left arm and, unlike Miller, utilized it properly to shut down the attempted takedown (right).
While Healy showed some small offensive holes against Miller, Nurmagomedov denied nearly all takedown attempts from a better wrestler in Tibau. If Healy wants to take this fight to the ground, he may have to hope Nurmagomedov does it for him.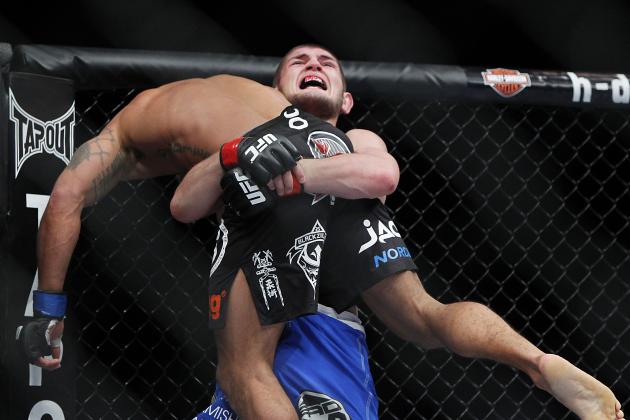 Gary A. Vasquez-USA TODAY Sports

Healy was taken down on the only opposing takedown attempt he's seen inside the Octagon.
While Healy's defensive wrestling is better than that suggests, he still has some serious shortcomings in that area. Mizuto Hirota, Lyle Beerbohm, Caros Fodor and Bryan Travers all took Healy down during his run under the Strikeforce banner.
Having scored 24 takedowns in his first four UFC appearances, Nurmagomedov is likely a better wrestler than any of those Strikeforce opponents Healy was taken down by.
Nurmagomedov may be able to take Healy down at will. With Healy's submissions being the most deadly part of his arsenal, the question is whether or not Nurmagomedov wants to.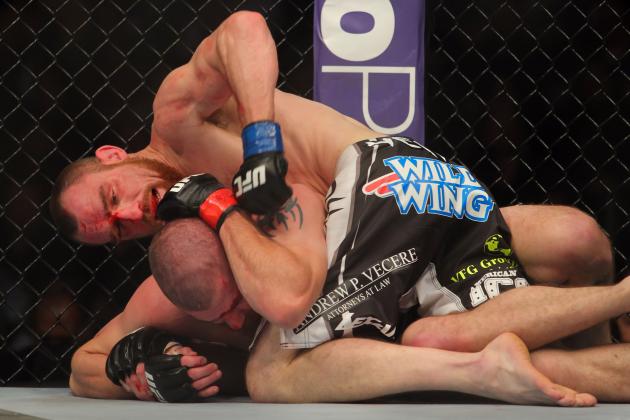 Brad Penner-USA TODAY Sports

Healy wears opponents down when on top.
The Oregonian batters his foes with elbows until they give up their back and allow him an opportunity to sink in a rear-naked choke. Over the course of his career, Healy has forced 10 adversaries to tap with that submission.
Against Nurmagomedov, the problem for Healy will be having enough time to work his ground-and-pound and open up a submission chance.
Nurmagomedov has only been taken down twice inside the Octagon. He immediately made Abel Trujillo regret a decision to go to the ground with an armbar attempt and didn't face another takedown attempt in that matchup. Against Gleison Tibau, Nurmagomedov quickly escaped from a lone takedown without taking any damage from the Brazilian.
While Healy's best chances of beating Nurmagomedov could come while he's on top, it's tough to envision him controlling the Russian on the ground.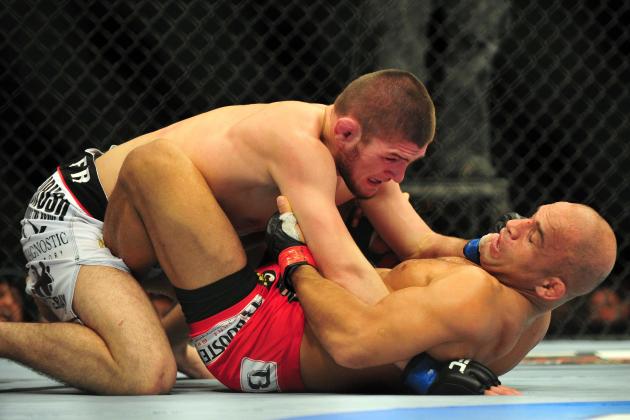 Don McPeak-USA TODAY Sports

When a fighter takes an opponent down 21 times in three rounds, it says something about wrestling ability. However, it also says a great deal about top control.
Clearly, Nurmagomedov wanted Abel Trujillo on the ground, but he couldn't keep the American's back on the canvas for very long before having to look for another takedown.
Against Healy, Nurmagomedov will probably have to worry less about his opponent escaping and more about submission attempts coming from the bottom. Healy has locked up guillotine chokes against the likes of Dan Hardy and Paul Daley, so he could make Nurmagomedov pay for takedowns.
Even though he may be able to win with his striking alone, Nurmagomedov is bound to attempt a takedown eventually. He's attempted at least nine in every UFC bout aside from his one with Thiago Tavares that ended in less than two minutes.
Although he's likely to put himself in danger against Healy, predicting a Nurmagomedov submission loss would be pure speculation. The Russian has never been submitted, nor have we even had a chance to see his submission defense inside the Octagon. If his sambo background is any indication, though, Nurmagomedov won't be easy to tap.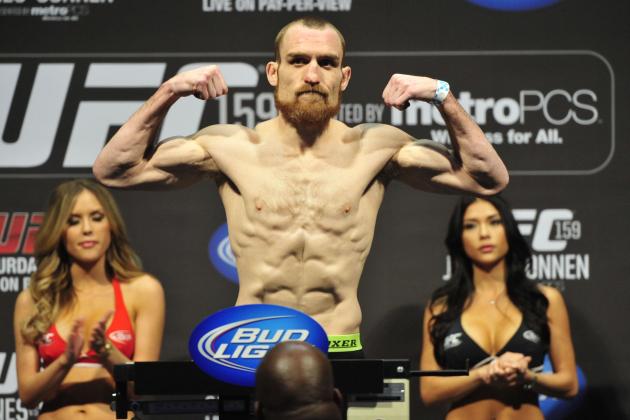 Joe Camporeale-USA TODAY Sports

Healy made his UFC debut in 2006, two years before Nurmagomedov's first MMA bout.
Although he hasn't always competed at the highest levels, Healy is much more experienced than Nurmagomedov. If this fight is close and goes into the later rounds, which is very possible, Healy's cage time could turn out to be a big factor.
Healy also carries a slight reach advantage, which would be important if he effectively utilized straight punches with regularity. He may come into this fight with a new striking approach, but that simply hasn't been a characteristic of his stand-up style over the years.
Both Healy and Nurmagomedov have only been out of action since spring, so neither should come into this fight with any rust.
So, aside from Healy's veteran presence, the outcome of this matchup should simply be determined by the technical strengths the lightweights bring into the Octagon.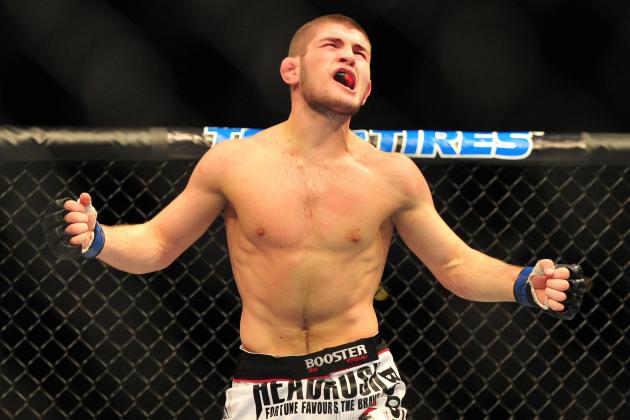 Don McPeak-USA TODAY Sports

Although not ranked in the lightweight division, Khabib Nurmagomedov is a betting favorite over No. 10 contender Pat Healy.
It's possible Healy would be more successful against other top lightweights than Nurmagomedov. However, in this matchup, Nurmagomedov presents a rough stylistic test for Healy.
Healy's going to have a tough time taking Nurmagomedov down, and there's little evidence to suggest he would submit the sambo world champion. If he can't, Nurmagomedov's speed should win him a striking match, and the 24-year-old can always rely on his takedowns if that fails.
Even if he doesn't reach those heights at UFC 165, Nurmagomedov looks to be a future lightweight title contender. An impressive win over Healy could boost him into the top 10 to finish out what has been a solid 2013 for the Russian.
Prediction
Nurmagomedov defeats Healy by (T)KO in the second round.
Statistics via FightMetric.com.