Michigan Football: 5 Biggest Early Season Storylines for Wolverines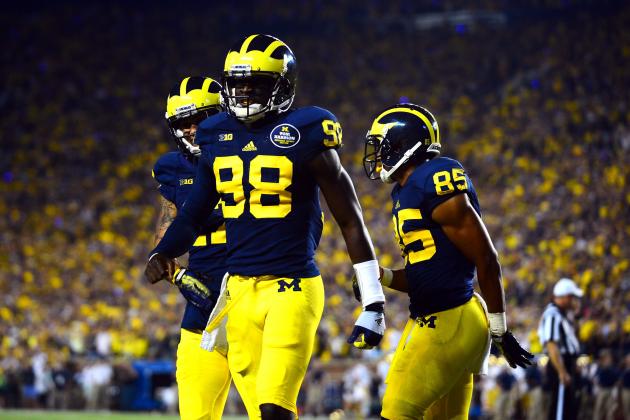 Andrew Weber-USA TODAY Sports
Devin Gardner (No. 98) led Michigan to a 41-30 win over Notre Dame.
Saturday, the first major hurdle of the 2013 season was cleared by Michigan.
Thanks to a 41-30 victory over Notre Dame at The Big House, the Wolverines have cemented themselves as legitimate threats in the Big Ten, although they've yet to play a Big Ten opponent.
Through the first two weeks, the offense has gone from simple and plain to exciting and energetic. Al Borges, who's in his third year as offensive coordinator, properly flexed his muscle with a potent passing attack led by quarterback Devin Gardner, the now-reincarnated No. 98 who threw for 294 yards and four touchdowns Saturday night; he also rushed for a team-high 82 yards and a score.
In this slideshow, the evolution of Gardner, the Wolverines' running back situation and other in-depth topics will be discussed, dissected and analyzed.
Begin Slideshow

»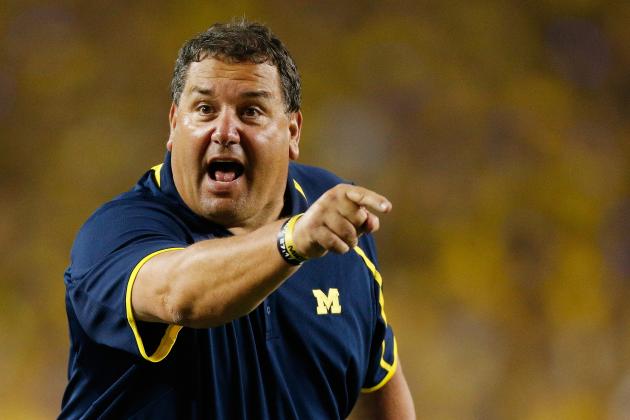 Gregory Shamus/Getty Images
Brady Hoke is in the midst of his third season as Michigan's head coach. Is this the year?
Brady Hoke is 16-0 at home. He ended a four-year losing streak to Michigan State and he's fresh off a meaningful win over Notre Dame.
The final chapter of the Wolverines and Irish at The Big House may have been Hoke's "I'm here" moment. Weeks from now, the victory over coach Brian Kelly's Irish will probably be credited for starting what could be a one- or two-loss fall for the Wolverines, who are now neck-and-neck with Ohio State in terms of power.
Hoke's dedication to the program is clear. His desire to win can't be questioned. Most thought that Michigan was a year away from being a legitimate national juggernaut, but maybe that time is now.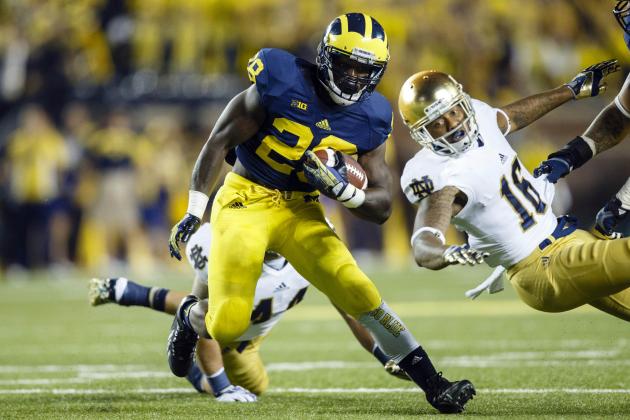 Rick Osentoski-USA TODAY Sports
Fitz Toussaint shined in Michigan's victory over Notre Dame. But can he be consistent?
Fitz Toussaint's 22-carry, 71-yard offering Saturday night against Notre Dame raises a few questions. The main issue, of course, focuses on Toussaint's consistency of production. The senior was effective against the Irish despite averaging just 3.2 yards per touch.
In the fourth quarter, the senior broke loose for a 22-yard scamper and caught a 31-yard pass from Devin Gardner, setting up Drew Dileo's four-yard touchdown reception which tilted the score 40-30 in favor of the Wolverines (Brendan Gibbons' PAT made it 41-30).
He can make plays. He can be relied upon to sustain drives. But can he do it for a year?
When analyzing Toussaint, his 1,000-yard sophomore campaign always comes to the forefront of the discussion. Prior to his injury in 2012 against Iowa, Toussaint struggled to regain his set of legs and fell into the trap of running east to west, rather than straight ahead.
Wolverines followers are waiting for another 1,000-yard back. Actually, they're waiting for a consistent back.
Thus far, Toussaint has 128 yards; the competition gets a little easier until Nov. 2's date with Michigan State. Toussaint has shown, when steady, that he's capable of being the undisputed No. 1 running back.
Will he hold those reins or give them up to backs-in-waiting such as Thomas Rawls, DeVeon Smith, Justice Hayes and Derrick Green?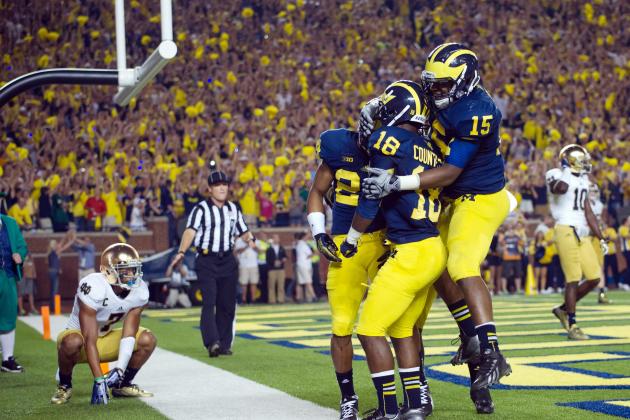 Matt Cashore-USA TODAY Sports
Michigan's secondary was good but not great Saturday.
As a whole, Michigan's defense looks incredibly strong. With a few minor tweaks, coordinator Greg Mattison should continue to get desired results from a unit that was once ranked No. 108 under the former coaching regime.
Scoring 30 points (23 on offense), the Irish showed that the Wolverines still have work to do in the pass-protection department. Of course, that hinges on the secondary's ability to knock down passes and force quarterbacks into mistakes.
Saturday night, Jarrod Wilson, Courtney Avery, Blake Countess and Raymon Taylor did that. Countess had a pair of interceptions; Wilson and Taylor hit hard and disrupted passes, but the deep balls were a prevalent component of Notre Dame's attack.
Irish quarterback Tommy Rees threw for 314 yards, 130 of which came in the second half as his team fought to erase a 27-13 deficit. Calm and collected, the senior's experience was evident as he drove Notre Dame down the field with a mix of deep and short throws.
Rees completed at least seven passes for 15 or more yards, including a 20-yard touchdown to tight end Troy Niklas, who also had a 21-yard reception. Some of those big gains were due to poor tackling and yards after contact. The throws to Niklas, however, were deep completions.
The Wolverines' secondary bent but didn't break. However, it was close.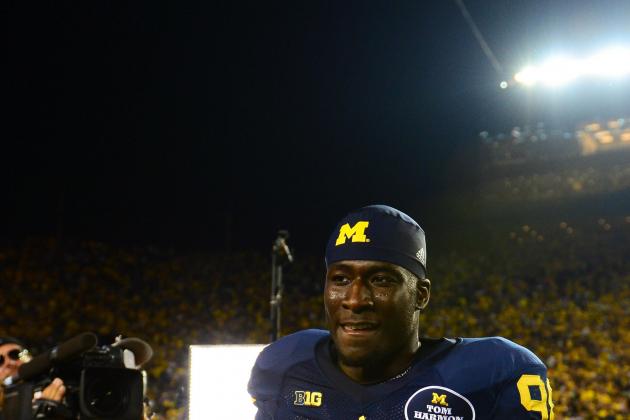 Andrew Weber-USA TODAY Sports
Wearing No. 98 is an honor for Devin Gardner.
Gardner's transformation will be the key storyline of the season.
The redshirt junior entered Michigan as a quarterback, moved to wide receiver—and he was a good one, too—but then regained his role under center after Denard Robinson fell to Nebraska in 2012.
Prior to this season, Gardner was showered with praise from the national media. Although not overly impressive, the 6'4", 210-pound former Inkster High star turned a few heads with a 214-yard, three-touchdown effort against South Carolina in the Outback Bowl.
That game capped his five-game 2012 resume. That mini stretch was, perhaps, the most dissected five-game sample size in recent memory.
Saturday night, he proved that he's an elite-level quarterback who can lead the charge in important games. That's what the Wolverines need, a gamer. Gardner is that. Minus his pick-six to Stephon Tuitt, Gardner was exceptional versus the Irish.
If he can succeed against a high-caliber defense, imagine what he'll do as Akron and UConn step up to the plate in the coming weeks.
On a side note, having the number of a Michigan legend should help complete the metamorphosis from good to great. Gardner now sports No. 98, the former digits of all-time quarterback Tom Harmon.
He said the following about the distinction through a press release, via CBSSports' Jerry Hinnen.
It's difficult to say how honored I am to wear No. 98. You see Tom Harmon photos and prints all over our building, knowing all of the things he accomplished on the field for this program and then representing our country, and to have the opportunity to speak to his family today, it's kind of surreal. I'm extremely humbled and blessed.
Add a few more pounds of pressure on Gardner's shoulders. He not only dons historical numerals, but he also just downed Notre Dame in prime time with a 294-yard, four-touchdown outburst through the air. He ran for 82 yards and a touchdown, completing the most well-rounded outing of his career.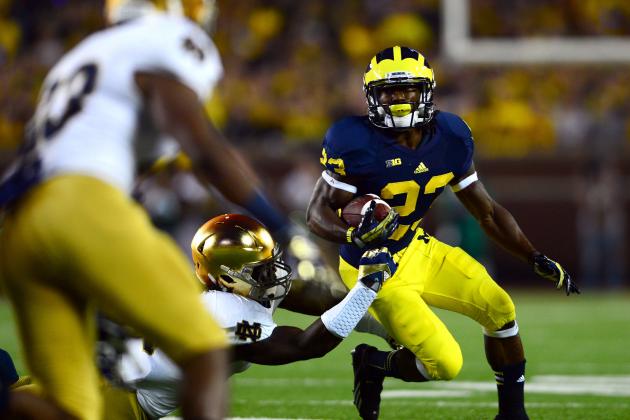 Andrew Weber-USA TODAY Sports
Dennis Norfleet isn't slow.
To a casual fan, Michigan football could be viewed as a two-man show through the first two weeks. Others have made plays, but for the most part, Devin Gardner and Jeremy Gallon have been the go-to threats.
One throws the ball, the other catches it and runs. The combination works for obvious reasons.
Fitz Toussaint, as mentioned earlier, has also contributed with a few chain-moving efforts.
But who else will step up and claim some of the spotlight?
Freshman Jehu Chesson laid a hammer-like block on Notre Dame that freed up Gallon, who, in turn, took a pass from Gardner 61 yards for a touchdown. Blake Countess had two interceptions Saturday.
It'll take more time, but as the season progresses, Michigan will get more from others. It's a matter of circumstances more than anything else.
Top Three Threats
1. Dennis Norfleet
No explanation needed here. OK, just a little: He averaged 26 yards on three returns against the Irish. He's due for a few coast-to-coast scores.
2. Joe Reynolds
He had a 45-yard catch and punt-block-for-touchdown against Central Michigan and a 10-yard reception Saturday. Whether on special teams or at receiver, Reynolds is as good of a choice as anyone for big-play potential.
3. Dymonte Thomas
He returned blocked the kick that Reynolds returned for a touchdown. Though a true freshman, he has pick-six ability to go along with a love for hitting guys.
Feel free to comment about your top playmaking threats. There is room for other angles and opinions on this matter.
Follow Bleacher Report's Michigan Wolverines football writer Adam Biggers on Twitter @AdamBiggers81