Pittsburgh Pirates vs. St. Louis Cardinals: Instant Analysis and Reactions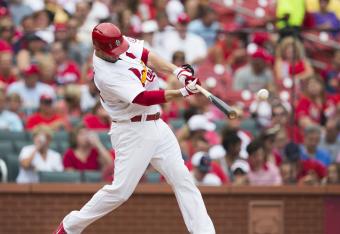 David Welker/Getty Images
The St. Louis Cardinals completed their sweep of the Pittsburgh Pirates to take a two game lead in the NL Central.
The Cardinals won the first two games of the series convincingly, beating the Bucs 12-8 and 5-0, and they kept up the pressure with a 9-2 win in this one.
That leaves the Pirates still searching for their 82nd win to clinch a winning season after losing their fourth straight game.
Pittsburgh's Charlie Morton was rough in this one, allowing five runs in the first two innings.
A string of relievers couldn't stem the tide, as the Cardinals beat up the bullpen for four more runs and cruised to an easy win.
Check out my reactions and analysis from during the game to learn more about this crucial divisional battle.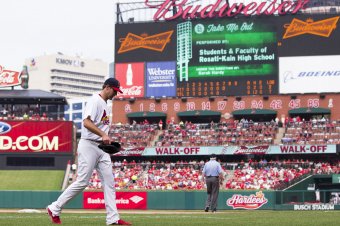 David Welker/Getty Images
That wraps it up for this one.
Even though the Pirates were able to throw on two runs at the end of the game to avoid the shutout, this was still a rough one for the Bucs.
The Cardinals offense looked dominant, while Pittsburgh's bats stayed quiet as St. Louis now takes a two game lead in the division with the series sweep.
Hurdle is going to have to do some serious motivating in the next few days to stop this squad from losing its confidence.
This was a big opportunity for both squads, and St. Louis came ready to seize it, while the Pirates fell apart completely.
Now, Pittsburgh heads to Texas for a tough road series with the Rangers. By contrast, St. Louis gets to stay at home for the lowly Milwaukee Brewers.
It may have been an uneventful game, but this one had a huge effect on the NL Central race.
If the Pirates slip any further in the next few games, this will be the game people point to as the turning point in the Cardinals' division championship.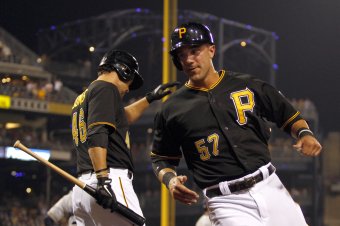 Justin K. Aller/Getty Images
In the eighth inning alone, there were four different hitters that managed to strike out swinging.
Whether it was backups like Andrew Lambo and Tony Cruz or regular players like Jordy Mercer, it would seem that these players are ready for this blowout to end.
Much like Joaquin Phoenix's character at the end of the movie "Signs," it looks like everyone has been told to swing away right about now.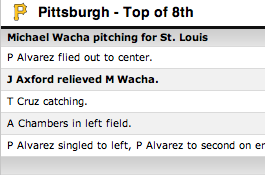 According to ESPN's play-by-play of the game, Pedro Alvarez was literally everywhere on that last play.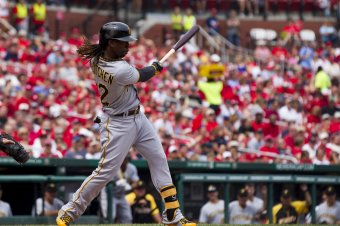 David Welker/Getty Images
The Pirates' offense as a whole may be terrible, but for some reason, McCutchen rakes when he shows up to Busch Stadium.
He was hitting .407 at the park coming into the game and just picked up another hit in the top of the seventh.
He's just one for two in the game with a walk, but this will only improve his incredible good luck in St. Louis.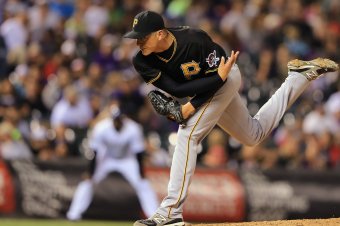 Doug Pensinger/Getty Images
The Bucs have just thrown in the towel at this point.
Out comes Mazzaro, in comes Jared Hughes, yet the results stayed the same.
Hughes has a 5.14 ERA on the season, and after allowing another run to make it 9-0, it's clear why.
He could only locate four of his eight pitches for strikes, and this move is clearly just Hurdle saving his bullpen for games that are actually close.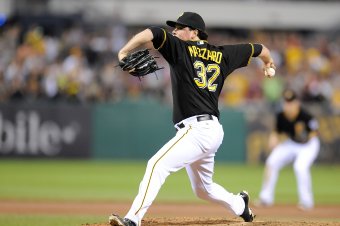 Joe Sargent/Getty Images
Now Pimentel's day is done as the Cardinals keep piling on runs.
He was able to strike out Molina again, but after allowing another run, Hurdle decided it was time for Vin Mazzaro.
But he hasn't exactly done much better. He allowed two more runs, which is surprising given that he's sporting an excellent 2.51 ERA on the year.
This St. Louis offense is just on such a roll right now that it seems unlikely anyone in the Pirates' pen can slow them down.
If they hit like this for the remainder of the next month, then Pittsburgh will have no choice but to settle for a wild card spot.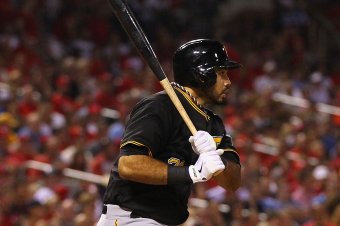 Dilip Vishwanat/Getty Images
Pedro Alvarez is in the midst of a truly horrendous slump right now.
Not only has his average sunk to .230, but he also has just three hits in his last 19 at bats.
He just flew out to center in another uninspired trip to the plate, and there's no doubt that his struggles are directly connected to the offense's issues over the last few days.
No one would ever confuse Alvarez for a guy that consistently gets on base; his 32 homers attest to the fact that he is a power hitter in the purest sense of the word.
But he is a big part of the Bucs' offense, and he needs to start coming through if this team has serious postseason aspiration.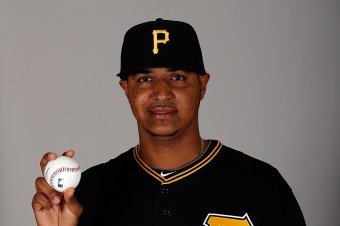 J. Meric/Getty Images
At the very least, the Pirates are seeing good things from Pimentel in this one.
He struck out Yadier Molina immediately after relieving Morton, then got two flyouts and a strikeout.
He's had both solid command and velocity so far and has developed into a solid long relief option for the Bucs.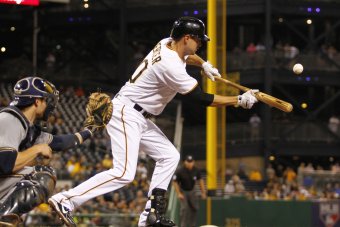 Justin K. Aller/Getty Images
The Pirates got a little something going on offense, but it never fully materialized.
Jordy Mercer's ground rule double to right field gave the offense some hope, and after advancing to third on Pimentel's groundout, things looked good.
But then Walker struck out, ending the threat and typifying the team's issues with men on base.
If the Bucs want to have any chance at getting back in this game, that is the number one area they have to improve on: hitting with men in scoring position.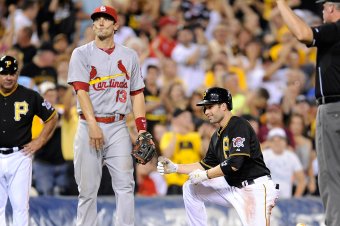 Joe Sargent/Getty Images
Even the pitcher's getting in on the action for St. Louis.
Pete Kozma doubled and Wacha was able to move him over with a sacrifice fly in a further demonstration of Morton's struggles.
A pair of doubles by Matt Carpenter and Jon Jay threw two more runs on the board, and Morton just never seemed comfortable out there.
After throwing a wild pitch to allow Jay to score and walking Carlos Beltra, Clint Hurdle was forced to turn to Stolmy Pimentel.
Things just keep getting worse for the Bucs- it's as if history just refuses to let the winning season finally happen.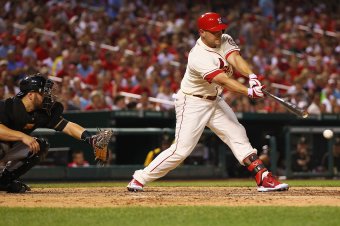 Dilip Vishwanat/Getty Images
True to form, St. Louis has stayed hot on offense.
The Cardinals jumped on Morton quickly, as he struggled locating his pitches in the bottom of the first and allowed two runs.
In addition to walking Matt Holliday, Morton was able to only get 10 of his 22 pitches to go for strikes.
He allowed five runs to the Cards the last time he faced them, so the Pirates have to hope that he won't repeat the trend.
If not for Neil Walker's solid defense at second, where he was able to get Holliday out on a fielder's choice, then things might've gotten even worse.
Pittsburgh needs a spark on offense to get back in this game, or the Cardinals will run away with it.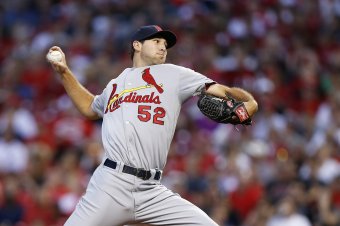 Joe Robbins/Getty Images
The Pirates' bats stayed quiet in the top of the first, as their top three hitters went down in order.
Neil Walker, Garrett Jones and Andrew McCutchen didn't put up much of a fight early on, allowing Macha to get through the inning with just 13 pitches.
It's one thing to go down in a 1-2-3 inning, but the Pirates are going to have a long game if they can't pressure Macha.
The rookie doesn't have much starting experience, working mostly in relief until recently, so the Bucs should be trying to attack him early and get him sweating.
Yet Macha stifled them with some solid command, as nine of his pitches went for strikes.
The Cardinals are up to bat next, and they could really capitalize here if Morton struggles early.
This article is
What is the duplicate article?
Why is this article offensive?
Where is this article plagiarized from?
Why is this article poorly edited?