Stock Up, Stock Down for Every Major 2013 MLB Award Race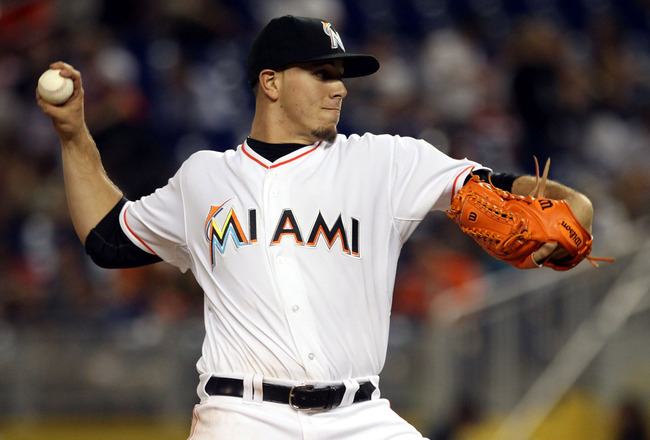 Marc Serota/Getty Images
The first full week of September is in the books, meaning the 2013 Major League Baseball awards race has picked up a lot more steam.
Everything that happens between now and the end of the year will be under such a fine microscope that one misstep is going to change the narrative for everything. Of course, some players already have such a strong, unbreakable story and lead behind them that nothing happening now will matter.
It all depends on what fans and the media latch onto. Some races, as we know, have been wrapped up since the All-Star break. But that doesn't mean anything for our weekly MLB awards stock watch.
This is the second week we are doing this, so let me go over the rules: All of the rankings, or stocks, are organized based on how I would vote if I had a ballot, not how I think the voting will go.
For the Rookie of the Year and Cy Young categories, I listed the top three candidates in both leagues. For AL and NL MVPs, I listed the top five.
All stats courtesy of Fangraphs and Baseball Reference unless otherwise noted.
AL and NL Manger of the Year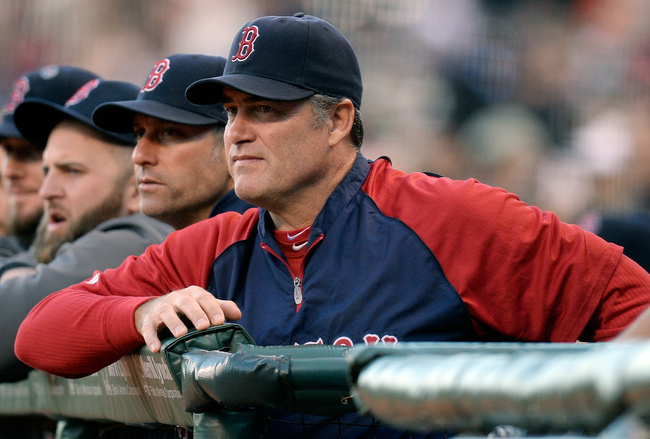 Thearon W. Henderson/Getty Images
National League
Clint Hurdle, Pittsburgh Pirates (Stock: Even)
Despite a rough stretch since the middle of August where the Pirates have played closer to the level we expected them to (11-17), Hurdle is still an overwhelming favorite to win NL Manager of the Year.
The only other candidate who might steal some votes is Dodgers skipper Don Mattingly. But I think that expectations were so high with L.A. coming into the year that it will be hard for some voters, even with reports that Mattingly was close to being fired, to overlook the surprising Pirates.
Rising: Mattingly (Dodgers)
American League
John Farrell, Boston Red Sox (Stock: Up)
The Red Sox went into Yankee Stadium with the risk of giving their rivals even more hope in the AL wild-card race. But then the Sox brought their big-boy bats and did a number on New York's pitching staff Thursday, Friday and Saturday before a wacky ending on Sunday prevented a sweep.
They have, for all intents and purposes, sealed up a division title and put space between themselves, Detroit and Oakland for the best record in the AL.
Other solid choices include Cleveland's Terry Francona, whose team will benefit from an easy batch of games down the stretch to remain in the wild-card race (if not find a way to come out on top), and New York's Joe Girardi, who has worked much of the season with a patchwork roster and will finish over .500.
But Farrell is the clear man to beat in this race, especially after his team's dominating performance over the weekend.
Rising: Francona (Cleveland), Girardi (New York), Ned Yost (Kansas City)
AL Rookie of the Year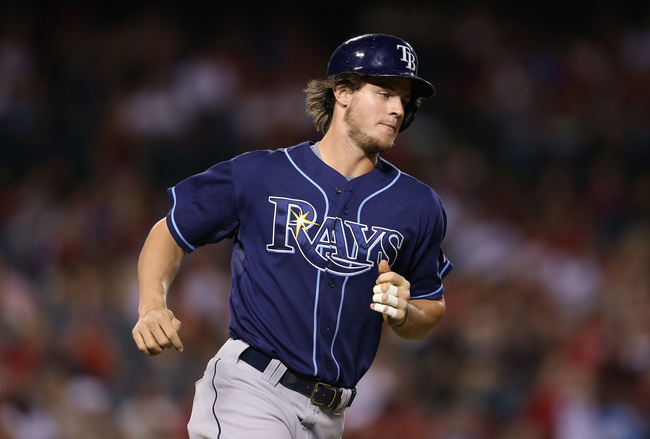 Jeff Gross/Getty Images
No. 1 Wil Myers, OF, Tampa Bay Rays (Last Week: No. 1)
I have said ever since he was called up that, given the state of the AL rookie crop in 2013, the award is Myers' to lose. All he has to do is not screw up and he will get it. There have been some typical rough patches, but overall, the young slugger has held up his end of the bargain.
Even more encouraging was Myers' performance last week. He had the second multi-homer game of his career against Los Angeles, raised his average, on-base and slugging percentages, and ranks first among AL rookies with 1.9 wins above replacement despite playing in just 68 games.
Stock: Up
No. 2 Martin Perez, SP, Texas Rangers (Last Week: Rising)
This season started off horribly for Perez. He fractured his forearm in spring training, causing him to miss nearly two months. The 22-year-old lefty, who was all but assured the No. 5 starter job coming into the year, was behind the eight ball before the games counted.
But since returning on May 27, Perez has looked fantastic. He's third among AL rookies with 97 innings pitched, boasts a strong 63-26 strikeout-to-walk ratio, and is getting more confident down the stretch.
After a disastrous start against Cleveland in late July, Perez has gone at least six innings in the past seven starts and allowed more than three earned runs just once. The competition hasn't been great, though, with four of those games coming against Houston, Seattle (twice) and the Chicago White Sox, which is why he doesn't move ahead of Myers.
Still, the Rangers have to be very encouraged with what they have seen from their young star in his first full season.
Stock: Up
No. 3 Chris Archer, SP, Tampa Bay Rays (Last Week: No. 2)
Archer is trending the exact opposite direction of Perez. He was the best AL rookie pitcher for a long time, but he's hit the skids since the start of September. His two starts this month have lasted a total of 7.2 innings, with 13 hits, three home runs and eight runs (seven earned) allowed.
But I still rate him above Jose Iglesias because the total body of work is better. Seven of his 19 starts this season have come against teams ranked in the top 10 of runs scored, and Archer ranks second in innings pitched by AL rookies with 110.2.
Stock: Down
Rising: Dan Straily (Oakland), Iglesias (Detroit)
Falling: Avisail Garcia (Chicago)
NL Rookie of the Year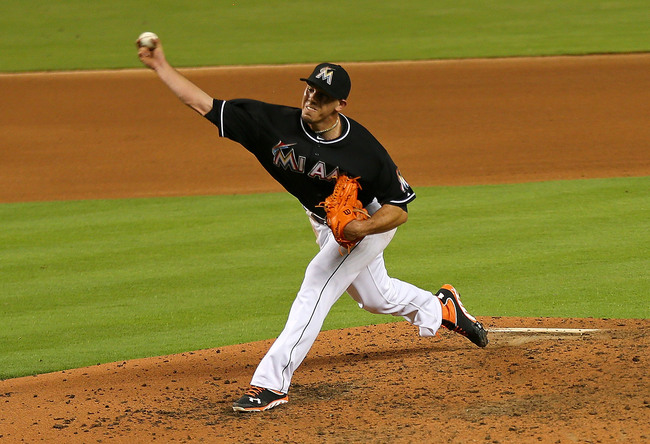 Mike Ehrmann/Getty Images
No. 1 Jose Fernandez, SP, Miami Marlins (Last Week: No. 1)
With just one start remaining this season, Fernandez isn't leaving any doubt that he is the overwhelming choice for NL Rookie of the Year in a season filled with tremendous first-year players.
The 21-year-old took a no-hitter into the sixth inning against Washington and finished the game allowing just one hit in seven innings with nine strikeouts. He leads all rookies in either league with 4.2 wins above replacement, ranks second behind Yu Darvish in strikeouts per nine innings (9.89), and trails only Matt Harvey, Clayton Kershaw and Adam Wainwright among NL pitchers in fielding-independent ERA.
For a franchise that has done all it can to make sure no one pays attention to it, Fernandez has made Marlins must-see TV on his game days. Sadly, it appears that will only happen one more time.
Stock: Up
No. 2 Yasiel Puig, OF, Los Angeles Dodgers (Last Week: No. 2)
Whether you love Puig or hate him (since there doesn't seem to be any middle ground), there is a fascination that comes with watching him. Just look at the home run he hit at Cincinnati on Saturday, taking a slider off the plate outside and crushing it to left field.
There are still a lot of things Puig has to work on; he's incredibly raw and needs more discipline in every facet of his game. But when you can hit, run and throw like he can, why not take some chances now and then?
Stock: Up
No. 3 Julio Teheran, SP, Atlanta Braves (Last Week: No. 3)
The battle for the No. 3 spot on the ballot is very close, with Teheran, Los Angeles' Hyun-Jin Ryu and St. Louis' Shelby Miller all presenting compelling cases.
Ultimately, Teheran remains on the main list for two reasons. One, even though Ryu has a better FIP (3.24 to 3.77) and higher fWAR (2.7 to 2.0), I do attach some weight, fairly or not, to age and experience.
Ryu is 26 years old, compared to Teheran's 22. I think that kind of thing should be taken into account, especially when you have two candidates so close. If Ryu was having a markedly better season, then I would have no issue saying he should be here.
Teheran has also done his damage by striking out more and walking fewer hitters per nine innings than Ryu.
Miller is behind both because he has pitched the fewest innings of the group, though his 9.44 strikeouts per nine innings trails only Fernandez among rookie starters.
Stock: Up
Rising: Hyun-Jin Ryu (Los Angeles)
Falling: Shelby Miller (St. Louis)
AL Cy Young
Otto Greule Jr/Getty Images
No. 1 Felix Hernandez, Seattle Mariners (Last Week: No. 1)
There has been no shuffling at the top of this week's rankings, because neither Hernandez nor Max Scherzer did enough to separate themselves. It also doesn't help that neither has started a game since last Tuesday, when Scherzer pitched at Boston.
Hernandez will have eight days off before taking his next turn on Wednesday. He holds a slight edge over Scherzer for reasons that I went over in a debate piece last week with my colleague Joe Giglio.
To sum up what I said in that piece: Hernandez has faced a more difficult schedule, played behind the worst defense in baseball, holds a slight edge in innings pitched, and is close enough in strikeouts (especially when you factor in competition) to warrant serious Cy Young consideration.
Stock: Even
No. 2 Max Scherzer, Detroit Tigers (Last Week: 2)
I wouldn't be upset to see Scherzer win the Cy Young. He's certainly been one of the two best pitchers in the AL, but I feel that his resume lacks a little bit when compared to what Hernandez has done.
Do I think it's Scherzer's fault that he's been able to pitch in a division with Minnesota and Chicago? No. But I do have to knock him down slightly, especially when Hernandez pitches in a division with Oakland, Texas and Los Angeles.
I do think anyone making the argument that Scherzer should win because he's 19-2 should have his or her head examined.
Stock: Even
No. 3 Chris Sale, Chicago White Sox (Last Week: Rising)
Like the battle for first place on the ballot, the third slot is in constant flux and will likely not be decided until the end of the year. Last week, I put Yu Darvish in this spot, but he moved down slightly after a dismal outing in Oakland, in which he gave up two home runs and six walks in five innings.
Taking his spot was last week's No. 4 candidate, Chris Sale. The White Sox don't have a lot to be happy about in 2013, but the performance of their young horse gives them something to be proud of.
Sale has thrown at least seven innings in his last six starts, struck out at least six in every one of those games, and allowed two earned runs or less four times. He did have one bad start at Texas in August, though, with eight runs on four home runs in seven innings.
Stock: Up
Rising: Derek Holland (Texas)
Falling: Yu Darvish (Texas)
NL Cy Young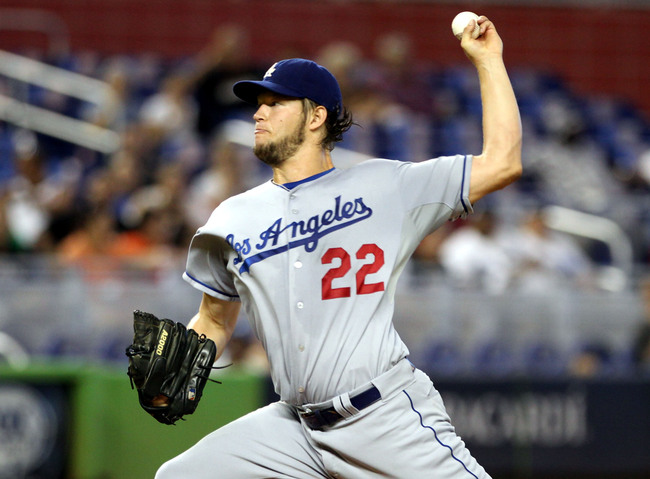 Marc Serota/Getty Images
No. 1 Clayton Kershaw, Los Angeles Dodgers (Last Week: No. 1)
Do I really have to tell you why Kershaw is the best pitcher in baseball? I could say that he leads the league in innings pitched, strikeouts, ERA, ERA+, WHIP and both versions of WAR (among pitchers).
Even on Sunday night against a good Reds offense, Kershaw only struggled against Jay Bruce, who took him deep twice for the only two runs he would allow over seven innings.
If that's not enough to convince you, I could also mention that Kershaw also has the lowest fielding-independent ERA among pitchers with at least 200 innings and ranks second in expected fielding independent ERA behind Adam Wainwright.
If you still need more proof, then you will probably never be satisfied and there is no point in you watching baseball ever again.
Stock: Even
No. 2 Adam Wainwright, St. Louis Cardinals (Last Week: No. 2)
After allowing a total of 15 runs on 17 hits over eight innings in back-to-back starts against Cincinnati, it was nice to see Wainwright get on track against Pittsburgh this weekend with seven innings of two-hit ball.
Admittedly, the Pirates aren't anyone's definition of an offensive juggernaut, but the Cardinals need their horse to be right heading into the postseason. If it weren't for Kershaw's dominance over the rest of the league, Wainwright would present a compelling case for the Cy Young.
Unfortunately for the Cardinals ace, he will have to settle for No. 2.
No. 3 Homey Bailey, Cincinnati Reds (Last Week: Not Ranked)
Mat Latos, Bailey's teammate, occupied this spot last week. But after diving deeper into the numbers and opponents, it hit me that Bailey presents a slightly stronger Cy Young case, despite having a slightly lower fWAR (4.5 to 4.0).
In addition to having nearly identical innings pitched totals (191.1 for Bailey to 191 for Latos), Bailey has 15 more strikeouts, nine fewer walks, nine fewer hits allowed and a lower expected fielding-independent pitching ERA (3.12 to 3.44).
Bailey's last three starts have come against St. Louis (twice) and Los Angeles. He has thrown 21.1 innings, given up just 13 hits and two earned runs and has posted a 24-3 strikeout-to-walk ratio. The 27-year-old is getting stronger as the season moves along.
We used to have questions about the Reds' starting pitching in the postseason. This year, without making any changes in the offseason, they are a real threat to make the World Series for the first time since 1990.
Stock: Up
Rising: Cole Hamels (Philadelphia), Cliff Lee (Philadelphia), Madison Bumgarner (San Francisco)
Falling: A.J. Burnett (Pittsburgh), Jose Fernandez (Miami, due to innings being cut off),
AL Most Valuable Player

Via MLB Advanced Media

No. 1 Mike Trout, OF, Los Angeles Angels (Last Week: No. 1)
Not surprisingly, my ranking of Trout in the top spot last week caused quite a stir. I will still defend the selection and feel no need to apologize for it. He's the best all-around player in the game today, adds more value on the field than anyone else, and is on his way to another 10-fWAR season.
Trout will be the first player since Barry Bonds (2003-04) to post back-to-back 10-WAR seasons. Agree or disagree with the selection, but you can't deny all the ways that Trout impacts the game. You can't punish a player for an individual award based on the team around him.
The good news for Tigers fans is they won't have to worry about this being a real debate when the actual voting is calculated, because I would bet money that Miguel Cabrera wins the award unanimously.
Stock: Up
No. 2 Miguel Cabrera, 3B, Detroit Tigers (Last Week: No. 2)
Despite what some might think, I do love Miguel Cabrera. He is the best pure hitter in baseball today. No one can match his combination of natural hitting ability and power. But he doesn't impact the game in as many ways as Trout.
Cabrera does benefit from playing for a contender, and he's going to win a second consecutive AL MVP award despite being the second-best player in the league.
Stock: Even
No. 3 Josh Donaldson, 3B, Oakland Athletics (Last Week: No. 4)
With the second-half slumps of Evan Longoria and Manny Machado, Josh Donaldson has quietly put together the best all-around season of any third baseman in the American League. He is a premier defender, credited with saving nine runs and a UZR of 9.8.
But his offensive game has continued to evolve in ways that few could have imagined. Donaldson's walk rate is up more than five percent from 2012, his slugging is up 98 points and his isolated power is up 42 points.
Putting up those kinds of numbers playing half of your games in the spacious O.co Coliseum and other division games in Seattle and Los Angeles is impressive. Any other year, Donaldson would warrant a lot more MVP consideration.
Stock: Up
No. 4 Chris Davis, 1B, Baltimore Orioles (Last Week: No. 3)
It was good to see Davis tap into his power again this weekend with a home run on Friday night against Chicago, because the first baseman had gone eight games without an extra-base hit before that big fly.
Unfortunately, due to a second half that has seen Davis hit a respectable but not otherworldly .254/.352/.521, he's going to struggle to break the top three in the MVP voting at season's end.
Stock: Down
No. 5 Robinson Cano, 2B, New York Yankees (Last Week: No. 5)
How often is it that we say a Yankees player is having a great, under-the-radar season? Cano is certainly a top-five MVP candidate this season with a .310/.385/.516 line and still-solid defense with five runs saved.
The soon-to-be free agent has also gotten stronger as the season has gone on, posting a 1.012 OPS in August, his highest for any month in 2013.
Stock: Up
Rising: Shane Victorino (Boston)
Falling: Jacoby Ellsbury (Boston)
NL Most Valuable Player

Via MLB Advanced Media

No. 1 Andrew McCutchen, OF, Pittsburgh Pirates (Last Week: No. 1)
The battle between McCutchen and Clayton Kershaw for the top spot on the NL MVP ballot appears to be widening. Pittsburgh's young star has opened up a 1.6-fWAR lead. He's the only everyday center fielder in baseball this season to carry an average over .300, an on-base percentage over .400 and a slugging percentage over .500.
(Mike Trout has played a majority of games in center field this year, but he also split time in left field before Peter Bourjous got hurt.)
McCutchen ranks second in WRC+, behind Washington's Jayson Werth. He is also top 10 in weight on-base average and base runs (BsR). When you combine that offensive production with above-average defense in center field and seven runs saved, McCutchen is the clear MVP in the NL.
Stock: Up
No. 2 Joey Votto, 1B, Cincinnati Reds (Last Week: No. 3)
I can recall writing about the awards race at midseason and projecting Votto to finish fourth, then noting I would probably regret it because I was underrating him.
Sure enough, here we are with just weeks left to play and I am starting to think he is the No. 2 candidate. He gets unfairly criticized in some parts of the Internet because of his penchant for walking and getting on base instead of selling out to try and hit 40 home runs. As if a player who will hit 25 home runs with a .430 on-base percentage is the worst thing in the world.
Votto's incredible hitting eye, which has carried him to a .303/.430/.494 line, is a big reason that Brandon Phillips can hit .265/.313/.416 yet have 101 RBI. He's second in the league in weighted on-base average and third in WRC+.
Stock: Up
No. 3 Clayton Kershaw, SP, Los Angeles Dodgers (Last Week: No. 2)
Kershaw drops a spot in this week's stock watch through no fault of his own. He did struggle against Colorado in Denver last Monday, with 11 hits and five runs allowed in five innings, but he came back in a big way against Cincinnati on Sunday with seven innings of four-hit, two-run ball.
I think there will be a lot of support for Kershaw to win the award once the season ends if his ERA stays under 2.00, but to me, it is going to take a lot more than just that to overtake McCutchen. He's in a dead heat with Votto for the No. 2 spot.
Stock: Down
No. 4 David Wright, 3B, New York Mets (Last Week: No. 4)
Here is how good David Wright was before hurting his hamstring in early August: He ranks fifth in the NL with 5.7 fWAR despite playing in 23 fewer games than anyone ahead of him. With a full season, he would be right alongside Andrew McCutchen for the NL MVP.
Unfortunately, we can't hand out awards on what could have been. Wright is still one of the five best players in the league and a strong MVP candidate, though I do think he'll start to slide down the list in the coming weeks.
Stock: Down
No. 5 Carlos Gomez, OF, Milwaukee Brewers (Last Week: Rising)
Full disclosure: I have been underrating Carlos Gomez all season because I kept waiting for the bottom to drop out on his offensive performance. With a .250/.336/.402 line since the All-Stark break, Milwaukee's center fielder hasn't been nearly the same hitter he was in the first half.
However, to my great shame, I put more stock in that two-month sample than the whole performance. Gomez is the best defensive center fielder in baseball, credited with saving 29 runs.
He also ranks second in the NL with 6.1 fWAR. Since so much of that is skewed toward his defense, I can't quite put him higher than fifth at this moment, but he certainly belongs in the conversation.
Stock: Up
Rising: Ian Desmond (Washington), Matt Carpenter (St. Louis)
Falling: Shin-Soo Choo (Cincinnati), Adam Wainwright (St. Louis)
If you want to talk baseball, feel free to hit me up on Twitter with questions or comments.
Keep Reading